Budapest, the beautiful, historical and spread-out city on the river Danube, is expecting a great number of visitors coming in a week's time. Hungary's capital is hosting one of the biggest coffee events of the year, World of Coffee (WoC). We thought it useful–if not necessary–to help everyone who is coming with a little overview.
We prepared this summary of the rich coffee scene, as well as giving you a guidance through the rich programme of the World of Coffee Budapest. Find here some recommendations of brunch places, coffee break spots, as well as nice events to gather at with people equally caffeinated as you will be. Coffee people love to socialise!
How to get to World of Coffee Budapest?
World of Coffee is quite an event, that invites visitors, competitors and exhibitors for a fair trade, world-class competitions as well as lectures and workshops, tastings and more, all under one roof. In Budapest, it is the HUNGEXPO that will host the coffee crowds. It is located about 30 min commute from the city centre to the East. But since all the cool stuff outside the venue will happen in the centre, you might want to know where to go.
HUNGEXPO
Albertirsai út 10, 1101, Budapest, Hungary
Website
Budapest Nemzetközi Repülőtér / BUD Airport
The capital's airport is fairly easy to navigate, but to get directly to Hungexpo, you will have to take a combination of buses and trolley buses. If you'd prefer a faster journey than this hour commute, get a taxi, as there will surely be plenty of people to share the journey with.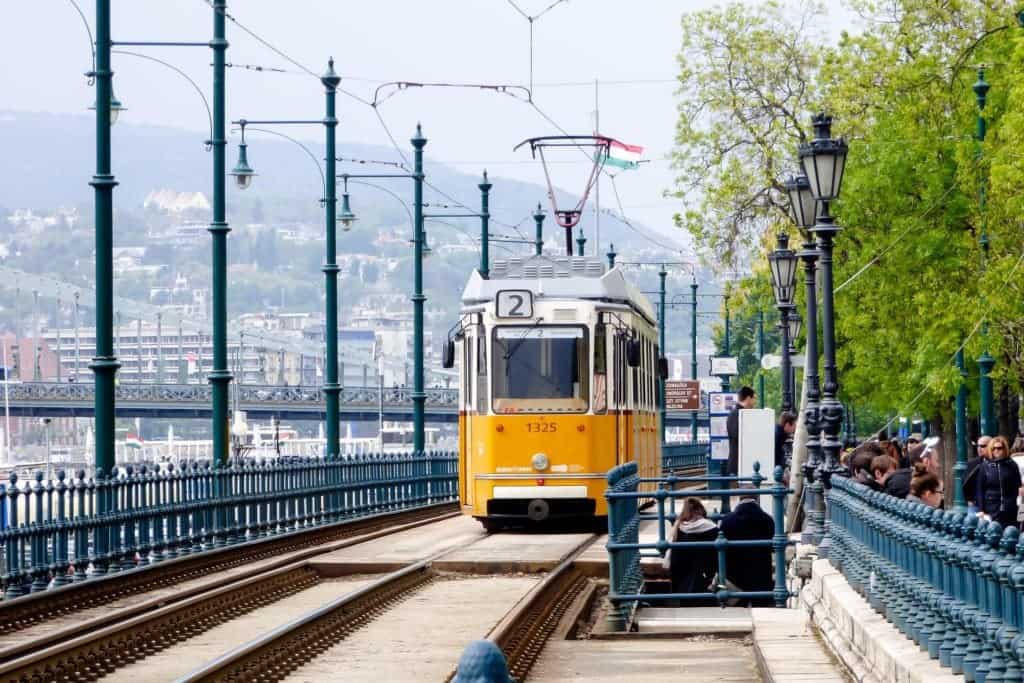 Budapest-Keleti Pályaudvar / Budapest Terminal Railway Station
The capital's railway terminal is going to be the point of arrival to many people. It is conveniently just next to the otherwise distant cafe The Goat Herder. You can refuel here on your way to the WoC venue.
The trains S60 or S80 take about 9 minutes journey there, with no changes. We'd recommend you take that one train in the morning and in the afternoon, Budapest is otherwise quite easy to walk. Unless you venture further out of the inner city and/or are in a hurry.
Széchenyi Thermal Bath
Everyone needs some chill-out time. And a spa is almost a must when in Budapest. If you are planning on visiting the spa in the morning, you will be happy to hear that the expo is just a two-tram or two-tube ride away. Although it might take about 40 min, so you'd better leave yourself some time to get to the expo, especially if you want to get a spot on some of the Lecture Series, which are part of the program.
The best pick of the World of Coffee Budapest program
With a rich program throughout the three days of the event, we will have a hard time choosing just some parts of the lectures and cuppings. But we will definitely have time to pop down many booths of exhibitors who will bring their latest news, coffee samples and more. We will certainly stop by Technivorm Moccamaster, our new partner that will also be the partner of the World Cup Taster Championship. Their brewing devices will brew all the competitors' coffees.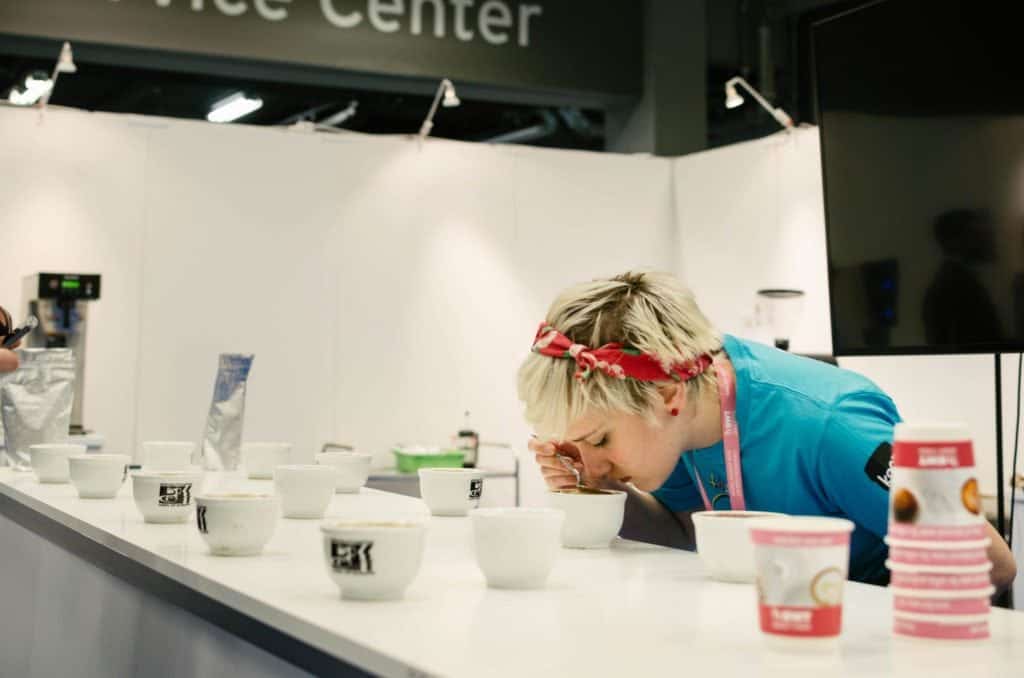 Or perhaps we will meet you at the stand of Victoria Arduino, our long time partner who will definitely showcase their best technology. Their Black Eagle machines are to be found in Budapest cafes as well. Keep an eye out for those.
Lecture Series
It is a tradition that visitors have the opportunity to learn throughout two-day full programme from industry professionals about the business of coffee. You can get an education on the following five main topics this year.
Science and Innovation
Trading and Commerce
Sustainability
Coffee Farming and Processing
Roasting and Retailing
The full programme can be found on the website for both 13th and 14th June. Our best picks would be definitely the detailed lectures from the farming environment. If you have not been to a farm yet, this is as close as you can get to it. The lectures will be held in VIP Rooms I & II located on the first floor between Halls F and G in the exhibition centre.
Sustainability Forum
The Forum is in its second year and is a part of the WoC that aims to deliver a vibrant 'seed-to-cup' focus fostering engaging debate and dialogue around the challenges and opportunities towards a more sustainable coffee future at every step of the value chain—from sustainability challenges in coffee producing communities to challenges in your café. To illustrate this, we invite you to pay attention especially to the Speaker's Corner, which has got 14 speakers scheduled to present on diverse topics across the Sustainability Forum.
Some examples may be:
Counter Talk: On Barista and Customer Inclusion in the Sustainability Conversation
Speaker: Job Boodt, Head Trainer, Bocca Coffee Roasters, 13th June, 10–11AM
Investing in Women at Origin
Speakers: Sarah Buchanan-Sasson, Founder/Executive Director, The Kula Project & Ali Nelson, Art Director, The Kula Project, 13th June, 1–2PM
Behind the Seal: Meet Representatives from the Rainforest Alliance and UTZ
Speakers: Marcel Clement, Director, Market Transformation, Rainforest Alliance & Miguel Zamora, Head of Americas, UTZ (TBC), 13th June, 4–5PM
World Class Championships
World of Coffee attracts many coffee enthusiasts and an incredible amount of coffee professionals to follow the World-Class Competitions enrol. Budapest will host Latte Art, Brewers Cup, Coffee in Good Spirits, Cup Tasters and Cezve/Ibrik Championships. There are many competitors, but if you want to see the best of the best, make sure you come for the finals of each category!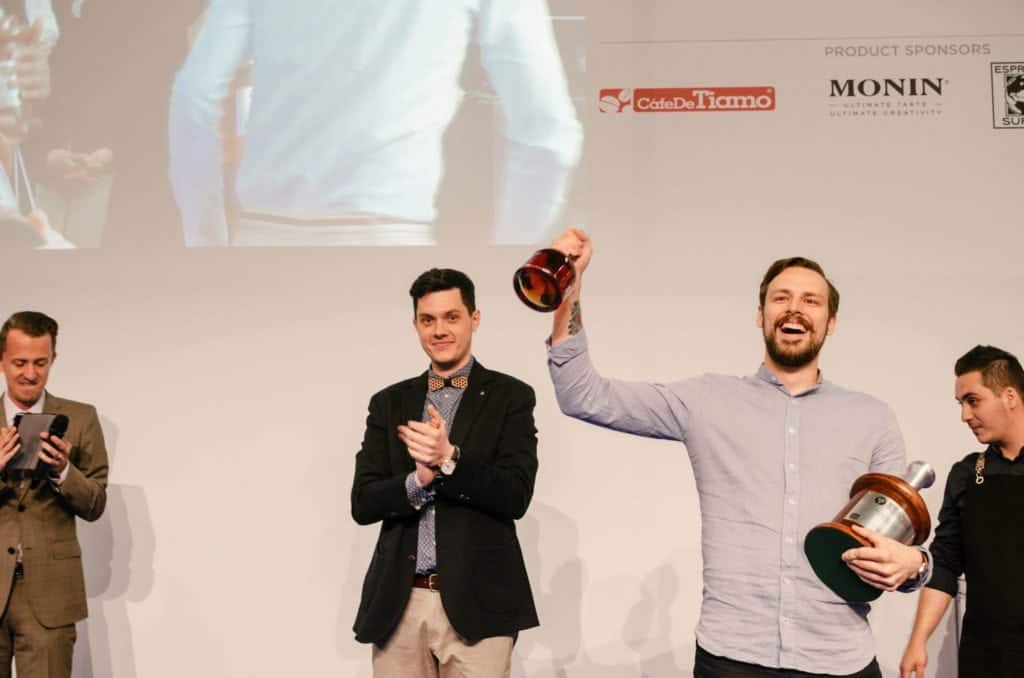 15th June, 9:30-12:30, Hall F, Coffee in Good Spirits Finals
15th June, 9:30-12:30, Hall F, World Brewers Cup Finals
15th June, 10:00-17:00, Halls F, G & 26, Cezve/Ibrik Championship Finals
Guide to the best coffee in Budapest
The central part of Budapest is a great area to walk through. Many of the speciality cafes, but also food markets and pub streets are located in the Inner City, between the two main thoroughfares of Teréz and Károly körút. The streets' names change as they continue throughout the city. Nevertheless, they create a ring in which the majority of interesting places is located. We invite you to stretch your legs in the morning on your way to one of the brunch places. It will start your day in the best way and you will see more of the city than just the exhibition hall.
Brunch in Budapest
High on our brunching list must be all the places with great outdoor seating. Among our favourites must be Kelet Café, a cosy cafe with an interesting food menu, located just further South from Gellért Thermal Bath. Centrally located, you will find Fekete, with its beautiful inner yard filled with tables and chairs. The perfect place to brunch close to public transport, but away from the high street.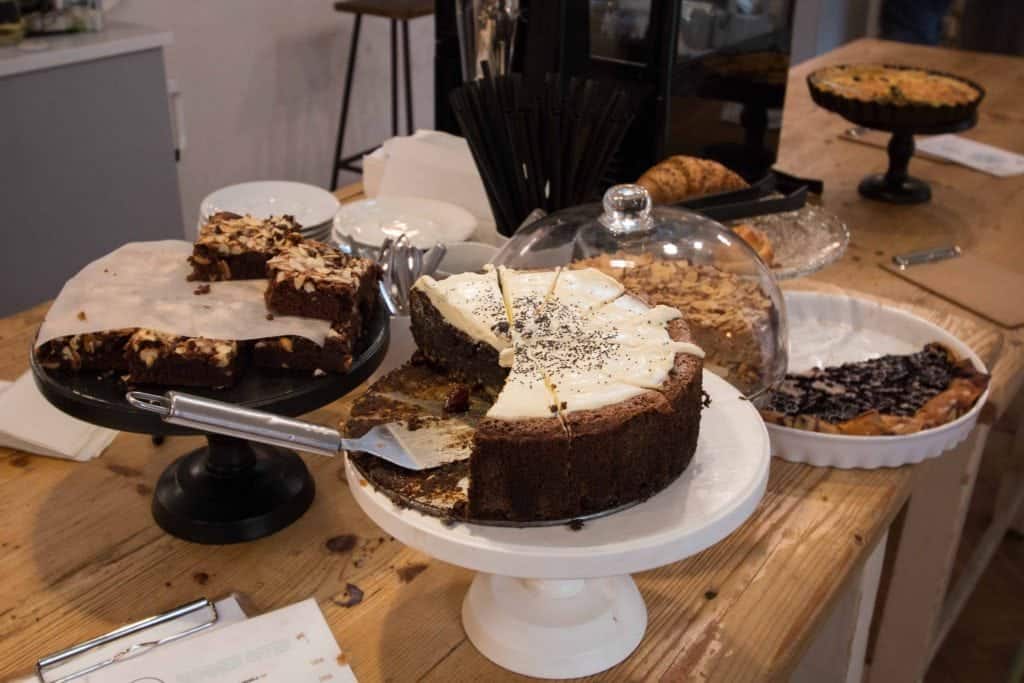 North of the centre, the street of Pozsonyi út offers two spots to enjoy a diverse range of coffees: Double Shot, with coffee from 42 Coffee roastery, and My Green Cup, an extended My Little Melbourne family. Do not forget about Madal's cafe in Hollán Ernő utca, with its large terrace outdoors, perfect for groups. The Goat Herder might be a cafe which is more distant from the city centre, but it also makes it the closest one to the expo. Stop by this coffee shop if you want to avoid the city on your way there.
Top notch coffee experience
Let's hope you will have some extra time—and energy—to explore the local coffee scene. If you only have a very limited time to get a coffee in the city, do so at some of the following brew bars and cafes. They are worth the travel and the areas around them are charming and accessible.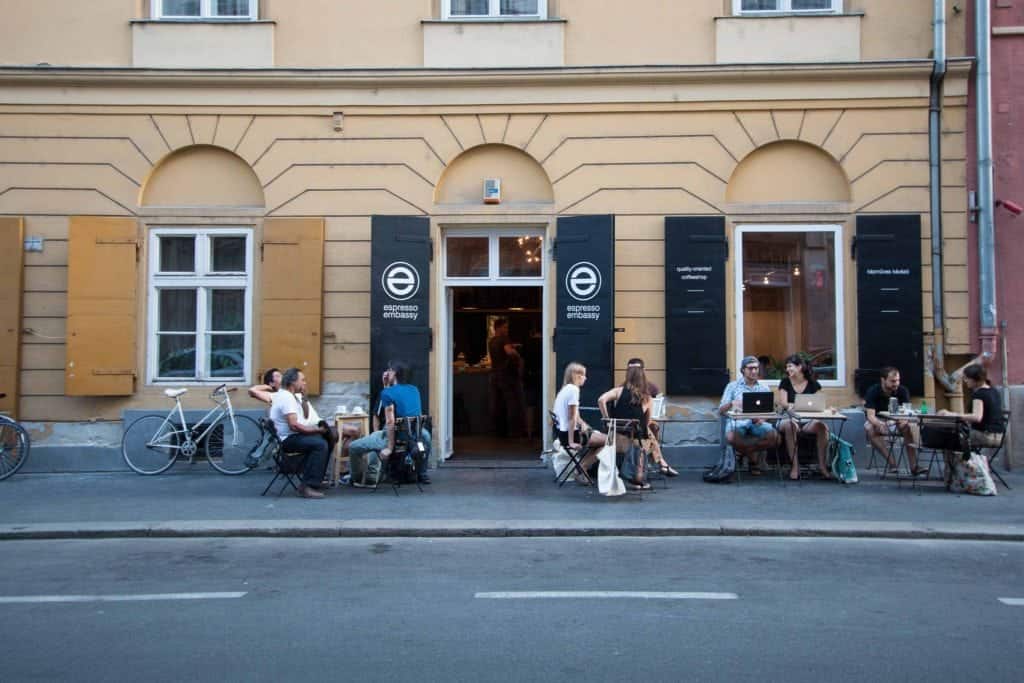 Our first steps would definitely lead to Espresso Embassy, a long-time staple of high-quality coffee service. Here, savour Cassino Mocca espresso or filter coffee. The cafe also serves batch brew and tasty Hungarian sweets. You will find it two blocks from the Chain bridge. If you go deeper in the city centre, stop by at the most charming passage through a house block. Kontakt's outdoor seating is yet another escape from the busy street of Károly krt. The cafe that has done some refurbishment since last year will also host cuppings with Swedish roasters Da Matteo and Koppi, and introduce a coffee producer from Brazil, Felipe Croce and his work. Put this down on your agenda!
Keep up with the Hungarian roasting scene
To know what the roasters are up to, we would recommend you visiting their staple cafes. Although some of the roasters might be present at the fair, some have opened new cafes and we sure will try to check them out!
42 Coffee's roastery is located quite far out South-West from the city, in its District XXII and might not be open to the public, but their coffees are served at Double Shot—mentioned earlier—as well as La Nube, a Spanish tapas/cafe.
Beyond Within is the roastery behind Madal coffee shops. Madal has recently grown its cafe family with the third shop that seems to be currently the largest speciality cafe in Budapest. If you–like us–plan on working throughout your time in Budapest, this might be the perfect place!
Ébresztő is one of the youngest cafes in the city, just down the road from Double Shot, opened by Awaken Fine Tea and Coffee Company, who roast their coffee. In their shop, Ébresztő combines great coffee and style with the help of a minimalistic team of fashion bloggers.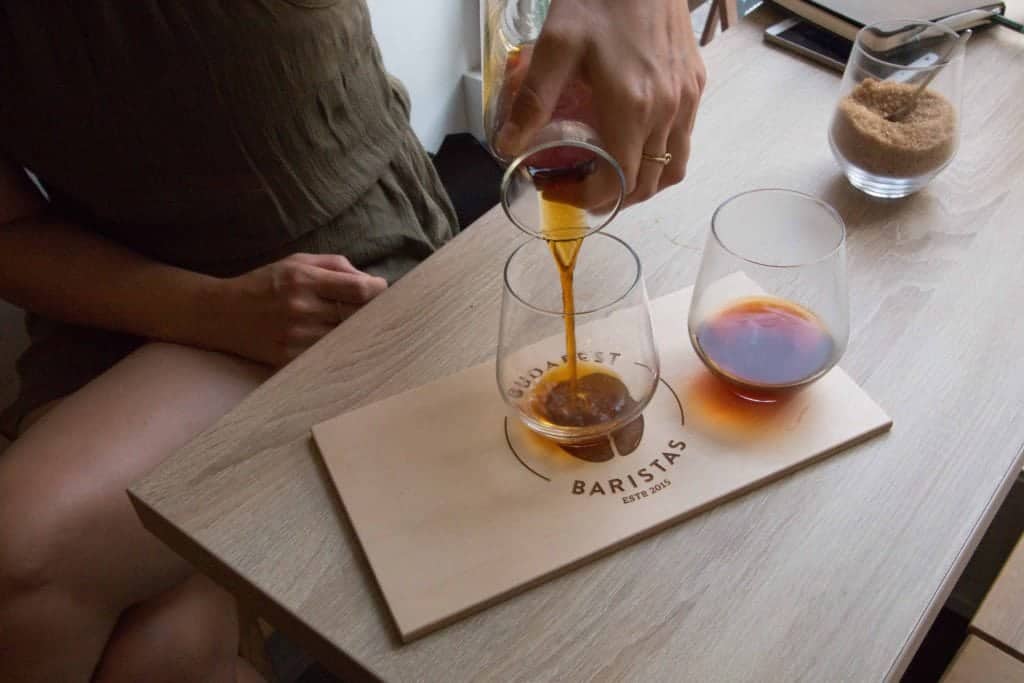 Cassino Mocca, represented in many Budapest cafes, is one of the best roasters in Hungary. Go check out their current line-up at Budapest Baristas, a cafe with French breakfast and tasty filter coffees, or pay them a visit at their stand B15 at the WoC. They will host a cupping of their coffees, as well as some other beans from their suppliers.
We have not had the pleasure of drinking Racer Beans Coffee Co's coffee yet, but we might try this young roastery at BeoPlay Budapest. It is a spacious cafe with a massive outdoor terrace looking onto the Danube. It reminds us of summer holidays by the sea, and that is always a good thing. They also supply My Little Melbourne and My Little Brew Bar.
Coffee people like to party
There is not one coffee event that would finish without a proper party. Coffee people love to socialise! And here is what you can expect.
WoC Launch Party
First, the visitors, as well as competitors, exhibitors and locals are invited for a welcome at the WoC Launch Party. It will be held 13th June at the Europa Boat and the spaces are limited. Book yours for a night out with a view of the river.
Cocktail Reception for the International Women in Coffee Alliance
If you cannot make it to the boat club, you can still join a party, while also contributing to a good cause! 14th June, the Intercontinental Hotel Budapest is hosting Cocktail Reception for the International Women in Coffee Alliance (IWCA). This event will donate all money raised to the organisation in support of the projects developed among the 21 IWCA Chapters in Latin America, East Africa and Asia. Come and celebrate Women in Coffee in Budapest!
Hungarian AeroPress Championship
If someone knows how to throw a party, it is the team behind every AeroPress Championship. This event is famous for its atmosphere and the ever-presence of beer. The Hungarian edition will not be different. If anything, it will be twice as much a party. Held 13th June at Brody Club Life, it is a promise of a good barista party.
The Hungary Games by The Barista League
While The Barista League has got no official competitions until September, they would not miss out on a chance of organising a party in Budapest! The Hungary Games bring a "special brand of chaotic fun to Budapest for a party," are the organisers own words. Come down to Bestia, 14th June, for a very non-serious party, including—quote again—"Hungarian Button Football, Cocktail throwdowns from some of your favourite baristas, and all the best people in the world of coffee." Well, you would not want to miss that!
Barista Party
What is better than getting to know a city at night, taking the party through its best streets? Right after the last winner is announced on 15th June, the party begins. DJ Soulja will take care of the decks at Tesla, and all competitors will enjoy the party stress-free, at last. Come rejoice with them and say one happy goodbye to the city, and do not miss out on the photo booth!
We hope that our guide gave you a good idea of what is coming to Budapest next Tuesday! We will be there and hope to run into you at the event, or at some of the cafes. There are many new ones to be found also on the Coffee Map of Budapest created by SCA Hungary! Download it and explore Budapest coffee scene!