We got a first chance to taste specialty instant coffee. It was made in the partnership between Voila (USA) and The Barn Coffee Roasters (Berlin, Germany). We got very surprised by what we tasted!
Following up the release of the video, we asked Ralf Rüller, founder of The Barn Coffee Roasters, several questions to better understand ideas and plans behind bringing specialty instant coffee to the European coffee market.
Ralf, how did you develop a relationship with Voila? What was the moment that you realised that instant coffee could be in The Barn's offerings?
Voila approached us to collaborate with them. The US market has a lot of momentum and is very open to change. We felt that this would be the perfect testing ground for us.

We have tried a couple of specialty instant versions before and we knew that they were a lot closer to a cup profile we are looking for in specialty coffee — especially when compared to other convenience product: capsules.

I personally never liked the taste of a capsule coffee, not even the geisha versions I have tried. I also strongly felt that we wanted a solution with less waste. Lastly: If you go in a more convenient direction, then it should not involve any machines – except for hot water.

How did you choose Kenya IVORY AB as the first coffee for the project? Did it had any specific characteristics that work well for the speciality instant coffee?
Yes, exactly. You chose something with high fruit levels if you want to bring out the fruit. Or high sweetness to bring out the sweetness. Ivory AB is a beautiful coffee that has both. Very strong blackcurrant & blackberries in flavour, super high sweetness with vanilla notes and medium acidity. It was perfect for this.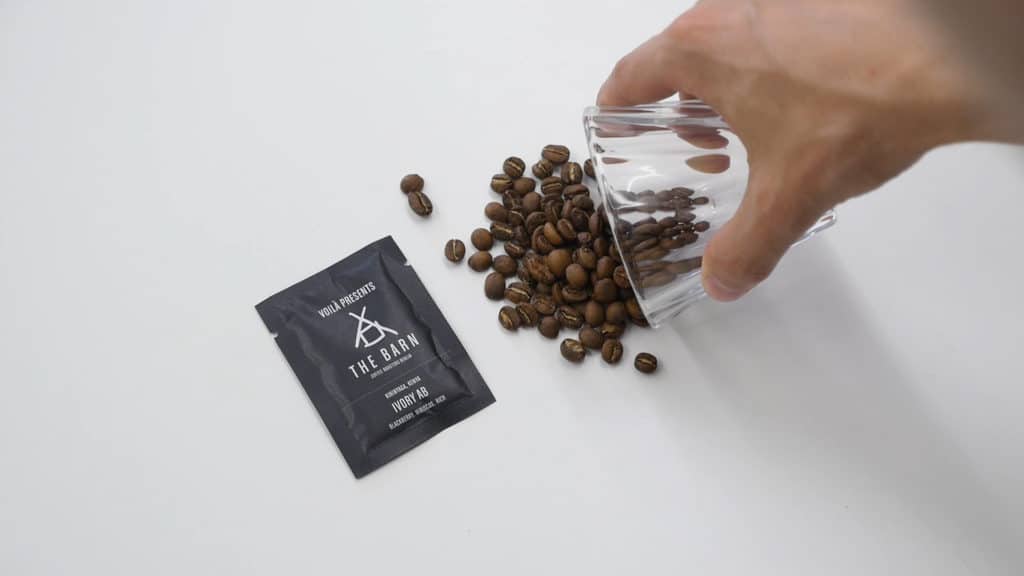 How much coffee did you turn into instant coffee? What was the reaction from the market?
Voila produced a good amount that we sold out very fast. We knew we had strong brand recognition in the United States, but the speed of our Voila sales in the US was overwhelming. We kept 50 boxes aside to test them on our website and again, we sold out very quickly.
Tastewise, I recommend this: Take half an instant pouch for 5 oz cup. Use 80 degrees celsius water (not too hot), stir and let it cool. Simultaneously, pull an espresso of similar origin and have a Long Black with it, the same size. Let both cool and taste. Let me know what you think when they are below 45 degrees drinking temperature!
Was there anything new you learned, or you had to learn when working on this project?
It was a reminder that the coffee market is wide, with a lot of different players offering different quality levels. We very much enjoy working with top qualities only. Our key goal is to pay up our farmers for high qualities. And to buy more of those coffees. If we can create more market for those higher-priced coffees, then everybody wins. So let's have quality instant coffee and push back commercial coffee a little bit.
Since you have an exclusive relationship with Voila in 2019, what other coffees can we expect this year?
We have Dambi Uddo natural in production as we speak. That's Guji Highlands at its best. The pouches will be fully compostable. Cannot wait to taste this when we release it the middle of September [2019]!
---
If you want to learn more about The Barn Coffee Roasters, we filmed an interview with Ralf Rüller at the beginning of the year.