Vertical Coffee Roasters is a successful Swiss roastery run by Denise Morf and Simone Ernst, whose roast won the Swiss Barista Championship. The roasters are passionate about coffee as well as high-endurance sports and their products are a great example of that. They look very professional, clean and resonate with the character of the company. But it was not the case a couple of years ago. Due to their original name, Gipfelstürmer Kaffee, their brand would not be easily remembered, and not many people knew how to pronounce it either. What changed then?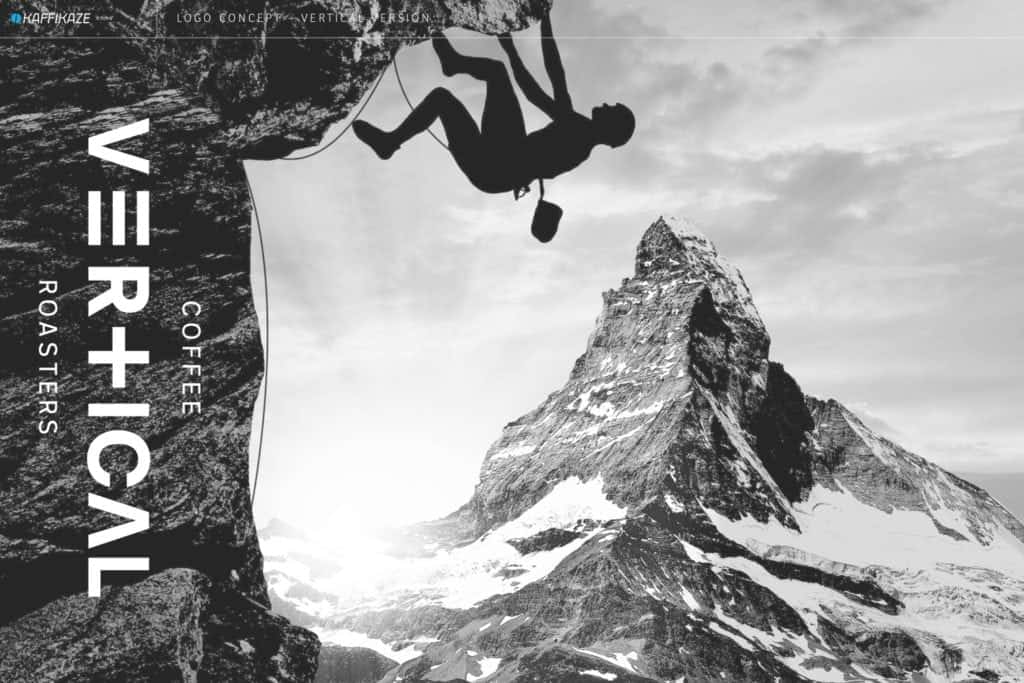 The company's present look was achieved through a rebranding, a complete facelift of the name, the logo and the design as one. Vertical Coffee's new look was created by Kaffikaze, and it was well worth it. The company can now present itself in a new light. Vertical Coffee Roasters can reach a larger audience. Kaffikaze's Ingri M. Johnsen spoke to us about the importance of rebranding.
Hello Ingri, could you give us a brief intro to your work, your design company Kaffikaze and to how was your connection with coffee developed?
Kaffikaze is a design company. It started with the A-Z Coffee book, in 2012. The three founders are Harald Johnsen Vøyle (my brother), Lars Kolstad Huse, and me. All three of us are educated in design, with work experience from some of the best coffee brands in Norway. We had the A-Z Coffee book launch event in London, Tokyo, Berlin and Oslo that year, and the book has been sold in 11 000 copies in 19 countries.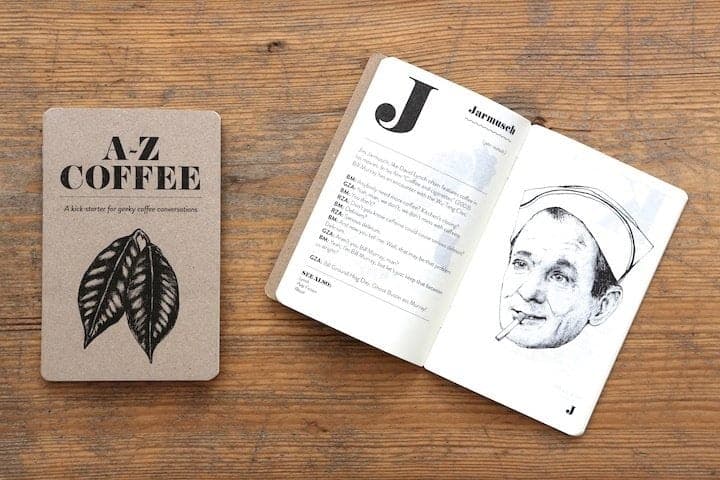 After that we started doing more projects together, making more Kaffikaze products, taking on clients for concept and design, and making events like the Norwegian Aeropress Championship and The World Drunken Brewers Cup. We also do design work for clients that are not directly coffee related (like HIMKOK in Oslo, which is the first Scandinavian bar to ever reach The World's 50 Best Bars), but our coffee knowledge gives us a particular advantage over other design companies. Especially for projects like the rebranding for Vertical. We would love to do more work like that.
This interview is about what you worked on with Vertical Coffee, but what should people know before even considering a rebranding?
A rebranding is necessary for most companies to update their visual profile and to keep track with the times. Normally a roastery starting up has low marketing resources and doesn't invest in things like printed cups and bags, and instead uses labels and stamps. The identity is then formed with the people behind it, and, many times, the strategy changes as the company grows. A good example is Vertical, who wanted to attract an international audience and therefore changed the name from Gipfelsturmer (means peak performer) to Vertical. Good work doesn't come for free and doesn't just happen overnight. It's a long and arduous journey that will be rewarding if seen through.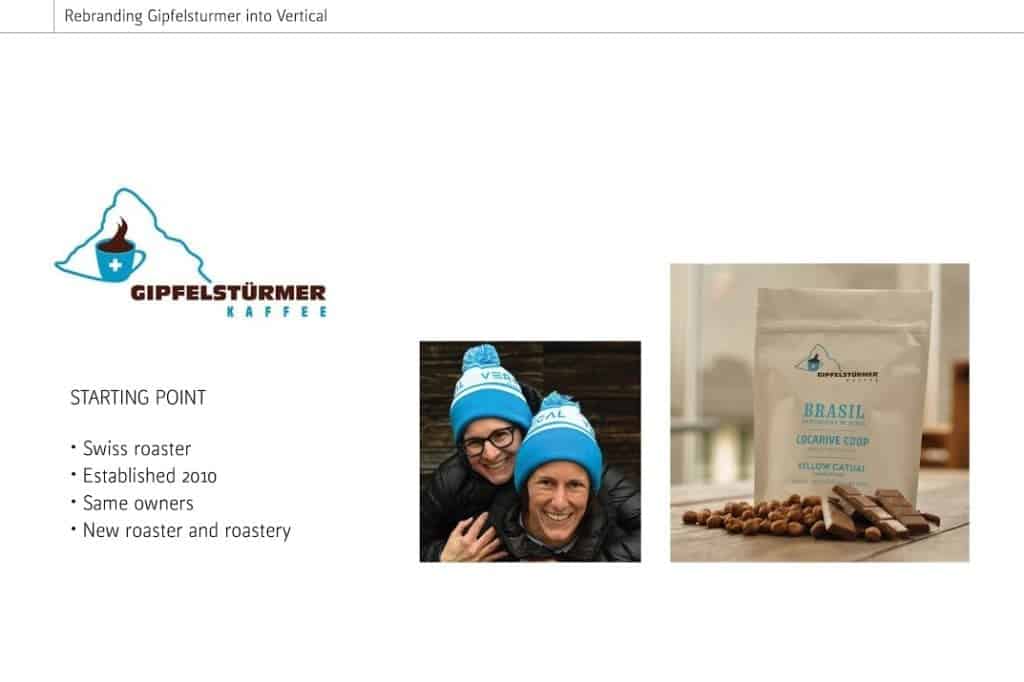 What Vertical wants to say is that it's an active brand with love for sports. That the coffee is roasted in Switzerland, they are passionate about it, and that it's freshly roasted speciality coffee. We all agreed to keep elements from the old profile for a smoother transition.
What is your advice on where and how to find the right agency to work with?
Of course, budget restrictions come into play. A bigger company can usually afford a bigger agency. It is always good to have some chemistry [with the client] as it is important that the designer has an understanding of what the client actually does. Don´t use sites such as Fiverr and 99designs. They may be cheap, but cheap is what you get. It's better to get it [the rebranding] done properly without undermining the designers.
Also, depending on your needs, it might be good to go with a multi-disciplinary agency. Obviously, having an illustrator on our team, our work tends to be a bit more illustration-forward.
Who was involved in this particular project and what were your roles?
We worked together to develop ideas and form the concept. Lars did the illustrations and I (Ingri) worked the typography and the layout. Harald coined the slogan "Coffee With Altitude".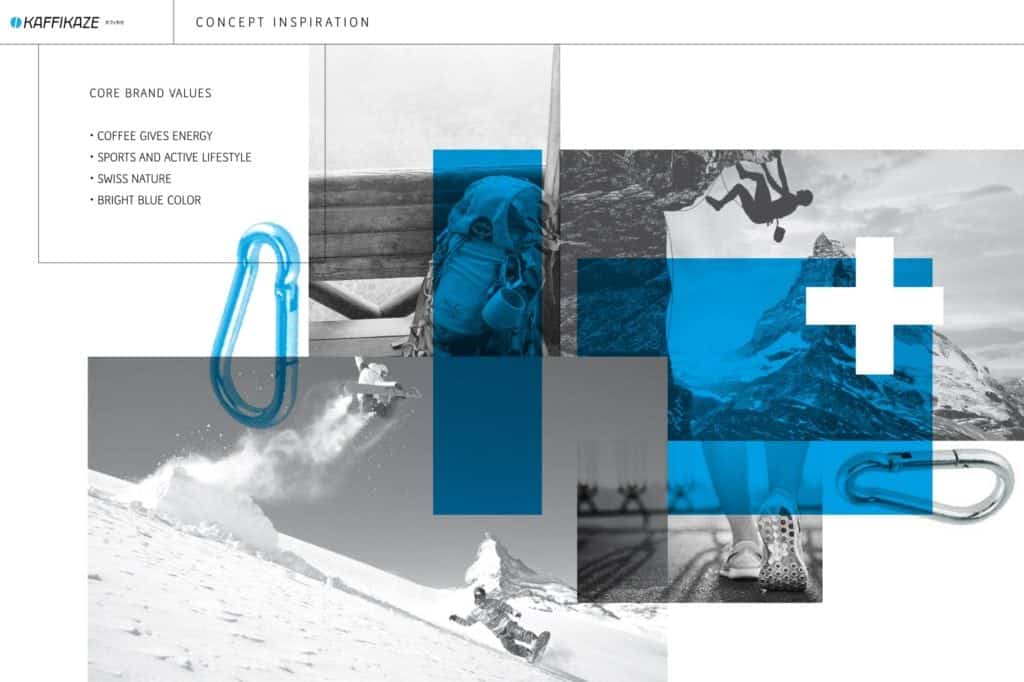 Could you explain the general process of the work on rebranding and what should be the expected time frame?
The process is divided into three phases. Scoping the job, doing a research, getting to know your client is number one. It is also important to know what else is out there so you don't unintentionally rip off someone else's work and infringe upon other brands. The next phase is to develop a direction with the mood board and then design proposal. The third phase is to go with the chosen direction and to make all the print files and to follow up on colours and fitting in production. The time schedule is drafted in the contract that also says the elements and priority. The contract also describes the project in detail.
What would be the most common mistakes you see either designers or clients do when working on branding?
The biggest mistake both clients and designers do is failing to establish a unique identity and, instead, solely relying on trends. Correlated to this are clients that for some reason or others have a problem sticking to and following of their profile outline. Then, they change the logo or do a major (or a minor) rebrand every 3–5 years or so. In this failing to establish any sort of increased brand value. Then they miss out on the impact inherent of a full rebranding.
On a side note, coffee is the product and most of the time it will find itself in the context of the coffee sphere. The branding and packaging don't have to scream coffee in your face. People aren't idiots and most people can put 2+2 together. As designers, we strive to make 2+2=5 and create a synergic effect. Try to go with a more sophisticated solution, a piece of advice to clients. You are allowed to take risks. It will most likely come with rewarding results.
What was the most challenging part of the rebranding of Vertical Coffee?
The most challenging part of this project was to keep the soul of their brand so that it would be recognisable, but also make it into something brand new. One challenge that we are good at is making the design work with the label logistics and the workflow at the roastery. We find solutions within the client's budget, equipment, and workflow.
Have you used any interesting or special design elements in this project?
The hand-drawn illustrations and the solution that we devised for the label concept. The labels are printed in-house on clear labels, using only black colour for the print. This makes it quite economical and oriented towards usability. A lot of the times, to differentiate origins, different colours are normally used.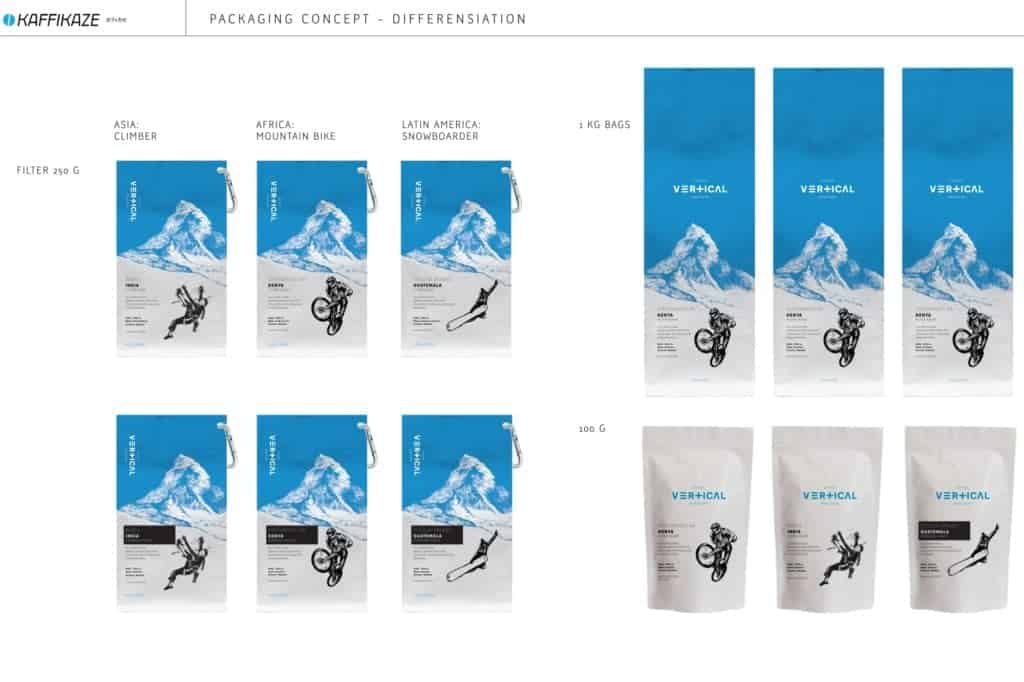 We came up with what we think is quite an elegant solution for this, using individual sports/activity illustrations for each origin. I think the best feature is how the wraparound mountain design translates over an array of packaging, and especially the paper cups. It was also the most challenging to create.
If you look back to this project what are you the proudest of?
We really love how well the concept translates across media and applications. We love how well it has been used and promoted by our awesome clients, Denise and Simone. The bags and the wraparound design of the paper cups turned out amazing. It is fantastic to see how they have embraced and utilised their new profile. Such a good energy and throughout positive vibes. We feel the concept is very easily identifiable as Vertical. We're also proud of Vertical for roasting the winning coffee in the Swiss Barista Championship and having great tasting coffees.
Anything else you would like to share with ECT audience?
The Kaffikaze crew are organising the first ever coffee festival in Oslo this year and we want you to come! Saturday, September 30th, 2017 we'll have a full day and night of extreme coffee enthusiasm which includes The Norwegian Aeropress Championship 2017, centrally in Oslo, at Vulkan Arena. Best reason ever to do a weekend trip.