We got the opportunity to meet up with Simone and Denise of Vertical Coffee Roasters, our Roaster of the Month. Together, we ventured through the streets of Budapest to brew a cup of coffee outdoors. That is the way they like it the best.
Simone and Denise came prepared! Simone told us: "We usually have an AeroPress with us and the first task usually is to find some water. It is not always easy, but usually, we find some. Then we measure about 15 grams of coffee in a Porlex and check the grind size. We add about 250 grams of water [in total]."
For stirring, Simone used the handle of the Porlex grinder: "It comes quite handy!" After the stir and the blooming phase of about 20 seconds, they slowly add the rest of the water and wait for about a minute before pressing the coffee through the filter.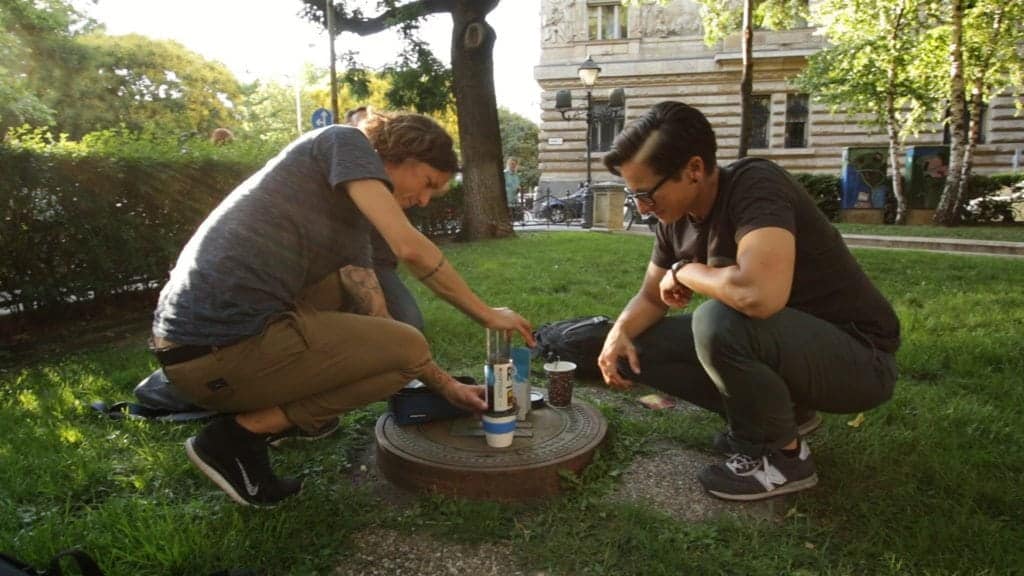 "And then, enjoy the coffee!" wished us Denise, who believes their method usually works out pretty well. "You don't need to have a fancy equipment. You can do it somewhere out in the park and have a really tasty cup. There is no excuse for bad coffee!"
They had a little handy brew kit by Freitag with them—which we quite envied them, to be honest— in the colours of Vertical Coffee. It contained:
An AeroPress
AeroPress paper filters
A Porlex grinder
A Vertical Coffee branded Keep Cup
And, of course, a bag of coffee
While Simone was grinding the coffee, we learnt something about the beans. Vertical Coffee sourced this Guatemalan Bosques de San Francisco from Coffee Bird, one of the best green bean coffee buyers and producers in Guatemala. It is a lovely natural coffee that suits the AeroPress nicely.
The ladies could describe it with the tastings notes such as red apples and rum, promising a sticky body. If you haven't had a chance to taste Vertical Coffee before, check the eshop and grab a bog of coffee for yourself. They ship worldwide!