For the past few years we have registered specialty coffee industry has been moving towards new horizons. Some new trends have appeared, coming not only from behind brew bars. They have slowly started developing and shaping different directions of our industry. Recently coming back from the London Coffee Festival, we enjoyed exploring the latest trends presented at the show and are happy to share with you a selection of a certainly growing list of novelties. Let's have a look at the most recent trends found.
Re-establishing Capsules Coffee
A year ago none of us would think it possible. Single-serve capsules were off the records for almost everyone in the specialty community – almost. Lately, some roasters have started launching their own versions of capsules breaking the taboo that coffee served from capsules cannot be tasty. The breakthrough came with ruling of the higher court over lawsuit between Swiss biggest capsule producer Nespresso and British company Dualit, which allowed the second one to sell its own capsules that could fit Nespresso machines. From that moment some of coffee specialist moved fast forward, introducing their versions of home-use-fit pods. So did Maxwell Colonna-Dashwood, a three-time UKBC Champion.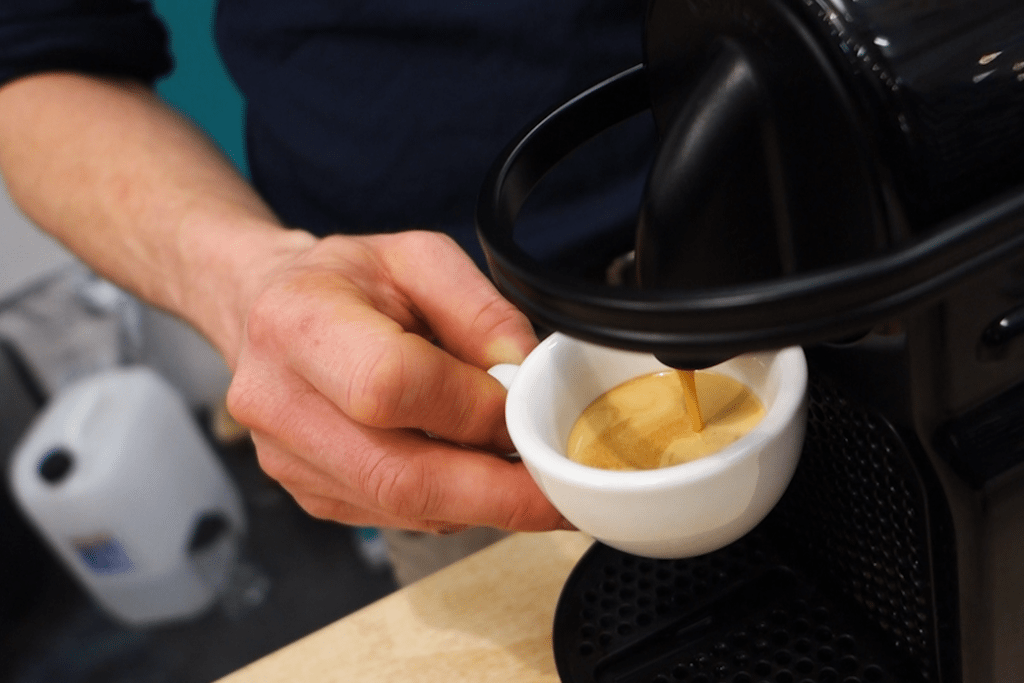 Chatting to Maxwell during the London Coffee Festival this April at his booth, while he was serving some of single-serve pods, he explained to us what are his thoughts behind the trend. It is not an espresso, nor a filter, it is a medium-strength beverage. Although sustainability and environmental impact raise many questions, we were asked to look at a bigger picture – less energy is being used to brew the same amount of coffee. Being no scientists we can only take Maxwell's word for it, although some questions are yet to be discussed – How much waste is produced with capsules in regards of energy saved by powering the pods machine?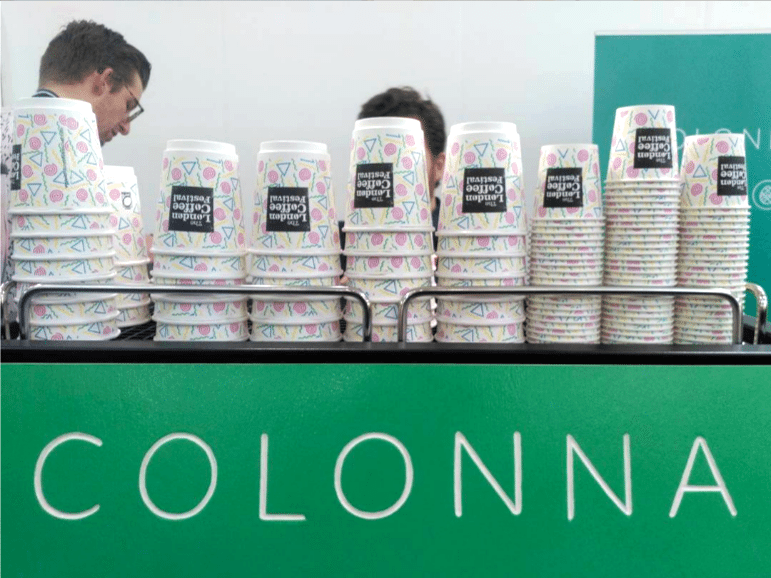 Another aspect of Maxwell's project is the accessibility of the product. The capsules come in three types, ranging in price and even though they are a bit more expensive than regular capsules, it might be a great way to introduce a quality coffee to regular coffee drinkers on a larger scale than in cafes. Imagining the spread of quality coffee service across restaurants, bistros and hotels is tempting. What about the brew water you say? There are definitely more questions to be asked, and we are sure Maxwell and others interested in the trend will be answering them as time comes.
Square Mile Coffee Canteen
Coffee is an inherent part of our daily routine, yet, it has been lately moving from the morning pick-me-up also to cosmetics, design and now to our cooking pots. The London Coffee Festival saw London-based roastery Square Mile present their new concept of using coffee in the kitchen.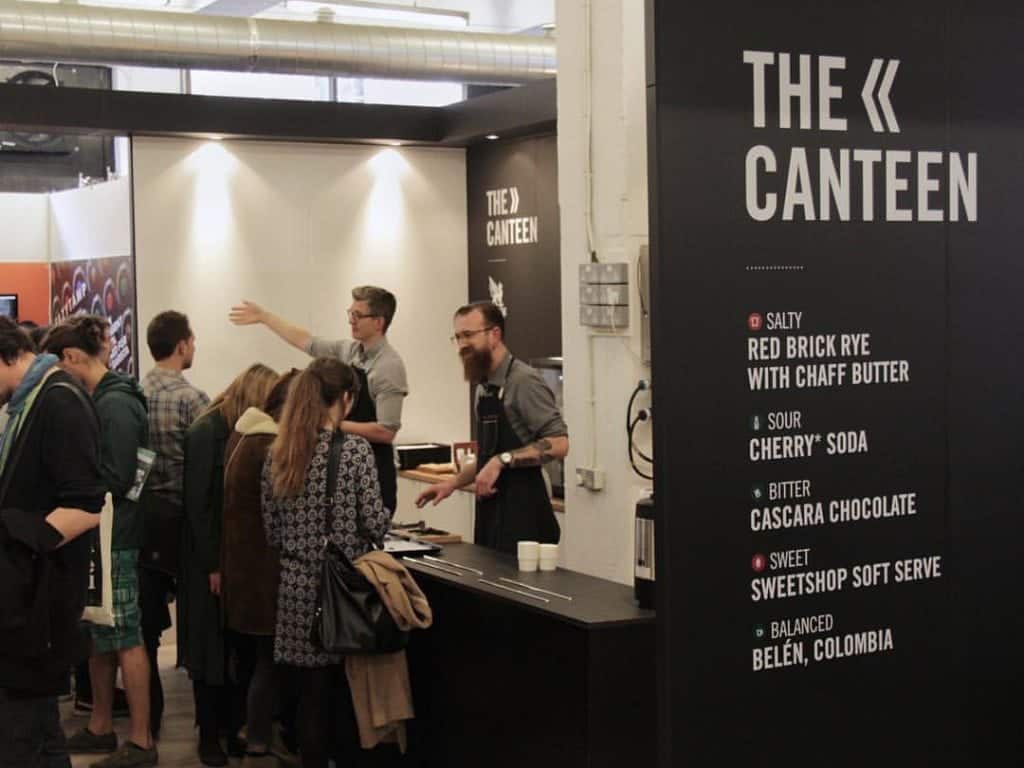 In their Canteen we were served five tasters produced using coffee in different forms, taking us through different sensory experiences. We queued up with the crowd and tasted the following:
Red Brick Rye With Chaff Butter, baked by the Pavilion Bakery; the cooperation with the roasters brought a rye bread using ground Red Brick beans. The bread was then topped with chaff churned butter.
Buena Vista Soda, freshly squeezed grapefruits mixed with Bolivian Buena Vista cascara infusion were carbonated to get a fun and fizzy drink. A perfect refreshment for hot days and a good alternative to cold brew coffee.
Cascara Chocolate, based on coffee cherries flash instead of cocoa beans. Square Mile provided the chefs with dried coffee cherries which were then covered with a mix of cocoa butter and sugar. This gave them a really nice bittersweet taste. Simple and tasty!
Sweetshop Soft Serve, an espresso-based ice cream, made of full-fat milk with a hint of cane sugar and a vanilla extract. Delicious.
Belen, Colombia, the last coffee step with a black cup of coffee. Nice and perfectly in balance with the previous four steps, this cup created an overall great experience. Exactly what everyone needed after a good meal.
We are sure Square Mile's ideas gave you an inspiration for your own experiments. Try some of those recipes at home or at your restaurant or simply prepare it for you friends – you will enjoy it not only because of the good coffee. Bon appetit!
Mr. Black – Coffee & Liquor
Coffee In Good Spirits is known among coffee people, but not very often it draws as much attention as other competitions. Even though craft beers such as espresso stouts or cold brew lagers have been on the scene for quite some time, the concept of mixing coffee with liquors might still be a bit of a tough nut to crack by regular baristas. Here is where Mr. Black steps in, bringing us a solution ready for our industry – a cold press coffee liquor.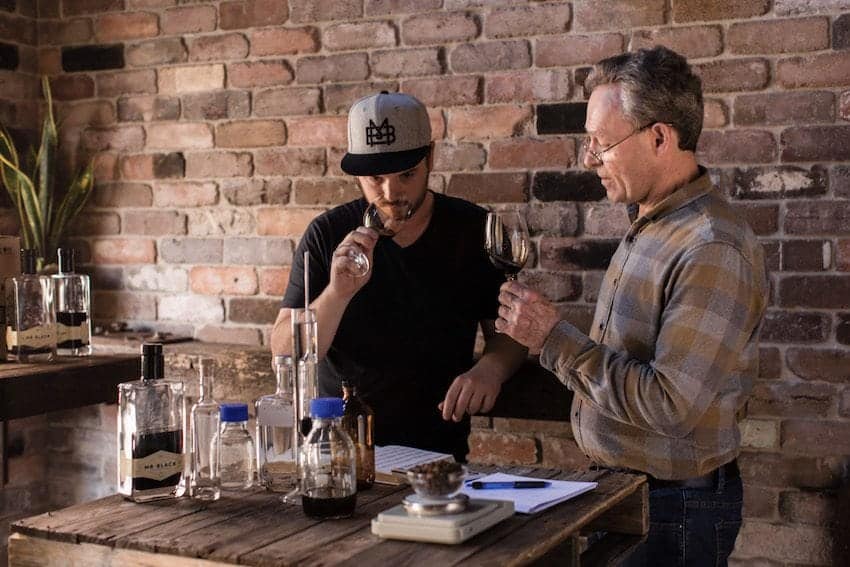 Created in 2012 by two Australians Tom Baker and Philip Moore, both passionate about all things labeled 'coffee' and 'liquor', Mr. Black started gaining its name in the coffee industry with its own personal mixology. Winner of London International Wine and Spirit competition of 2012 grew from a small distillery to 35,000 bottles in sales, without sacrificing the quality. Each and every bottle is distilled and labeled by hand. Mr. Black is made out of three different coffees (Brazil, Ethiopia and Papua New Guinea) blended with whiskey to develop the perfect flavour in every drop. The coffees are cold-extracted in 23°C, with no addition of any flavours or preservatives, while the higher coffee-to-water ratio creates lower acidic flavours with coffee coming through distinctively. The drink created is perfect to mix with alcohol. We tested it on ourselves and it certainly did go down well.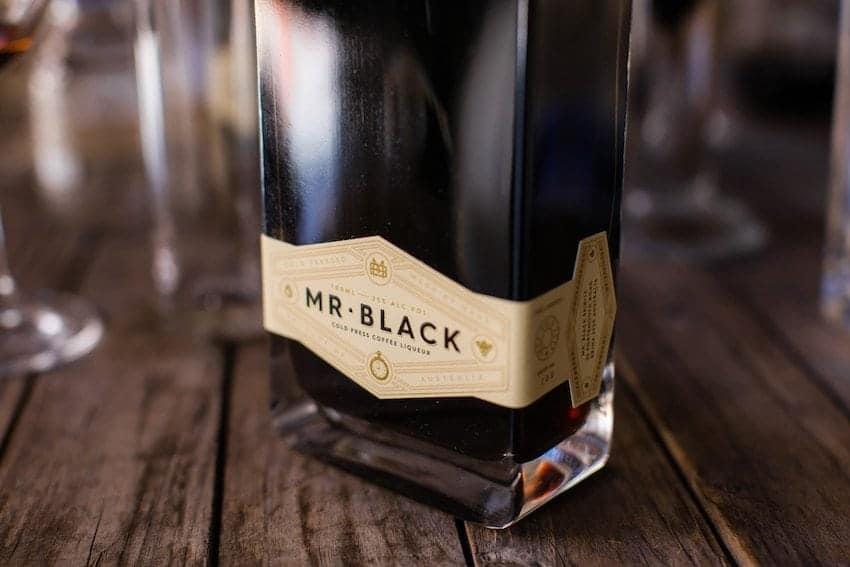 Specialty coffee is entering a new age of its development, moving to other areas of everyday life, enabling sensory exchange with other spheres of hospitality. Nothing is impossible anymore and we cannot wait to see what other trends will the industry bring in the nearest future.