Munich is often referred to as "Italy's most northern city". However, it's not only the Italian market stands, pizzerias and amazing creamy gelato you'll find here. Italian espressos have placed their mark on the Bavarian capital as well. So despite being Germany's third largest city and maybe the most renown one, Munich had not ranked so high in the scene until its recent year's openings.
Most coffee tourists head straight for Man versus Machine or Standl 20 when coming to Munich. However, in the last few years the more hidden gems, like Vits der Kaffee and gangundgaebe, have brought specialty coffee to the city.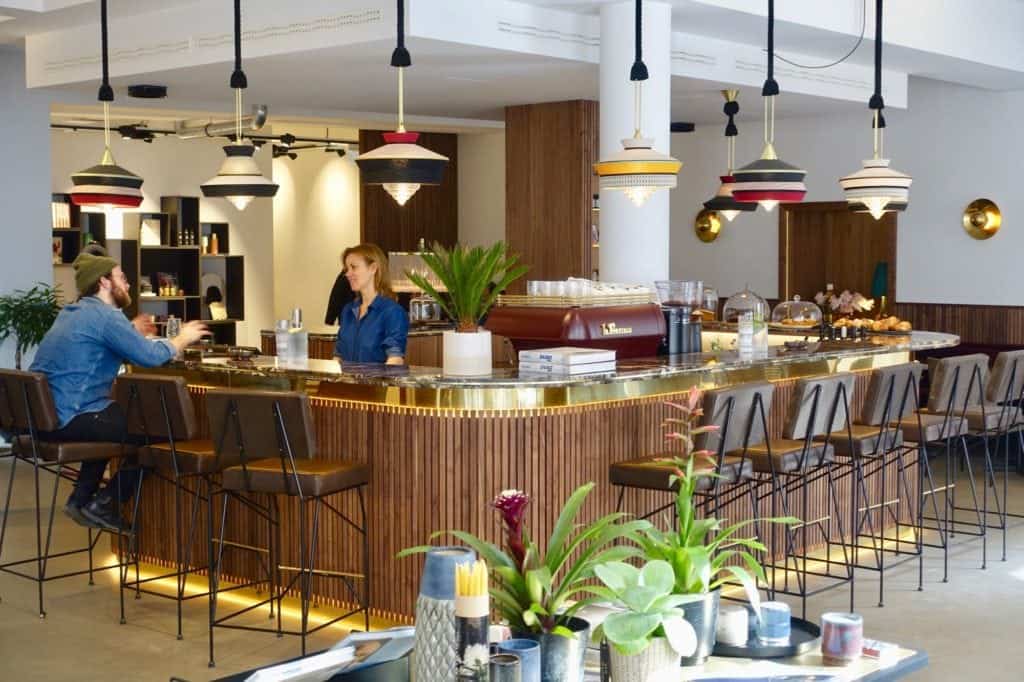 On my recent visit to Munich, I looked beyond the horizon and found another handful of coffee bars that care just as much about their coffee as the specialty coffee pioneers in Munich do. Don't expect Europe's finest fruity light roasts. That can't be a successful business concept in this traditional city yet. However, if you are open for variety and perhaps know what to ask for, the following four places will make your coffee tour in Munich an interesting one.
Café Blá is Munich's newest specialty coffee shop. The welcoming Icelandic cafe already belongs to the heart of Munich's coffee scene. Vogelmaier Kaffeerösterei is a dedicated roastery that presents modern coffee knowledge in a traditional chalet-style interior. A real Munich find. Next up, you can search for specialty coffee in Sois Blessed, an extravagant fair fashion store. They expand their range of customers by devoting themselves as much to their coffee bar as they do to their showroom. Lastly, Kaffeekontor, a coffee marketing business, has set up a concept store at which you can enjoy espresso-based drinks while window shopping for high-tech coffee equipment.
Café Blá
Stephanie Bjarnason opened her Icelandic cafe in the fall of 2016. She was formerly an engineer, but while taking a year off to travel, she discovered the specialty coffee scene in cities like London and Amsterdam. Stephanie has always wanted to open her own cafe, and as a person who wants to keep learning, she realised the perfect challenge that specialty coffee offered.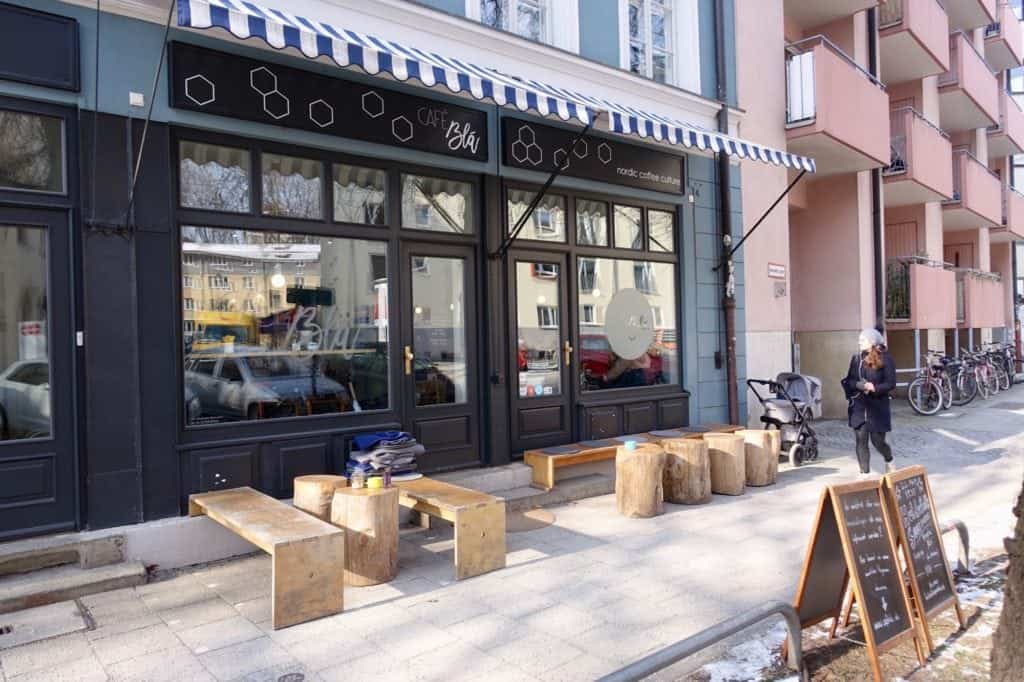 Café Blá has quickly become a dominant player in Munich's coffee scene. Still, it has kept its unique flair. Blá, meaning blue in Icelandic, is exactly what this cafe feels like. It has a harmonic, soft and calm interior. It's a great place for freelancers to focus on work for hours. Stephanie says she likes to support young fresh minds and projects and thus also hosts freelancing workshops here. Her cafe is not only a place for the business talk though. People are welcomed to chat with friends, and take a break from their fast-paced life.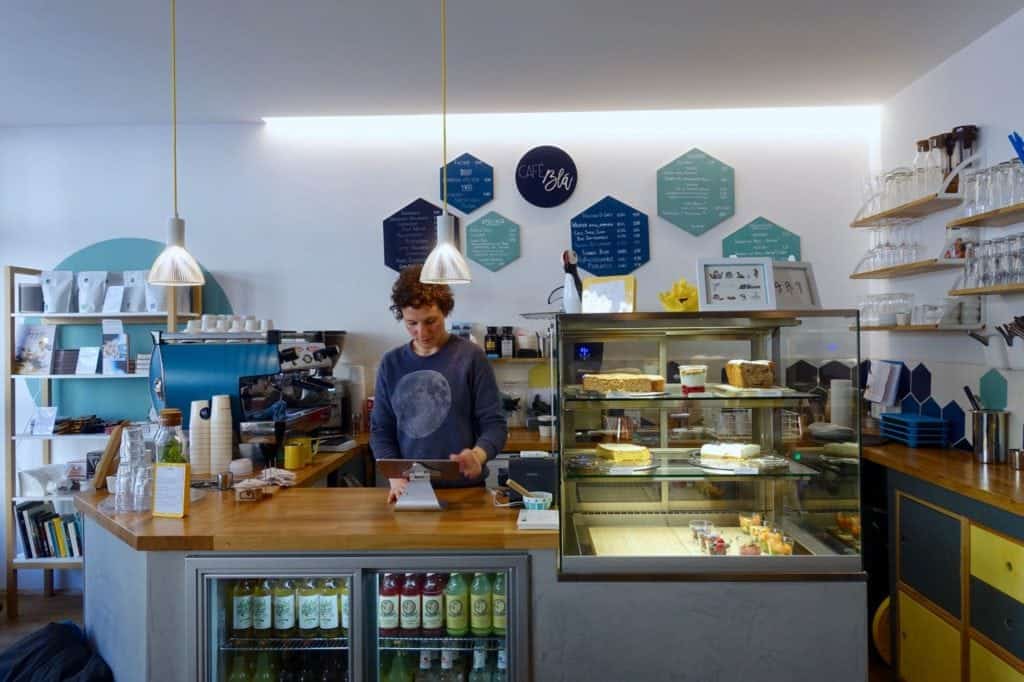 Some of the special items on her coffee menu are the duo and trio. Stephanie herself always orders an espresso and an espresso macchiato when she drinks coffee out, to compare. At Café Blá she took it one step further. The duo is made up of a filter coffee and a cappuccino. The green beans of these two roasts are the same, however, the roasting process and the preparation method are different, and thus it's very interesting to taste their similarities and differences. For the cherry on top, order the trio, which comes with an espresso shot along with the first two.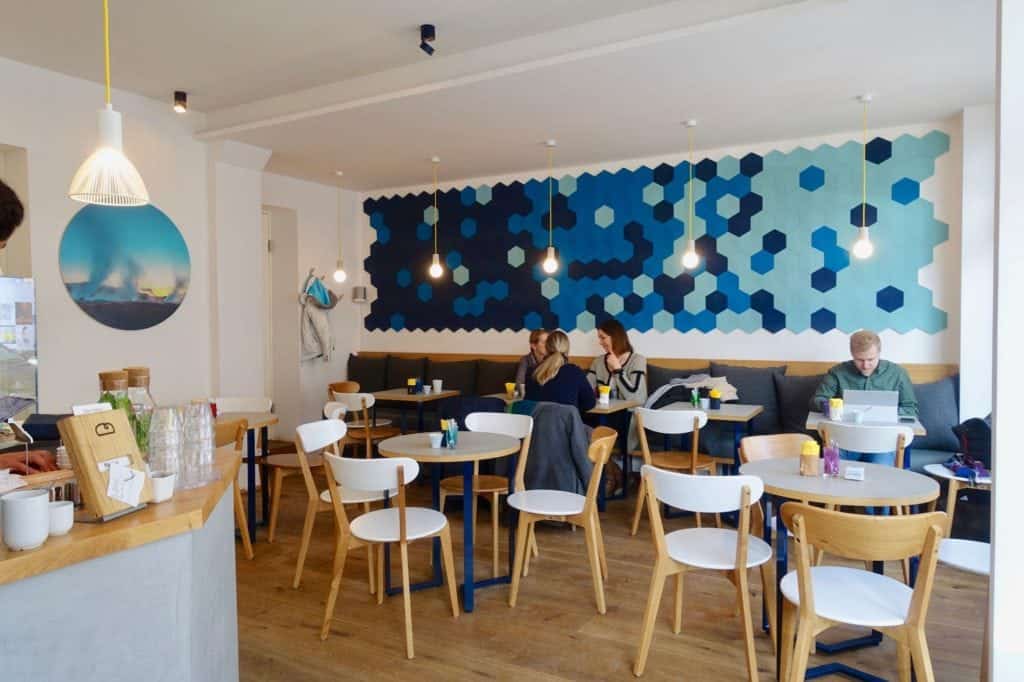 These coffee courses are brewed using Café Blá's fruitiest, single origin roasts that Stephanie roasted together with Wolfgang from Vits der Kaffee. For the more typical southern Germans, the Alfrún roast might be more fulfilling: a blend with more body and nutty, chocolatey notes. Nevertheless, it is yet perceived too fruity for some of the locals' palates.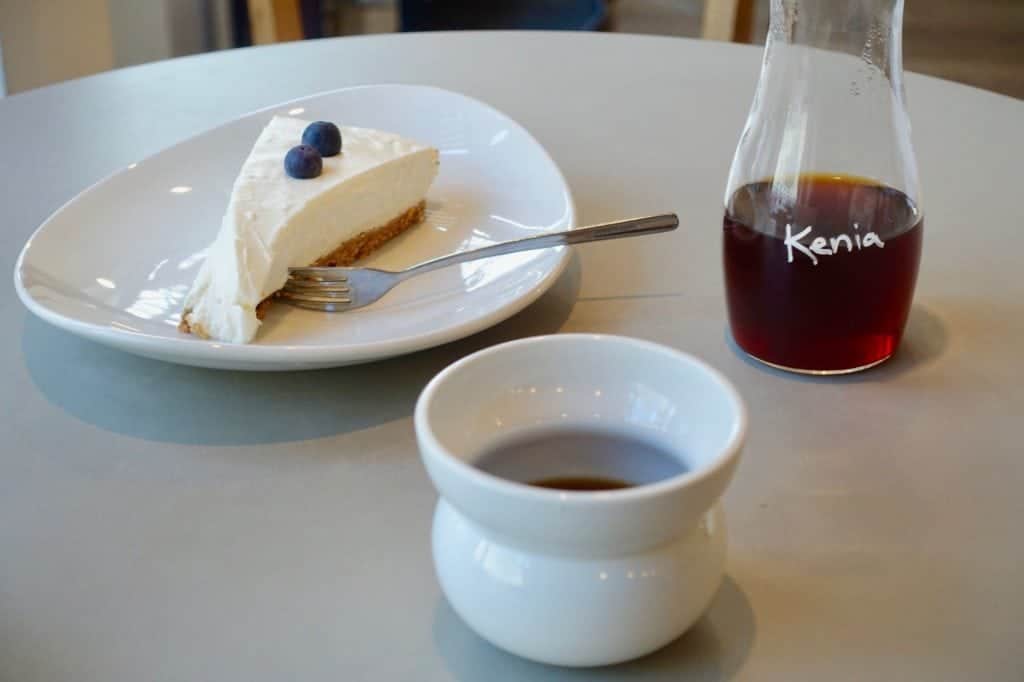 To conclude, a mix of Scandinavian coffee culture with Icelandic roots, a cheerful, calming interior, and a very hospitable atmosphere make Café Blá a place for all: from neighbourhood friends to laptop-working tourists, baristas around town and coffee connoisseurs from afar.
Lilienstraße 34, 81669, Munich, Germany
Website, Facebook, Instagram
VogelMaier Kaffeerösterei
After working in "standard" jobs for many years, Stefan Vogelgesang and Christine Maier realised that they wanted to start something new. They weren't sure what it was then, but whether they would open a shop selling knives or a barbecue restaurant, Stefan was positive about one thing: "No matter what we do, we need good coffee."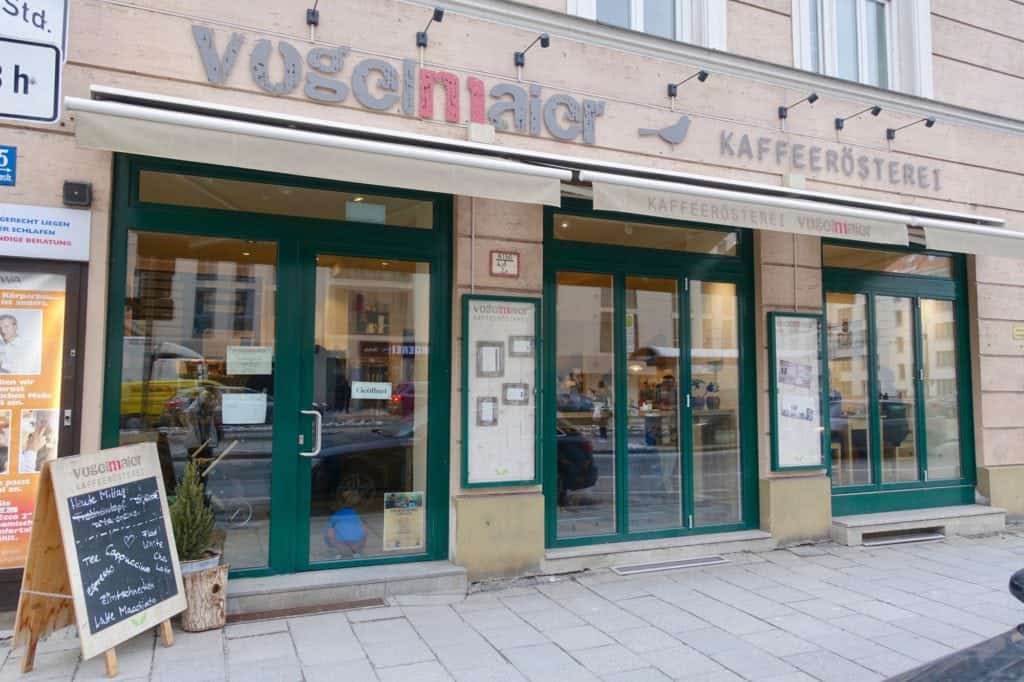 So they decided to take the barista and coffee roasting courses at the Berlin School of Coffee. With these programs, they travelled to Rwanda and El Salvador and interacted with the local coffee farmers there.
Stefan and Christine remembered the latter trip with their class: "The "father" of the Pacamara varietal accompanied us on the whole coffee trip. That was a very touching, amazing experience. You don't meet the founders of new coffee hybrids very often like that." After all this preparation, it became clear what they would do: open a roastery and cafe.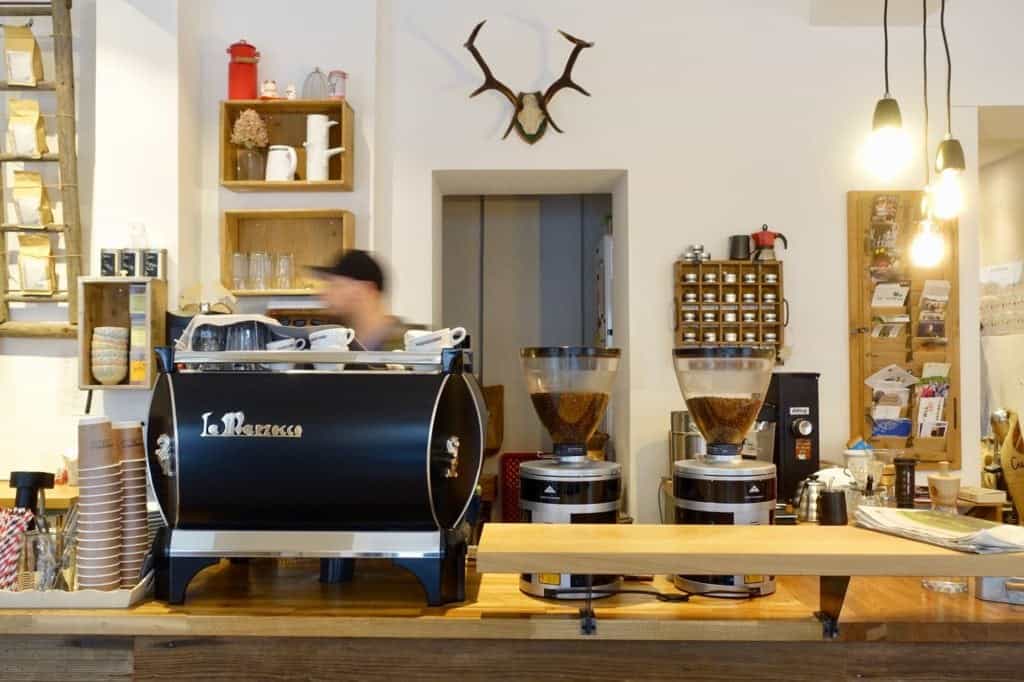 In March 2016 VogelMaier Kaffeerösterei opened on the eastern outskirts of the city. Here Bavarian traditions are brought into the specialty coffee scene. The interior has a modern chalet flair. It is made up of rustic chairs and tables, alpine pictures printed on wooden boards as well as a lamp inherited from Christine's own grandmother – but these traditions are perked with modern-day coffee knowledge.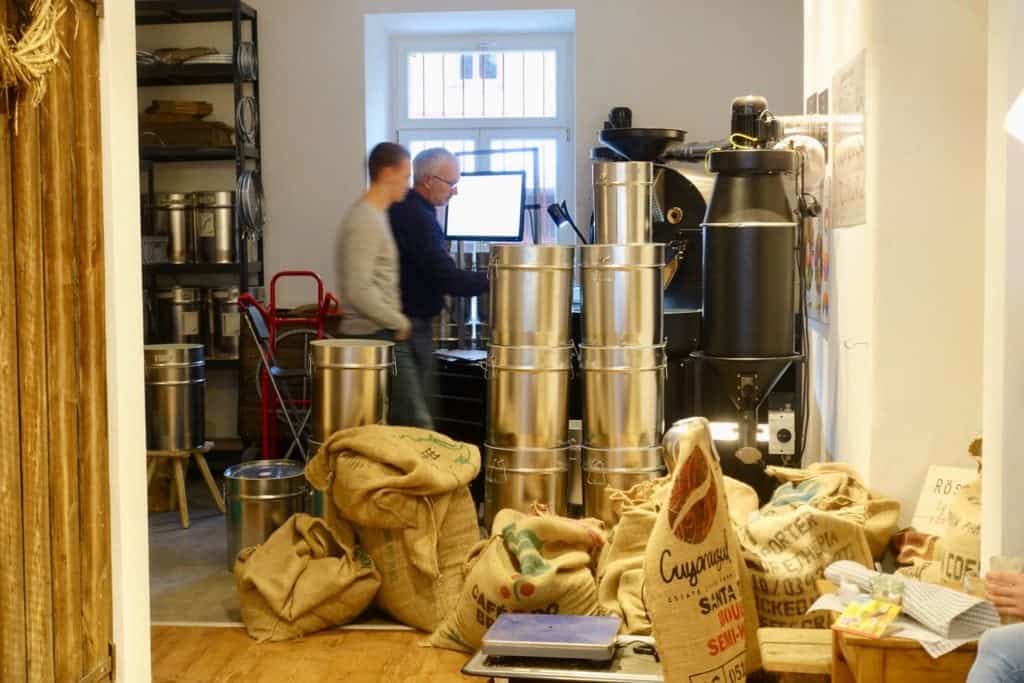 In the back of the cafe, you can see Stefan and his apprentices roasting. In total, they have four different espresso roasts and six filter coffees waiting to be brewed in any imaginable method. While the most espresso-based drinks are made with VogelMaier's medium roasts, the flat white is explicitly prepared with a fruitier Ethiopian. Although this might not be a Scandinavian's first pick, southern locals still find it too fruity. So VogelMaier has created a place just in between, that appeals to many as one of the best coffees they've ever had.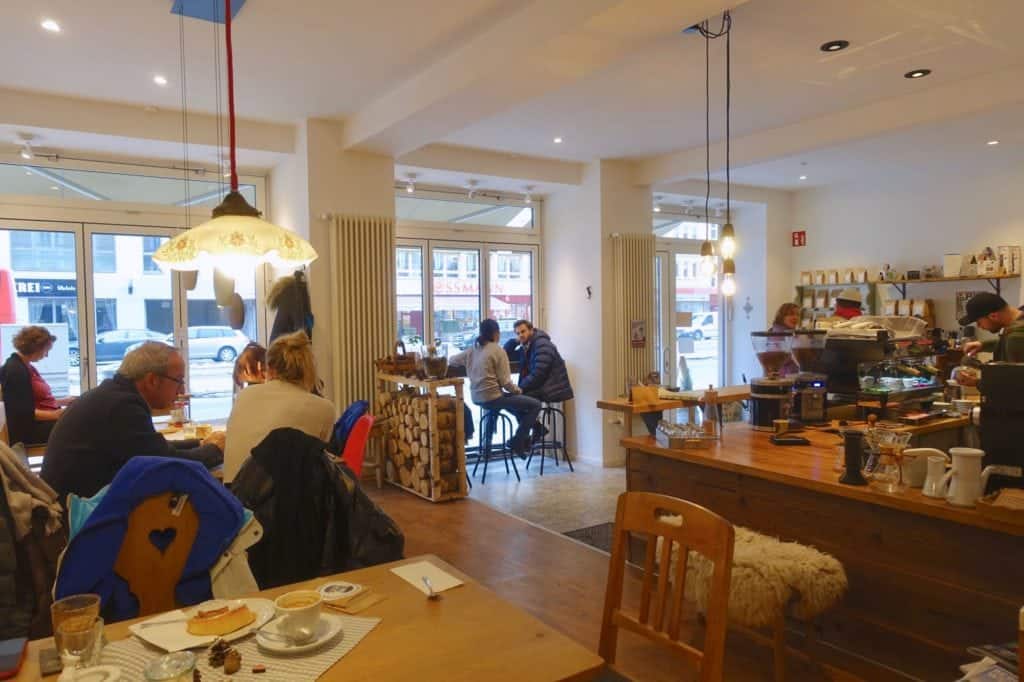 Einsteinstraße 125, 81675, Munich, Germany
Website, Facebook, Instagram
Sois Blessed
"Be blessed", a lavish, local and fair concept store in downtown Munich, is a place where you probably wouldn't expect to find specialty coffee. However, the showroom's cafe is as exceptional and flawless as its fashion's racks.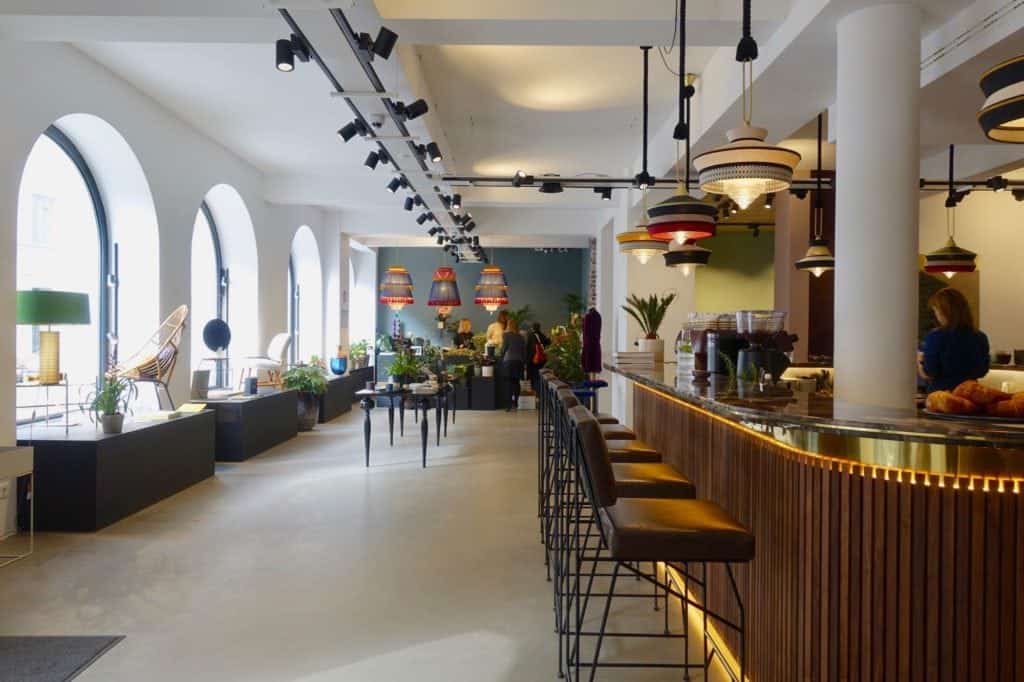 Henri Lopponen and Fruzsina (Freshi) Nagy are the head baristas at Sois Blessed. Henri started in Finnland's coffee business eight years ago, first as a barista, later as a head trainer and lastly working on the sales side. Freshi from Hungary brewed coffee at Mahlefitz, one of Munich's well-known specialty coffee roasters, until they closed their cafe a year ago. This small team greets you from behind the shining counter with friendly and honest smiles, prepares a perfect flat white, and then comes back for a fun chat with you.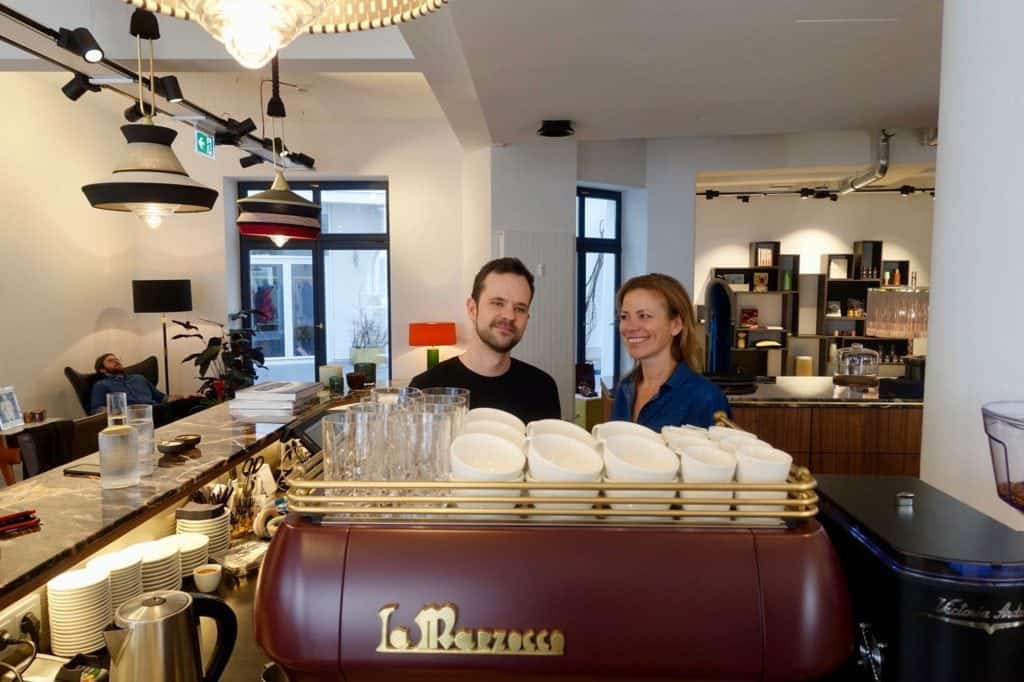 For now, you can only get espresso-based coffees roasted by Man Versus Machine. For the passer-by, they'll prepare it with a chocolatey Brazilian roast, but ask if you want their lighter Ethiopian roast—expect blueberry notes.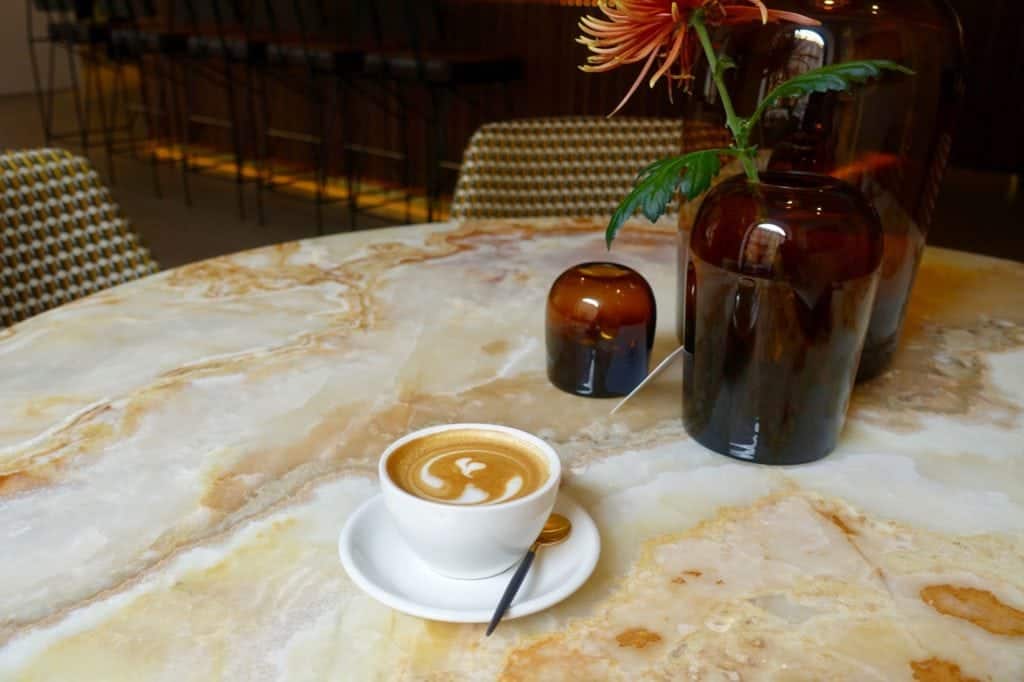 Many people classify Sois Blessed as an unaffordable concept store. But don't judge the book by its cover! Not only are they socially engaged with local designers and have fair trade standards, but Sois Blessed has even created a non-profit collection for a school of HIV-infected children in South Africa. I think it's quite the worthwhile experience to find your way through the 350 sqm exhibition to the cafe space. Come with some appetite, because every breakfast plate, snack or lunch is just as perfect and fine as the coffee itself.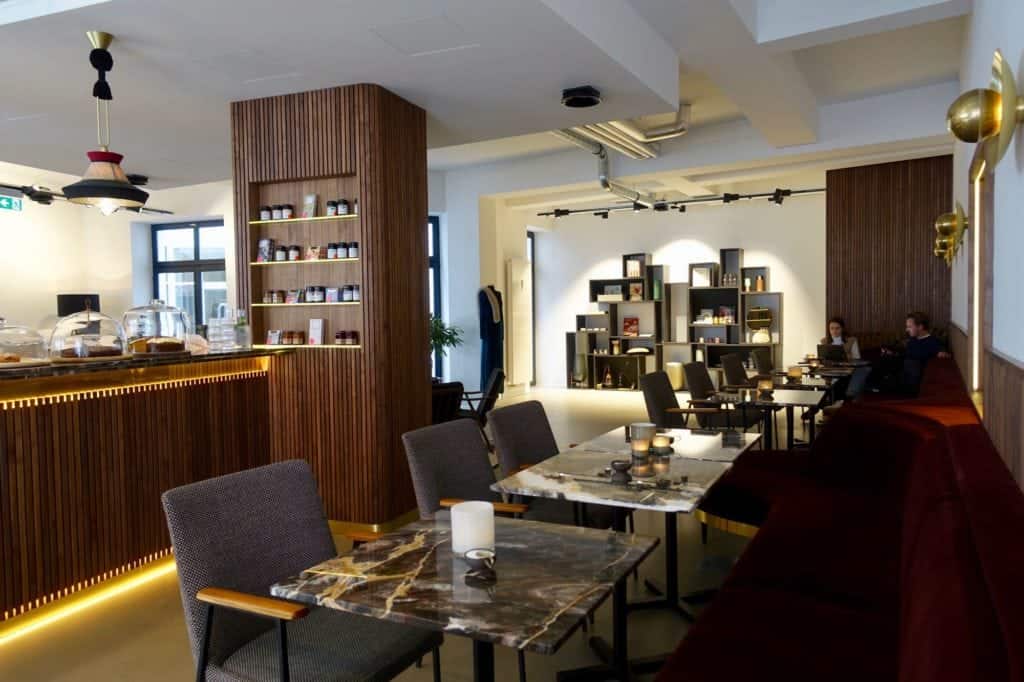 Prannerstraße 10, 80333, Munich, Germany
Website, Facebook, Instagram
Kaffeekontor
Kaffeekontor is a family owned business of three brothers and their parents. They started in the village of Stroppenhausen, expanded to Ingolstadt, and as of April 2017 they run a third location in Munich. First of all, their business is to advise coffee shops, meaning they are a real conveyor of valuable information between coffee technicians and baristas.
However, based on the words of the store manager in Munich: "If you don't show anything then you're not attractive," Kaffeekontor is also a showroom.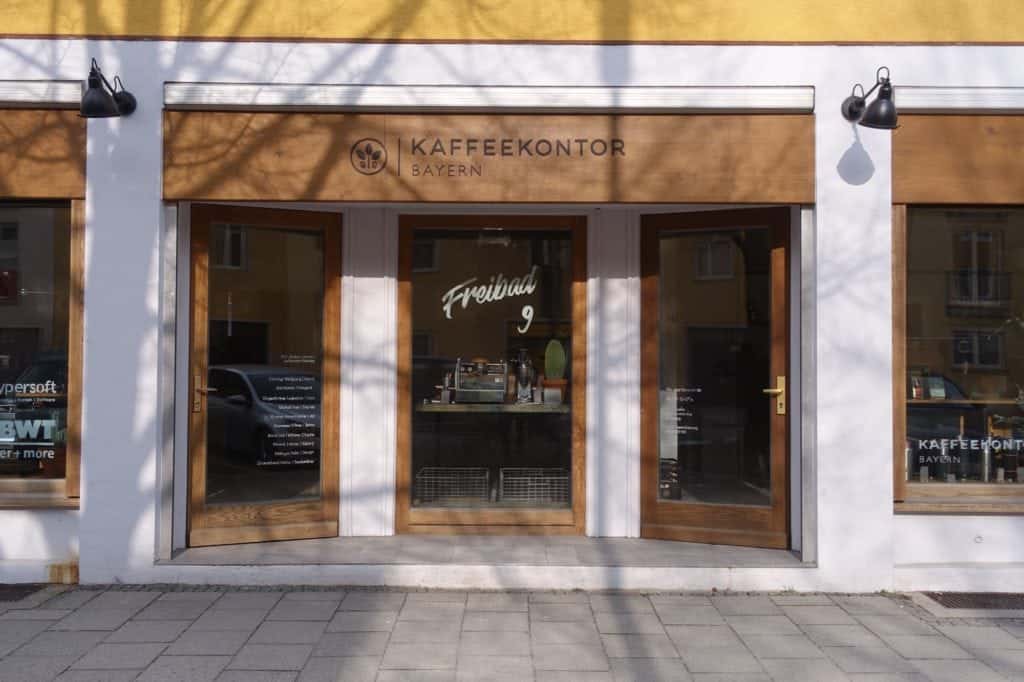 Kaffeekontor's concept store here in the south of Munich is a clean and welcoming presentation of coffee equipment of all kinds. You'll find La Marzocco Linea PBs, as well as Modbar modular espresso systems, but also fully automatic Eversys machines. Accompanying them is every kind of brewing equipment that ranges as far as Osmosis water filters and the milk dosing systems by Milkmade. This latter system is like a large milk canister that has settings programmed for the amount of milk desired for each coffee drink. Using this modern system can reduce bottle, carton and milk wastage in cafes.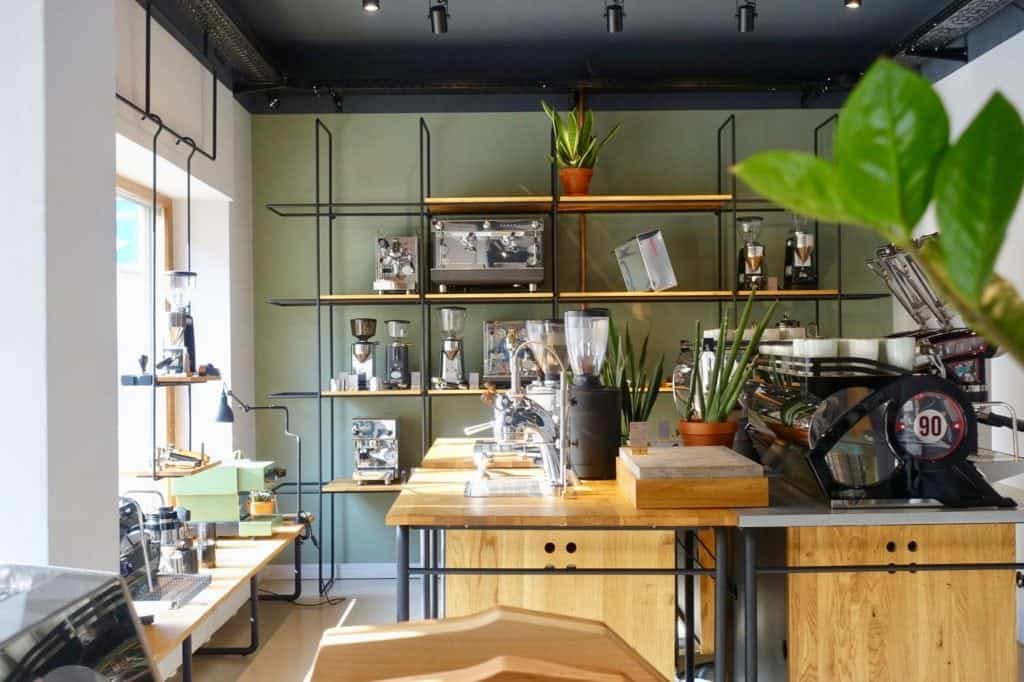 Neighbourhood locals might stumble upon this beautiful showroom without knowing that Kaffeekontor's main job is done behind the store's front. Some visitors come to purchase specialty coffee equipment and roasts for home. Kaffeekontor has a wide selection of medium roasts, from southern German roasters such as District Five (Ingolstadt), Wildkaffee Rösterei (Garmisch Patenkirchen), and JB Kaffee (Munich) to Hamburg's Public Coffee Roasters. But you can not only purchase those. I take it as my duty to spread the word that this concept store is also the best spot for a coffee in the south of Munich. Sip on a chocolatey flat white while you get inspired by the shiny equipment around you.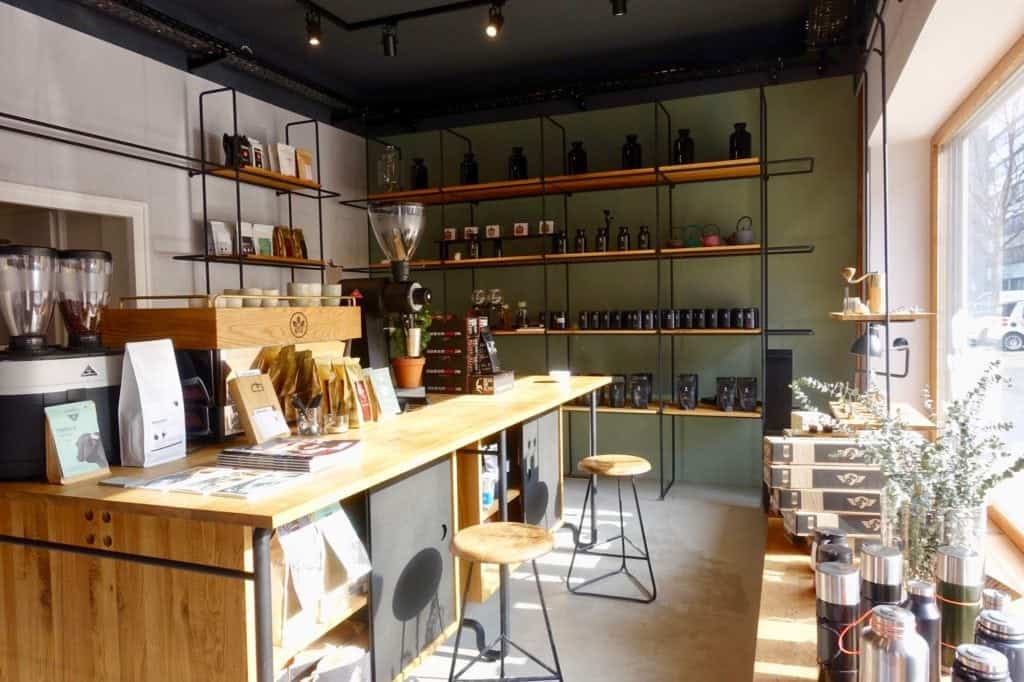 So while the majority of the cafes in Munich are still Italian-influenced, those with decent specialty coffee are slowly, but surely growing in numbers. Look for them in the most unexpected of places!
Freibadstraße 9, 81543, Munich, Germany
Website, Facebook, Instagram