It has been almost a year since we had last explored Budapest's coffee scene in September 2016. Since then, the local coffee scene has undoubtedly grown. With the kind help of Franciska Apró, the Events Coordinator of the Hungarian chapter of Specialty Coffee Association (SCA), we have explored the coffee newbies mentioned on their Coffee Map of Budapest and are bringing them in this list of hot tips.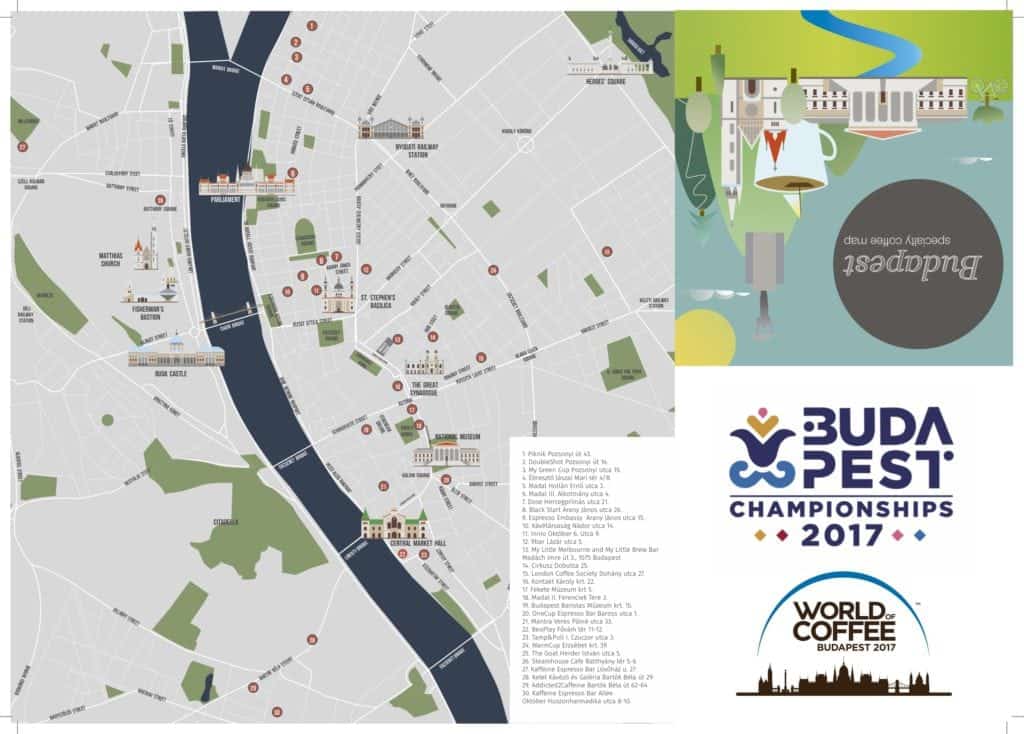 Double the number of cafes
There are now as many new cafes as there are founding members, if not more! The Hungarian chapter of SCA did an amazing job illustrating a little pocket map that you can have with you at all times, to be always in the know of where the next great cafe is.
We are especially happy with many concepts that are combined under the cafes' roofs. Those cafes invite you for a coffee, but in some cases, you can stay for a glass of wine, something to eat or to do your shopping there. More and more cafes are using international roasters, which is a great common ground for caffeinated conversations with people from all over the world.
Dose is a centrally based cafe supplied by London's Square Mile, pulling expert shots with their beans.
Piknik serves a very good espresso roasted by Gardelli Coffee Roasters and it welcomes vegans.
Kávétársaság seems more like a speciality coffee supermarket than an actual shop, but it has got the Ferrari of coffee machines, the Victoria Arduino Black Eagle, on the bar, and apparently, no matter what type of beans, they are brewed with great care.
Innio is the place to take anyone who would like to enjoy a great restaurant food, delicious wine as well as the coffee that follows. The latter is supplied by The Coffee Collective.
London Coffee Society is the right place for you if your favourite meal is breakfast. The cafe serves it all day long, accompanied by coffees prepared with beans from Mission Coffee Works.
Addicted2Caffeine combines what all coffee people love: their daily drink—coffee—and their evening remedy—wine. The cafe is open, conveniently, until 10 pm.
Kaffeine Allee is the first speciality cafe located in a shopping mall. They serve Has Bean brewed on a Victoria Arduino Black Eagle machine. Shopping has never been so easy.
Steamhouse is located inside a market hall. This is where you shop your groceries and fuel up with tasty brews.
This Is Melbourne Too, another family member of My Little Melbourne, is supplied by Racer Beans and invites you to venture out outside the city, up North.
We would certainly love to hear your thoughts on these cafes, let us know where you drank the tastiest espresso or the most mind-blowing filter coffee!