It's hot. Probably something around 30 degrees. You just finished work, your shopping or a walk you were having around the city. In a couple of minutes, you are about to meet a friend and you need that lovely boost that only a good cup of coffee can give you. Now imagine that you walk into your favourite coffee shop and you order a hot filter coffee. Wait, that does not sound right on such a hot day! Instead, you walk into your favourite coffee shop and order a Freddo Espresso. That is a better idea!
All of the above sounds like a typical day of someone who lives in Athens or another big Greek city. Every friend of mine who visits Athens always asks me: "Why is everyone walking with a cup of coffee in their hands? What is this iced coffee drink which is black and has a bit of foam on top?" It's Freddo Espresso, of course.
When espresso became an option around the Greek coffee shops that had served just instant coffee and Ibrik coffee until the 1990's, people were thrilled. And it didn't take much for the Greek baristas to improvise and create an espresso-based cold coffee beverage, which would replace Cafe Frappe.
Cafe Frappe: the first steps towards iced Greek coffee
Iced coffee isn't something new in the Greek coffee culture. Before Freddo Espresso, it was the Cafe Frappe, which is made by shaking cold water with instant coffee and was accidentally invented in 1957, at the Thessaloniki International Trade Fair. An employee of Nestle who wanted to make a typical hot instant coffee couldn't find any hot water available then. Cafe Frappe has been a symbol of the Greek coffee houses for decades.
When the Italian tradition blended with the Greek improvisation
However, things in Greece have changed a lot over the past years and espresso has established its place in people's everyday lives since its appearance in Greece at the beginning of the 1990's. After some 10–15 years of consuming what is now called "commercial" coffee came the rise of the speciality coffee scene in the country and with it a wave of some very good third wave coffee shops being opened. Those serve truly exceptional cups of coffee. The one thing that hasn't changed though is the need for an iced coffee beverage to help the Greeks to get through the hot days of the year.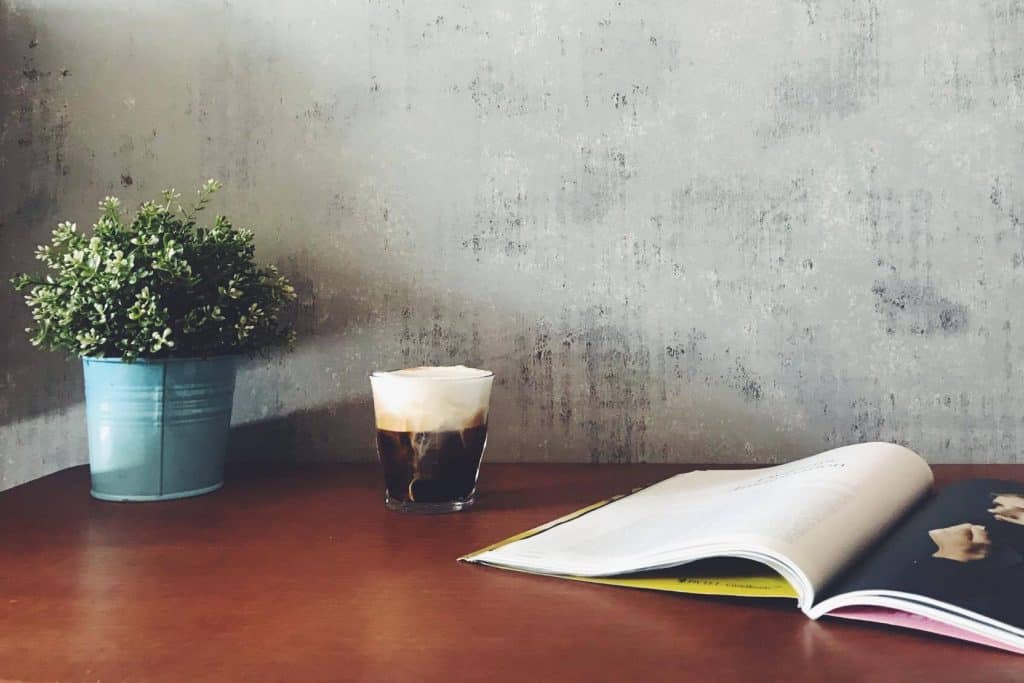 In the mid-2000's, when the first speciality coffee shops started to open in Athens, and beverages were being prepared with high-quality coffee beans, espresso was already well established on the scene. Following the new trend, espresso-based beverages were becoming more popular and it didn't take much time for Freddo Espresso to level up.
The adaptation was not something that needed much effort, as Freddo Espresso was already the king of the beverages then. The Greeks loved it when their favourite iced coffee was prepared with single origin coffees and top notch coffee blends. It's fair to say that people who were in the speciality coffee industry helped a lot the general consumers, by explaining the differences in quality, between commercial and speciality coffee and how a single origin Ethiopian, for example, would taste in their favourite drink and why.
A quick tour of the Greek coffee culture by a Greek Barista Champion
We talked to Konstantinos Iatridis, the current Greek Barista Champion, who will represent Greece at the World Barista Championship 2017 in Seoul this November. We visited him at his home cafe, Taf Coffee, where he serves many Freddo Espressos a day, almost all year long.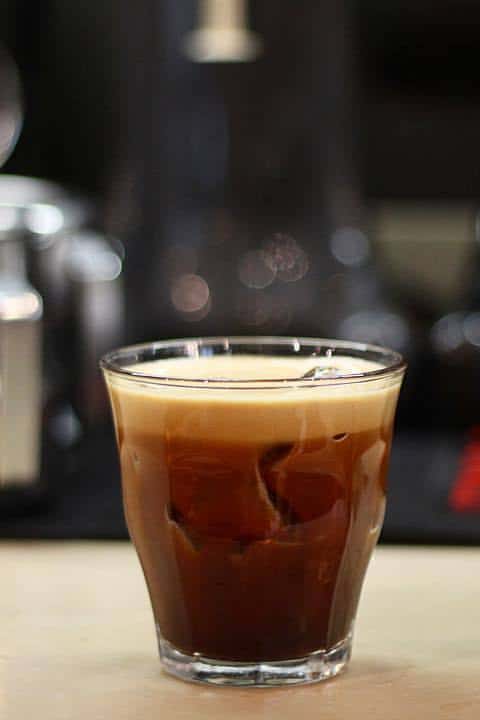 "Greeks always loved iced coffees and it doesn't take much for someone to understand the cold coffee beverages have always been the most popular drinks. Before some years it was the Cafe Frappe, now it's Freddo Espresso. It goes without saying, that that's quite of an upgrade if you consider that from low-quality instant coffee, we've moved to an espresso beverage, which depending on the coffee shop, can be prepared with some very high-quality coffee. It's something rooted in our culture and something that occurs from Greece's climate. When the most of the days here are over 25 or 30 degrees you kind of need a cold coffee beverage to freshen you up!"
But what's exactly that Italian-named, refreshing coffee beverage that has become synonymous with the Greek coffee culture?
"It's kind of simple, actually. It's an iced coffee beverage based on espresso. We're blending the espresso with ice, by shaking them in a mixer, so we can get a creamy texture and achieve a better homogenization, rather than just throw a shot of espresso on ice cubes, like they do in other countries. You have to be careful though with the ratio of coffee and ice cubes. You don't want your coffee to be diluted, but just to get cold. It's a solid coffee beverage that if you drink it without sugar, as we recommend it, you can really appreciate the espresso which it is made of."
A recipe for the perfect Freddo Espresso
Pull a double shot of espresso (We recommend a slightly larger yield, around 60-70ml).
In a shaker, add 4 ice cubes and the shot of espresso.
Mix for about 10-20 seconds, depending on how much foam you want to get in your beverage.
Strain into a glass filled with ice cubes.
For my shot of espresso, I used 19 grams of Taf's Rosebud Espresso Blend (Rwanda, El Salvador, Ethiopia).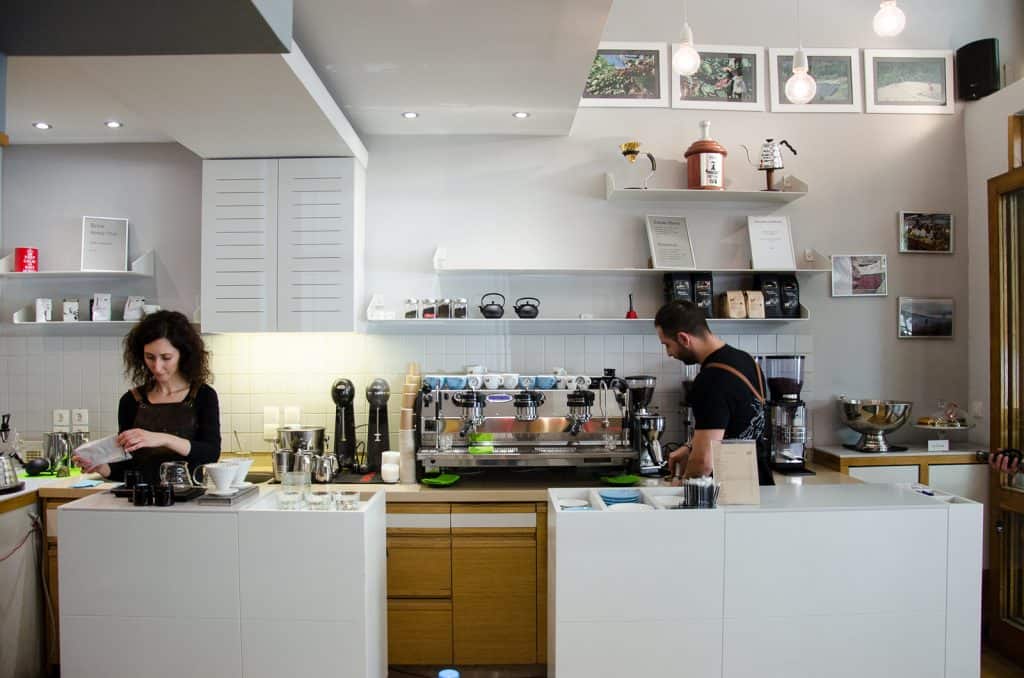 Should one, however, prefer some coffees with certain profiles, in order to prepare his espresso for the Freddo Espresso?
"Well, I prefer to use fruity coffees with higher acidity and full body. When mixing with ice the intensity of the coffee will start to fade so one with a nice acidity will stand out even after mixing."
A very popular twist at Freddo Espresso
Before we finish our tour of the Greek iced coffee beverages, we shouldn't forget Freddo Cappuccino! It is a Freddo Espresso with a twist. You just add some cold milk cream on top of your Espresso Fredo. This coffee beverage starts to become more and more popular and tries to steal the crown of the iced coffee beverages from the Freddo Espresso.
The whole concept of not mixing the milk with the coffee is to get two different textures, this of the iced coffee and that of the cold milk cream. If you don't stir your drink, slowly, the cream will become milk again and it will start blending smoothly with the coffee. It's pure magic!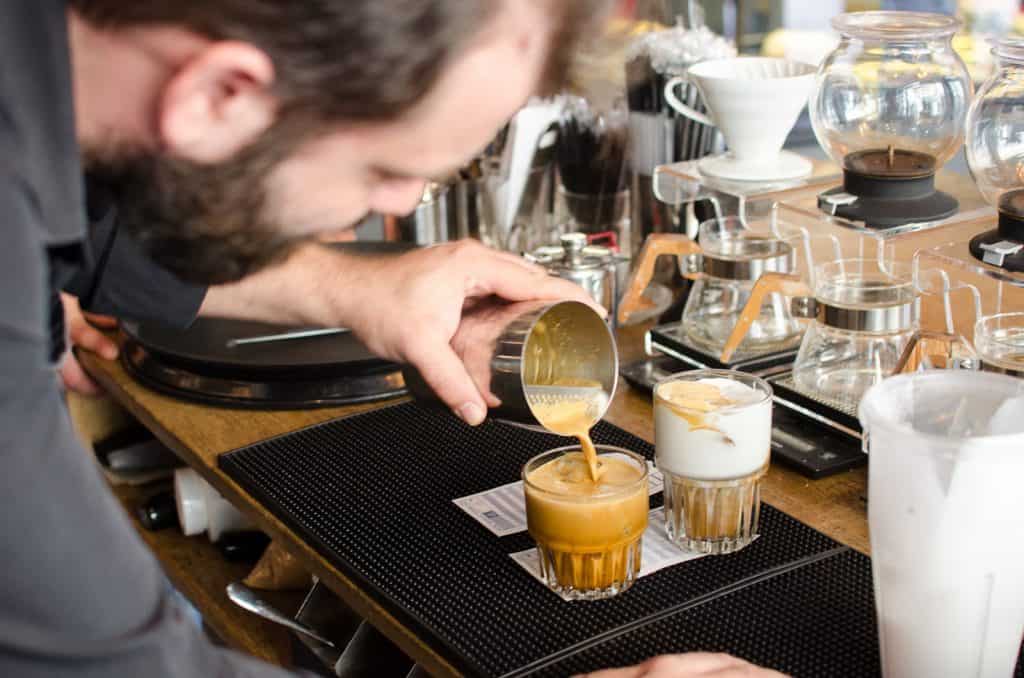 In order to prepare the cold milk foam, you just put some low-fat cold milk in a shaker and shake it until it gets a rich and creamy texture. Achieving this is faster and easier with a low-fat milk.
Pro-Tip No.1: Don't shake too hard or too fast. You'll never achieve that lovely creamy texture.
Pro-Tip No.2: Try to eat the cream with a spoon and then take a sip!
So, next time it gets too hot and you need something refreshing, or next time you want to check why Greeks are so obsessed with these iced coffee beverages, give it a try, follow our recipes and you won't regret it!
Thanks: I would like to thank Konstantinos Iatridis, for helping us out and sharing his knowledge, and Taf Coffee Shop for serving us the perfect Freddo Espresso, to get along with this article!