The preliminary rounds at the World Barista Championship 2018 in Amsterdam gave us 16 finalists. Out of those names, there are incredible seven competitors from Europe, and here are their presentations in a bit more detail, before we go to watch the semifinals!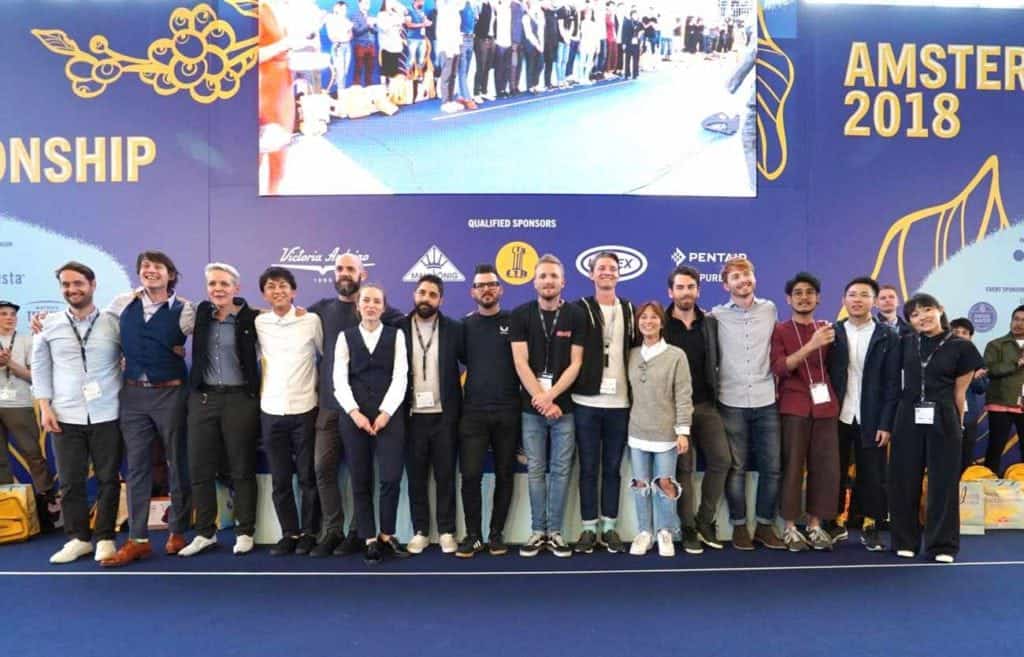 Mathieu brings a presentation full of emotions, explaining that the right emotions are as important to deliver a perfect cup of coffee as are the variety, processing methods, roasting and brewing. He also introduces himself to the judges and addresses them by their names.
He approaches his judges as his customers, delivering three emotions: mindfulness, comfort, and surprise. He is explaining them everything about the espresso, so that they can be mindful to the coffee, then pleasing them with a comfortable, milky beverage, and finally surprising them, with a signature beverage.
Mathieu uses a Costa Rican coffee from the Tarazzu region, grown at Tito Ridio farm, 1800 masl. Caturra and red catuai varieties are processed in an innovative way: natural anaerobic fermentation, where the pulp, the mucilage and the seeds are sealed together in a tank for 20 hours. This created new notes in coffee: cinnamon, orange, plum, which repeat itself throughout the presentation.
Espressos are brewed using 19 g in, 40 g out, in 20 seconds. This produces a balanced cup with aromas of cinnamon, orange, and on the first sip with notes of cinnamon, orange, adding plum in the second sip. Medium to high body, round, smooth mouthfeel, a long aftertaste of cinnamon and molasses. This is Mathieu's espresso course.
His milk beverage is rich and creamy, Mathieu designs his own milk for it. The espresso runs 19g in, 42 g out, in 20 sec, with notes of cinnamon, caramel, butter, reminding him of a cinnamon bun. Mathieu froze his milk for 20 hours and defrost it for 4 hours, in order to lose 50 % of the water in his milk, giving the beverage rich and creamy mouthfeel. This method also increased the degrees Brix in the milk, increasing the sweetness. Mathieu also cooked it sous-vide, starting a caramelisation, giving it its caramel notes. The roasting was adjusted to a hybrid curve between washed and natural, to complement the notes in his coffee.
Finally, Mathieu presents the signature beverage: a visual and emotional surprise, adding notes and acidity to his coffee by adding apple vinegar, to add to the malic acidity of Tito Ridio, resulting in a note of peach. He adds a bit of sugar, filling the mix with nitrogen, for a creamy mouthfeel. Then, he brings his combination of 4 shots of espresso and 1 g of calcium lactate that he froze, creating espresso drops. Using vanilla beans, he achieves a new note of cola–in combination with the cinnamon flavour.
The signature beverage with espresso drops is of a creamy mouthfeel, and on the first sip with notes of cinnamon, orange, peach. The second sip has one espresso drop with a fizzy mouthfeel and notes of cinnamon, cola, vanilla.
Such a beautiful, clean, precise, and smooth presentation. As Mathieu said, he practices to deliver these emotions with his customers every day at Mame Coffee Shop and we are not surprised that he was ranked as first after the preliminary rounds! We cannot wait to see his presentation again.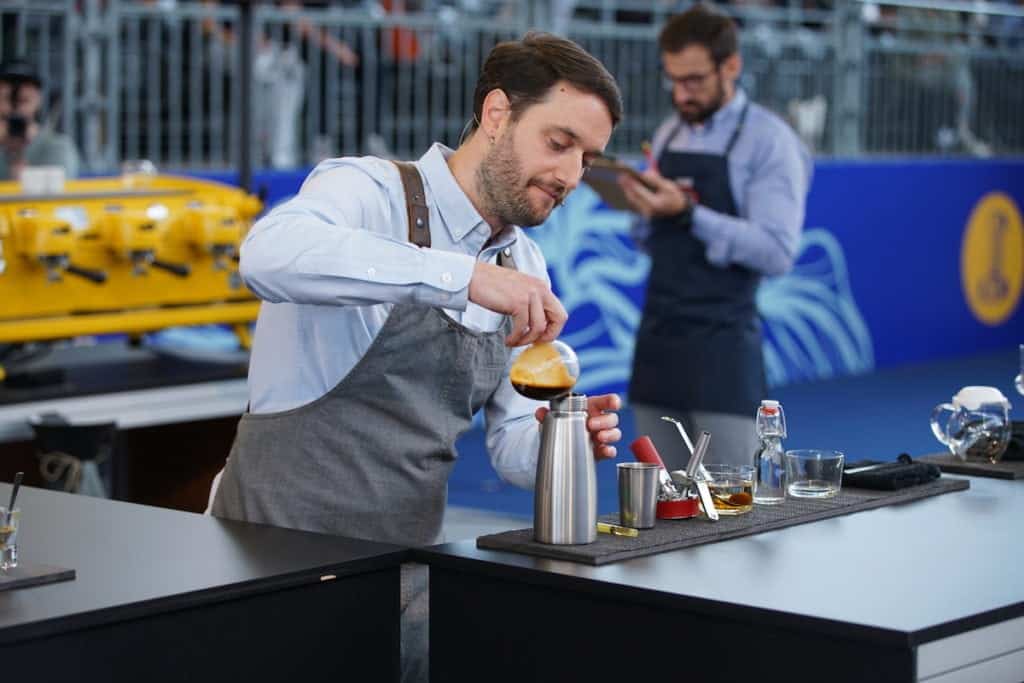 Matt Winton / Sweden / Drop Coffee
Matt's presentation is focused on taste and flavour which is influenced by the environment around us. In Matt's case, he talks about coffee descriptors enhanced by the touch and sight sensations and uses different colours and materials to enhance the flavours and texture of his coffee.
Matt brews a Colombian washed Caturra from Finca La Terrera which is grown in separate lots, delivering great sweetness. Matt says that the quality of this coffee goes back to each of the production steps traced in the process, and he talks about roasting, too.
For his milk beverage, Matt uses quite a short ratio, in comparison with some of the other competitors, of 20 g in and 36 g out, to which he adds 60 g of milk. The notes of the beverage are almond milk, vanilla, sweet ricotta finish, velvety. As the judges are tasting it, he asks them to touch a cloth on the table to enhance the texture sensation of the milk beverage.
His espresso course is of a longer ratio and brings flavour notes of fresh ripe blood orange, cacao nibs, grapefruit zest, juicy, with a tonic-like mouthfeel.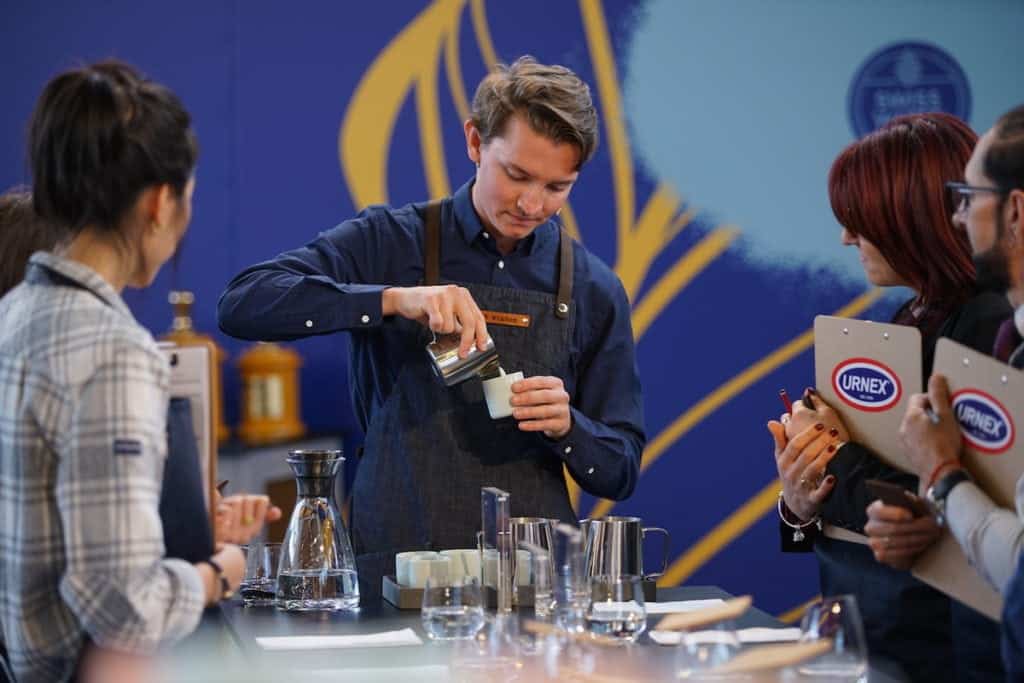 Follow Matt Winton: Instagram
Agnieszka Rojewska / Poland / Independent
Agnieszka welcomes her panel of judges to a visit to a coffee shop. She presents her judges with an Ethiopian espresso that she brews for all courses: 20,5 g in and 3g out. The balance of this coffee is in its medium sweetness, acidity as well as bitterness, offering flavour notes of peach, plum, and orange blossom. It is a silky espresso.
She prepares her signature beverage using a lactic bacteria which is present in milk, but also in the fermentation process of her coffee. The shots for the signature beverage are a bit longer, of 20,5 g in and 45 g out, having tropical notes. Then, she adds a rooibos extraction, milk that she cleaned with the lactic bacteria.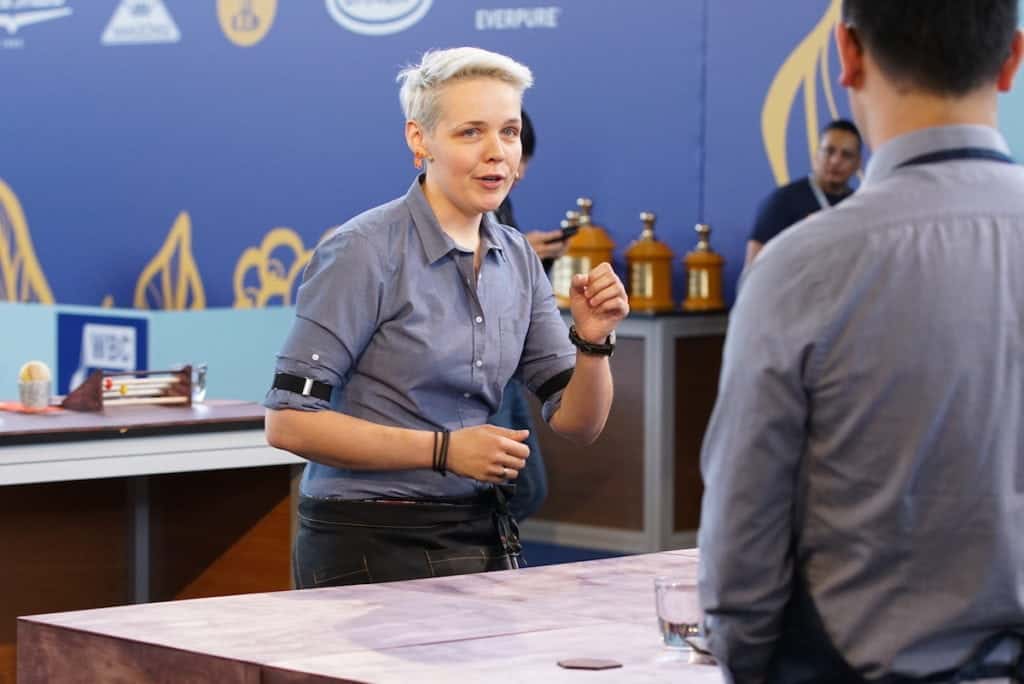 Liliya uses her presentation to walk the judges through her own discovery of the world of coffee and the growth that we experience as coffee professionals. She opens the presentation by asking the judges to close their eyes, to first encounter the aromas of her coffee. In her presentation, every three minutes count for a year of her own journey. Liliya also uses a geisha variety for her espresso and signature beverage but has got a different coffee for the milk course. She experiments with processing methods as enhancers to the flavours of the coffee, and then, on stage, uses for example sous vide and vacuum pot to finish her preparation.
Her geisha from Boquette region is brewed with 20g for espresso and 50 g out, giving notes of pomelo, apricot, jasmine and white tea, medium to high acidity and high sweetness. In her signature beverage, she illustrates how a fragrance can help us translate other aromas and notes in the coffee.
Joshua Tarlo / United Kingdom / Origin Coffee
Joshua opens his presentation by describing the moment he realised that there was something more to coffee. He remembers the espresso served by a barista, describing it by creating flavours. He goes on saying that we can share ideas using coffee through flavour. In his presentation, Joshua looks into coffee's dynamic range.
He uses a blend of green-tip and bronze-tip geisha varieties from La Nagrita farm in Tolima region, Colombia, grown at 1800 masl. The two components of the blend are natural and tartaric-fermentation geishas. The blend espressos have notes of black cherry, blackberry, hibiscus and lemongrass, medium weight and medium to high texture, like nectar.
The signature beverage is an illustration of the coffees' uniqueness since coffee is very versatile in time and will never taste the same at different times of its production stage, from the farm through to the drying bed. Joshua aims to showcase the flavours he experienced in both coffees just off the drying beds. For that, he uses infused green coffee, infused coffee leaf, and infused cascara. The beverage gives notes of red cherry, green tea, coffee fruit, pineapple and mango.
In the milk beverage, Joshua introduced the beans to the roaster at a lower temperature, to ensure even development and the uniformity of each particle of the beans. He created flavours of marzipan, raspberry ripple, vanilla ice cream, butterscotch.
Joshua's presentation was very nicely put together and presented with a lot of knowledge, but also a dedication to the farmers of his coffee and the other ingredients.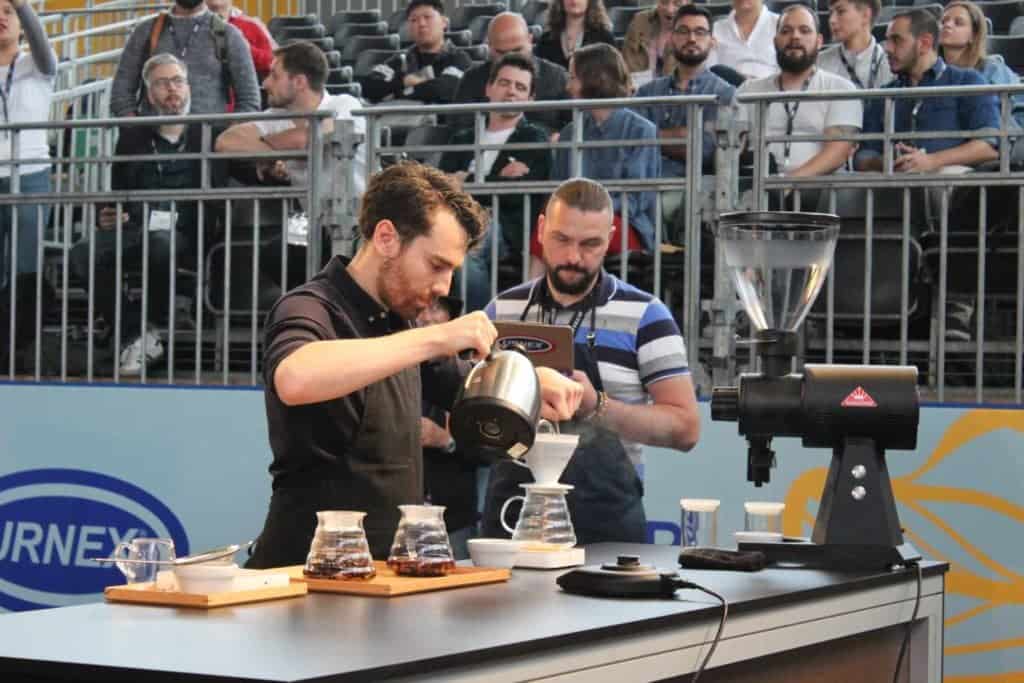 Lex Wenneker, The Netherlands / Friedhats Coffee / ESW
The Barista Champion of The Netherlands, competing in his home base, presents a beautiful 15-minute illustration of what experimenting and pushing of boundaries of speciality coffee can look like, from farm to the barista.
He competes with a Colombian geisha variety from Cerro Azul farm. This coffee was processed in an XO fermentation process. After picking, the cherries of only exactly 18°Bx (degree Brix) sugar content, and thus where carefully separate of all under- or over-ripes, or defected beans. The espressos then have a bright acidity, intense sweetness and low to medium bitterness. The notes of the espressos are orange blossom, passion fruit and cantaloupe melon, with silky texture and grapefruit finish.
Lex brews the same coffee in all three courses, but in the milky beverage, he uses the 20g in and 38g out ratio, with one part coffee and 3 parts milk in the cup. The flavour notes of the beverage are mango, banana and milk chocolate.
The experimentation process of the geisha variety, as well as of the fermentation itself, inspired Lex to ferment lychee extract using water kefir, which adds body to his signature beverage, while the lychee helps the acidity. The bright and floral notes of the coffee itself are supported with a zest of Buddha's hand, infused in lavender syrup, using a magnetic stirrer. The whole mixture infused with nitrogen, the drink gains a creamy mouthfeel and two new flavours: cinnamon and blood orange.
Lex' presentation is a beautiful, clean and precise illustration of his strive to see what else can be done with the speciality product that has already mad qualities.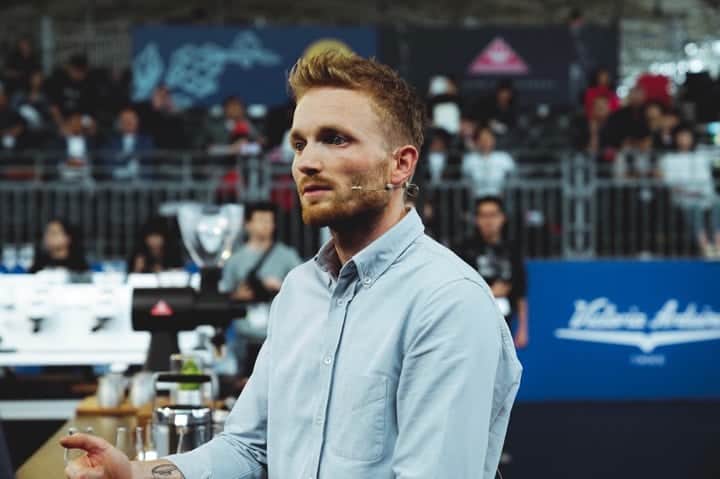 Michalis Katsiavos / Greece / The Underdog
Michalis appreciates the opportunity to see the quality at the farm level and having the opportunity to influence the quality of the coffee. He is presenting, what he does as a barista to do so.
Michalis competes with a geisha variety grown at Finca Deborah, in Panama, at the altitude of 1900 masl. It is an experimental batch that was fermented in the whole cherries for 62 hours. This created a wine acidity in the coffee. After cherries were depulped they were left for another 24 h of anaerobic fermentation. The resulting clean cup and complexity are due to this process. Michalis goes on explaining the importance of the even size of the coffee beans, in order to have a uniform development in the roaster, thus, selecting only the beans of screen size 16. Espressos have flavours of muscat grape, orange peel, blackberries, maple hint, with medium body and a silky texture.
Michalis' milk beverage is served in a 90 ml cup and prepared with a 4%-fat milk and an espresso of 20 g in and 43 g out. It has tasting notes of brown caramelised sugar, walnuts, and a bitter-orange finish.
Inspired by the anaerobic fermentation of his coffee, Michalis uses a similar approach to the creation of his signature drink. He puts raspberries and white sugar in a sealed bag into a sous-vide for three hours. He sieves his reduction through a metal sieve and uses 10 ml of it, mixed with two double espressos, 10 ml of a syrup from peels of 10 limes, and 10 ml of full-fat milk. He creates a silky beverage with the notes of lime peel, jasmine hints, raspberry cheesecake, which has got the aftertaste of buttery biscuits.
Photos: Courtesy of World Coffee Events