You are in Barcelona.
It is not your first time in the Catalan city, but you were 21 on your last trip, and it was a blur of seafood paella, beach beers, 4am night clubs, and dodging street performers on Las Ramblas. Fittingly, you have decided that Barcelona has a special place in your heart and have returned to explore it through a new lens.
Taking a list of highly-curated recommendations from a friend's recent visit, you find yourself in Poblenou – New Town in Catalan – and as you look down at the location on your map, you wonder,
"What the hell am I doing here?"
There are old factories everywhere, the construction is loud, the streets are wide and definitely not cobblestone, and where are all the old gothic cathedrals?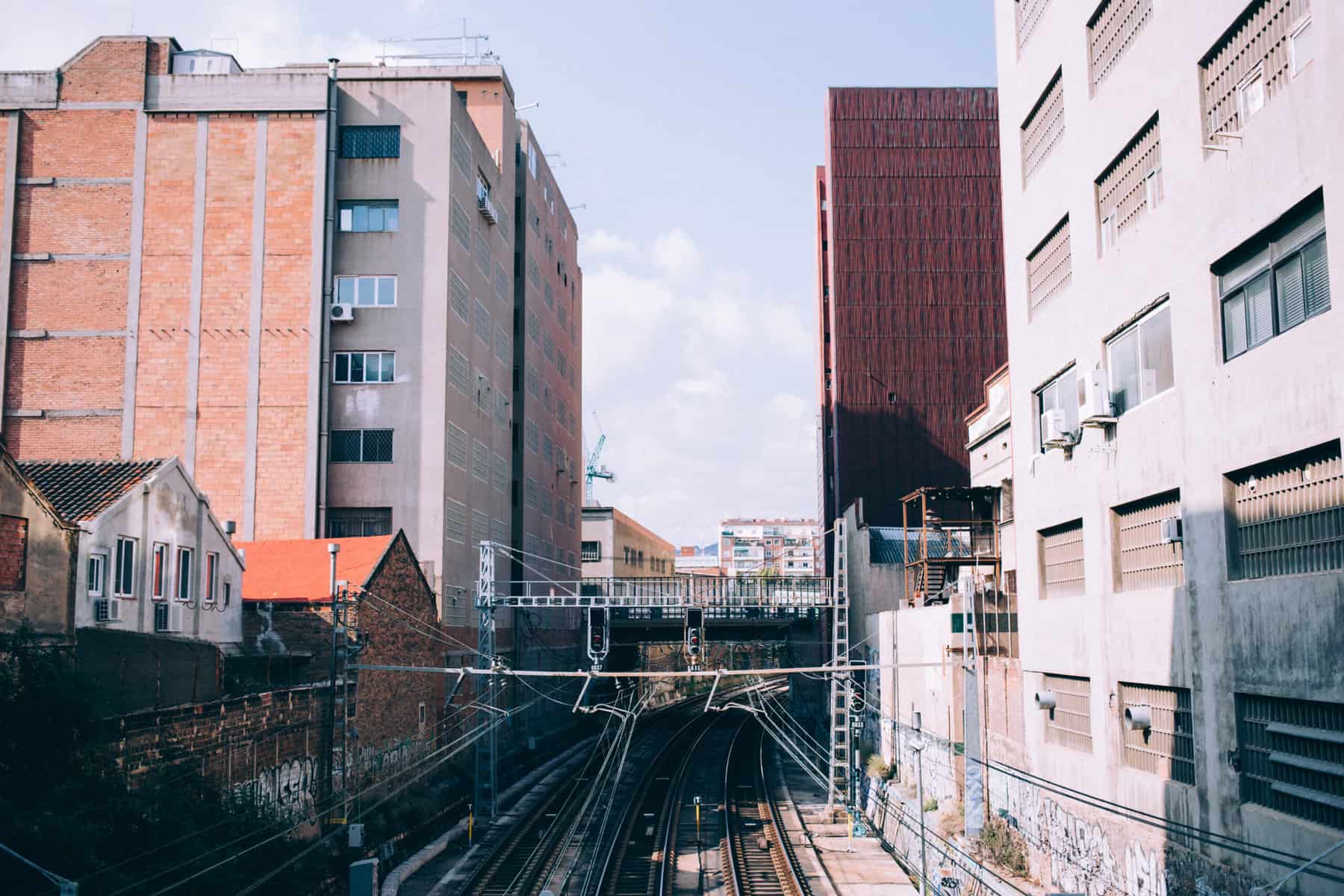 Take a second. Look around. See that old warehouse? It's actually a design school. That little gate in the fence leads to a flourishing community garden. This big garage door here opens to one of the best rock climbing gyms in the city.
Poblenou has a strong industrial past, particularly before the beaches were constructed for the 1992 Olympics, but it has also been going through a massive rebirth in recent years.
The historic brick-laden chimney stacks that riddle the skyline of the barrio complement the surge of new-build condos and tech companies making their home in this unique neighbourhood.
It also happens to be the home for some of the hippest new cafés and roasteries in Barcelona, but with the number art galleries, co-working complexes, and design universities, this should come at no surprise.
You finally reach the pinned location on your map. Welcome to Casa TAOS.
It is located on the ground floor of an urban co-working lab for sustainable companies called Apocapoc Barcelona, and from what you can tell, it seems to fit the vibe.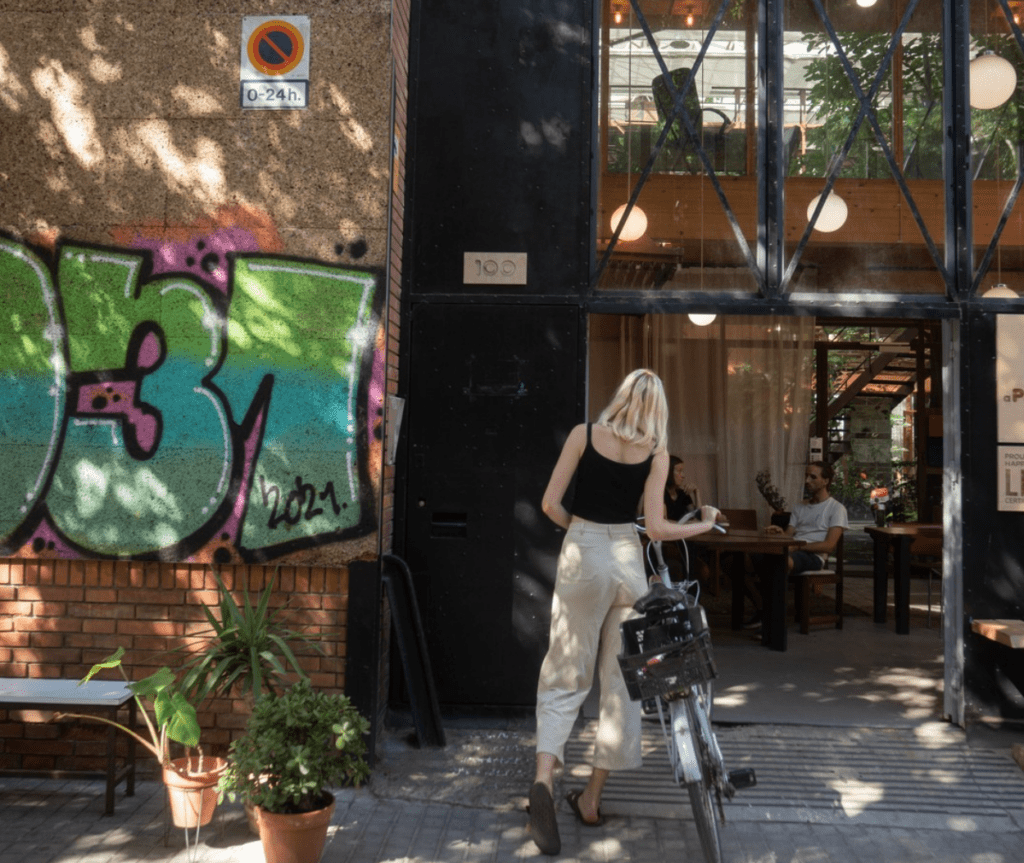 A few folks are sitting on wooden benches outside, sipping on what looks like beer in a wine glass and wine in a beer glass.
"Ok, strange," you think to yourself as you walk past the off-leash dog and through the open metal sliding doors, "I hope they have coffee."
Ah, yes. You see the classic La Marzocco espresso machine and a few bright yellow bags with country names on them.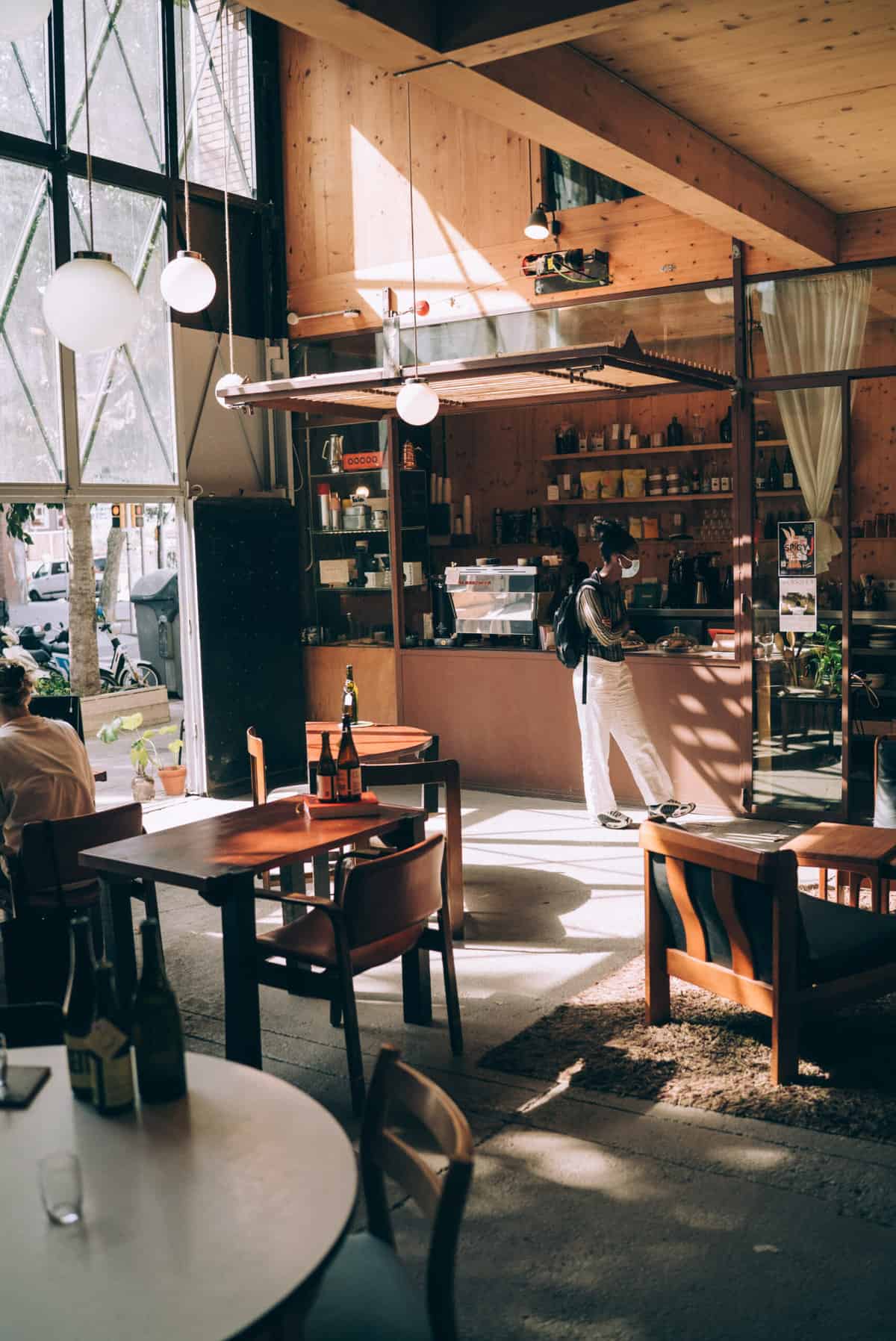 This seems like the right place, but what is "TAOS"?
You see a sign on one of the shelves: "TAOS is a global retail platform that operates online to help people explore a whole range of conscious products that have been curated by us, the TAOS team. These products range from home goods, to vintage furniture, and of course all sorts of delicious food and drinks which you can try yourself, here in our home, Casa TAOS."
Very cool. You approach the counter as you try to remember some of the Spanish you picked up recently on Duolingo.
"Umm, cafe con leche, por favor? Oh, leche de avena, sorry!"
You sit down in the corner with the vintage sofa to pick up a local magazine while the barista sways to the tune of Khruangbin and prepares your oat caffè latte.
But, let's talk about the coffee because that is what brought you here in the first place. Slow Mov is the house roaster of Casa TAOS, the one with the bright yellow bag. The barista mentions that they have a charming café roastery in the Gràcia barrio which has also been focused on slow, intentional living since day one.
The card beside your cup poetically describes the Panama coffee on espresso with sweet, tropical notes coming from the 120-hour fermentation process the producers called "Static Cherry" – a particularly intriguing mix of flavours with the oat drink.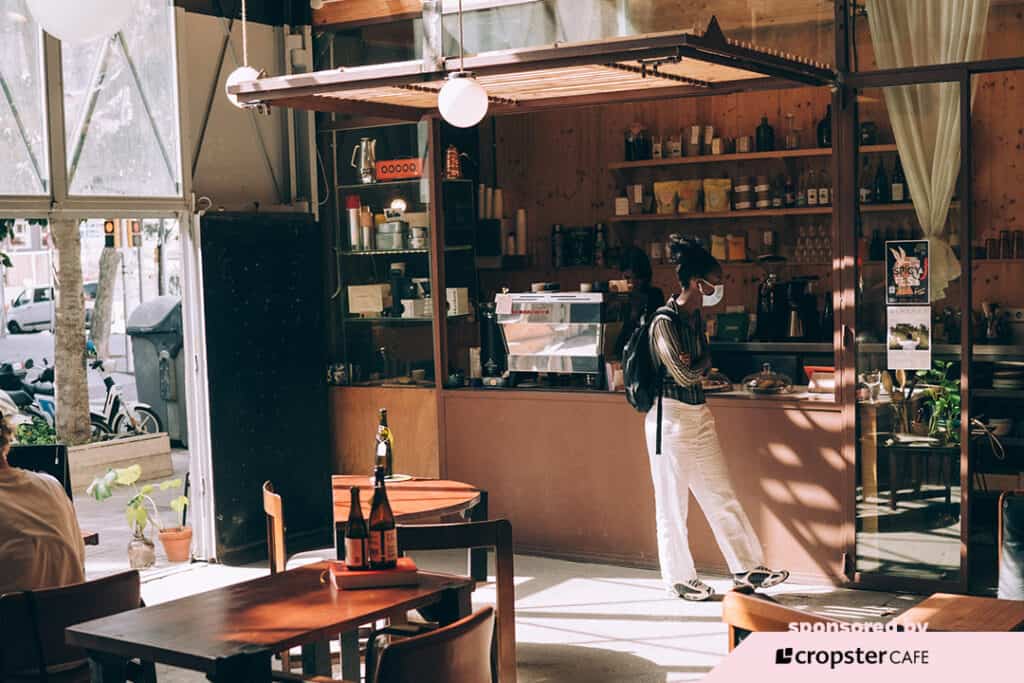 As you take a look behind the counter, you notice some of the other delightful, consumable products that are also on offer like Bioma Kombucha, masala chai concentrate from Chy, local craft beer from Cyclic Beer Farm, natural wines from Catalan winery Vinyes Tortuga who also share their land with native Mediterranean turtles.
"Well…" you mention to the barista, "I have time to kill, let's try them all!"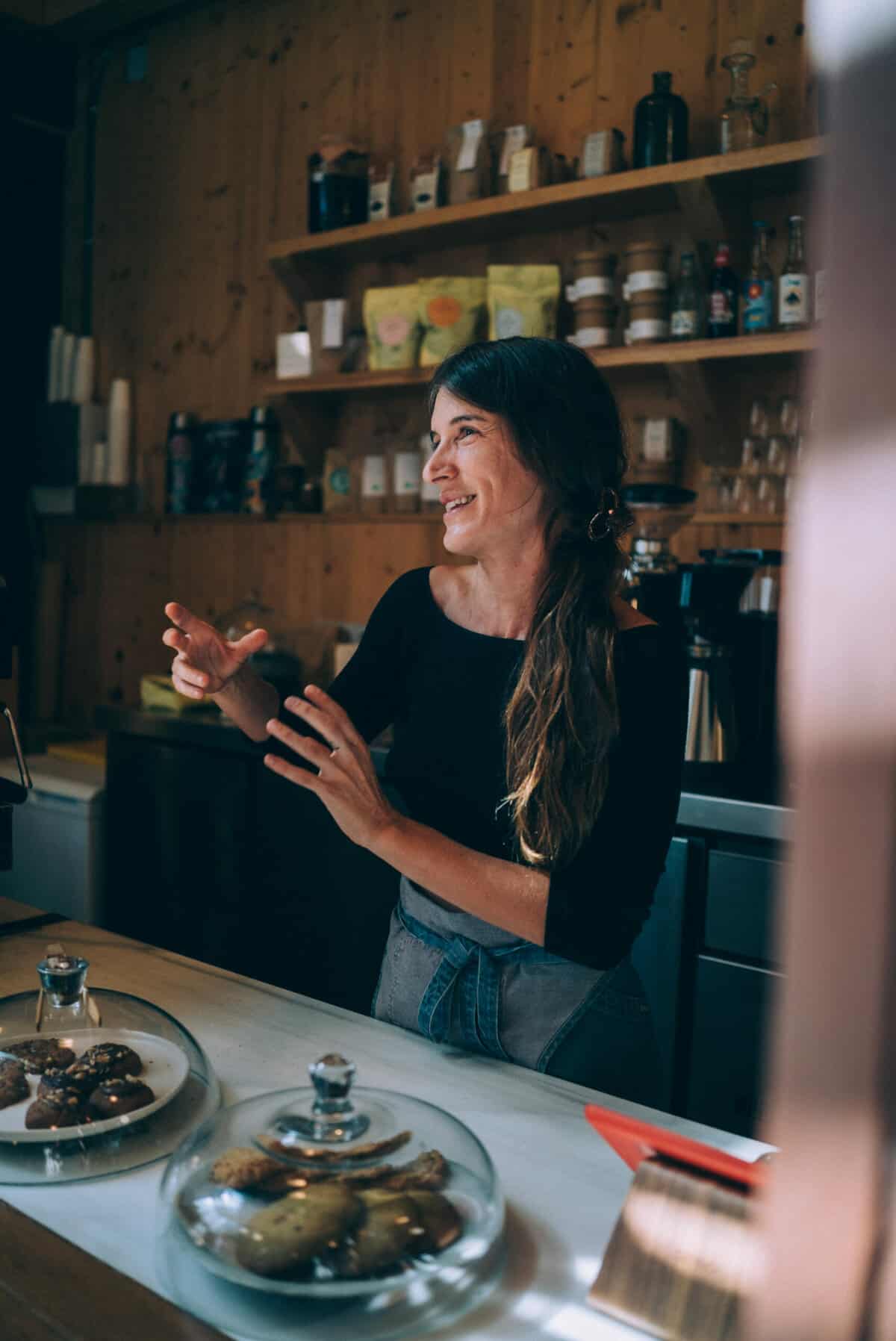 You love specialty coffee, you love matcha, natural wine, and craft beer, but one of the most surprising drinks that they bring out to your table was almost like a "chocolate tea", or more appropriately, as the barista explained, a husk infusion brewed from the crispy shell that falls off the cacao nib.
It has a subtle yet profound flavour that you are sure you will never forget. The husks, in this case, were provided by the local chocolatier, Lot Roasters.
After filling your belly with a whole assortment of liquids which may or may not traditionally go together, you realise you have not eaten anything all day. This needs to be resolved ASAP.
If you were a creature of habit who preferred a predictable meal, this would not be the place to indulge your hunger. Fortunately, we have established that you are not such a creature, and today's menu is a bowl of quinoa, bulgur, kimchi cabbage, cucumber, coconut steamed brussel sprouts, and hoisin jackfruit.
Casa TAOS perpetually rotates through a variety of unique plant-based food artisans, bringing cultures and culinary fusions from around the world into one midday offering. Your mouth already starts to salivate over colourful plates you see on the @casa.TAOS Instagram like veggie curry sandwiches, corn-avocado soup, spicy onigiri, vegan "ceviche", and fresh falafel bowls.
Now that you are adequately satisfied, you notice the sun starting to draw shadows of metal, wood, and glass across the ubiquitous Poblenou concrete floor. The light reaches your brown-stained glass of water as the oh-so-pleasing refraction spills across the teak table top.
In that moment, between the dog barking outside, milk steaming behind the counter, environmental consultants from the coworking coming back to the office, you instantly recall another new phrase your Airbnb host mentioned last night when you arrived in Barcelona – mi casa es tu casa!
Casa TAOS.
You are home.
Photos courtesy of Brodie Vissers if not stated otherwise.