Being raised in the heartland of wine connoisseurship, Bordeaux has no lesser standards once it started discovering the specialty of coffee. Huge buildings built of massive limestones and narrow alleys that are held together by copper street lamps form the old town. This area habitats the majority of Bordeaux's coffee scene. Yet, considering the concentration of great coffee shops in the area, I was surprised that I did not stumble upon any. I only discovered them later thanks to a list curated by Pascal of KURO espresso bar.
The following nine third wave cafes are representative of the French culture, all with a personal approach, yet different from one another. At the same time, they seem to have a lot of love for each other. From an owner to a roaster, to a barista, these Bordelaise folks share roasts, meet up in one of the cafes and happily recommend me each others' shops. Here is the list of places that nobody would miss to mention when I asked them about another specialty cafe in the hood.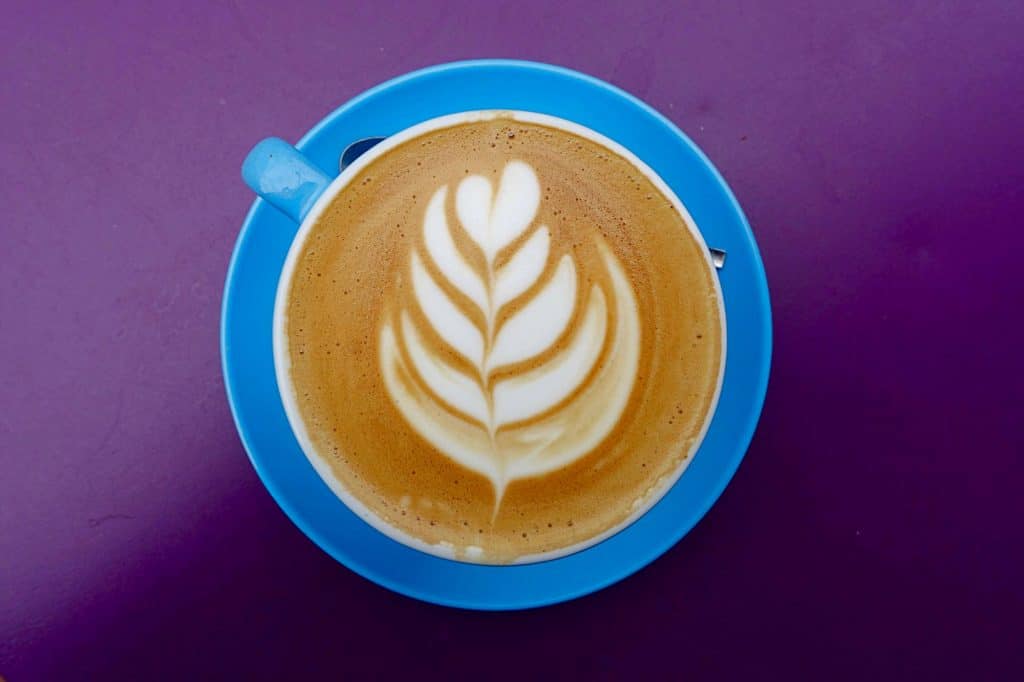 Black List was Bordeaux's pioneer by picking up the Australian cafe culture in 2014. It was only in 2016 that they started getting competition. The unassuming La Pelle was opened next by a Brazilian-Italian couple just outside the old town. SIP was first to present a rustic, modern space to chill at. L'Alchimiste, a fine roastery, came to open its show space shortly thereafter. Since February, you can visit Café Piha with all its cool collaborations. Marché des Capucins hosts the brass gem, Café Laiton, that is full of feminine energy and French classics on the menu. Café Gusco is still a learning newbie on the scene but already roasts coffee in the back of the shop. KURO is beloved and unpretentious, yet manages to cover the latest trends. Lastly, Horace (Black List Nr. 2), has been crafted to cross the Bordelaise traditional produce, wine, with specialty coffee.
Black List
This is the oldest specialty coffee shop in Bordeaux—and the only one Google found me. It was opened in 2014 by wine connoisseur Laurent Pierre. He has always enjoyed coffee, but now he is a coffee specialist. Morgan, the barista who works in the afternoons, took the time to chat with me despite the usual buzz. "Pretty little mess" were Morgan's own words to describe Black List—and I would not be able to think of a better wording.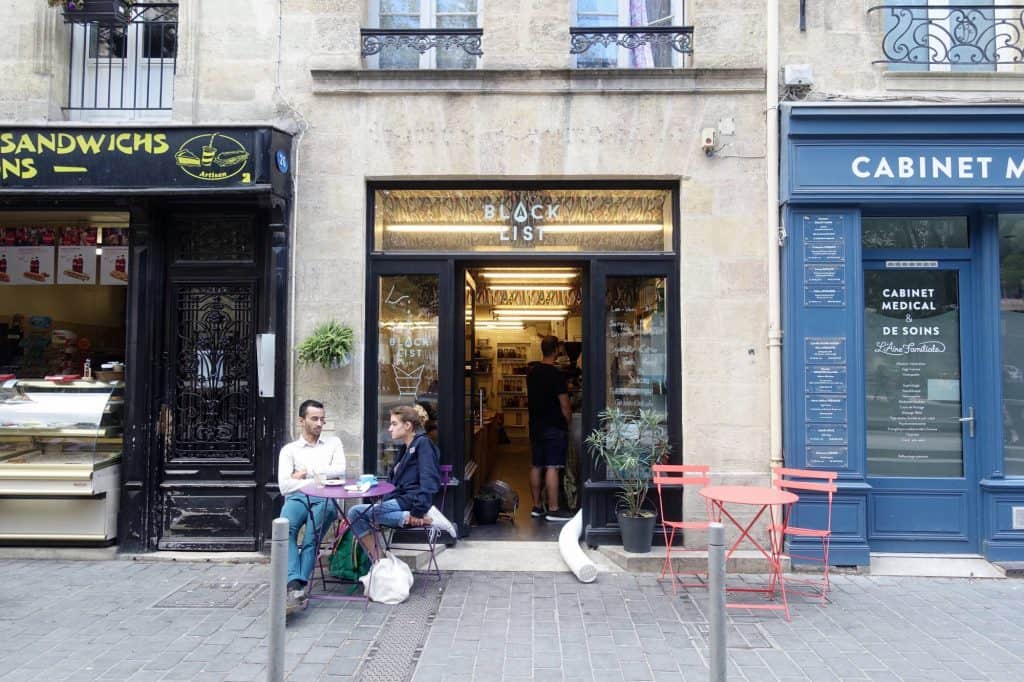 Facing the cathedral on Pey Berland, a small square storefront shows the width of this café. It literally is one narrow corridor with the bar on the right and the seating on the left. The back niche is where Max crafts amazing Australian-inspired breakfasts and pastries.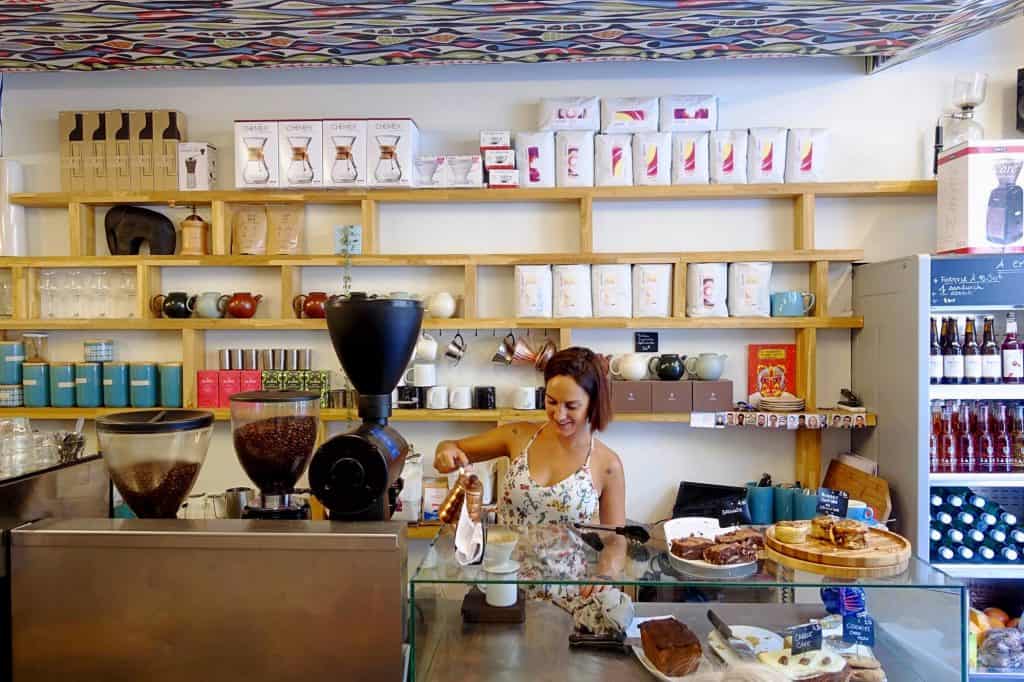 Black List works with medium coffee roasts from varying roasters. Usually, they will have Café Belleville's and Lomi's roasts from Paris. At the moment, Morgan's friends from London, Assembly, are here too. They offer one roast for black espressos, another for other espresso-based drinks and let you choose your filter roast for the Chemex, V60 or Kalita filter.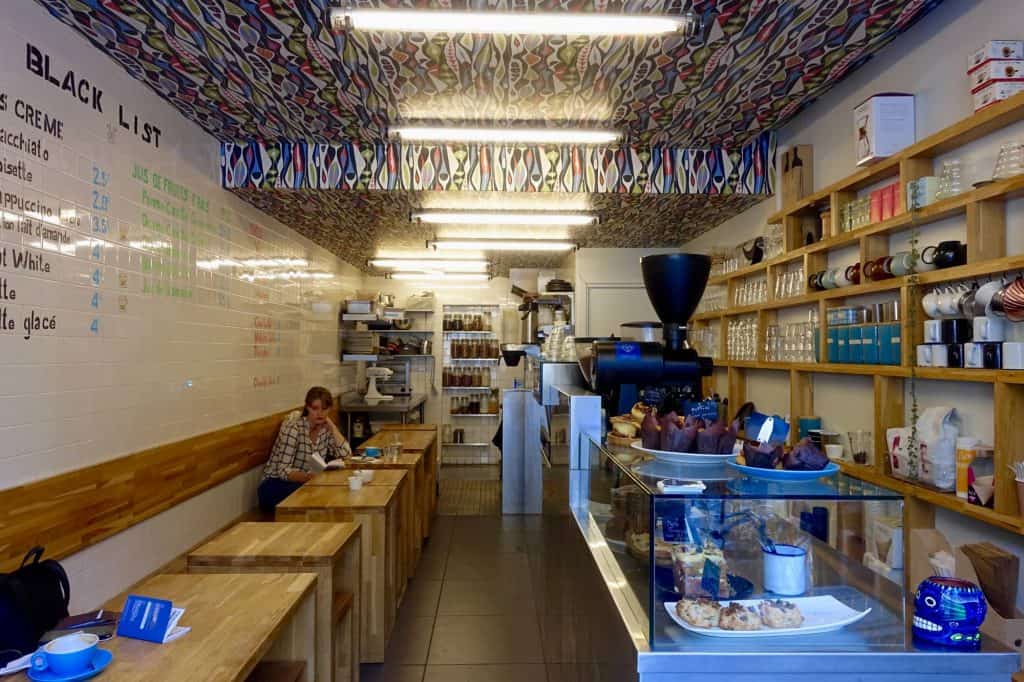 Among the tourists of specialty coffee, Black List could be called the popular, must-see cafe. Your mood is lifted when joyous Morgan serves you in hasty French, yet with cool Aussie manners.
27 Place Pey Berland, 33000, Bordeaux, France
Facebook, Instagram
La Pelle Café
Carlos Pereira grew up around coffee farms in Brazil before moving to the origin city of espresso machines: Turin, Italy. Here, he also met Paula. Later, in Paris, he co-founded Coutume. Yet, Carlos and Paula wanted to open a coffee shop and a roastery together and Bordeaux offered the perfect location for this to happen. La Pelle opened in January 2016.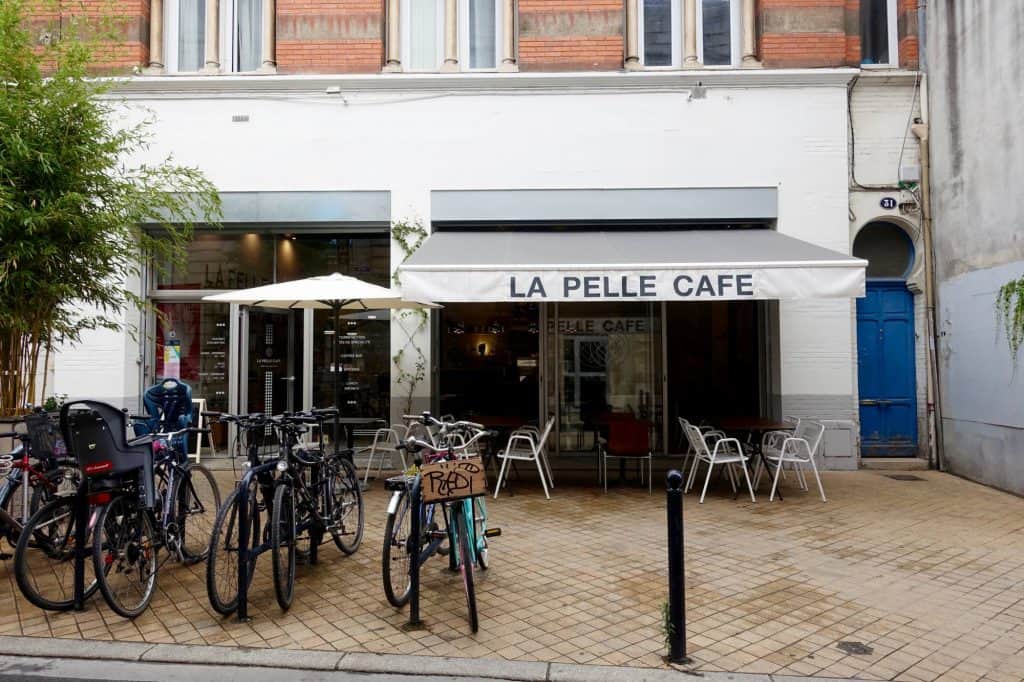 Located in the wine merchant district, Chartrons, La Pelle isn't competing with the coffee scene in Bordeaux's old town. Chartrons is like a little village. Everybody knows each other and you will find La Pelle's coffee in almost any restaurant along the street. The clientele is a mix of neighbourhood regulars, hotel guests and people coming from their offices. Though, any visitor who is interested in coffee, especially filter coffee, will make barista Theo very happy.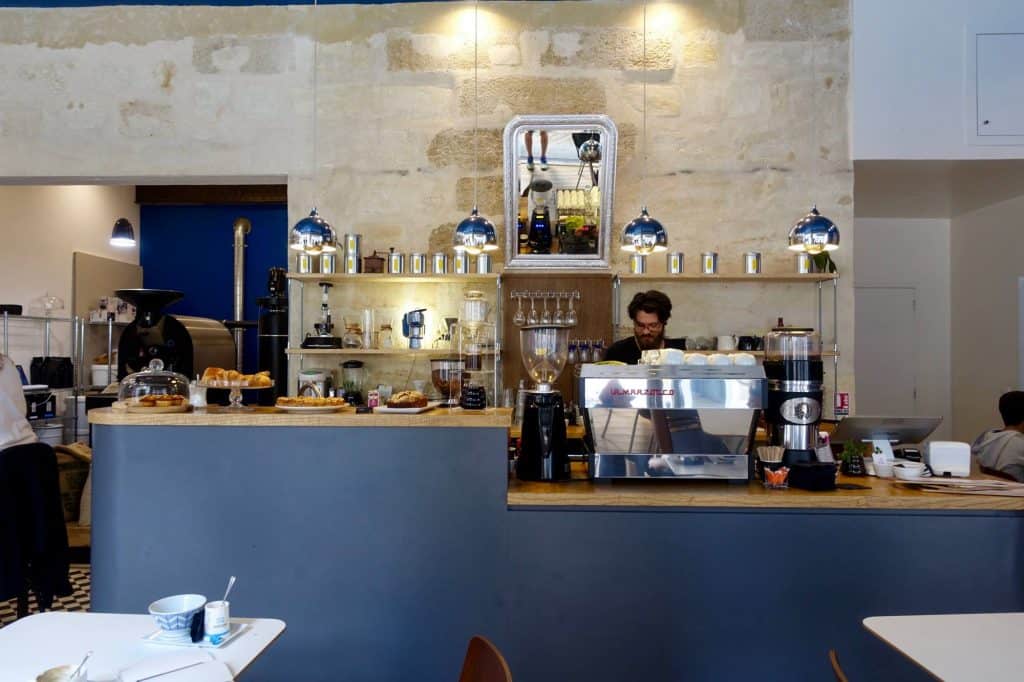 "France is a bit late on the third wave stuff. We want to start teaching our customers to identify the single origins first." La Pelle doesn't roast any blends yet, that might come once the people of Bordeaux have dived into this specialty. The main espresso roast, from Brazil, is smooth and chocolatey. For the more curious, they also have a full-bodied Guatemalan espresso and another, slightly fruitier option. You can have five to six filter roasts prepared with seven brewing methods.
So this is Bordeaux's number one spot to dive into filter roasts. Theo will be waiting to find the perfect flavour profile and method for your palate.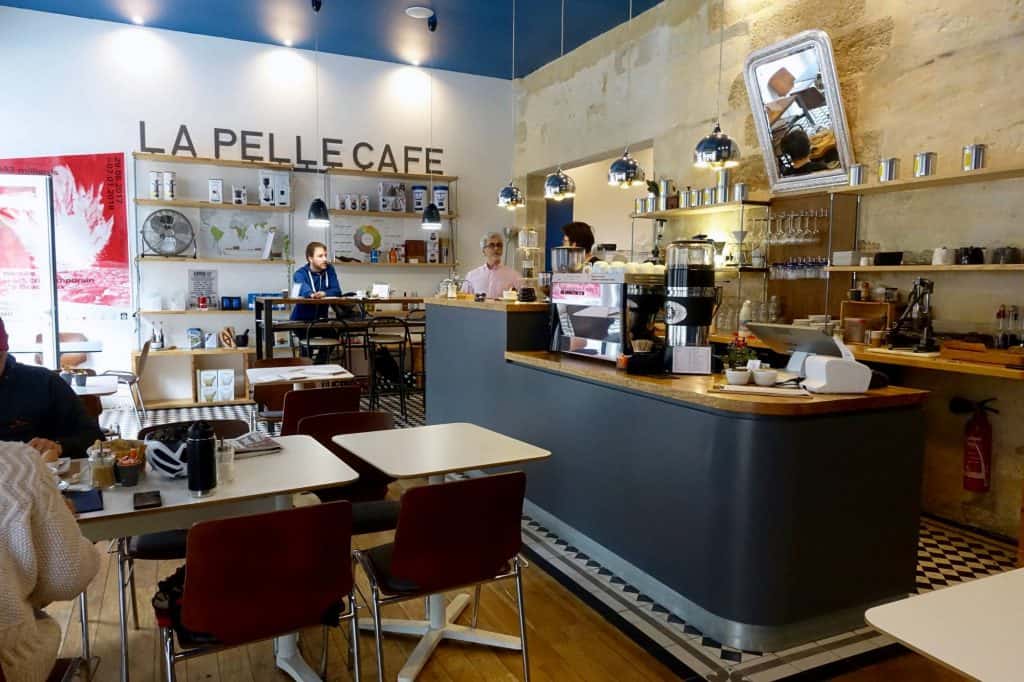 29 rue Notre Dame Bordeaux, 33000, Bordeaux, France
Facebook, Instagram
SIP coffee bar
Julie Fauran used to be a jeweller. In 2014, she moved to Australia and started selling home-baked french pastries. That is where she got in touch with the specialty coffee culture for the first time. In her next country, Belgium is where she learned to be a barista. OR Coffee taught Julie all the coffee skills and the owner Katrien remains up until this day her biggest idol. Now Julie runs one of the most casual and popular coffee gems in the old-town.
Julie chooses fruity, more acidic and distinctive roasts for pure espressos, changing them regularly. The other grinder, for milky espressos, offers a more developed, nutty coffee. "French people like darker roasted coffee" was confirmed to me again. So apart from Drop Coffee, she usually does not opt for Scandinavian roasters. OR Coffee, Piha, Bonanza, Five Elephant, Assembly and Dark Arts are some examples of her favourites. For filter coffee, SIP usually has got an offer of three roasts to brew with a V60, a Chemex or an Aeropress. The latter method is becoming increasingly popular in this airy coffee room. Maybe that is thanks to Laure, a fellow barista, who is the winner of one of the French regional Aeropress championships.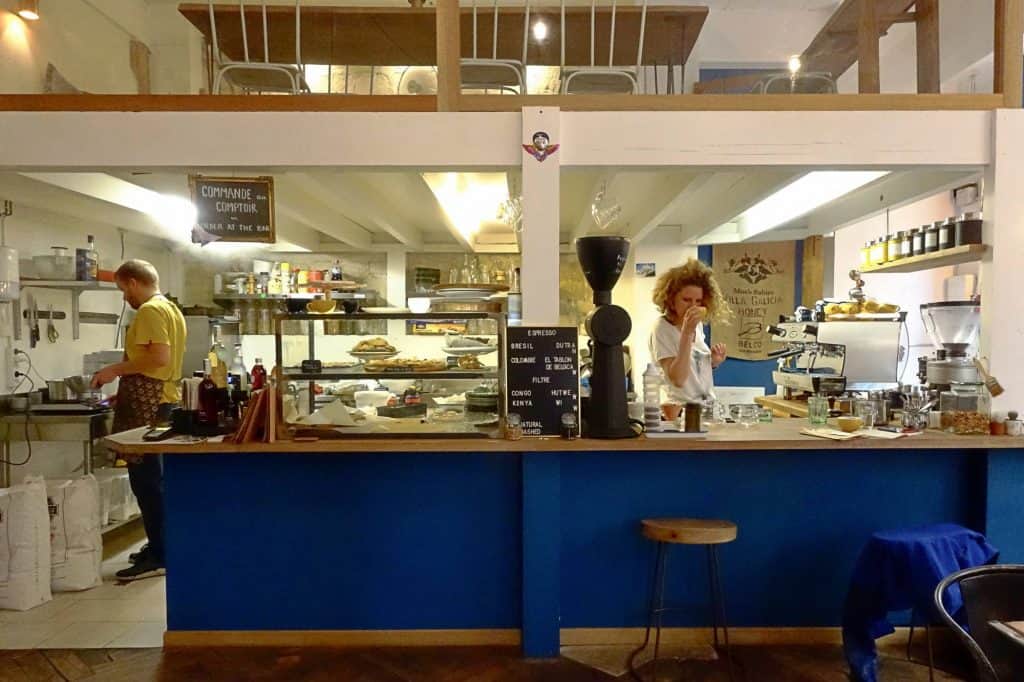 SIP is a rustic and antique, yet modern living room. Its customers are a mix of locals, who are still uninformed about the specialty coffee sector, as well as tourists and coffee lovers.
Between French tartines and mouthwatering cookies, you will sip your coffee, read a book, and can soak up the happy atmosphere.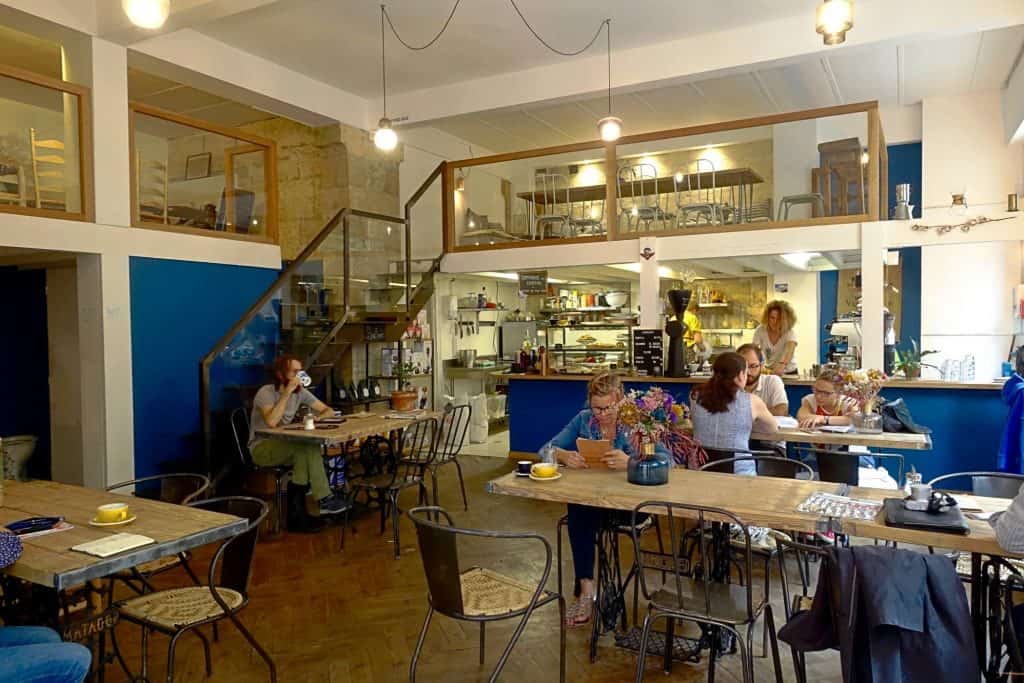 69B Rue des Trois-Conils, 33000, Bordeaux, France
Website, Facebook, Instagram
L'Alchimiste – café and boutique
Arthur Audibert quit his job in Paris, came back to Bordeaux, his hometown, and created a quality-focused business in coffee roasting. Since 2014, L'Alchimiste torréfacteur de cafés d'exception (French for 'specialty coffee roaster') supplies Michelin-starred restaurants and fine hotels with their range of coffees. Since 2016, the close team of five brews their coffee to customers on their La Marzocco machine.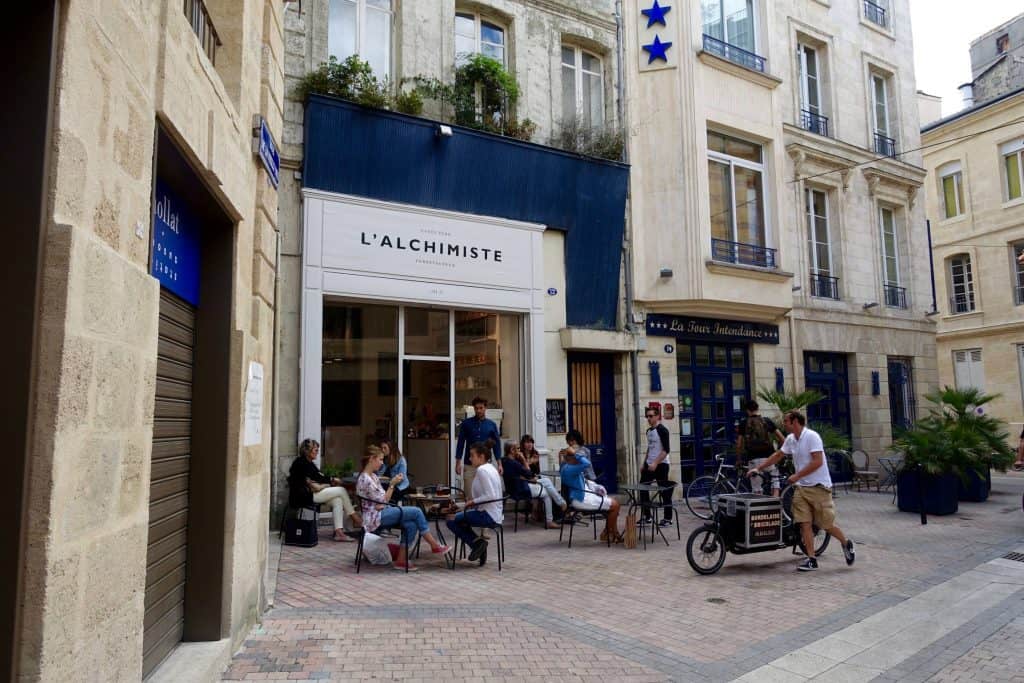 You cannot overlook this boutique on the cobblestoned street, in the chic district of Quinconces. The first room has a clean and bright Scandinavian feel. It's where you order, buy their coffees and take a brew to go. Walk up the stairs and you find yourself in an intimate and clean "Columbian forest". The third, back room is a monthly art exhibition, led by L'Alchimiste's designer and the owner's wife, Virginie Maison.
Audibert focuses on developed, but light roasts. He has dragged the team to read Scott Rao's "coffee bibles", so now they can call themselves coffee geeks. With integrated scales in their La Marzocco PB, an OCD coffee distribution tool and Nuova Simonelli Mythos one grinders, they can please their perfectionist minds. However, still, your friend won't be dismissed if he wants to add sugar to his coffee.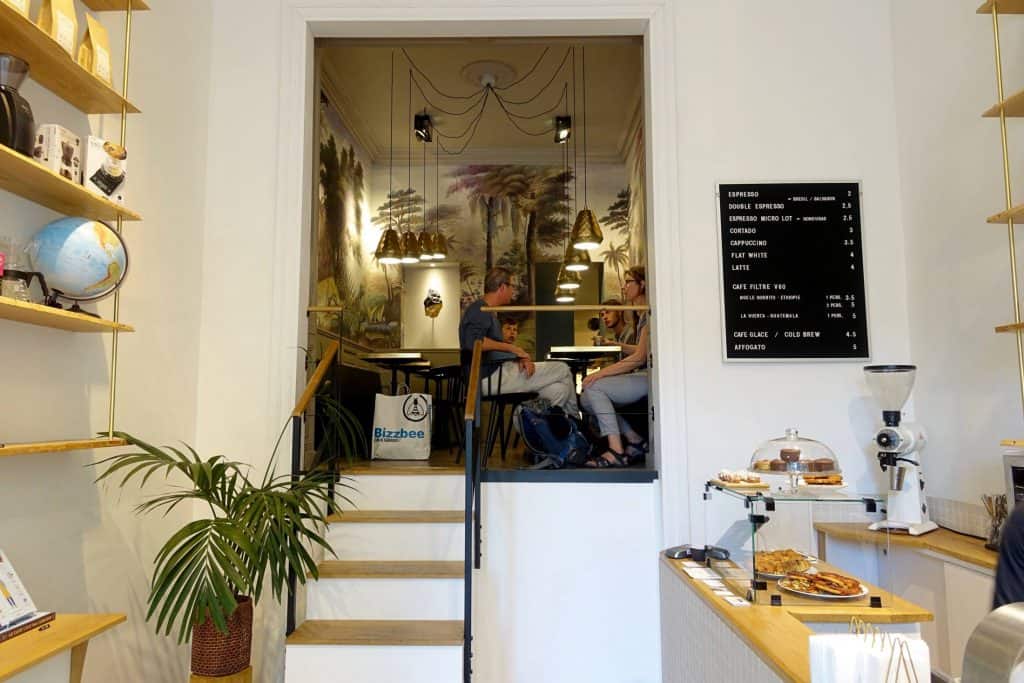 Apart from espressos, their two single origin roasts will be made as a cortado, a cappuccino, a flat white or a latte. No more than five drinks are necessary on their menu. For the V60 you can choose between four to five single origins. If you are too hot for those, try Tim Wendelboe's cold brew recipe: a chilled V60 with some sugar, served in a wine glass.
Come to L'Alchimiste for Bordeaux's lightest roasts, and a minimalist stay.
12 Rue de la Vieille Tour, 33000, Bordeaux,France
Website, Facebook, Instagram
Café Piha
Between kite-surfing in the Piha Bay, which he called a fascinating paradise, Pierre Guerin also learned the craft of a barista in Auckland, New Zealand. Back in France, he continued his coffee journey as a barista at KB Cafeshop and later at Lomi cafe, where he also learned to roast. In February 2017, Pierre opened Café Piha, where he roasts, brews and sells his own coffee along with other artisan specialties.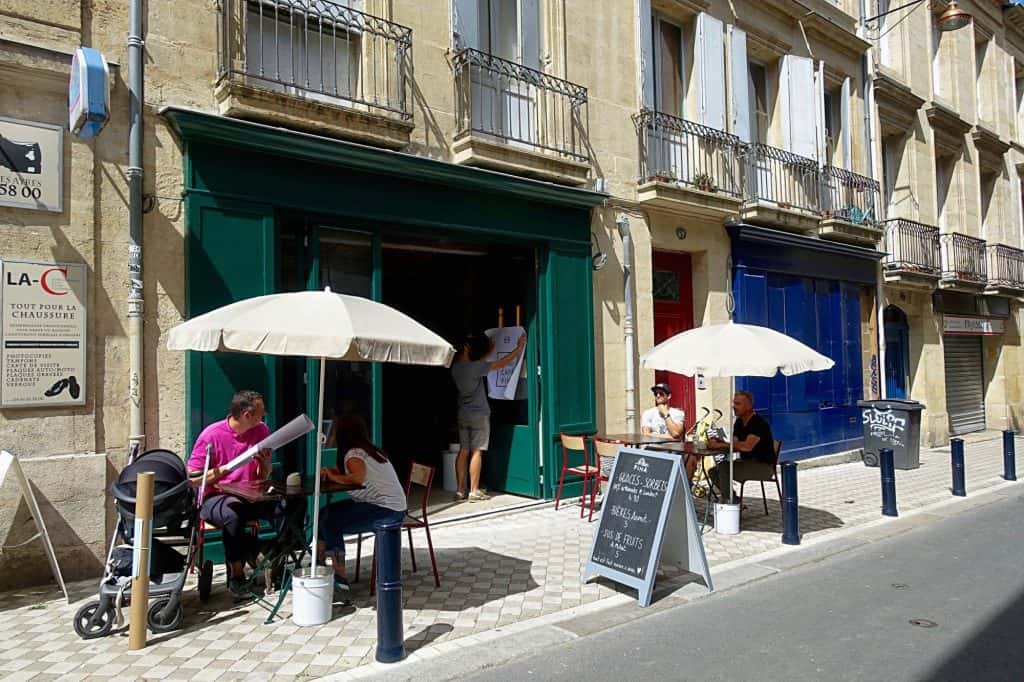 "You are in France and you have to adapt yourself. French customers do not like acidity in their coffee". So in the back of the shop, he roasts two medium espressos and a tad lighter, varying filter roasts that he later brews with a Chemex or a V60.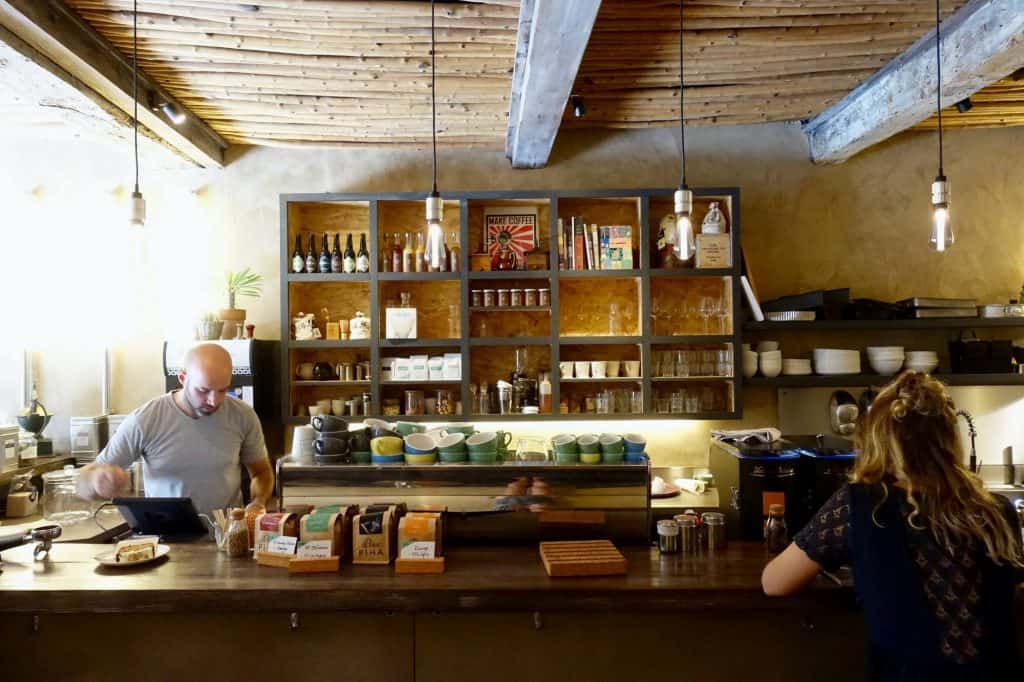 However, Piha wouldn't be complete without Pierre's best friends. Barista Antoine, "a really cool and passionate dude," as Pierre would describe him, barista Pauline, Piha's tea specialist, and the pastry chef Angèle who sweetens her craft solely with a cascara syrup. Lastly, a friend Pierre made in Rio, helped him design the interior. It has a tropical, bar-like vibe, reminiscent of the Latin-American nature and sea.
Pierre also loves collaborating with other connoisseurs to fuse his specialty with theirs. From a Kenyan Coffee Ale with his cold brew to "crazy good" ice cream from his best friend in Normandie, Pierre hasn't exhausted his enthusiasm yet. The latest project is artisan Bordelaise coffee chocolate.
Influenced by New Zealand and Brazil, this collaboration of best friends has formed a relaxed coffee lounge.
69 Rue des Ayres, 33000, Bordeaux, France
Website, Facebook, Instagram, Twitter
Café Laiton (Marché des Capucins)
Gaele Nadur was born in Argentina and raised in Bordeaux. She first got introduced to specialty coffee in Paris at Ten Belles and later on at cafes in Buenos Aires: LAB and Coffee Town. Now, she can pass her knowledge and passion onto you at Café Laiton: the snug, clean and stylish corner stand in the bustling Marché des Capucins. Behind the glistening white tiles and the brass (in French "laiton") counter top, Gaele combines a symbol of feminine energy—brass—with the French culture and specialty coffee.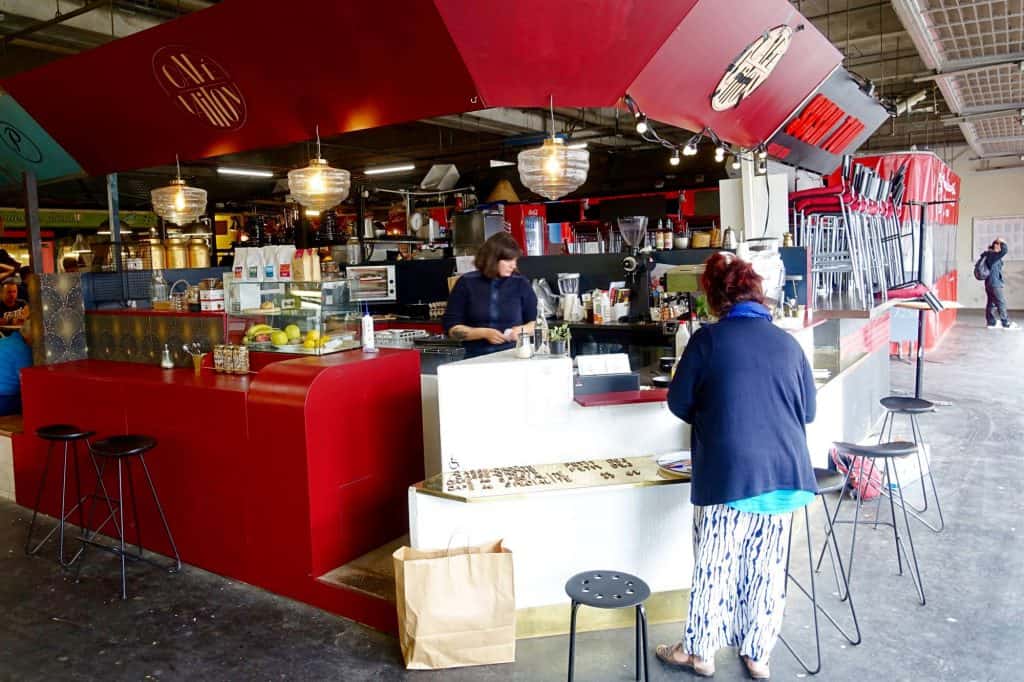 She uses roasts from Belleville and Ten Belles roasteries. At the moment, she is using the "French Roast" from Ten Belles for espresso: fruity and sweet with a really nice acidity. Three filter coffees vary constantly and always compliment each other. Two are from Belleville and the third is a chosen local roast, for instance from Piha or La Fabrique du Café.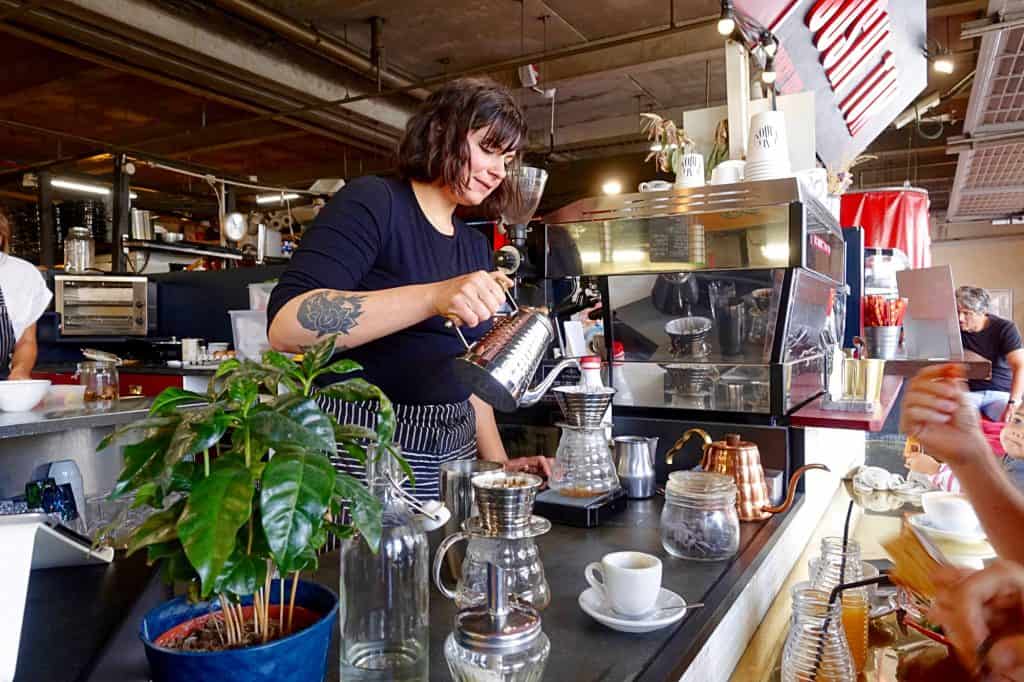 Café Laiton is a small and spirited spot. Gaele combines the highest quality movement of coffee, without following the trends of the specialty café movement that usually come with it. You won't find a carrot cake, an avocado toast or even a flat white on the menu. The whole menu is written in French and beside a croissant, croque monsieur, or raclette, you can enjoy the French counterpart of the flat white—Café Creme. Here, Gaele pleases the average market visitor just as well as the specialty coffee geeks. I highly recommend the visit, so make sure you don't get lost in the Marché like I did.
Once you've found this cafe bar, you won't easily forget it.
28 Place des Capucins, 33800, Bordeaux, France
Facebook, Instagram
Café Gusco
Pauline Savin used to work in the wine industry. She learned to appreciate coffee thanks to her husband, who is a distributor of green coffee beans. After a trip to New York, and especially the visit to Toby's Estate in Brooklyn, she made up her mind. Pauline learned the science of roasting, did a barista training at Mokxa in Lyon and was ready for her own specialty coffee shop. Cafe Gusco, named after her children Gustav and Colombe, opened in June 2017.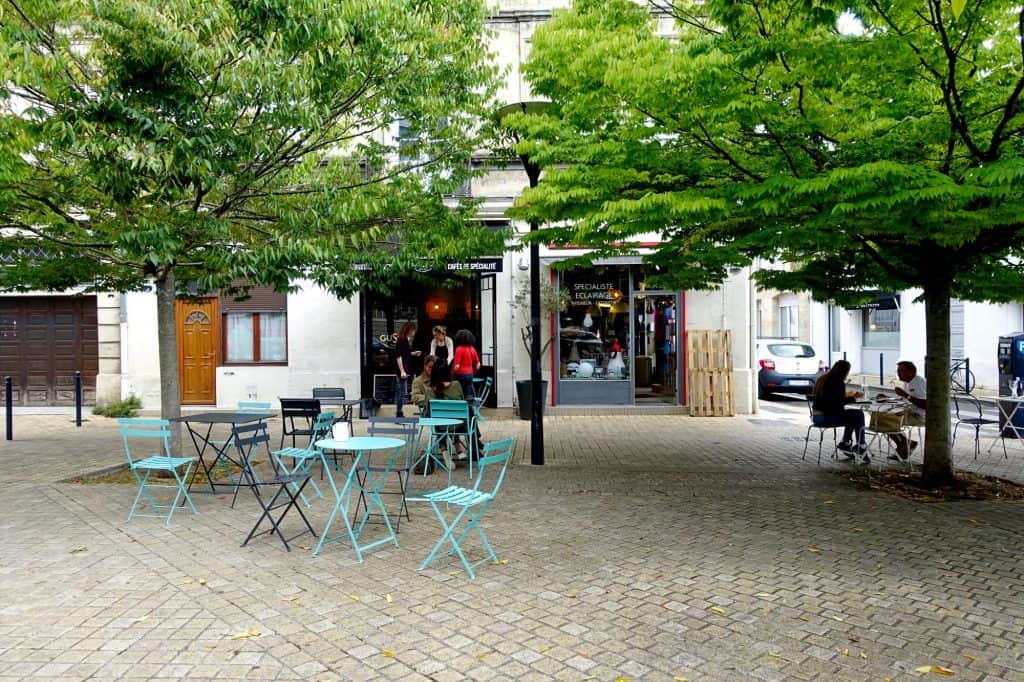 Between bringing her children to bed and practising the art of latte day by day, she is also the only one who roasts all of Gusco's coffees. At the moment, the espresso is a well-developed medium roast, blended from Nicaragua, Salvador and Congo. The three single origin filter roasts (for V60 or Chemex) cover the three main coffee regions of the world: Brazil (South America), Ethiopia (Africa) and Indonesia (Asia).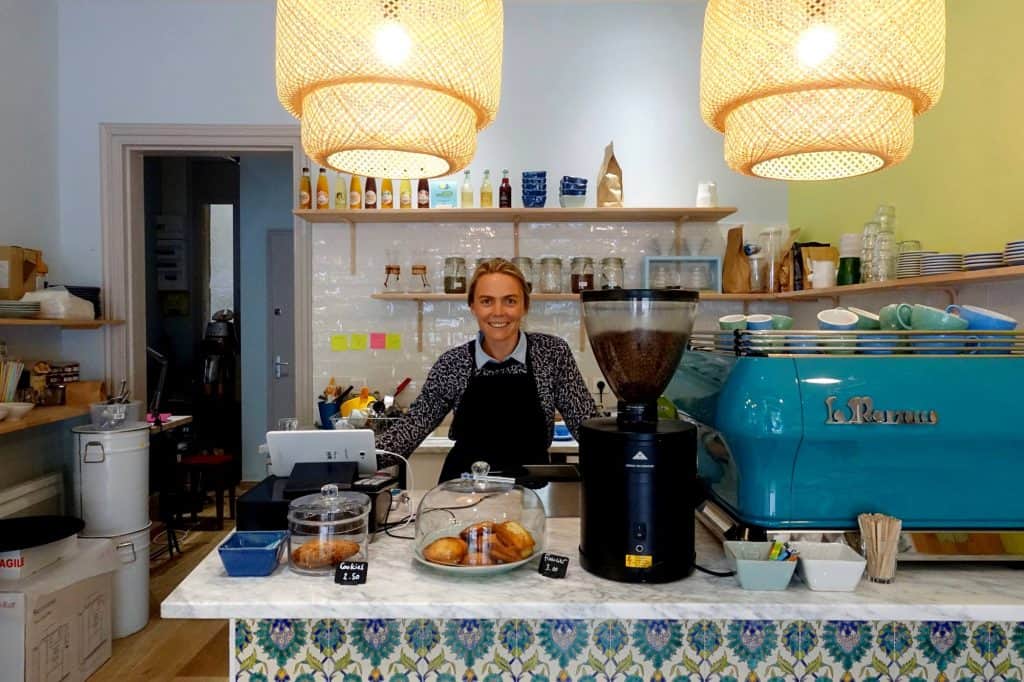 Cafe Gusco feels like a cosy and children-friendly common area. It is on a bigger street, just outside the old town area, but the outside tables sheltered by elm trees give it a secluded feeling. Inside, you will find three sofa spots and a turquoise coffee bar. When going to the bathroom you will enter the behind-the-scenes area: Pauline's small office and the roasting room.
This cafe is a mother's craft that connects a joyful, familiar atmosphere with home-roasted specialty coffee.
KURO espresso bar
Persuaded by a friend, Pascal Gabard started his barista career in Montréal, Canada. Due to a change of plans, he came back to his hometown and opened his espresso bar in July 2016. KURO means black in Japanese, but the brown logo, backdropped by a coffee cup stain shows us what colour specialty coffee really is about.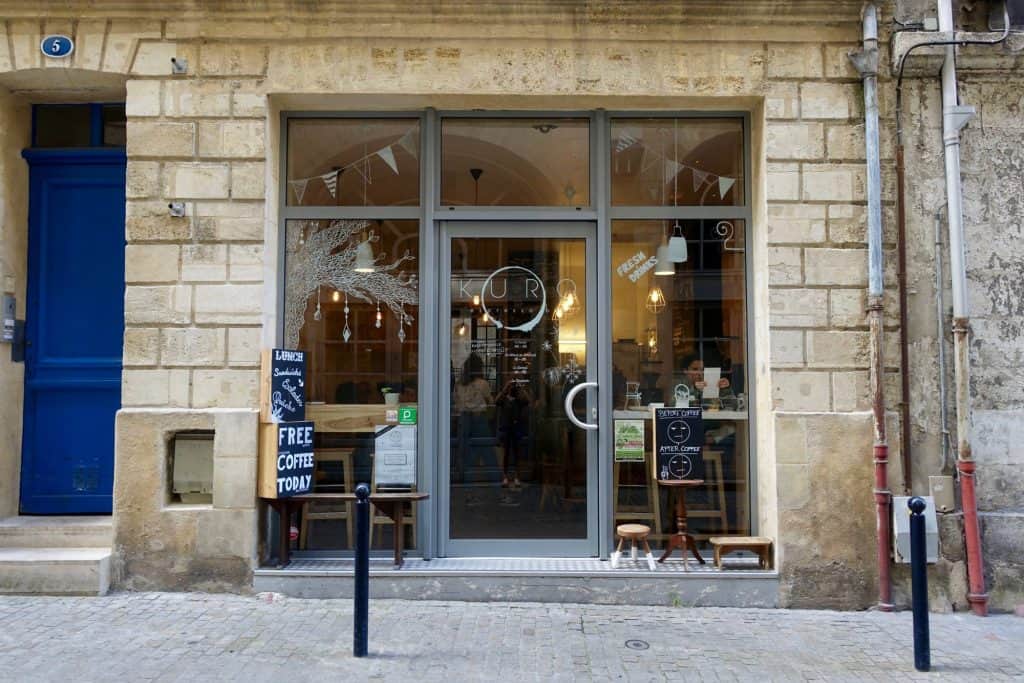 KURO has the vibe of a welcoming and bright English pub. The beige stone walls enclose this small space, which is furnished with mix–and–match wooden furniture. Hidden in the small inner courtyard are a few outside seating spots scattered between the stone walls.
Pascal sources his fruity coffee roasts from La Fabrique du Café in Limoges. For filter methods, he offers Chemex and V60. Otherwise, you can choose from a whole array of espresso-based drinks, including sparkly espresso tonic, which is still a rare offer in Bordeaux. Pascal's friend Aurélie is the one you'll see baking and cooking, taking inspiration from Montreal.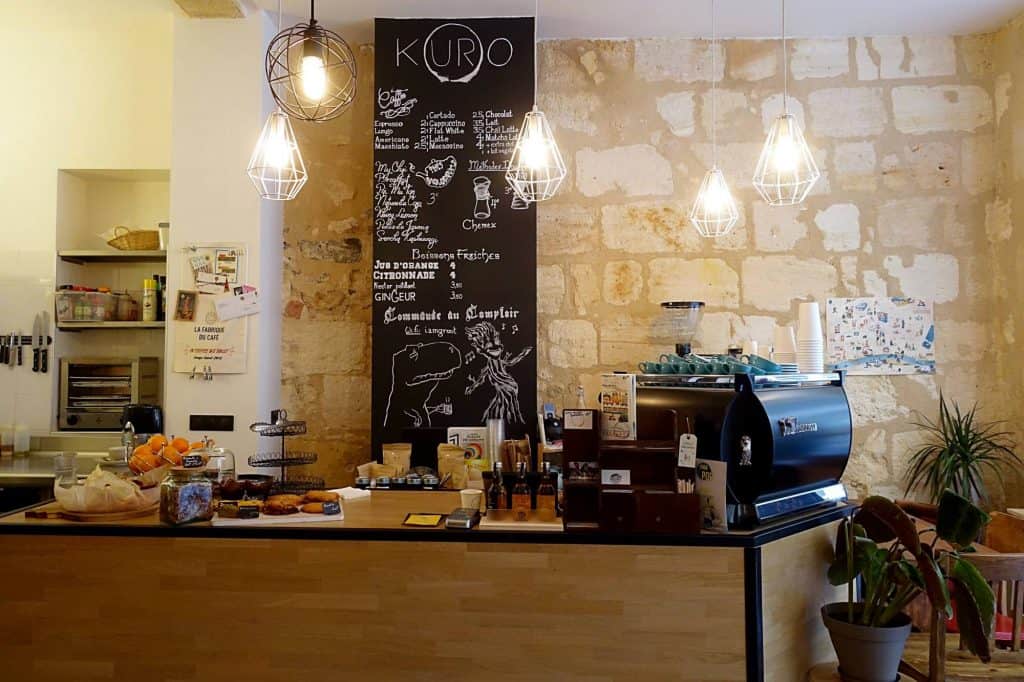 Order at the bar where you can see too little sketches of Groot and a T-Rex trying to drink a coffee. Yes, the first is the little "I am Groot" guy from the Guardians of the Galaxy. To understand "T-Rex Trying" I recommend going to KURO yourself and asking to peek into their book. Yes, the two friends are wonderfully geeky!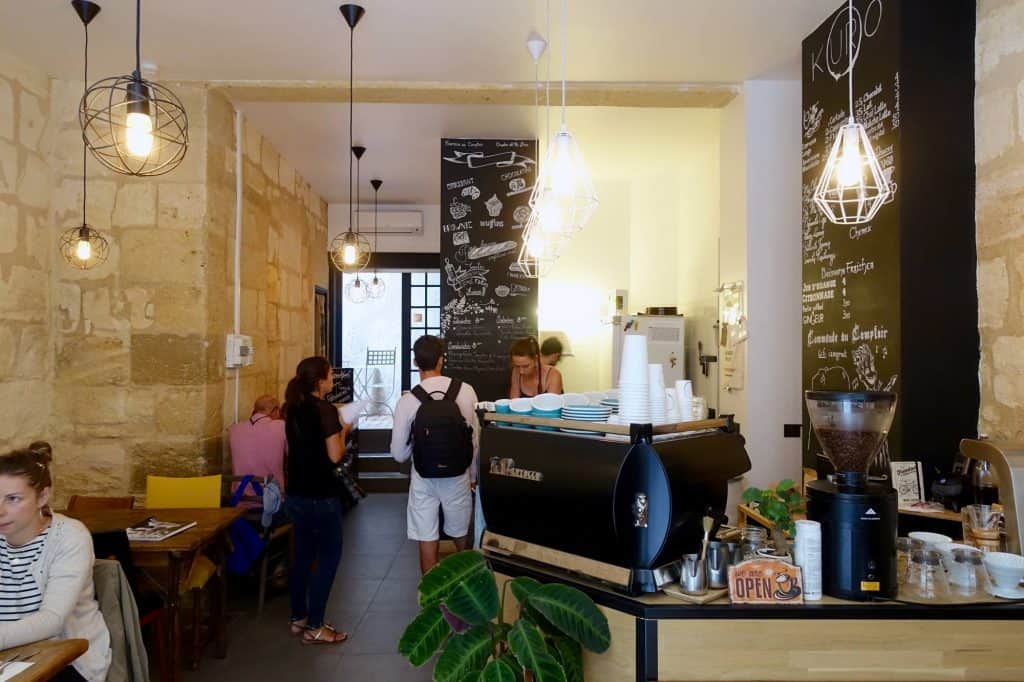 KURO is a great café to escape the buzzing fancy streets of this area of Bordeaux. Sit back and enjoy a great cup of coffee and the sound of the calm, alternative indie tracks.
5 Rue Mautrec, 33000, Bordeaux, France
Facebook, Instagram, Twitter
Horace
Horace is Bordeaux's newest specialty coffee shop. Laurent Pierre, the owner of Bordeaux's first specialty coffee shop (Black List) opened it, together with his friend Xavier, on August 30th, 2017. Here, he finally managed to combine his knowledge of wine with specialty coffee. The fusion has turned into a sophisticated cafe and restaurant.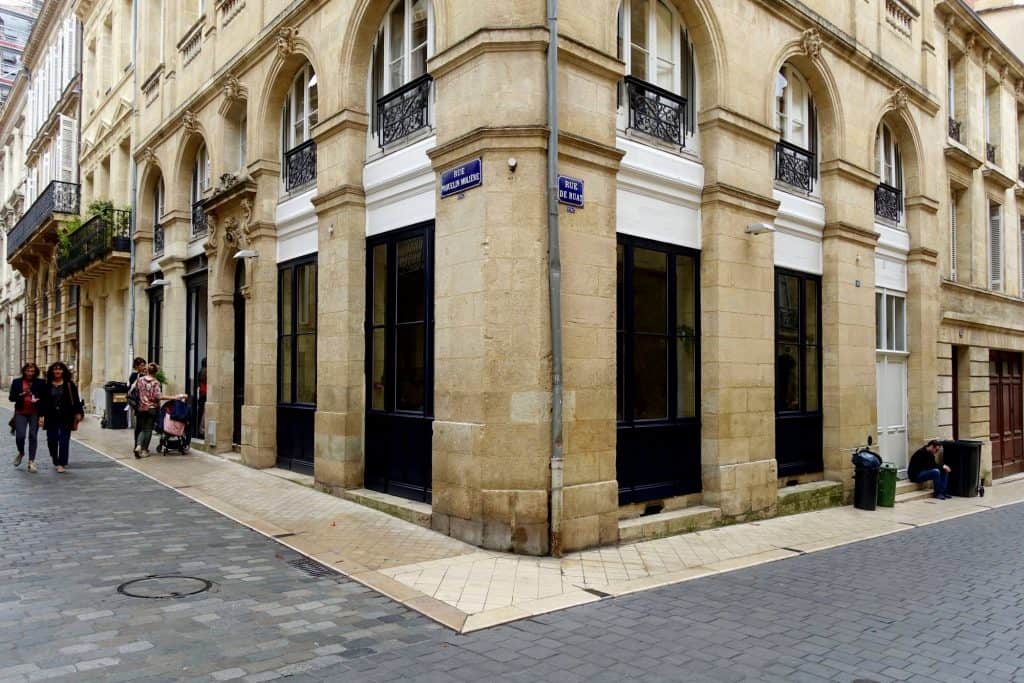 Horace is located in the old town, amidst the main third wave scene, on the corner of two large bare alleys. What used to be a chapel, then a very popular tea salon and a library, is now home to Horace – café, cuisine, canons. You enter facing the Moroccan mosaic–tiled bar. It was handmade by Laurent's friend. This entrance room goes a long way to the back, reminding of a Bordelaise wine degustation restaurant. The second room is calmer and flooded with light from the large windows. Horace is a spacious and fine-dining space, but thanks to the greenery and the vintage Scandinavian furniture it acquires a welcoming cafe feel as well.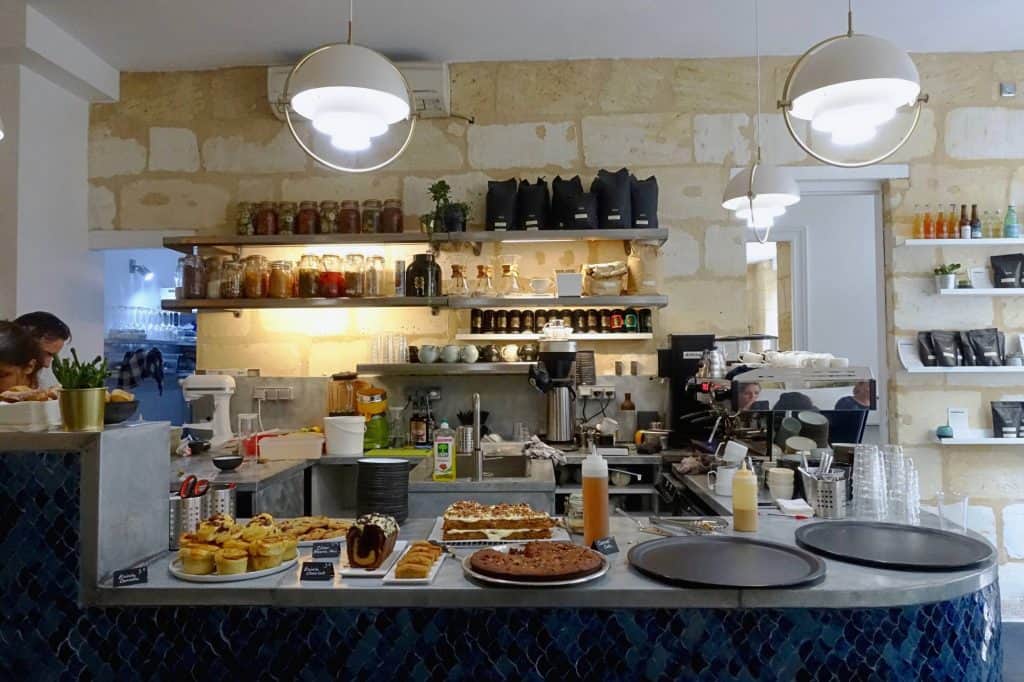 For the moment, they only work with Lomi's roasts. The espresso is a naturally processed, single origin from Ethiopia. For the milky drinks, they choose a more chocolatey blend. Two filters are offered either as a batch brew or a hand brew: a V60, or a Chemex.
Horace is a place for the French epicures to extend their horizons. But by refashioning Australian culture in the French manner, Horace becomes unique in the world of specialty coffee.
40 Rue Poquelin Molière, 33000, Bordeaux, France
Website, Facebook, Instagram
Between a flat white at Piha and a filter at La Pelle, Bordeaux's coffee scene is blooming. In this town, you can visit specialty coffee shops without missing out on the French culture and cuisine. Most owners are from here, and if not, the menu and customers will still make you feel the Bordelaise charm.