Nuremberg is mainly known for its beer and sausages food culture than anything else—not that there is anything wrong with beer and sausages—and you should definitely give it a try when visiting the city. But besides great traditional food and an interesting history, there is a growing speciality coffee scene that has been arising in the second biggest city of Bavaria. Read on to discover five of the best cafes in Nuremberg, discovered by David Kabai, Nuremberg's local.
Machhörndl Kaffeerösterei
Located in a hip upcoming neighbourhood, where old, brick-walled city buildings surround a cultural mix of international communities, Kebab restaurants, young families and artists, the roastery with the café is hidden in a small paved street off the beaten track. You wouldn't even recognise it if you were not specifically looking for it. Machhörndl (named after the owner) has shaped the German coffee scene, being one of the first 3rd-wave coffee roasters in the country.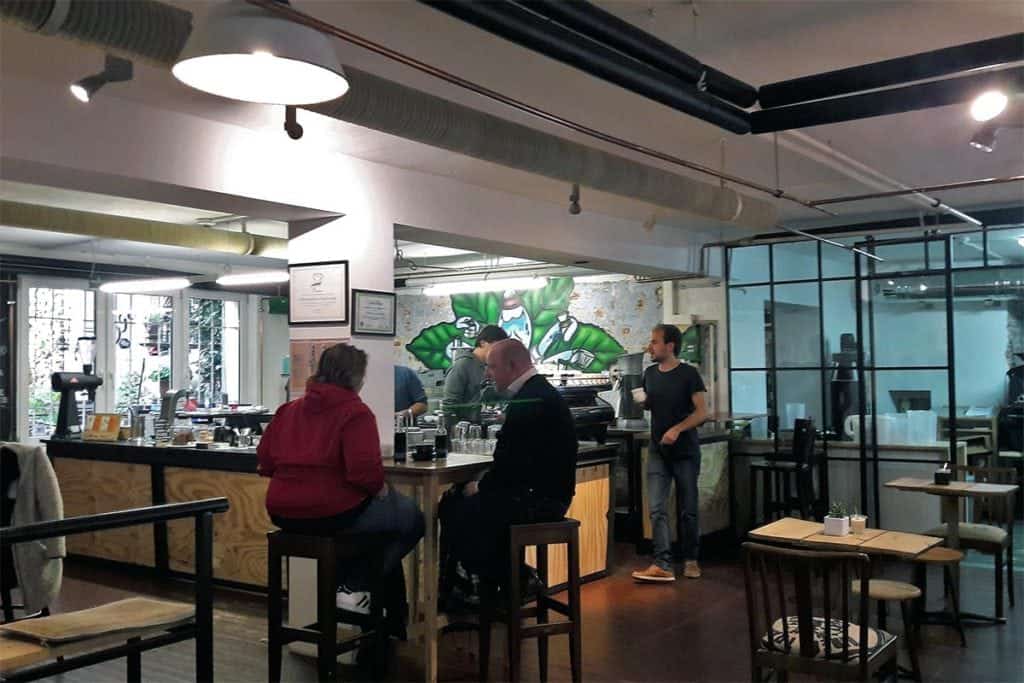 "When we started roasting almost ten years ago, there was not a lot of speciality coffee in Germany", Armin Machhörndl, owner and 2011 & 2012 Brewers Cup winner, told us. Nowadays, they supply several cafés throughout Germany with their beans and support smaller local café owners. Their Barista courses are fully booked even several months ahead.
The stylish interior of the café gives the impression that it is not really a place to hang out and read a book. Instead, it invites you to grab a bag of beans and have a quick coffee. No students, no laptops, no sofas. Just good coffee. And that is exactly why people come here.
When I visited I tried a fruity Ethiopian Kochere brewed with a V60. Other brew methods on offer were Aeropress and Kalita, three more origins of filter beans (Ethiopia, Brazil and India) and three different types for espresso-based drinks (Colombia, Costa Rica and a house blend).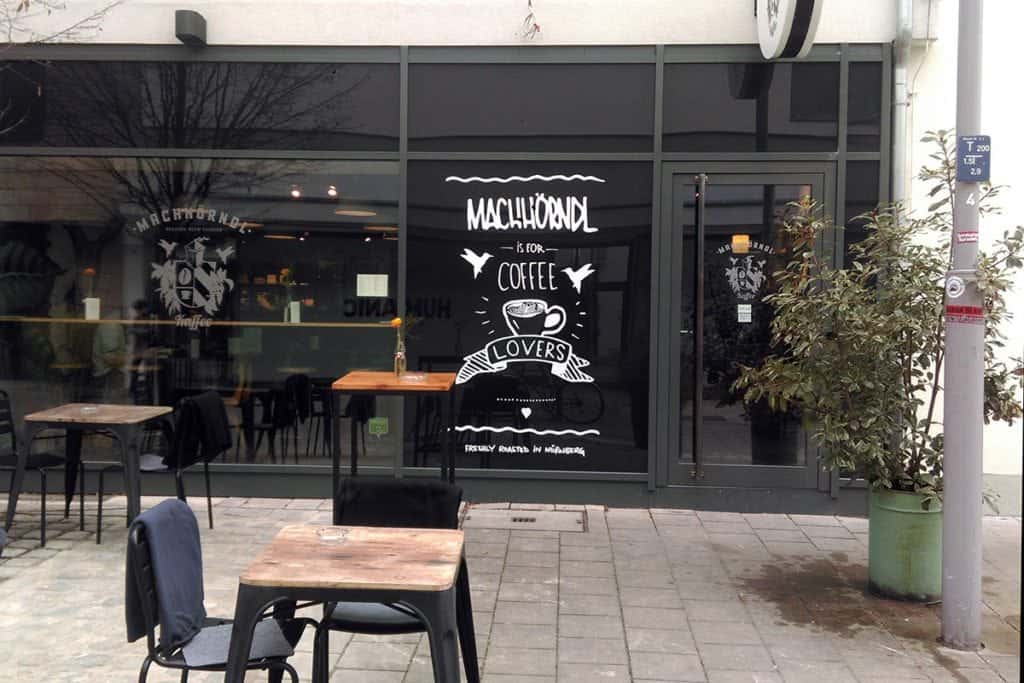 In 2014, Machhörndl opened their second café, Espresso-Brew Bar in the inner city. The same awesome coffee, yet another awesome location. Highly recommended for a break from shopping or sightseeing in Nuremberg's beautiful Old City!
Roastery & Café: Obere Kieselbergstr. 13, 90429 Nuremberg, Germany
Machhörndl Kaffee: Espresso-Brew Bar: Brunnengasse 7-9, 90402 Nuremberg, Germany
Facebook, Instagram, Website
Rösttrommel
Opened in 2010, Rösttrommel roastery has grown to a respectable size over the past years. They are well known not only by speciality coffee lovers. Many cafés and restaurants in the area use their beans thanks to their higher quality.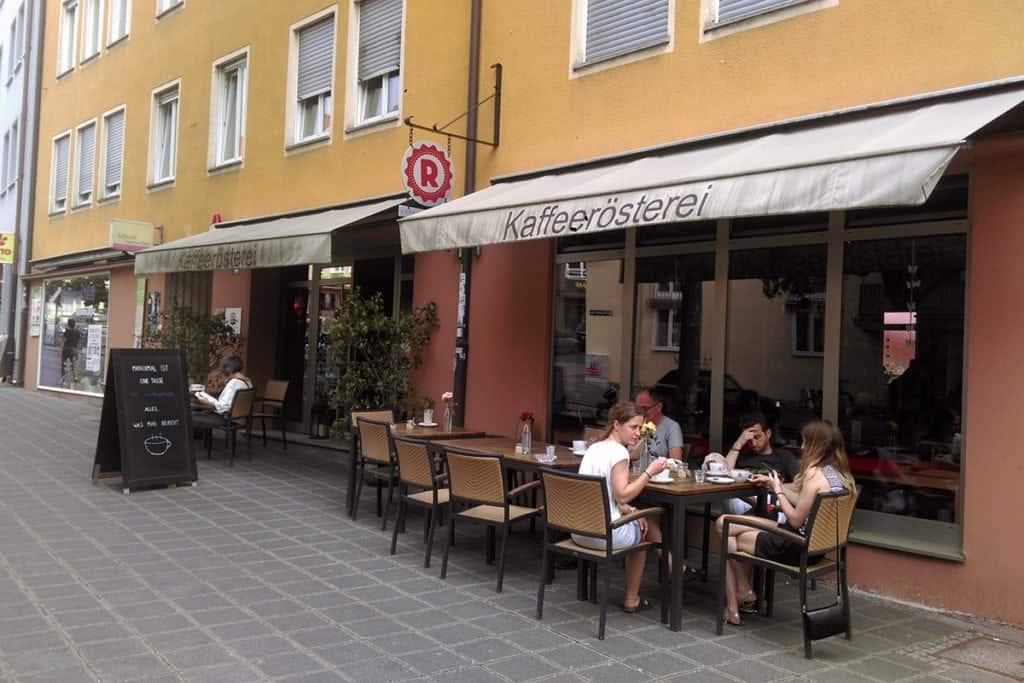 Their main café and the former roastery space is located in the north-eastern part of the old city, in about 10-minute walking distance from the Nuremberg castle. Located in this central spot, next to the local registration office, you´ll find the café being busy most of the time.
While some cafés attract only a certain group of people, Rösttrommels' customers range from seniors to students to businessmen to coffee nerds and everything in between.Fresh from their roastery, they offer a huge variety of classic single origin coffees, different blends and some more unusual, interesting speciality coffees.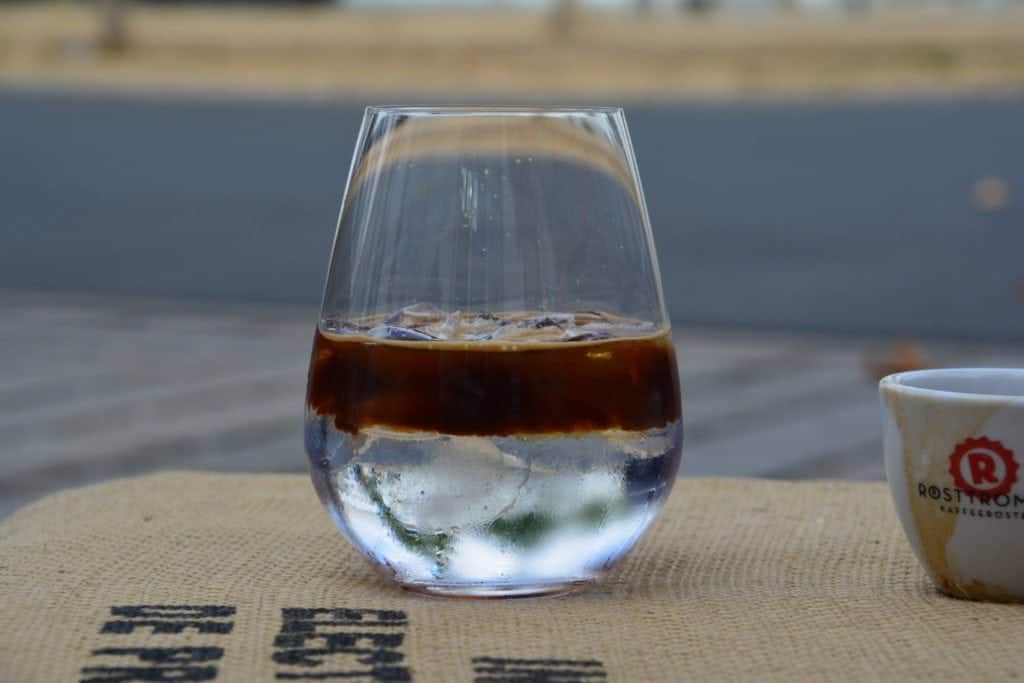 The coffees on offer vary each month. You can choose from three different espresso beans and two different filter options, brewed with a French press or an Aeropress and V60s.
The 15 kg drum roasting machine is visibly standing in the middle of the café. Unfortunately, it is not being used anymore since they do all the roasting in a bigger space outside of the city centre. A good range of delicious cakes is being delivered daily by local bakers.
If you are interested in speciality coffee in Nuremberg, you cannot overlook Rösttrommel as one of the leaders of the local coffee scene.
Rösttrommel Café: Äußere Laufer Gasse 34, 90403 Nuremberg, Germany
Roastery, Shop & Coffee seminars: Halle 5, Fürther Str. 244c, 90429 Nuremberg, Germany
2nd Café (next town): Hauptstraße 37, 91054 Erlangen, Germany
Facebook, Instagram, Website
White Bulldog Coffee Roasters
Just a three-minute walk from Rösttrommel, in a quieter corner of Nuremberg's old city, White Bulldog opened in December 2016. Run by a sympathetic Russian couple Olga and Jacob, the Café is named after their four-legged pet.
Compared to most speciality cafés in town, White Bulldog is quite spacious and offers many seats. Being surrounded by schools and universities, students might be the main customer group.
At White Bulldog, they change the bean for espresso-based beverages daily for constant diversity. Ten different single origin coffees are sold, roasted by Jacob on a nice little 1.5kg electric roaster sitting on the counter.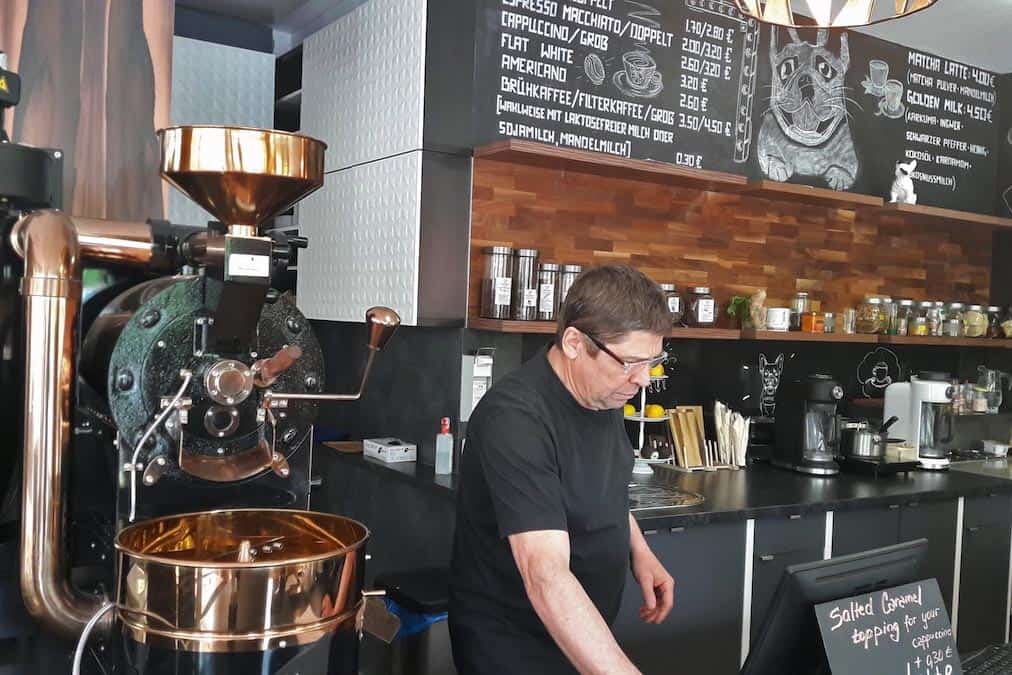 We tried an interesting coffee from Yemen (V60), which was good, although a little dark and strong for a filter coffee. The usual roasting profile used here is on the slightly darker side, which suits the classic taste and will probably be more appreciated by espresso-lovers than filter-freaks.
Besides their range of coffees, they serve breakfast, cakes, sandwiches and fresh smoothies. This way, White Bulldog is a great place to expand your quick coffee stop to a relaxed lunch break. Enjoy!
Hirschelgasse 1, 90403 Nuremberg, Germany
Facebook, Instagram, Website
Kaffe Hörna
Close to the main railway station, relaxed Scandinavian mentality meets real speciality coffee in this cosy corner café. 'Hörna' is the Swedish word for 'corner'.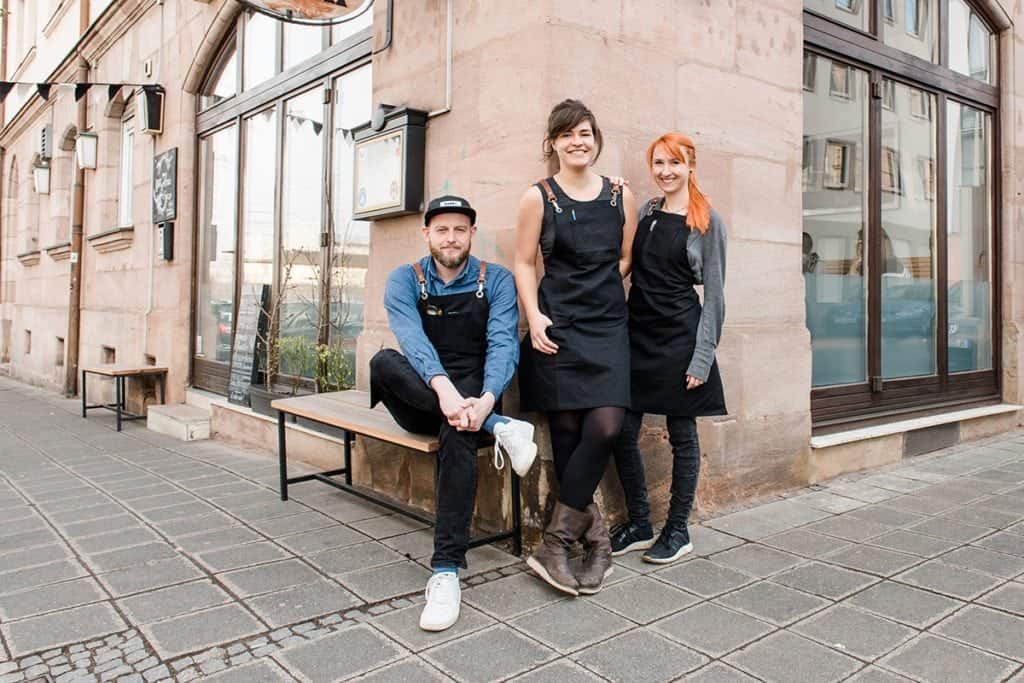 Patrick, the owner of Kafe Hörna proves that Swedish style doesn't always look like Ikea. All of the interior design and furniture were hand-made with love by Patrick and his friends.
Patrick took some time to talk about his experience with coffee. Coffee is clearly his passion. Patrick is originally from Nuremberg but had spent several years travelling and working in different places, before returning to his hometown. There, he used his experience and ideas to open his own coffee shop in 2014.
The minimalist concept and the small space create a very unique and personal atmosphere which makes it a great neighbourhood café where coffee lovers of all ages meet.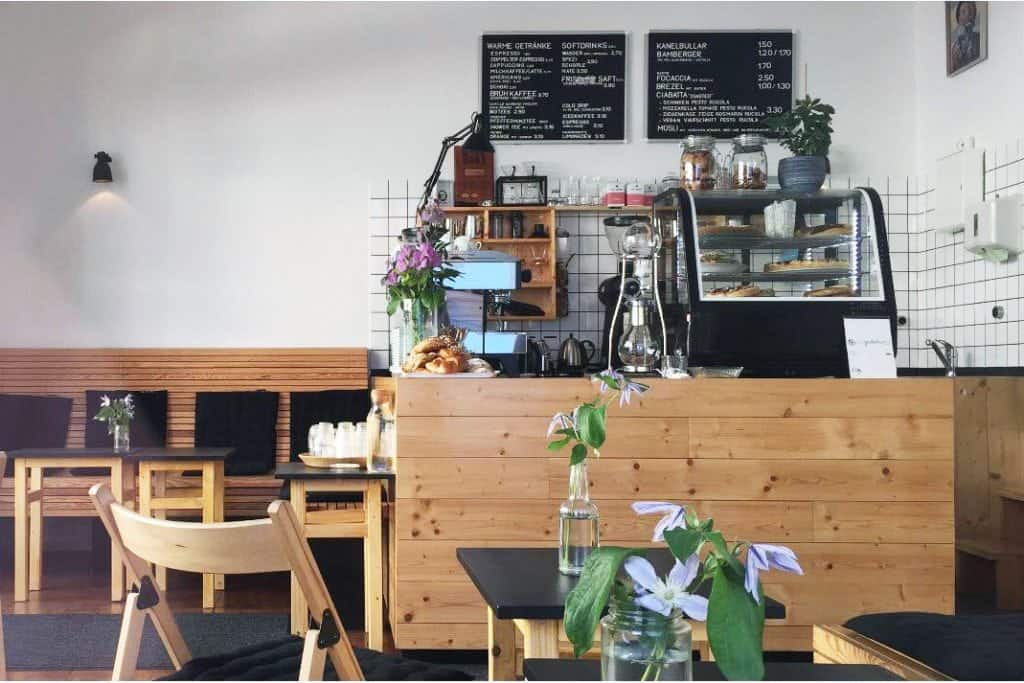 Kaffe Hörna's espresso-based drinks are served using either the cafe's blend of Kenya and Brazil or the current single-origin, directly traded Kenyan beans. They also brew filter coffees from guest roasters changing monthly. The coffees are brewed in a V60, a Chemex and an Aeropress.
"I wanted to create something unique and new, something that hadn't been around," Patrick explained his initial goals. After this friendly chat and a delicious cup at Kaffe Hörna, it is safe to say he has succeeded. This place is definitely worth a visit.
Scheurlstr. 11, 90478 Nuremberg, Germany
Facebook, Instagram, Website
Next Door Coffee Club
Next Door Coffee Club is located less centrally, in the southern part of Nuremberg, which makes it a great neighbourhood café where locals love to hang out.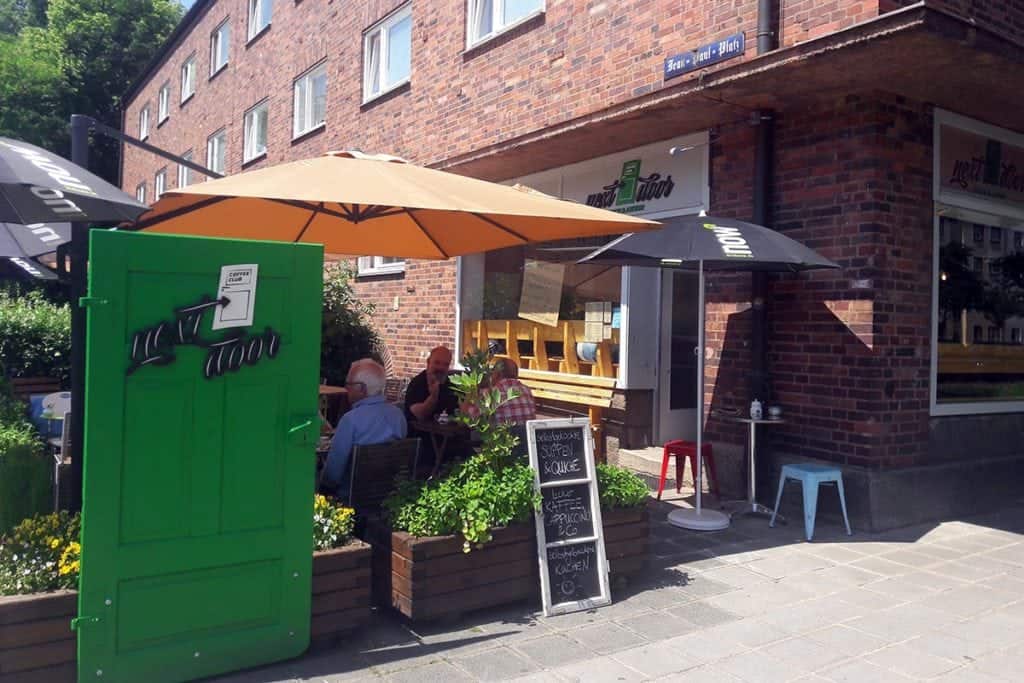 There is a lot of creativity in the details: the walls and the counter are decorated with old wooden doors, old coffee cups are recycled to serve as lampshades. The owners Moni and Thomas will make you feel right at home with a great coffee and delicious cakes and snacks made by themselves and local bakeries. Unlike in most coffee shops, there is no self-service here. The staff will insist on serving you at your table.
For their espresso-based beverages, they use a blend by Rösttrommel and a guest bean (this time it was a Rwandan) which changes every second month. Besides that, you can get a classic French press and a filter coffee from a Hario V60. Thomas might even surprise the filter lovers with 'unofficial' guest beans, in a case of extra bags of beans available!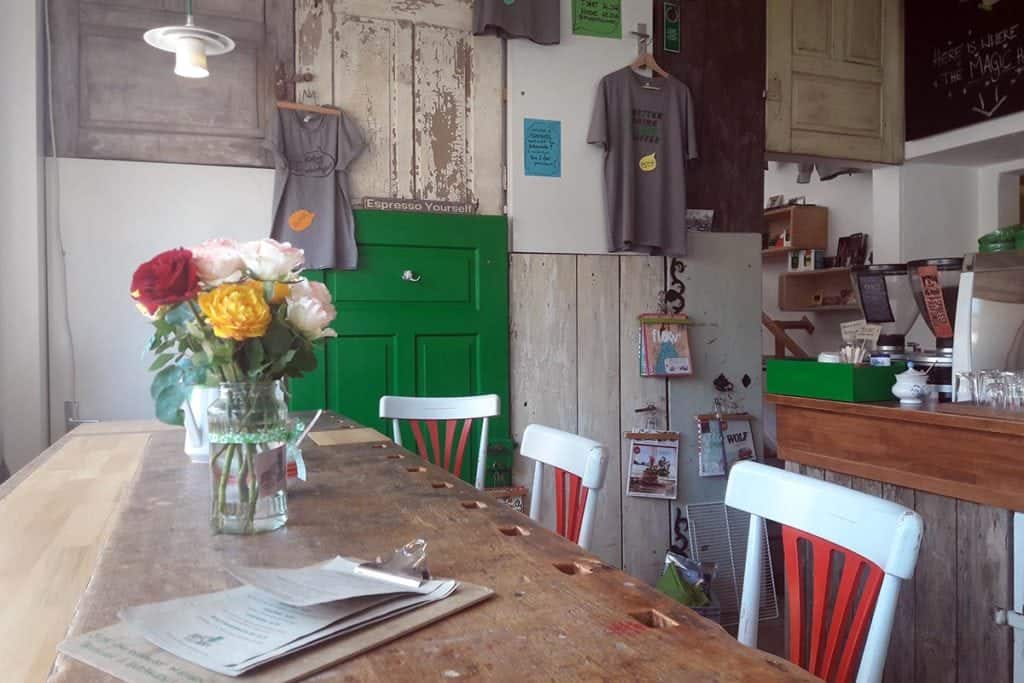 A big, fresh breakfast can be booked in advance. If you love large breakfast and good coffee, there is no better place to spend a Saturday morning at.
Allersbergerstr. 162, 90461 Nuremberg, Germany
Facebook, Instagram, Website
With all its ancient, as well as modern history, Nuremberg is definitely a city worth visiting. But besides the interesting, story-telling remains of the Middle Ages and World War II, the city's relatively young coffee culture is an adventure of its own kind. If you consider yourself a coffee lover, you will have to go beyond the usual tourist places to find what you are looking for. You won't be disappointed.