Our Barista Stories series has been long in the making. Since our first visits to cafes around Europe, we have met many amazing baristas who have had a number of interesting stories to share. We love the speciality coffee community exactly for the people building it and are thrilled to introduce some of those individuals to you.
Baristas truly are the ones who contribute to the atmosphere in the cafe massively and are the key reason why we'd revisit.
Read on to meet Tomas Laca, brewing your daily cup of coffee at Coffee Source in Prague.
Tomas Laca is a 27-year-old barista from Slovakia, currently living in Prague, the Czech Republic. It has been four years that he has worked in the speciality coffee industry, and since a while, he has held the positions of quality control and barista, while also running barista training, at Coffee Source.
A few questions for Tomas
What led you to coffee? Could you describe the moment or situation that made you decide to become a barista?
I became passionate about the science behind coffee firstly as a consumer. I started to drink coffee during my studies at University, in whatever form and quality at first,…the dark days. Then I met friends at Standart magazine who organized events focused on coffee where I volunteered to learn something new and became part of a truly great community.
I bought my first Moka and started to drink lighter roasted coffees. First slowly, through all the "classics", but step by step moving towards more fruity and funky coffees. I had had a few part-time jobs in Prague where I had learned something behind the bar before I took up a job at Coffee Proficiency (Krakow) during my Erasmus studies. There I met a great team and colleagues who taught me a lot and sparked interest in the speciality coffee scene. Nevertheless, I have always been fascinated by the skills of brewing, tasting and scoring coffees and by the fact that it is a craft which takes patience and a lot of work to learn.
What is the funniest thing that you have experienced behind the bar? Can you recall any embarrassing moment?
It was quite embarrassing when we were testing Nitro coffee for the first time with Michal P. and Kuba P. (today Dobra Palarnia Kawy) in Poland. There was not a lot of information on the internet, I think we could not even find any European cafes that had tried it at that time. We did a few tests, got it quite right, and so we brewed 16 litres of a really yummy Rwanda. We tasted the Nitro and it was just great, refreshing and fruity! But next day a customer came and said it tasted terrible and asked what we were selling. So we explained over and over what Nitro was about. Only later did we find out we had a potato defect in the coffee that turned out so strong we had to throw everything away! Yep, like 15 litres of coffee…
What would you do if you were not working in coffee?
It is hard to say, my hobby became my profession. I really love the gastronomy industry, but maybe if I did not work with coffee I would look for some type of office job in smaller companies. I still love to focus on quality control, effectiveness in work processes, innovations and communication.
What are some bad recommendations you hear often in your profession? What is your piece of advice for anybody starting a career as a barista?
Maybe the problem is there are too many recommendations and the "right" opinions… I think the important thing for everyone, because we are all so diverse and different, is to think about your own expectations and goals you would like to achieve and work towards them! Follow your dreams and give it some time, you can achieve them, just don't stop believing and working for them. Also, surround yourself with a great team and friends!
What qualities set a good and a great barista apart?
I think that it takes two parts to become great. Many times I have the feeling that people focus on one thing or tend to have talent only in one area. It is either technical skills or a great customer service. So what I think a great barista needs, is to look at her or his own qualities, maybe even ask around for feedback from others, and try to improve on weaker spots. That's it 🙂
If you have a bad day at the cafe, what helps you to handle it and provide good customer service?
I try to put personal things apart from work in front of customers however hard it might sometimes be. For me, it is mainly the people who cheer me up. It can be the team who can lift you up, your partner or even your customers.
What is the one thing that you would miss the most if you could not work as a barista/in coffee anymore?
I guess I cannot choose just one thing but I am always amazed by how the fresh coffees and new crops taste each year. So cupping coffees mainly but also meeting all the amazing people and talking to our customers.
Imagine the perfect day in your city. Perhaps you have an old friend visiting. What would be top 3 to 5 activities or places you would show them?
Speciality coffee shops or roasteries. Of course, in Prague, I love to drink coffee at my workplace because of the La Marzocco Leva in our showroom. I'd take my visitors to Cafe Jen, Kafemat and Misto.
Take them for local food and great local beer.
Walk by the river, through parks or visit a castle.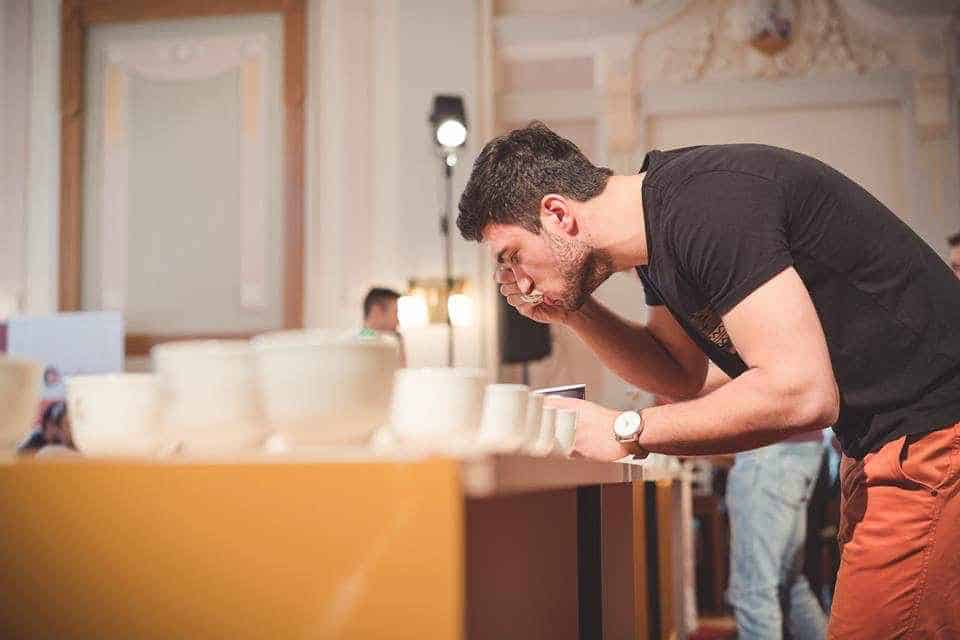 What do you consider some of the best experiences you have had in coffee so far?
I enjoyed so many moments in coffee it is hard to pull them all together. I will repeat myself, but again, especially meeting all the amazing people in the industry, visiting WOC's events, working as a barista at ReCo, joining Coffee Source and having the chance to do sample roasting, attending a brewing workshop with Stefanos Domatiotis, winning the Cup Tasters Championship in Slovakia.
Quick Fire Questions
Would you serve filter coffee with milk, if asked for it?
Yes.
Do you ever take sugar with your coffee?
I never did.
Espresso or Filter coffee?
Filter!
Do you aim for Sweetness, Acidity, or Body?
Balance!
Milky or Black?
Black!
Slurp or Spit?
Spit.
Sit in or Take Away?
Sit in.
Cake or pastry with your coffee?
Cake.
What is your wifi password in a cafe?
12345678