Kuba Kalusinski is a 28-years-old coffee professional from Wągrowiec, Poland. After many years of working behind the bar in Poznan, Kuba decided to first launch his own coffee brand and then open his dream place in the city – Guest Coffee Culture. It quickly became THE place to drink unapologetically good coffee when you visit Poznan.
Kuba is a regular competitor in Polish coffee championships, a finalist of the Brewers Cup and a legend of the compulsory service. You can also meet Kuba at almost all coffee festivals in Poland, just look for the smiling lad behind the clever drippers.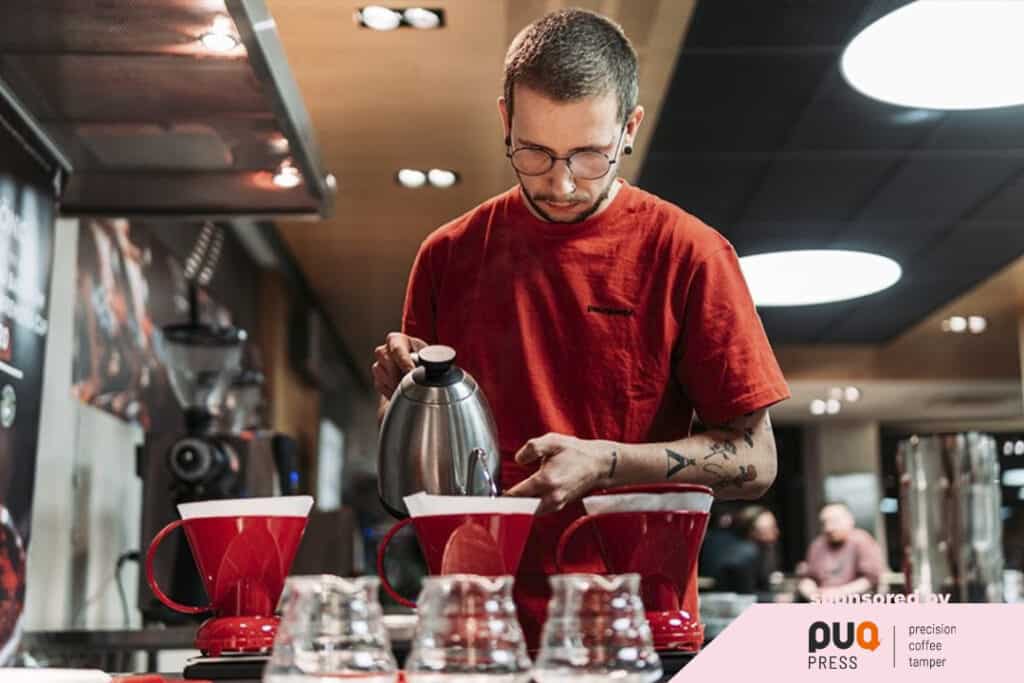 Kuba, what is your first memory with coffee?
My first memory of coffee is when for the first time I tried nitro coffee in 2015. It was too bitter for me then, so I added 2 tablespoons of sugar and asked for milk. Time flies, people change…
Could you describe the moment or situation that made you decide to become a barista and a cafe owner? What was the reason behind your decision to open Guest Coffee Culture?
During the COVID pandemic, I lost my job and my situation wasn't good. Especially the financial part of my life. I still wanted to continue my career in the field of speciality coffee so I decided to invest in my own place. Even though it was risky at the time and some people even said that it might be a stupid move I had listened to my gut feeling and started my own business. Here I am. Super happy, owning my own place.
How has your life changed since you opened your own cafe and started to work behind your own bar?
Honestly? I have less time for everything else. But it is a huge pleasure to work on my own terms, setting my own rules in this place. I enjoy it so much.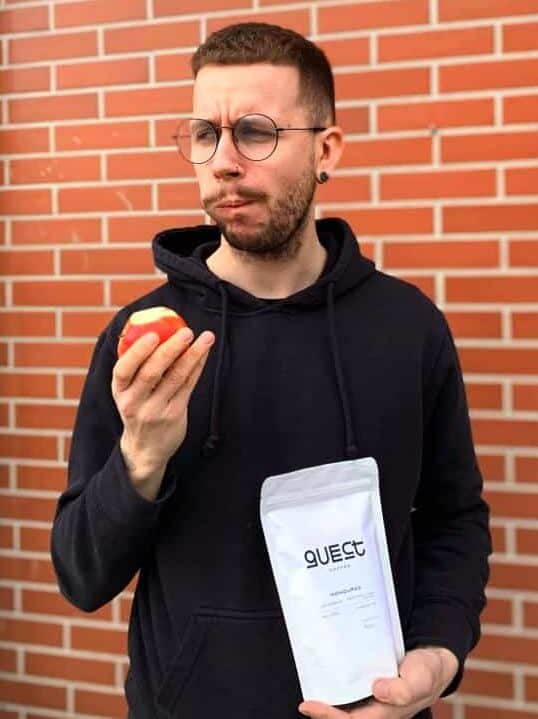 What is the funniest thing that you have experienced behind the bar? Can you recall any embarrassing moments?
In my prior job at Brisman Coffee Bar, I remember that I had a super shitty day. In just a second with a clumsy move of my hand, I tripped 3 bottles of syrups on the floor. Then a jar of cold brew and a bottle of whisky. It was super embarrassing because I was a newbie employee.
Do you have an unusual habit or hobby that you love?
Yes, I must admit that I'm the nerdy type. I love playing FIFA 09 on my old computer and on a daily basis I keep myself updated and follow all the football news. I know many teams worldwide and a bunch of players in detail including their stories and achievements.
Are there any bad recommendations you hear often in your profession? What is your piece of advice for anybody starting a career as a barista?
First of all, I think that a bad recommendation is that some people believe that working as a roaster puts you at the highest level in a speciality coffee hierarchy. In my opinion, you can develop your career in different fields on this career path. If you would like to start a career in coffee I would highly recommend to be patient. Trying to find your own way of doing things and not listening to every piece of advice could be actually sometimes helpful.
What's the most common question you get asked behind the bar? How do you answer it?
The most common question from my customers is: "Can I have it takeaway?". My answer is usually: "Yes, you can". True story haha.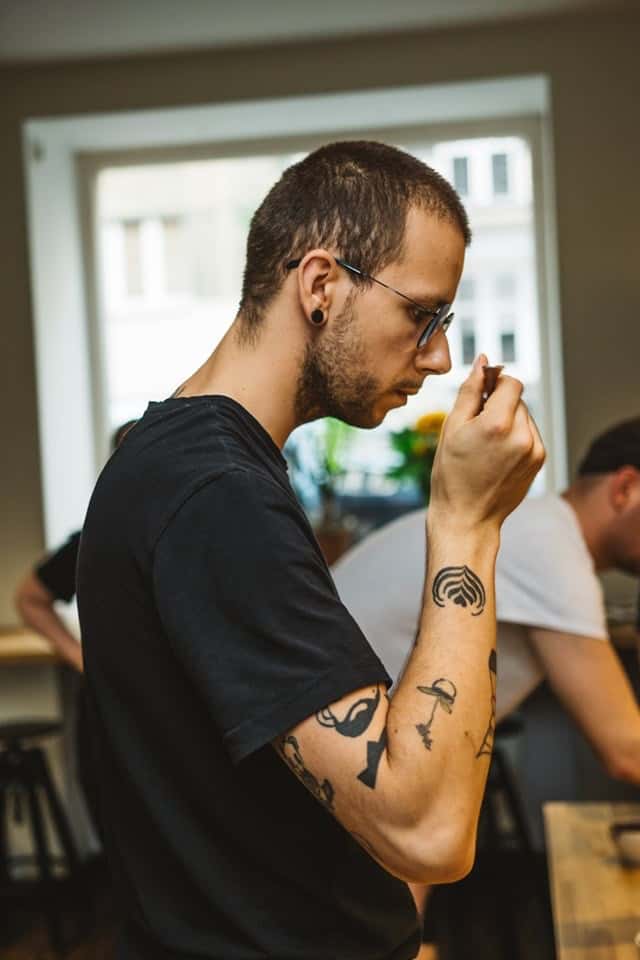 What's the one coffee recipe that everybody should try? Why?
I think a flat white on a double ristretto is really worth tasting. It goes like this: 20 g of coffee (75 microns) + 20 g of ristretto + 200 g of milk. Finally, we receive a cup full of flavour. It's fruity with nice acidity and a beautiful body. I really love it.
What has been the best experience you have had in the speciality coffee industry so far?
My best experience was my first entry to the finals of the Polish Brewers Cup. It was a tipping point in my career and I vividly remember this special moment in my life.
How has Guest Coffee Culture changed since you opened it?
Since the moment of opening my coffee place, we are regularly changing many things. Starting from the interior – I really like to buy vintage furniture and renovate it together with my fiancée Magdalena. We also created a special wall for our customers. Using coloured markers, they can draw and write whatever they want on them. I also changed coffee machines and in a period of 8 months, I had 3 of them. Now I use Sanremo YOU and I am super satisfied with it.

Quick Fire Questions for Kuba Kalusinski:
Would you serve filter coffee with milk if asked for it?
No, BIG NO!
Do you ever take sugar with your coffee?
NEVER.
Espresso or Filter coffee?
It's a draw.
Do you aim for Sweetness, Acidity, or Body?
Sweetness.
Milky or Black?
Black.
Slurp or Spit?
Slurp.
Sit in or Take Away?
Sit in.
Cake or Pastry with your coffee?
Pastry
Favourite piece of barista equipment?
Clever Dripper.