Cristian Povedano, originally from sunny Ibiza, is a 32 year old passionate barista and brewer currently rocking the position of the Store Manager of Nomad Lab & Shop in Barcelona. Cristian never gets bored with coffee and meeting new people from the community.
Cristian competed with successes in the Aeropress Spain championships and is spare time designs his own cheeky coffee wear at Stay Brew Apparel.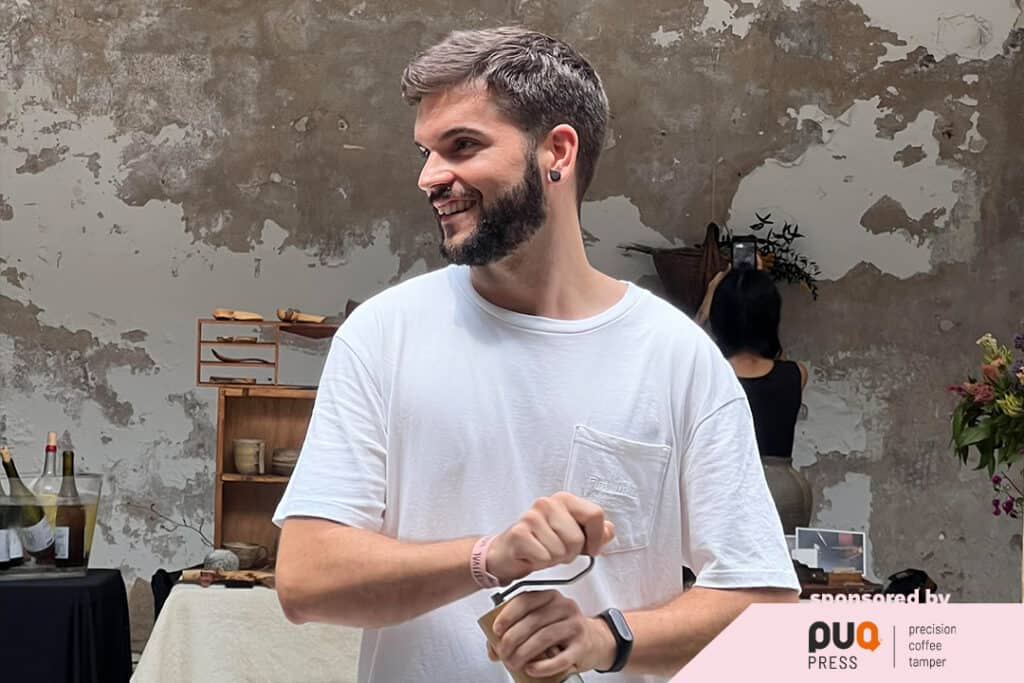 Cristian, what is your first memory with coffee?
I started going to coffee cuppings and tastings by roasters from Barcelona, such as Right Side Coffee, Nomad, Café de Finca, 80Plus, Hidden Coffee Roasters. My first specialty coffee drink was a flat white in Onna Coffee in Barcelona. And I will always remember my first filter coffee made from Ethiopian natural beans from Nomad Coffee Roasters.
Could you describe the moment or situation that made you decide to become a barista?
I spent 4 years working in a cafeteria called Sandwichez. They took care of every detail, kept their equipment always clean and well maintained and we could get essential training.
Then I met Kim Barista, an international coffee trainer. I got very fond of his youtube videos, recipes and I started to really get interested in specialty coffee and tried to visit all the specialty coffee shops in Barcelona. Then I realised, I am immersed in this world and I love it!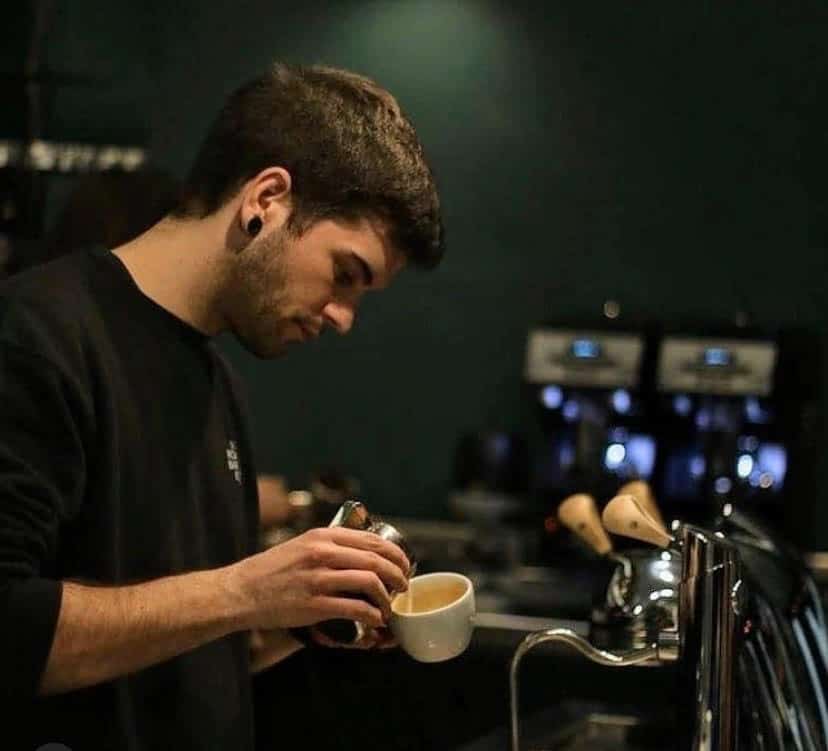 What is the funniest thing that you have experienced behind the bar?
People are asking us about "Coffee shop" since surprisingly they think we have the same concept as the one in Amsterdam… Crazy, happened at least 2-4 times a week.
Also, around a year ago, I was preparing a Shakerato. I forgot to put the cover on the shaker and it all exploded. In a cafe full of guests. Everyone applauded! Now I always have an extra t-shirt in my backpack… Just in case hahaha!
If a career in coffee was not an option, what job would you be doing?
I would probably become a graphic designer, I really like Adobe Illustrator and the feeling that I can create almost everything. Just my imagination is the only limit.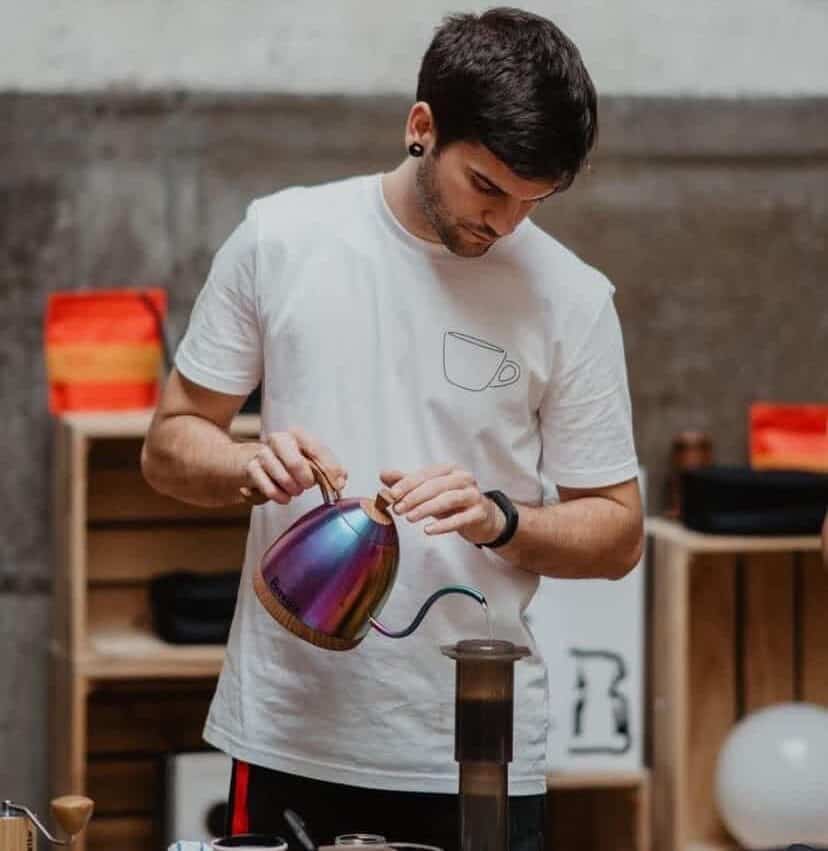 Do you have an unusual habit or hobby that you love?
I design and make some cheeky t-shirts in Stay Brew Apparel. Plus I always try to find something extra to do than just coffee and not be an obsessed professional. I go swimming, climbing, play football, whatever that makes me keep moving.
Are there any bad recommendations you hear often in your profession? What is your piece of advice for anybody starting a career as a barista?
Fortunately I never hear them. Becoming a barista is the best decision I ever made! And advice: take it slow, step by step, like a filter coffee! But First, go to a good coffee shop, work there, make a family inside and be happy. Because being a barista can be one of the most entertaining jobs in the world.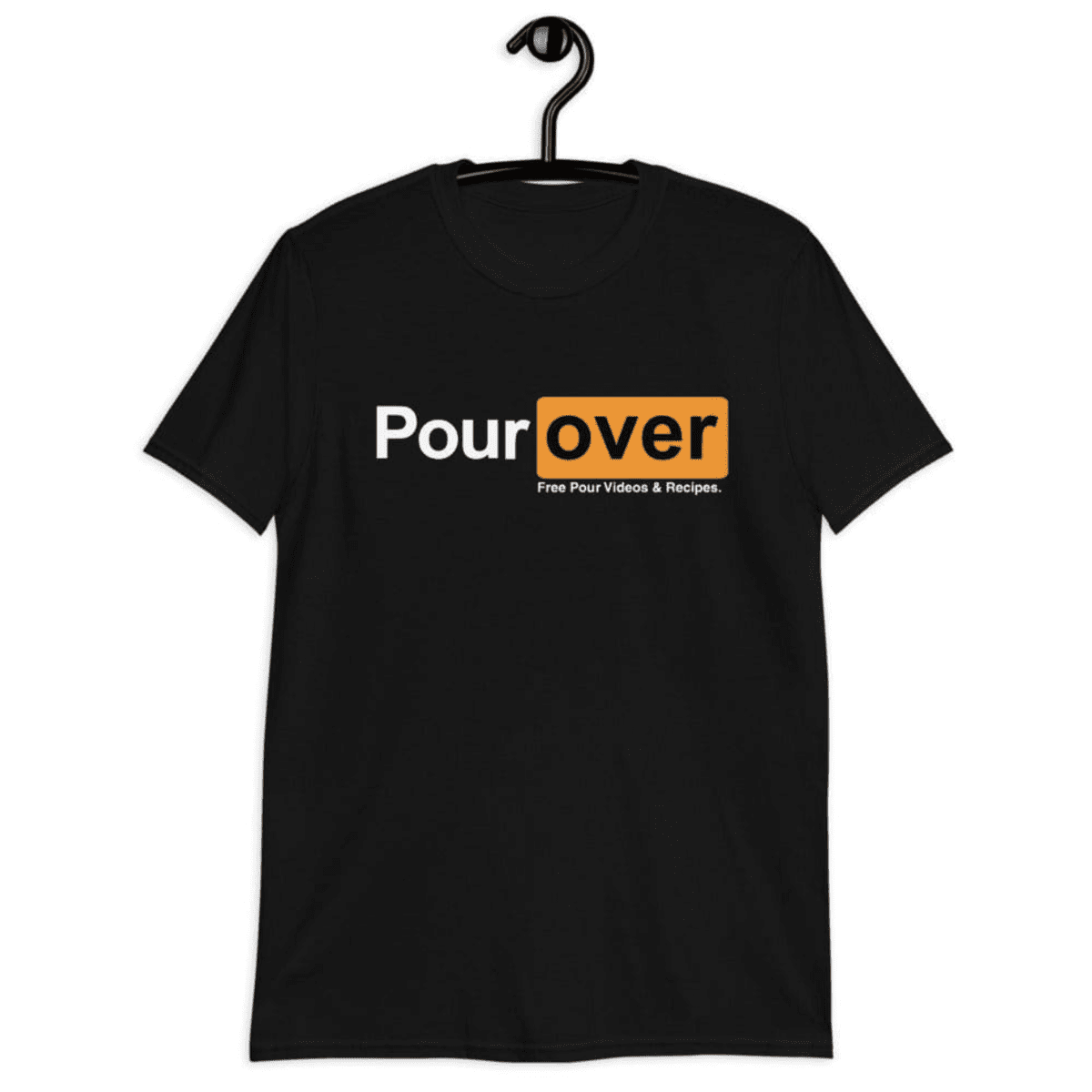 Well, the truth is that everything started as a joke, I was always saying Just Brew It, Stranger Beans or Back to the Filter. So during the lockdown I was studying with Barista Hustle all day and in the breaks I designed T-shirts. It started to create a lot of interest, I love going to coffee shops and seeing baristas in my creations. Currently, we are going to launch a new design and we will start selling physically in coffee shops. First in Spain, then who knows, maybe even abroad!
What's the one coffee recipe/cocktail that everybody should try? Why?
Cold Brew Michelada, cause is weird and amazing! Actually in Nomad we have it on the Lab menu!!
What do you enjoy the most about working as a barista?
It is incredible how you get to know so many people, baristas from other parts of the world, exchanging bags of coffee with other roasters.
What has been the best experience you have had in the speciality coffee industry so far?
Definitely working for one of the best roasters in Spain, Nomad coffee. For me it's like a family. After 3 years, I can say that Nomad has offered me the means for so many things, always supporting my competitions and giving me the opportunity to be in different locations or even responsibilities. I can work in logistics in Nomad's HQ, visit customers in different locations, help my colleagues Ivette and Fran in the quality control at the customers' cafes or in our locations. Maybe in the future I will even dare to open a multi-roaster coffee shop, who knows!

Quick Fire Questions for Cristian Povedano:
Would you serve filter coffee with milk if asked for it?
I don't recommend it, but up to you 🙂
Do you ever take sugar with your coffee?
No.
Espresso or Filter coffee?
Filter coffee always!
Do you aim for Sweetness, Acidity, or Body?
Sweetness!
Milky or Black?
Black.
Slurp or Spit?
Spit.
Sit in or Take Away?
Ceramic cup please!
Cake or Pastry with your coffee?
Pastry