Meet Malwina Dunaj, a 27-year-old coffee professional, originally from the picturesque Kotlina Klodzka in the beautiful mountain area of Lower Silesia in Poland. Malwina is currently the Head Barista of Kofeina by Incognito in Wrocław. She is one of the most active and social baristas in the region and really knows what's brewing in the city.
Malwina attended countless coffee training sessions and leads workshops herself as well. She also took part in the Judges Certification event and she will be able to judge national coffee championships. If you attend coffee events, you can always spot Malwina brewing coffee or simply helping out. She avoids big stages but definitely is a star of the coffee community bringing lots of positive energy and influence.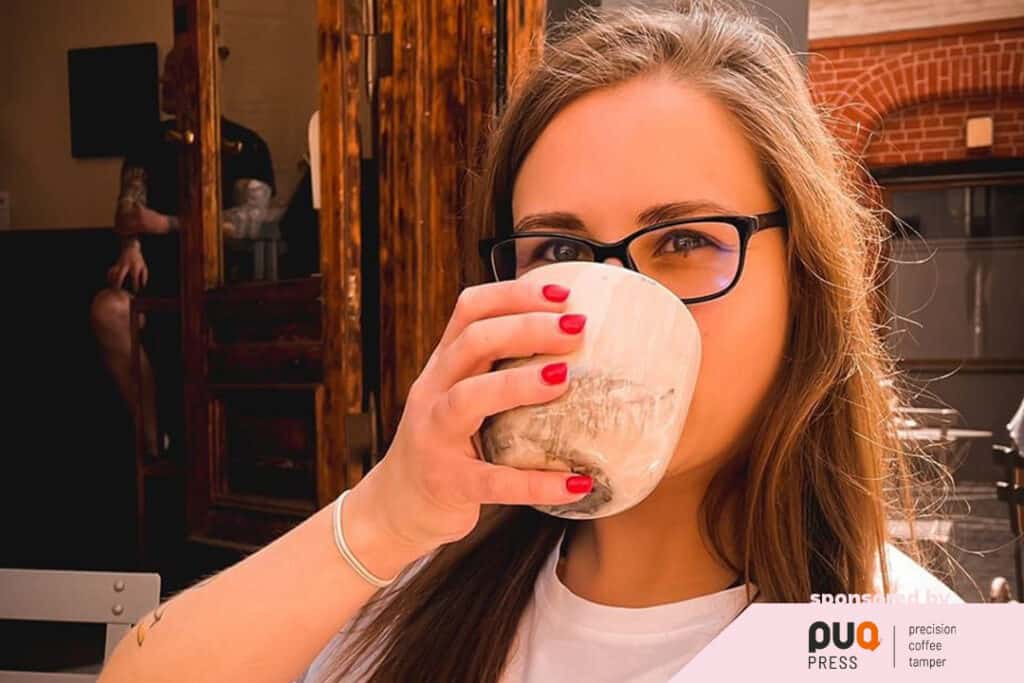 Malwina, what is your first memory of coffee?
Unfortunately, I don't have a romantic story about the first sip of coffee. I have started from basic coffee during preparations to exams. Coffee was dark, bitter and strong.
Let's be honest – it was bad. Really bad. However, it was good enough to help me pass all exams.
​​​​​​What inspired you to pursue a career in the coffee industry, and how did you get started? What did you do before coffee?
After trying all "typical" types of coffee, I have started experimenting and reading more and more about coffee. I discovered that this area is so broad and fascinating.
Before I went to work in a coffee shop, I wanted to be an optometrist and I've started development in this area. However, my friend convinced me to try to find a job, where I could brew specialty coffee because we loved to read about coffee and try to do some magic with this dark liquid.
My first job in the coffee industry was for World AeroPress Champion – Filip Kucharczyk. After first training with him, I knew that it was something more than a hobby.
My mentor is Bartek Kędra from Napar Coffee. He always supports my development and I can count on him when I need any advice.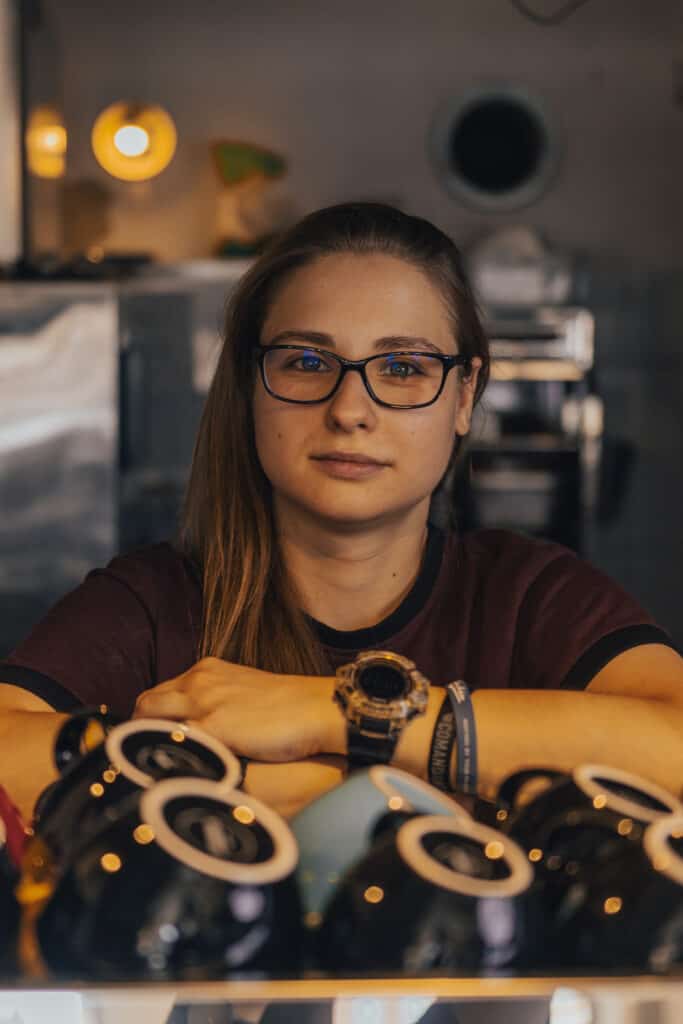 Tell us a bit about the place you work at. What is your role there?
Kofeina by Incognito is my place on Earth. It's a minimalistic coffee shop in the centre of the city. I'm working there as Head Barista and take care of the development of our team and the quality of coffee. You can meet me on social media, brewing coffee and experimenting with coffee recipes. I always try to help my colleagues to provide the best service and delicious products to our guests.
Additionally, we started with Tuesdays with competition coffee, so you can come to us and I will brew for you some extraordinary beans. It's something new in Wrocław and I hope that our guests will like this idea. We really like to promote specialty coffee, so we have started cuppings with brands which are not popular in our city, so people can try different types of coffee and check what they really like. In the future, I would like to lead more workshops and trainings that will be available for people, who know how to brew, or who just want to start their journey with brewing.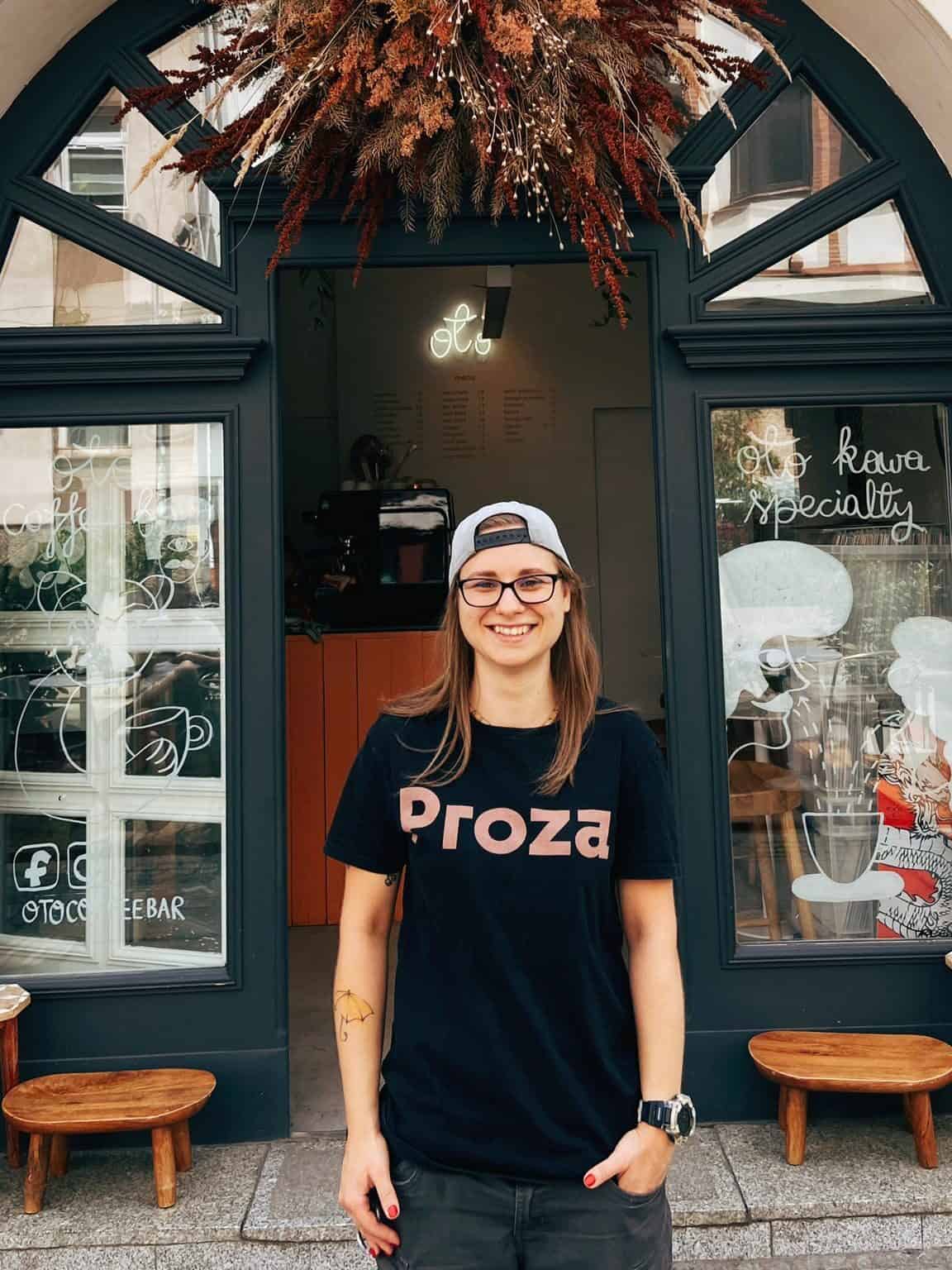 What kind of experience do you want your guests to have when they visit you at the cafe?
It's important for me that our guests are warmly welcomed and they can enjoy drinking high-quality coffee. We take care of a variety of coffee beans to make sure that our guests can find something for themselves.
What is your favourite part of the day in your cafe, and why?
I love mornings in our coffee shop. Turn on the music and prepare the cafe (and myself) to welcome our guests. The first coffee sip kicks me off and I feel ready for the busy day.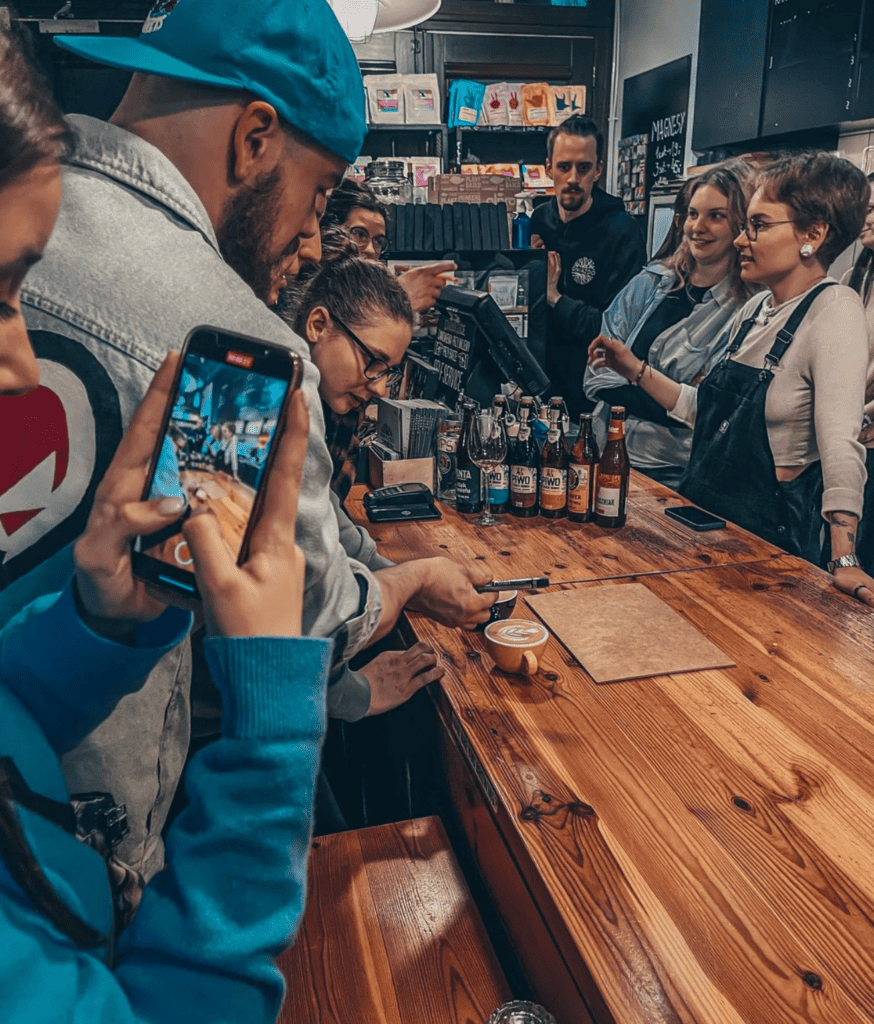 How do you stay motivated and inspired to keep improving your coffee-making skills?
My family is motivating me to develop myself and look for new challenges and opportunities.
What are the current trends in cafes in your region? Are there any trends you promote yourself and would like to see more often in other places?
I think that Wroclaw allows you to try a lot of good coffees and it's great. I try to promote specialty coffee and natural coffees. and am happy to see that coffee festivals are promoting our industry. I hope that this trend allows us to show our guests how good coffee should taste and encourage them to try new things.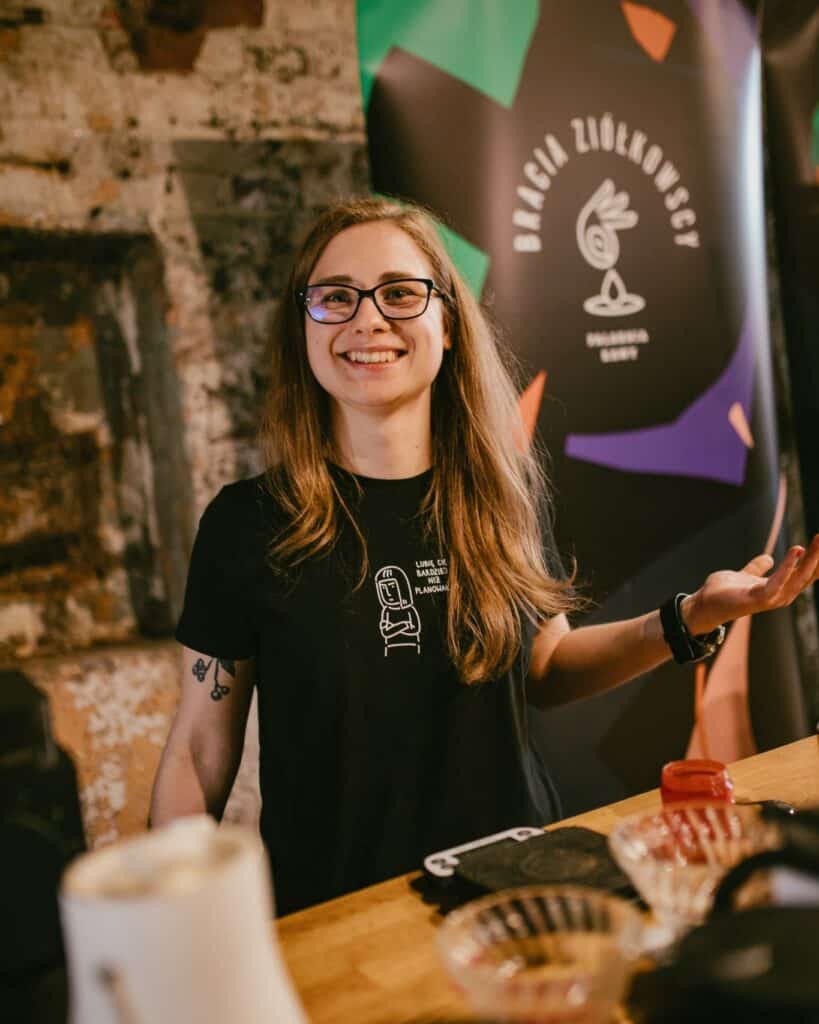 You also very often pop up at events all around Poland (and even beyond) brewing coffee and organizing activities. Which were your favourite events so far?
It's true that you can often meet me at the coffee festivals. I really appreciate that I can be part of them because I really love to promote specialty coffee and observe when people take their first sip of such coffee and discover something new. I don't have my favourite event. I like people from our coffee world and it's always a great opportunity to meet with old friends.
How do you maintain consistency in the quality of the coffee you serve?
You must always try the coffee which you serve, be open-minded and improve your skills. I really appreciate feedback from my guests.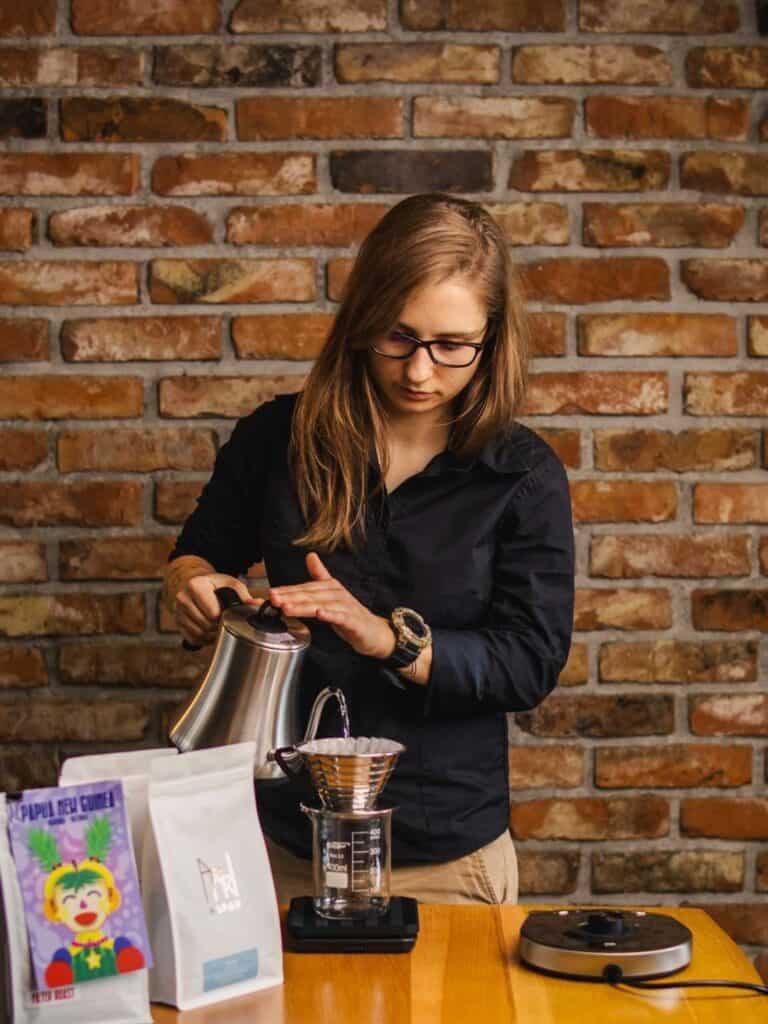 What coffee challenges are you looking forward to? Any new projects or collaborations?
I have started working on regular workshops in the cafe and had some discussions about new projects and collaborations. I hope that we will be able to tell something more in the next weeks. Stay tuned! I promise that it's worth observing Kofeina by Incognito and take part in our events!

Quick Fire Questions for Malwina Dunaj:
Would you serve filter coffee with milk if asked for it?
Yes – guests should drink what they like.
Do you ever take sugar with your coffee?
Yes.
Espresso or Filter coffee?
Filter coffee.
Do you aim for Sweetness, Acidity, or Body?
I am looking for balance in the coffee, but I choose sweetness.
Milky or Black?
Black.
Slurp or Spit?
Slurp.
Cake or Pastry with coffee?
Pastry.
Favourite piece of barista equipment?
The cloth for a portafilter.