Meet Alica Bánszka, a passionate coffee professional with over 9 years of experience in the specialty coffee industry and over 15 years in hospitality. Alica comes from Slovakia, lived for a while in Greece and Germany and is currently based in Brno, Czech Republic. She works as the Head Roaster and Coach/Educator at Rebelbean.
Alica has established herself as a knowledgeable and skilled coffee professional. She holds several certifications, including SCA Sensory Skills, several courses from Barista Hustle, and CoffeeMind Academy. Alica's dedication to excellence was rewarded with a Diedrich scholarship for Roaster Camp in 2019. In addition, Alica has coached Denis Kramář in the Czech Barista Championship, helping him to achieve 2 championship wins.
Alica's passion for coffee extends beyond her professional achievements. She believes in the importance of sustainability and ethical sourcing practices and is dedicated to building strong relationships with coffee farmers and supporting the communities that produce the coffee she roasts and brews.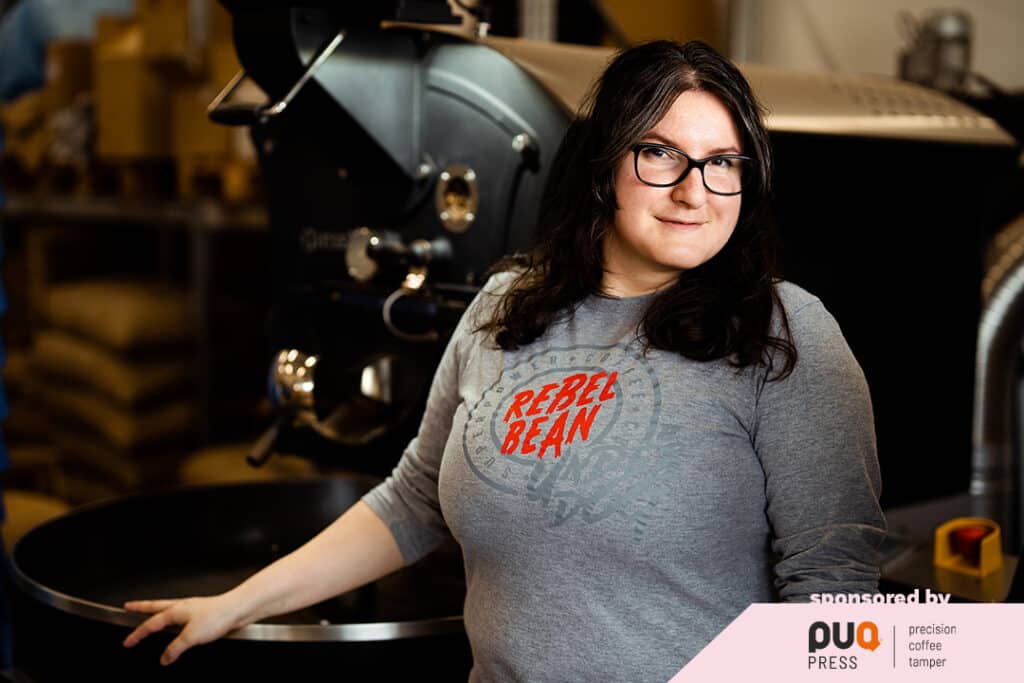 Alica, what is your first memory of coffee?
Not sure if it is the first, but the most memorable moments as a kid for me were when my mum and grandma sat on our front porch, sipped their coffee and spilt the tea about anyone and everyone they knew. It was the time to decompress and relax and I distinctly remember these days as summer weekends while we were having a break during harvest season in our garden. Even though the coffee was horribly bitter, I associate the moments with heavy floral sweetness and freshly cut fruit.
​​What inspired you to pursue a career in the coffee industry, and how did you get started? What did you do before coffee?
My best friend Dominik Novák inspired me and he kept me going even though I was a terrible barista at first. He was our head barista in Urban House, Bratislava where I started as a waitress and slowly came to the role of a barista.
Last month one of my ex-colleagues told me how annoying I was with always asking questions and seeking answers. Yes, I can see that happening and it´s funny to look back. But that curiosity keeps me going to this day. I started in speciality coffee in my early twenties, so there was no "real" career beforehand, but I studied theatre and dabbled in part-time jobs in travel agencies.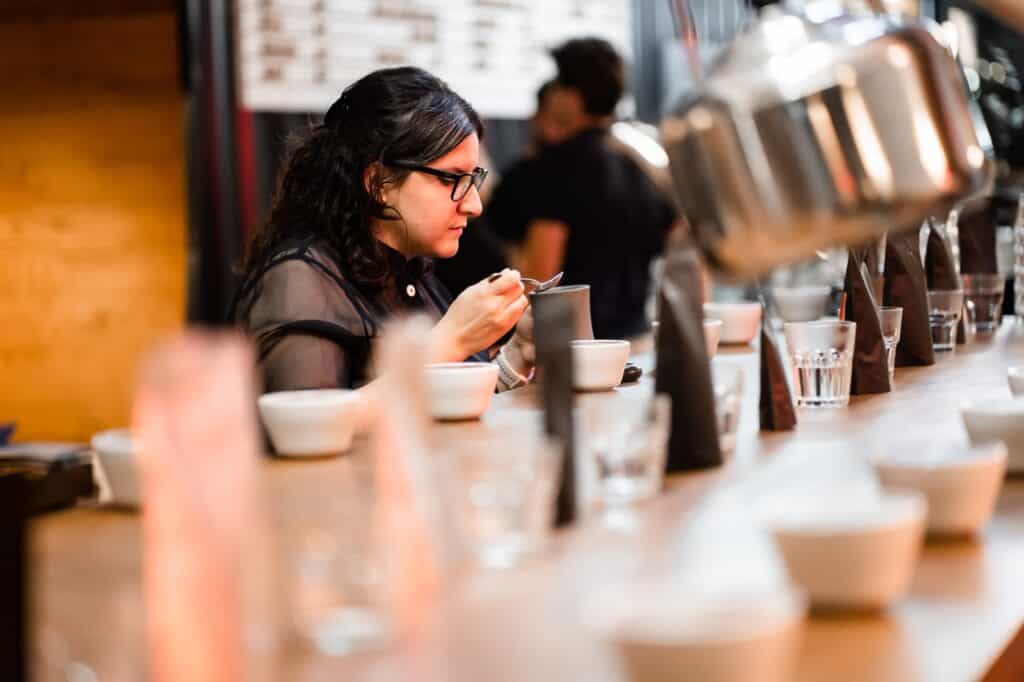 Alica, tell us a bit about the place you work at. What is your role there?
For almost four years I have been part of Rebelbean team in Brno. I started as a part-time roaster and slowly grew into my role and responsibilities. I am a Head Roaster, helping with green bean selection and coaching our two-time Czech Barista Champion Denis for the World Barista Championship..
I work closely with our roastery team on day-to-day operations and we all make sure the coffees you all get are consistently up to our standards.
What is your favourite part of the day in your roastery, and why?
I kinda love the slow morning routine I have on my roast days. I come earlier than others and have approximately an hour by myself. So as I am preparing the roaster for production, I hype myself up with music, reply to some emails, read coffee news or our company news and strategize about the day and what needs to be done. This hour helps me with structure and gets me set for the day.
How do you stay motivated and inspired to keep improving your coffee-making skills?
For me, it always comes down to coffee events and meeting old and new friends. Visiting Colombia was one of the highlights of last year, talking with producers and getting a reality check is always something that keeps me grounded, yet motivated. It´s the late-night talks with coffee lovers over a glass of wine, sharing current issues we as an industry are facing and how to tackle them while still being kind.
What are the current trends in cafes in your region? Are there any trends you promote yourself and would like to see more often in other places?
I would say it's been a trend for the past few years and still going strong – infused coffees. It's not something I prefer or drink voluntarily, but I get the appeal and surely I am not against it. The only thing I would prefer is more transparency about the processing.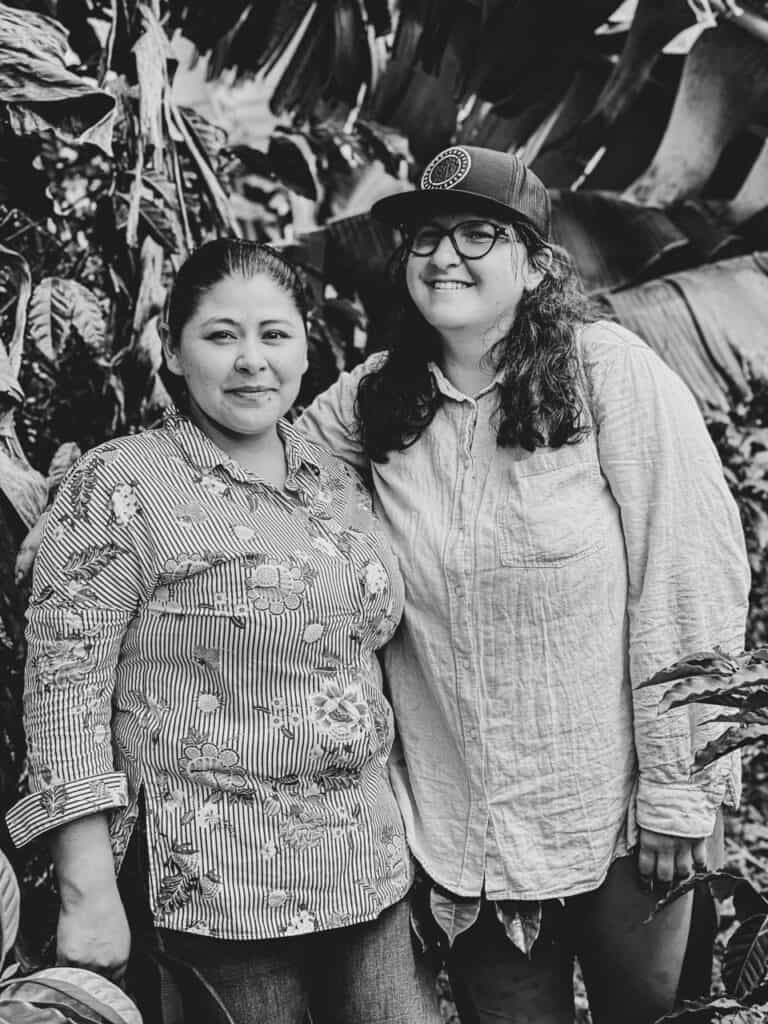 Can you tell me about a time when you had to coach a championship competitor? How did you approach the training process and what did you focus on?
I had the honour of working with two people last year and the approach was totally different. With one it was more of a guide through everything. With Denis (Barista Roku 2022/2023) it was more of a constant dialogue. Since with him, we are calibrated it was easy to get lost in the bubble, so it was important to bring other people for sensory evaluation to get the whole picture.
It was also easier because we´ve been friends and colleagues for more than three years, which means a different level of trust and also knowledge of each other's qualities and how to work with them. I would say our motto throughout was "work smarter, not harder" and I guess this approach works since Denis won two times in a row. But also it´s important to say Denis is truly talented and committed and it would not be possible without his mindset and skillset.
What do you usually do in your free time? Do you have any unusual hobbies?
Not sure if unusual. Maybe the most unusual is that I can read books really fast, but that counts only when the books are trashy. There is something endearing about reading, watching or listening to "low quality" movies/books/music, especially if the product is self-aware. You would find Twilight books right next to Virginia Woolf in my library and that´s how I like it.
Otherwise, I take care of my plants, visit lots of music/theatre/film festivals and spend quality time alone or with my friends. That is really important to me.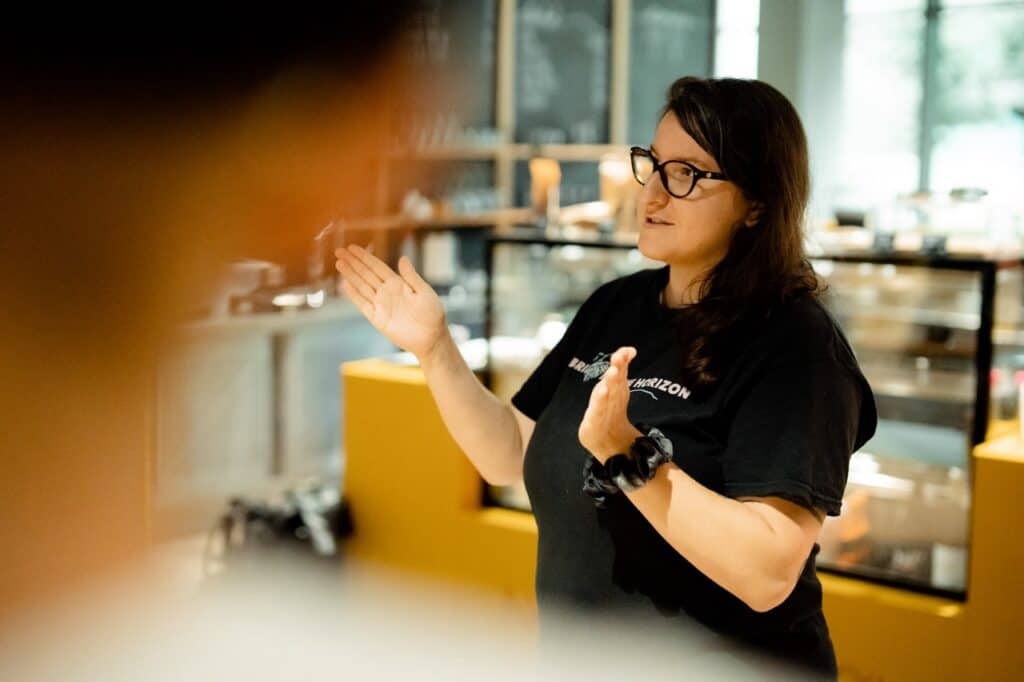 What coffee challenges are you looking forward to? Any new projects or collaborations?
Currently, we´re slowly approaching WBC and World of Coffee. Not only is Denis competing, but we´re also gonna show our coffees in collaboration with MilBok. So be sure to come to say hi to Michal the founder of Rebelbean in Roasters' Village.
Also, we´re opening a new café during the summer and it's so exciting! So far it´s just a pop-up with a takeaway, but slowly it´s getting the revamp it deserves. The last thing is the Cascara lemonade we´ve been working on for quite some time, so stay tuned.

Quick Fire Questions for Alica Bánszka:
Would you serve filter coffee with milk if asked for it?
For sure.
Do you ever take sugar with your coffee?
Sometimes in milk coffees. But I take it as a dessert, not coffee per se.
Espresso or Filter coffee?
Filter all day, every day.
Do you aim for Sweetness, Acidity, or Body?
Balance, but from these three it´s sweetness.
Milky or Black?
Black.
Slurp or Spit?
Slurp.
Sit in or Take Away?
Both.
Cake or Pastry with your coffee?
A savoury pastry.
Favourite piece of barista equipment?
A cupping spoon!
Photos by Kateřina Václavíková.