Have you heard? Oslo's first coffee festival is happening this September! On the weekend of the International Coffee Day, the Kaffikaze Crew brings the coffee-drinking community together.
The festival called the Kaffikaze Coffee Festival is described as "a day packed with extreme coffee enthusiasm". Knowing the Kaffikaze crew, this is a more than accurate description of what is waiting for you in Oslo, at the end of the month.
Mark September 30th in your calendar then, especially if you love Norwegian coffee culture. Book your ticket and join the event at Vulkan Arena in Oslo.
So what are the 6 reasons to attend The Kaffikaze Coffee Festival?
1 – It is the first ever coffee festival in Oslo
Oslo is the (coffee) capital of Norway, full of great coffee and its coffee legends that have built the foundations of the speciality coffee scene here. Taking part in World Barista Championships, being members of the Specialty Coffee Association, or using direct trade as a trade model are some of the speciality coffee staples of their brands.
"We're also surprised that it's the first coffee festival in Oslo," told us Ingri M. Johnsen of Kaffikaze.
Today, the best of the best run their own businesses in Oslo and devote the majority of their time to it. "Making of big events takes a lot of time and work, so I think you have to be really motivated to take on that task. Here is where our extreme coffee enthusiasm kicks in," Ingri explained the Kaffikaze's drive to bring "1200 coffee drinkers, coffee lovers and coffee extremists" for a day packed with coffee enthusiasm.
2 – Norwegian AeroPress Championship
The festival will give space to 27 competitors, celebrating this versatile brewing device. They will all fight hard to win a trip to Seoul, where more than 60 national champions will take part in the World AeroPress Championship. This competition is worldwide, fun and also wild. Join the crowd for some fun!
The judging duty at the Norwegian AeroPress Championship will be taken on by Tim Wendelboe who stood at the beginning of the AeroPress championships. We had the pleasure of talking to Tim during our visit to Oslo, and you can also come and say hi to him this time.
In a way, the competition has come a full circle: from a small, staff competition it gained fame and grew bigger every year. This year, it is back in the city of its birth, and it is several times its original size.
3 – Experience a Kaffikaze-style event
The Kaffikaze Crew is known for their unorthodox events such as Drunken Brewers Cup Championship or the community activities such as High Mile AeroPress Club. With Kaffikaze's creativity and Ingri M. Johnsen's passion for coffee, you can anticipate an event full of surprises, contests and coffee tattoos—for real.
The festival has got a slightly unorthodox structure. It is separated into two parts: Day and Night sessions, which are both of two very different programmes.
The Day is on between 11 AM and 5 PM, while the Night session starts at 6:30 PM and goes on until late that night. This festival will not give you an opportunity to get bored, check out its full programme!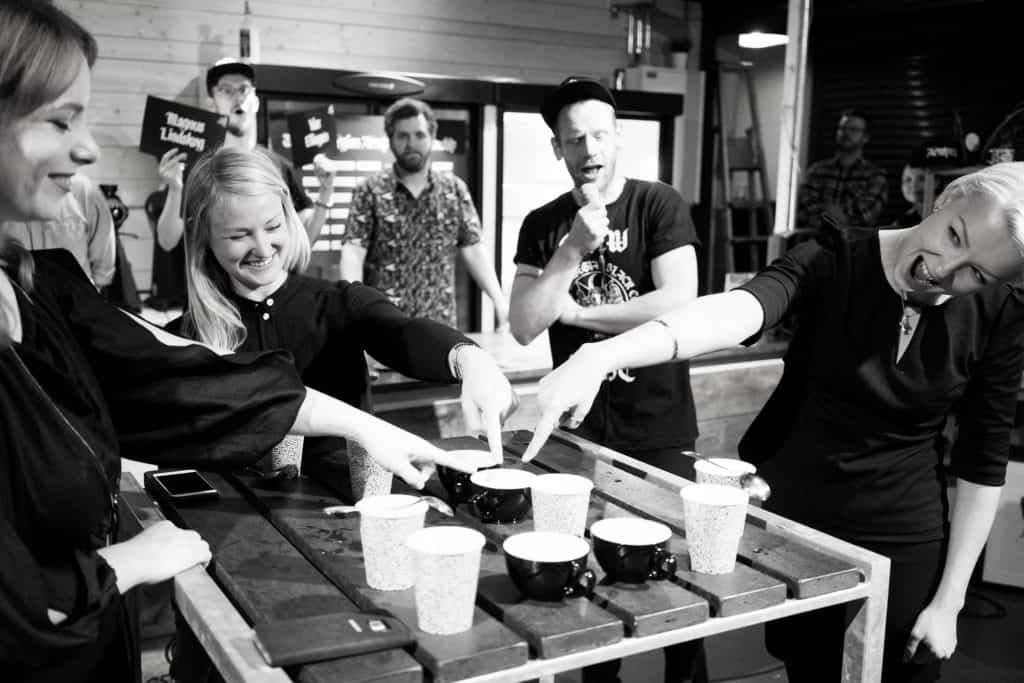 4 – Learn from the best
The Day will be filled with lectures, classes and tastings run by some of the best coffee professionals of Norway and beyond, so do not hesitate to join them in discovering more about taste!
Our best picks
1 – An Introduction to professional coffee tasting
Madeleine Solheim Johnsen Founder of Madisons.no – Coffee training and consulting

2 – How to find the best coffee in the world
Joakim Strand Founder and co-owner of Norð

3 – The truth and trends around coffee in Norway
Marit Lynes Manager at NKI – Norsk Kaffeinformasjon
The Night is there to have fun! It is filled with social and party activities because, after a whole day of overdosing on caffeine, a beer is the best idea.
Our best picks
1 – Coffee beer tasting
Øyvind Langgård Beer oracle at Ringnes

2 – Coffee tattoos
BU-HU Tattoo Coffee flash all day

3 – Coffee Cocktails
By Coffee Cocktail Bar Once in a lifetime cocktail menu
5 – Get a 10% discount on the festival tickets
As if you needed any more reasons to convince you about coming to Oslo, here is a sweet deal from the Kaffikaze Crew. They offered you, our readers, a 10% discount on your tickets when purchasing them online.
There is a limited number of tickets in general, but also of those with the discount. Make sure you get to book them as soon as possible, using this code: EuropeanCoffeeTrip.
We wish you fun times and tasty coffees at the festival!