Welcome to Stuttgart, the auto capital of Europe! As home to both Daimler (Mercedes-Benz) and Porsche headquarters, and a host of major auto-suppliers like Bosch, Stuttgart has a long heritage of high-octane performance. It's a city of 600,000 that bustles with professionals from all around the world. The downtown is nestled in a deep valley that is subject to peculiar weather that can alternate from extremely hot to cold and rainy overnight, but when the sun is out, so are the people!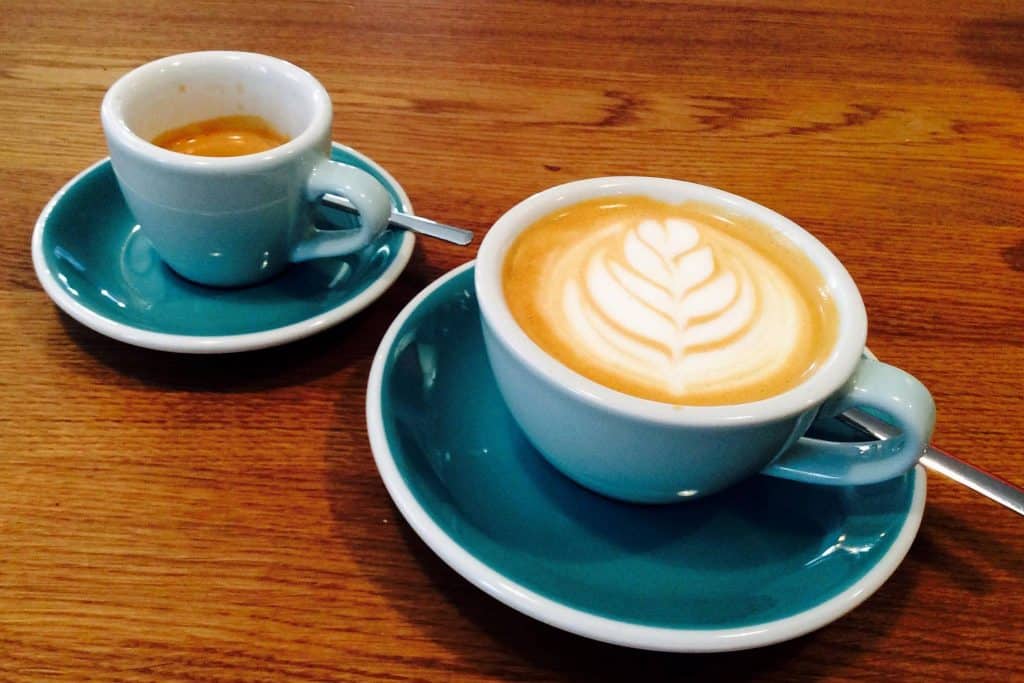 Stuttgart has long had a bustling outdoor cafe scene, and even some local coffee roasters, but it wasn't until a few years ago that third wave coffee took off. Some of the trendier neighborhoods now host specialty roasters and cafes and it is thanks to the shops below that traveling coffee enthusiasts like yourself can find a home in Stuttgart.
I am a self-identified coffee tourist and wanderlust, having traveled to and lived in multiple places over the past several years. I travel for many reasons, but my favorite trips are always for coffee. Today I'm based in Stuttgart, so welcome to my city! Here are the three shops you can't miss while you're here.
Mókuska Caffè
In the Stuttgart-West neighborhood, just a few blocks from the historic Feuersee Church, Mókuska Caffè is a one-stop shop for all of your specialty coffee desires. All of Mókuska's coffee is directly traceably traded, and roasted in-house on Mondays when they're closed so that their coffee is always fresh. Stefan Dachale, the owner and roaster, considers himself a "green bean tuner", a reflection of his obsession with extracting just the right profile by subtly adjusting his roasts on the fly – like the pit crew of a Formula 1 race team. After 20 years in the business, Stefan is a seasoned veteran in specialty coffee.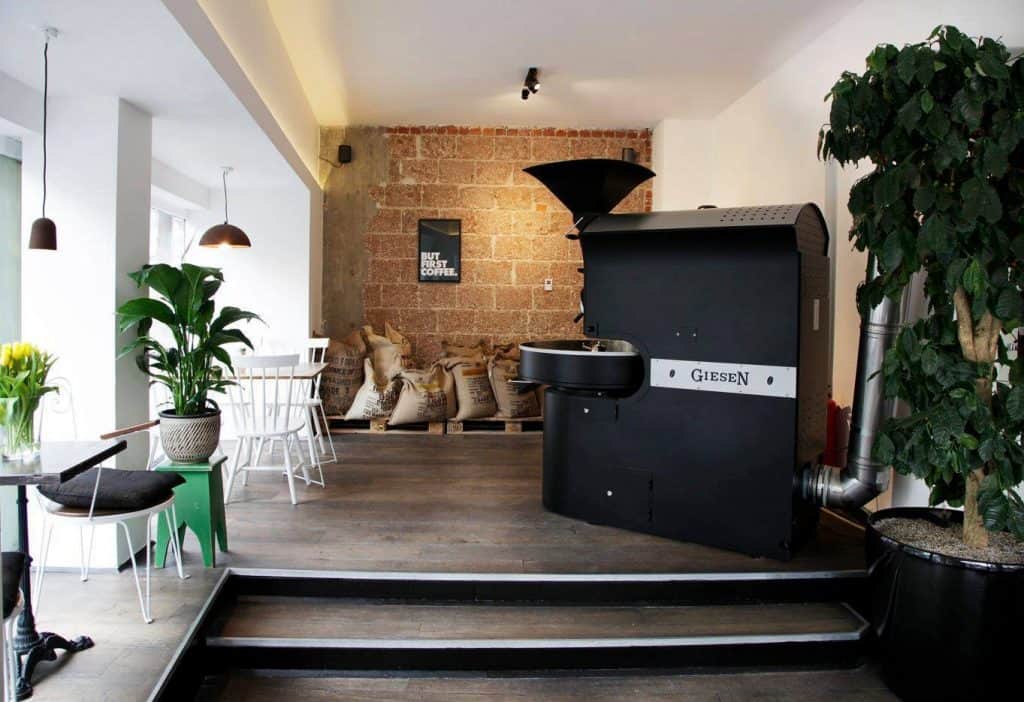 Mókuska's menu offers a full line of espresso drinks on their La Marzocco Linea PB, often with 2 blends to choose from, including their house blend and a rotating selection from other origins. They also offer some spectacular seasonal drinks like Cold Brew or Coffee Leaf Tea, both of which are a rare find in Stuttgart.
The first thing you notice when you walk in is a beautiful Giesen roaster placed front and center. It dominates the room like the centerpiece of a table. The location is very cozy, and a great spot for setting up your mobile office. They have free wifi and a good selection of outdoor seating in the summer.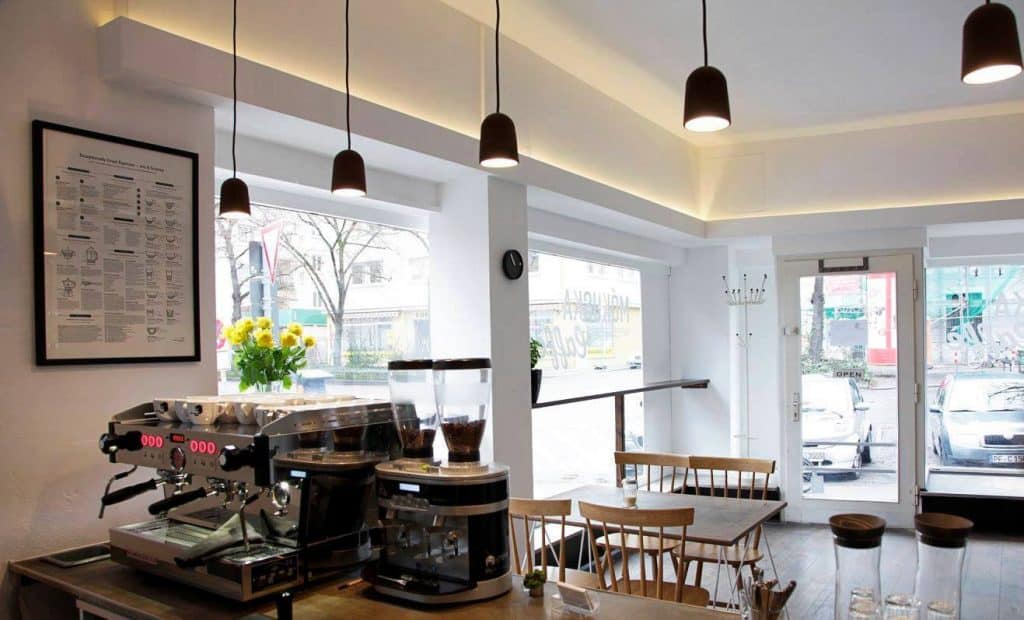 Mókuska Caffè operates with eco-friendliness in mind as well. Besides ensuring their coffee is purchased from sustainable farms, the shop is run on green electricity and gas, and all online orders are shipped via DHL Go Green.
Johannesstraße 34, 70176 Stuttgart, Germany
Website, Facebook, Twitter
Schwarzmahler
Across town in Stuttgart East (a.k.a. the Ost End), a small specialty shop is bending the rules for coffee shops. First and foremost, you'll notice the unusual hours of operation. Schwarzmahler is only open 2-3 times a week, in the evenings, and for only 3 hours at a time. So plan accordingly.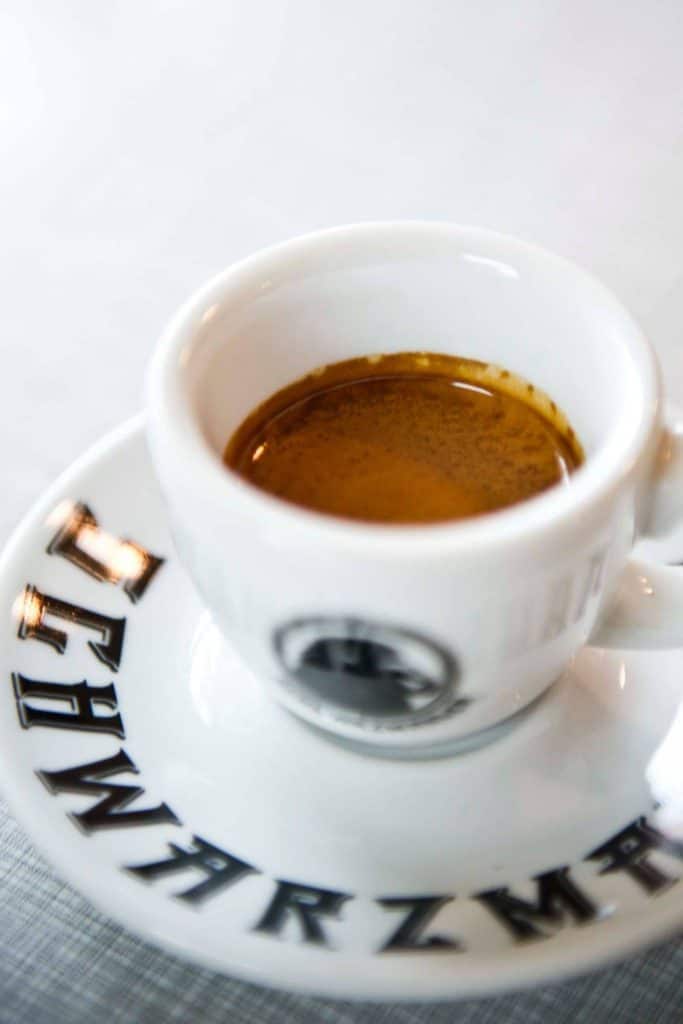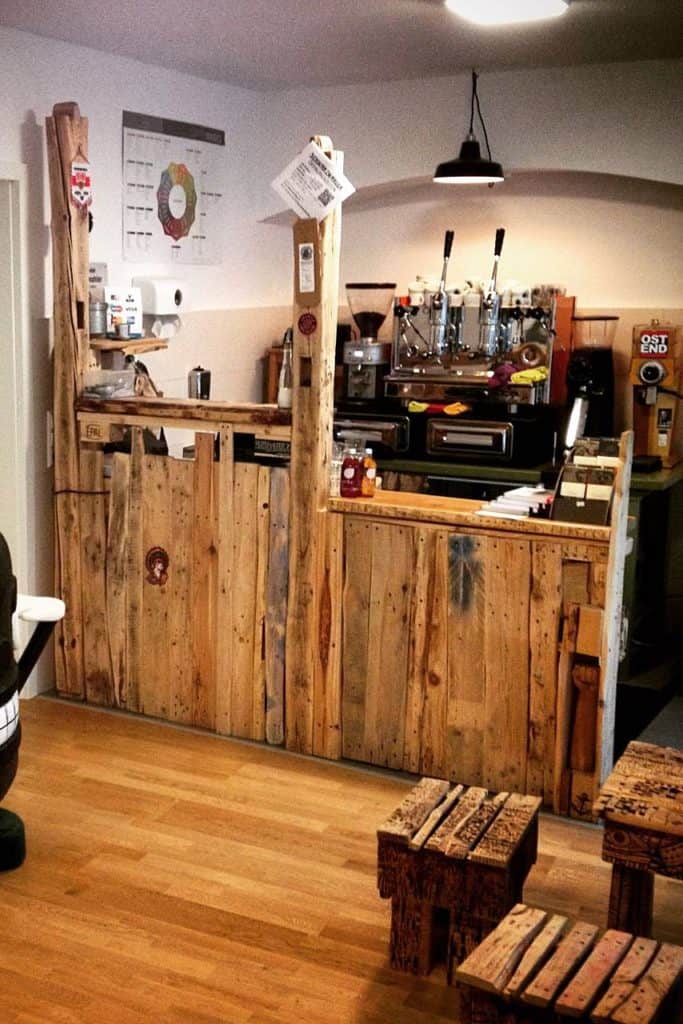 But there is a method to this madness. Heiko Blocher, the founder and owner, established Schwarzmahler as a part-time venture to follow his passion for coffee. Dad by day and barista by night, Heiko spends those precious evening hours meticulously fostering a coffee community destination in his shop. The strange hours corral customers into visiting the café at more or less the same time each week. It becomes a sort of coffee pilgrimage, focused on just two things, people and coffee. Schwarzmahler doesn't have a bathroom, or wifi, or even tables. The only seats are either on the window ledge, or small, ankle-high stools. It is thanks to this focus that Heiko has created a compassionate, coffee-loving community in the Ost End.
As for the coffee, Heiko is a lover of dark roasts, and his menu is almost exclusively espresso-based drinks, including his own take on a cortado that he calls a "Kesselkaffee" or "Cauldron Coffee", named after the city's unique geographic location. All the shots are pulled on an Italian, hand-made Bosco lever machine that Heiko has perfected the use of over time. He also likes to brag about the machine, because it's 1 of only 3 like it in all of Germany.
Schwarzmahler roasts its coffee off-site, and offers 4-5 blends in store, all fairly dark, but never burned. All of the coffee is fairly and directly traded, and available in whole beans in-store and online.
Raitelsbergstraße 54, 70188 Stuttgart, Germany
Website, Facebook, Instagram
Misch Misch
Misch Misch is a brand new addition to the Stuttgart coffee scene. Having started as a coffee cart with big dreams, they set out on a mission to fill the town with better coffee. Now with their own shop near the lively square of Marienplatz, Misch Misch sits as a refuge from the hustle and bustle.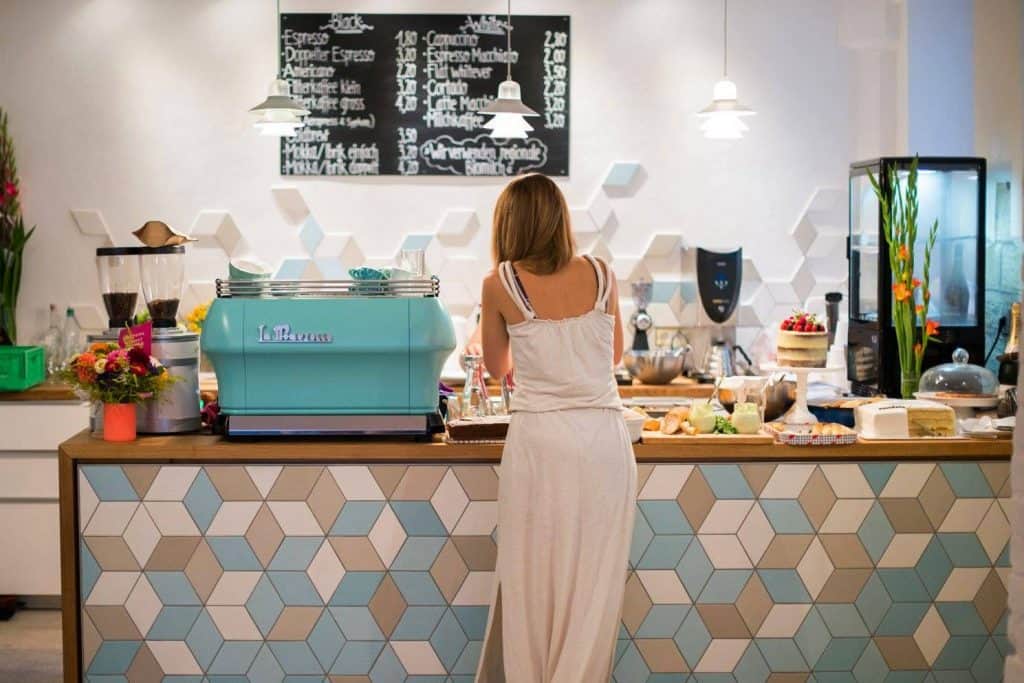 You'll notice right away the love and care that went into its design. The interior is guaranteed to relax your mind: from the calming color palette on the walls and the decor to the comfortable seats to a selection of games and vinyl records to charm you. And if the sun's out, the street-side benches are a great place to pass the time. Once you're there, you'll never want to leave.
Misch Misch is a go-to spot for the hard-to-please coffee lover because they have a rotating cast of coffees that they change regularly. They typically offer two coffees side-by-side for comparison, from different roasters and origins, and encourage you to try both. The baristas are always ready to guide you through the sampling experience as they pull shots on their La Marzocco FB80. Additionally, they can prepare the slow coffees by V60, AeroPress or the always-fascinating Siphon.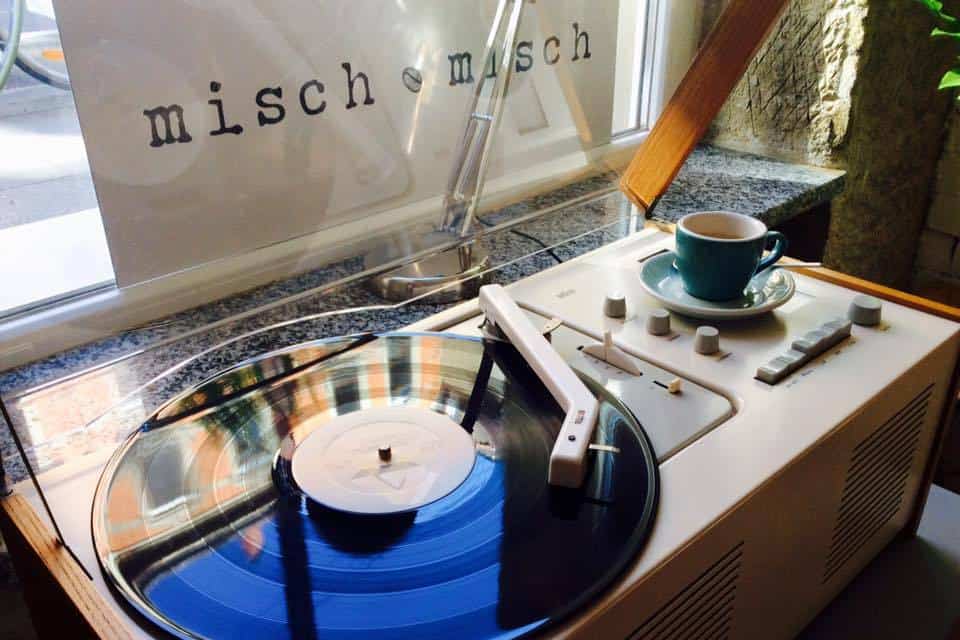 And to top it off, Misch Misch offers some of the best-looking delicacies in Stuttgart, including carrot-almond cake, peach pie or homemade cantuccini! Once you see the selection, you won't be able to resist!
Tübinger Str. 95, 70178 Stuttgart, Germany
Website, Facebook, Instagram
No matter what side of the city you're on – East, West, or South – there's a skilled barista ready to serve up the freshest coffee around. You'll also have your choice of venue, as all 3 of these shops offer a very different experience. No matter whether you feel like passing a summer's afternoon in a hip neighborhood, setting up a mobile office at a café for a few hours, or socializing with an ad hoc coffee-lovers club in the evening, Stuttgart's the place for you.