Český Krumlov, situated in the South Bohemia region of the Czech Republic, is by some considered even a more beautiful and historically preserved city than Prague—the capital by many considered one of the most beautiful cities in the world.
The historic centre of Český Krumlov, surrounding the city's castle, has been a designated UNESCO world heritage site since 1992 and throughout history, some of the most significant Czech as well as foreign artist spent some of their creative times here, including the world-famous painter Egon Schiele.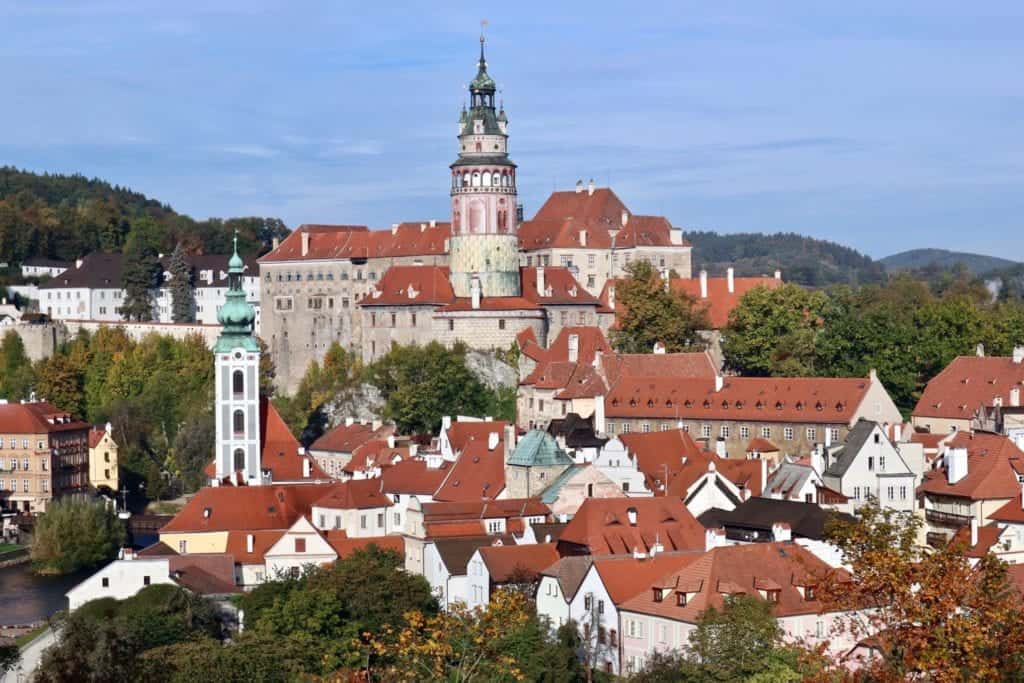 The well-preserved architecture attracts visitors all year round, not only at the highest peak of the tourist season, in summer. Surprisingly, the most perfect look Český Krumlov can offer is the winter one, when the castle is covered in snow and the surroundings gain a rather romantic look. It is especially during the winter time that one will appreciate the following cafes, wandering through the crooked streets of Krumlov.
Masná 130
The latest addition to Krumlov's coffee scene is also probably the best one. Although the cafe opened just over six months ago, the hard work had started much earlier. It took several months to preserve the original architecture of the historical house. The owners Petra Hanákova and her husband thus went to a great effort to connect the old with the new—Petra was born just a few houses away and has a strong relation to the historical part of Krumlov. Petra dreamt of having her own stylish café for a long time. The result reflects her effort to create a modern place with great coffee. Prior to opening, she had attended barista training so that she could take on the role of the head barista as well.
The relatively small but cosy interior of Masná 130 is set up with one huge common table and a couple of small ones around it. The window seats offer the best view of the street and the interior is tastefully decorated with levitating Kokedama plants and brass pipes running above the bar. The favourite detail is the beautiful vintage Singer sewing machine transformed into a conference table. The place breathes history but is clean and minimalistic at the same time.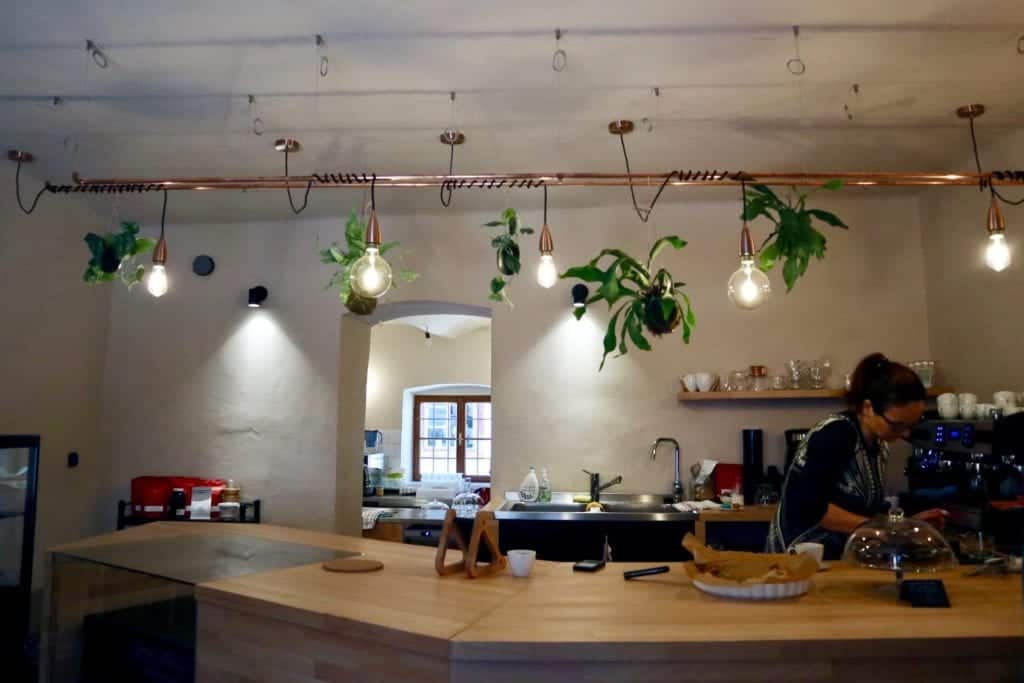 When it comes to coffee, the menu offers all contemporary brew methods found at a speciality cafe. Apart from espresso-based drinks, Masná 130 offers Kalita and AeroPress brews, as well as the popular and quick version, batch brew. We tried a Costa Rican Finca Licho from Hasbean roastery prepared on Kalita. It was fruity, with notes of creamy yoghurt, a nice body, and strawberry aftertaste. The double espresso from the same roastery brewed with a naturally processed Ethiopian Ana Sora had a full body, notes of blueberries and a sugary aftertaste. It also worked very well with milk in my cappuccino! Although Hasbean is the house coffee for the espresso-based drinks, as well as filter coffees, you can try one of the guest roasters which are on offer from time to time. We were lucky to find Candycane Coffee, a relatively young roastery from Prague. Candycane is partially run by the team at Onesip Coffee, part-owned by the 2019 Czech Barista Champion, Zdeněk Hýbl.
You will also be pleased with a wide selection of local sweets and cakes, especially the Czech traditional gingerbread called Modlitbičky. It is baked following a local traditional recipe, and it was the best accompaniment to our drinks. But regional desserts are only one of the exciting parts of the food menu at Masná 130. The owners wanted to create a space that is more than just a cafe. They aimed to create a place to gather and where to discover new or, in Krumlov not often seen, cuisine. This led them to host Asian brunch once in a while, serving banh-mi and miso soup alongside speciality coffee, and surrounded by history. Masná 130 also bakes amazing bread and serves baguettes with traditional Czech spreads.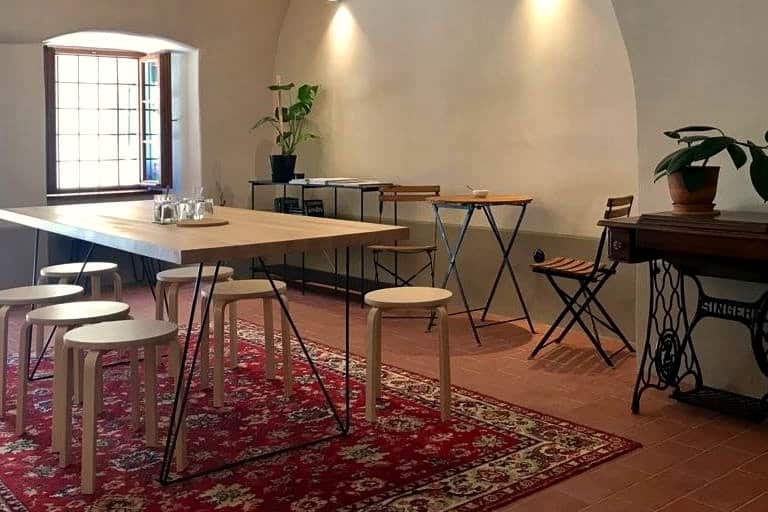 The historical visit to Masná 130 will be only topped by a visit to the toilets, housed in the remarkable cellar, carefully reconstructed with respect to its historical appearance.
Kolektiv
Perfectly located just two streets from the castle's walls, there is a place you can't miss. Kolektiv was the first cafe in Český Krumlov to offer not only speciality coffee, but also filter coffee, and it has gained its fame thanks to the perfect combination of great coffee, food and wine.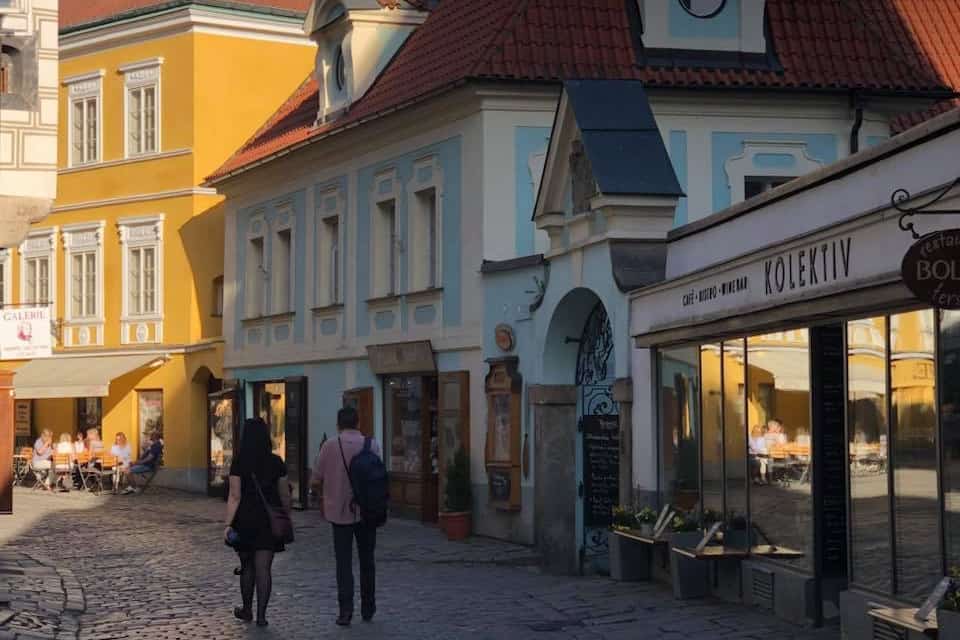 The huge windows with cushioned seats invite you in, as you pass by on the street that leads you to the castle itself in less than five minutes. Although there are plenty of cafes that may look similar, what makes this cafe shine is the atmosphere, as well as the light open-space interior, finished with colourful paintings by Czech artists.
Kolektiv takes pride in the whole menu on offer. They serve probably the best scrambled eggs in the city, which makes them a popular brunch option of many, but you cannot go wrong stopping by on a late evening for wine and snack.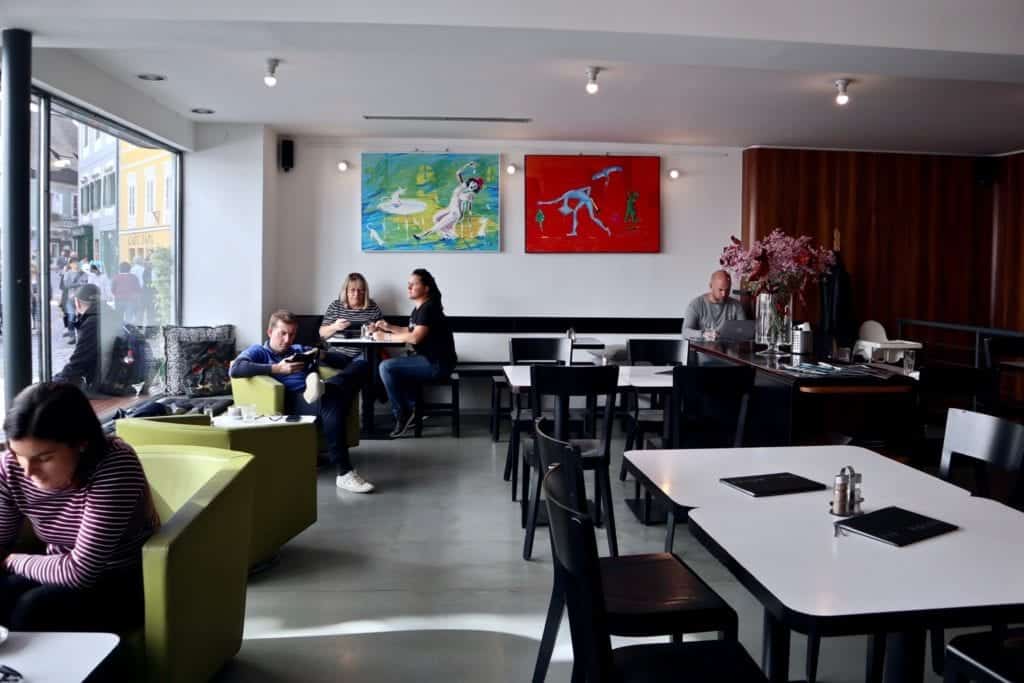 The coffee is supplied by La Bohème roastery and is served in all of their espresso-based drinks, as well as on filter, of which they brew either French Press or batch brew. Our Brazilian batch brew was sweet, with a creamy body, a taste of milk chocolate and caramel, and a fruity aftertaste. Espresso was brewed using their espresso blend of Brazil, Salvador, Guatemala and Ethiopia. It was balanced, rich and floral, with notes of almonds.
Sitting at one of the window seats, it seems the time has stopped. Enjoy the fabulous street view with a side of sweet pancakes and a delicious cup of coffee.
Ideál Coffee Roastery
The last on our list, Ideál Coffee Roastery, is worth looking for, although it is a little bit further outside the inner city centre. Although it is a roastery, do not expect a big production space here. What looks small from the outside is actually even smaller on the inside. Welcomed by large entrance steps at the corner of the building, you walk into a tiny place with only a few chairs to sit along the counter.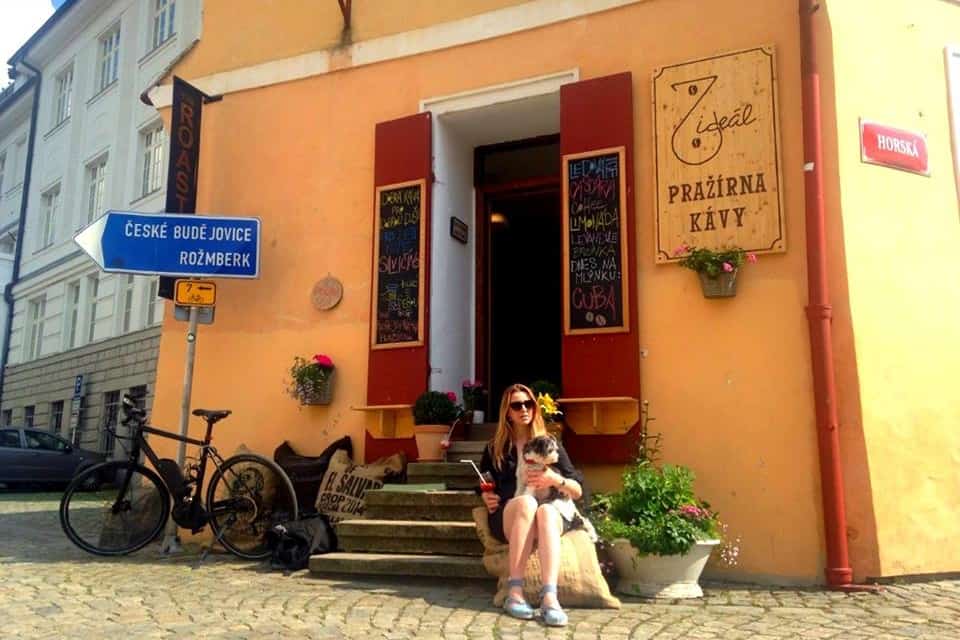 Stepping into the roastery it almost feels like you are entering someone's living room, or rather a kitchen, as there are many old and vintage cups and mugs. Judging by the decorations, you might as well be at your grandmother's. All of the above gives Ideál its slightly nostalgic atmosphere. Nevertheless, there is still space left to display works of local artists.
The buckets scattered around the floor suggest this is more of a roastery space than an actual cafe. Huge coffee bags are to be found all over the space. These used to contain green coffee beans and now serve as a place to sit. At Ideál, you can choose from a wide selection of bags of roasted coffee for home brewing, and in-house, they serve several origins on both espresso and French Press.
We tried a Colombian coffee as a double espresso, which was balanced with soft nougat taste, and a Brazilian brewed in a French Press. It was mildly fruity, with floral and citrus notes in the aftertaste. Forget the size of the cafe, their dessert offer features a few cakes; a gluten-free apple pie, or a carrot cake, to mention our favourites. They also make great pancakes, both sweet and savoury.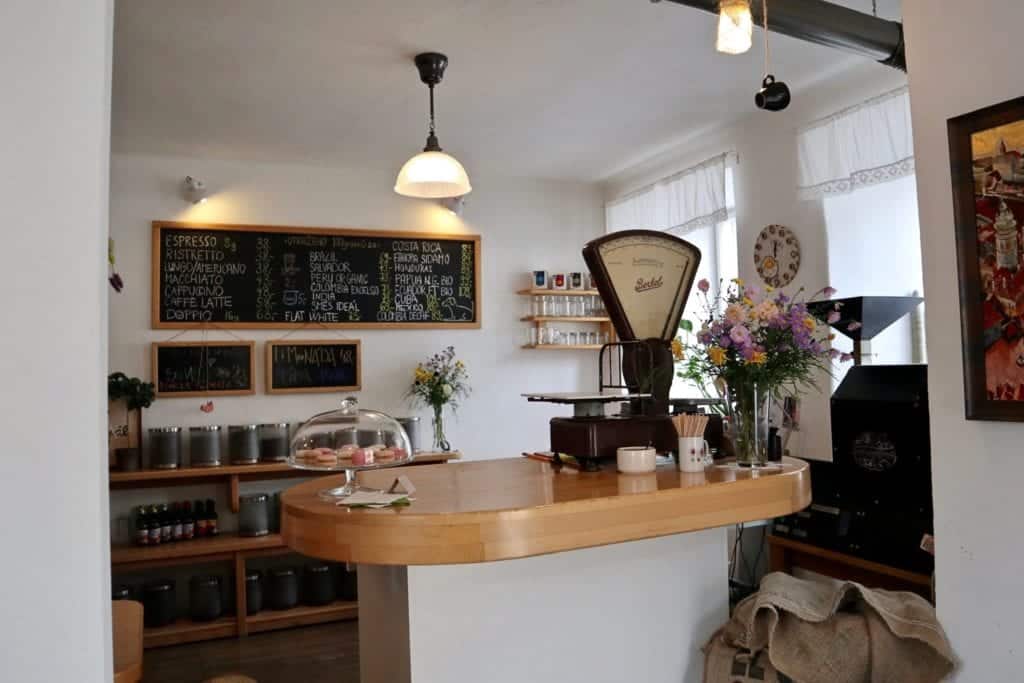 There is nothing better than discovering a historical city, while enjoying a delicious cup of coffee.