Petra Davies Veselá and Gwilym Davies are a well-known duo on the international speciality coffee scene. Both Petra and Gwilym are renowned World Coffee Events representatives, they have worked as judges at the national as well as international level, judging WCE Championships around the world, while also running their own training centre in Jílové u Prahy, the Czech Republic.
They both gained the title of a Barista Champion, Petra twice in the Czech Republic, Gwilym also winning the World Barista Championships in 2009. They both have been active members of the speciality coffee industry ever since.
They have gained incredible insight into the international coffee scene from their side of the judges' table at championships, following routines of some of the best baristas in the world. At their training centre, they try to sum up and pass on the most innovative ideas, theories and practices, in order for the new generation of baristas to grow.
Their two latest endeavours are a connection of their skills, passion, and experience, and a step up to their previous work.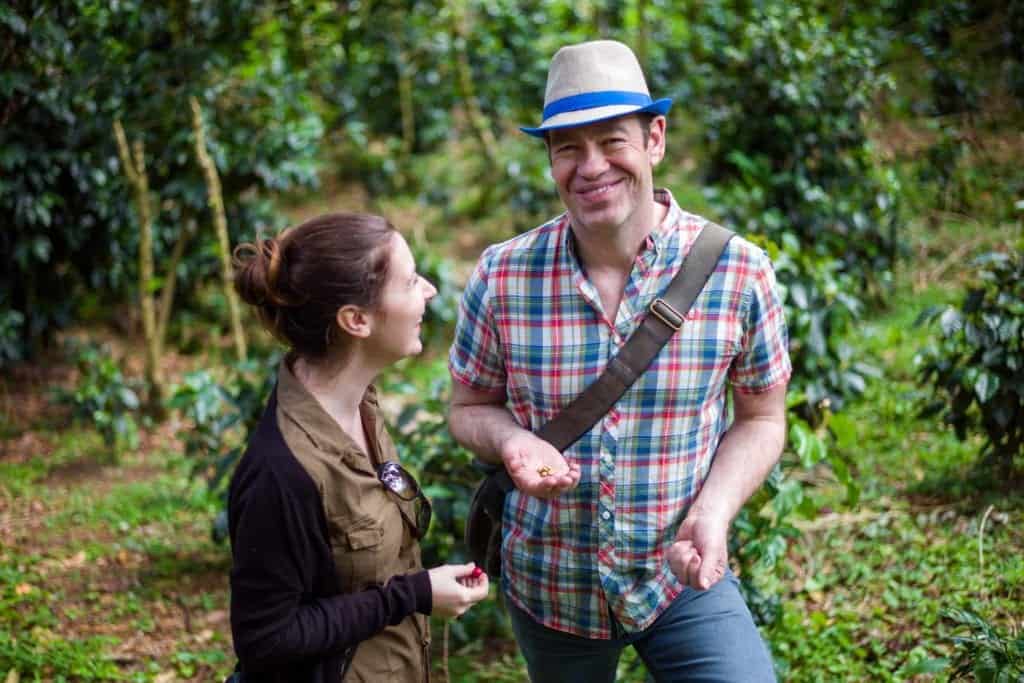 A Big Book about Coffee and The Naughty Dog roastery
After a whole year of work, Petra's new book, in Czech called Velká kniha o kávě (A Big Book about Coffee), was released in October 2018. Petra and Gwilym travelled all around Europe and beyond to gather the important info, but mainly the photos, to go along with the book. Gwilym, on top of that, has launched himself into coffee roasting, in order to continue growing his knowledge and nurture the relationships with coffee producers he has made over the years.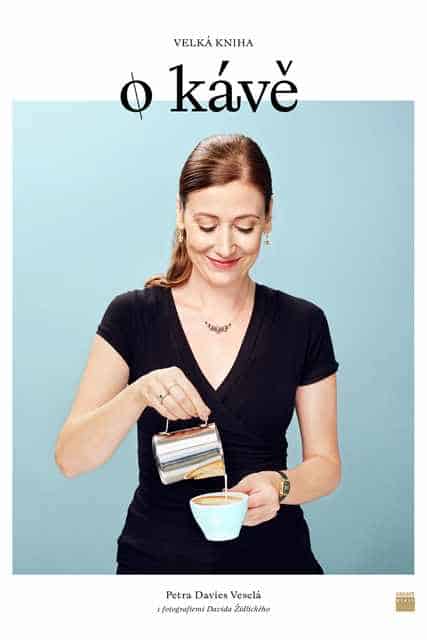 You may know that Petra had already published a book about coffee before, by many considered the Czech coffee bible. It was called Kniha o kávě (A Book about Coffee). The new print is much bigger though. Petra added a few chapters, but she also took some of the older chapters down and, together with the photographer David Židlický, they took many beautiful photos for each chapter. They only kept five photos from the previous book.
"There are several new tips before you start making coffee (for baristas and home users as well), different alternative methods which were missing before, a new chapter about modern espresso, deeper information around grinding and extraction, a new and quite a big part in coffee culture, and completely different recipes for coffee drinks and cocktails," Petra explained what the new book is about.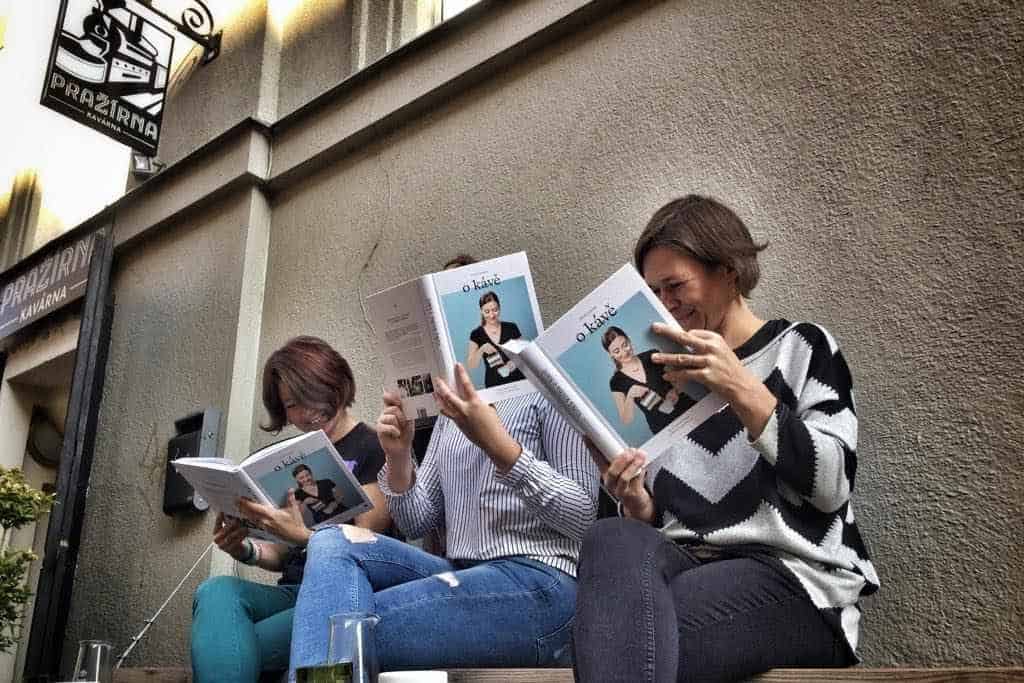 Petra also invited many of her international friends to share their knowledge about various brew methods, for example, James Hoffmann, talking about French Press, Scott Rao, explaining the V60, and Stephen Leighton, the king of Chemex. "I had an idea that each brewing method could be represented by a person who is really good at making it!" And there are other names to discover!
From Jílové u Prahy to London and Panama
Petra usually works mainly from her training centre, but writing the book and photo shooting required some travels. "We did a few little trips to Square Mile Coffee Roasters and Prufrock Coffee in London, we visited Coffee Collective in Copenhagen, but the best trip was definitely the origin adventure. We decided to go to Panama because Boquete is a beautiful place, easy to reach and safe. We absolutely loved it, and I think the photos we took gave the book another dimension," Petra explained.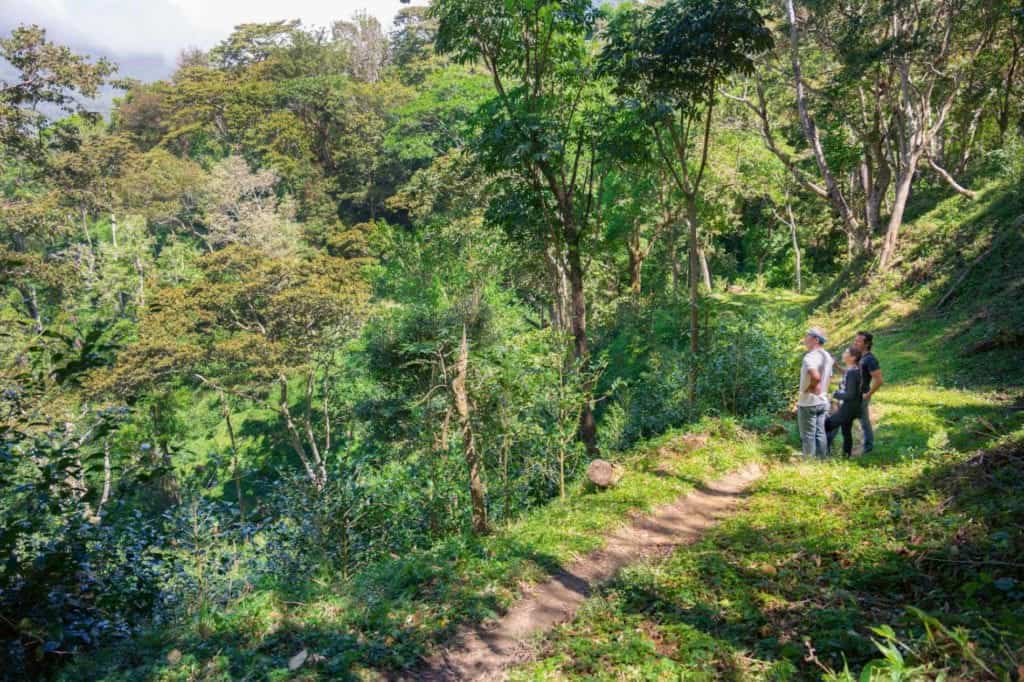 Petra's book is a summary of everything a coffee enthusiast, home user, but also coffee professional could be asking about coffee, baristas and coffee shop owners included. Everyone will find a bit that is the most interesting for them. As Petra says, the book is also written in a very simple and readable way for anyone to understand and enjoy it. Unfortunately, it only comes in Czech for now. Nevertheless, Petra is looking into options of having it translated into English, so keep your fingers crossed. You may enjoy it in English in the future. It will still be relevant in a few months.
Gwilym launches his own roastery together with his sausage dogs
Gwilym, who has been one of the key representatives of the industry and you could see him at many events around the world, if not training with Petra, decided to launch his own project. And judging by its visual identity, it could be nobody else's but Gwilym and Petra's. The project is a micro roastery called The Naughty Dog. Have we mentioned that Gwilym and Petra love sausage dogs? They have currently two, and this roastery is surely inspired in the name by them, as well as by Gwilym's brilliant way of mastering the Czech language.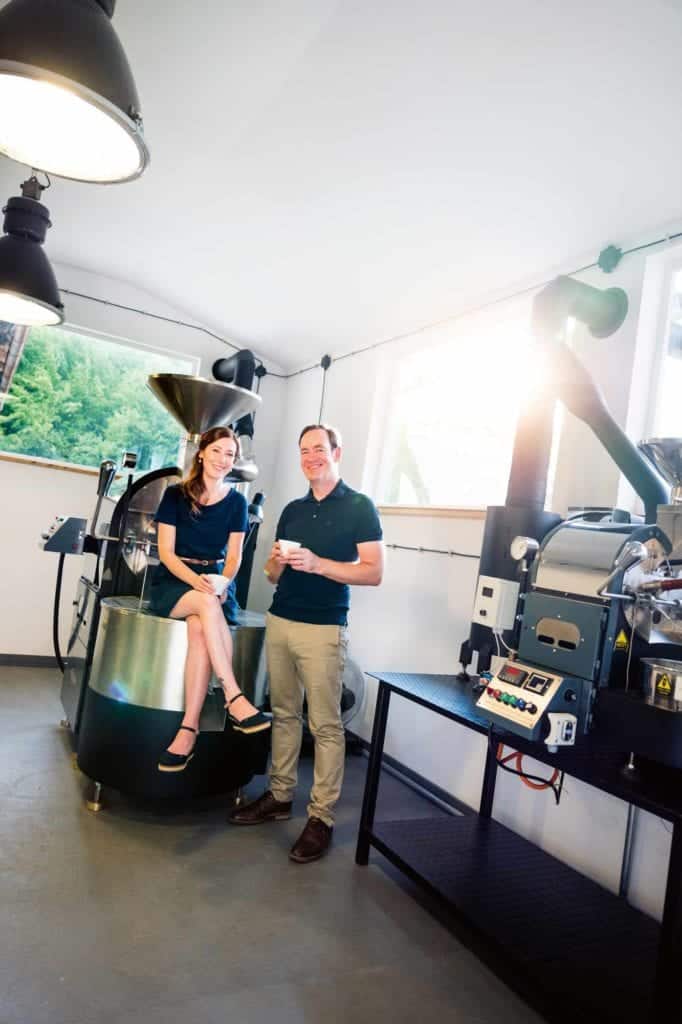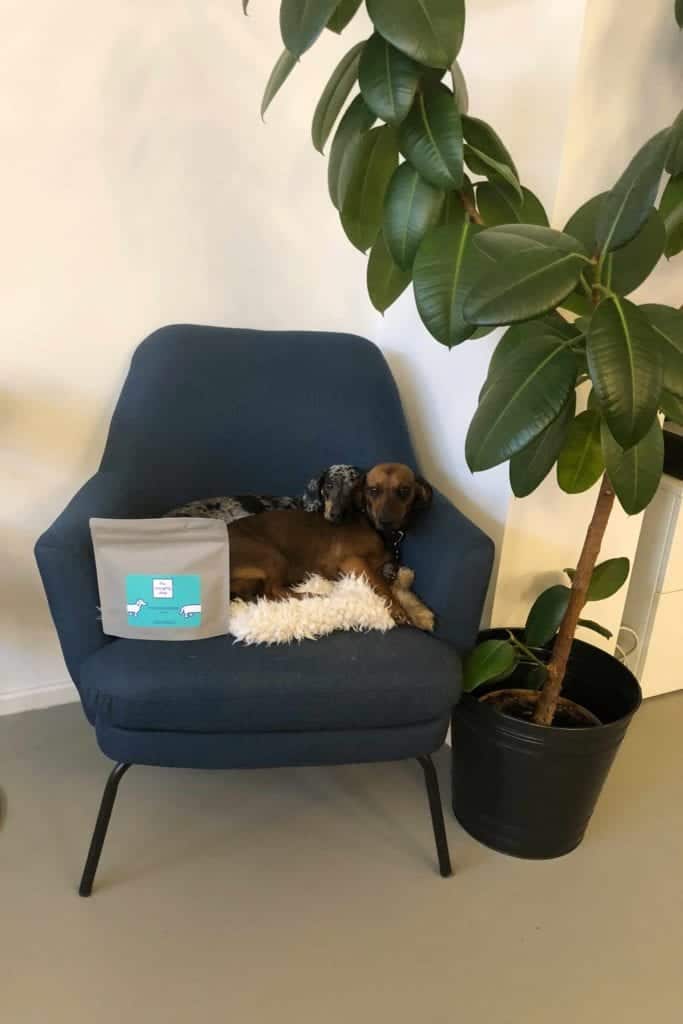 With all Gwil's achievements in mind—A World Barista Champion, a WBC Judge, WCE representative, a trainer—what could be his reason to start a roasting business? Gwil explains: "[It was] definitely not for sound business reasons, though standards have slipped at many roasteries around the world there are still enough good roasteries around that Central Europe doesn't really need another one."
Launching himself into roasting was rather for professional and personal development, Gwil said and added: "… though I move with gentle steady steps, it is important for me to always be moving forward. We also have so many friends on the green coffee side of the industry and it was time to get to know them better."
Gwil, who understands the art of sharing knowledge in a comprehensible and digestible way, is a fan of constructive critique. And with his international community of some very intelligent and skilled coffee professionals, he can reach to many of them for a piece of advice and for feedback. When learning any new craft, he "finds the best, practices, gets critical feedback and then teaches the knowledge he learnt."
The importance of critical feedback & Scott Rao
One of those who Gwilym reached out to for advice was Scott Rao, who has proved himself in the craft of roasting, and who is also very good at giving critical feedback, as Gwil told us.
Gwilym also mentioned other ways he masters this art: "Spending lots of time using the 1kg roaster rather than speeding things up by using the 15kg we have, I practised the movements while roasting so my actions get put in the long-term memory which frees up my short-term memory to observe and adjust the roast profile. It is like a barista getting used to the many movements when they first start behind the bar, after the movements are practised the barista becomes faster, starts to flow and can concentrate on the customer, not the mechanical movements of making coffee."
"I often roast with Nikola, who helps me with my training, this way I have to teach and explain what I have learnt which helps my understanding. Nikola also has a good built-in bullshit detector so will challenge me," Gwil added about the 'teaching others what he has learnt'.
Books are, of course, the founding sum of knowledge, so he has been reading and re-reading his copy of Scott Rao's Roaster's Companion and is looking forward to the new 'Coffee Roasting Book' by Raimond Feil.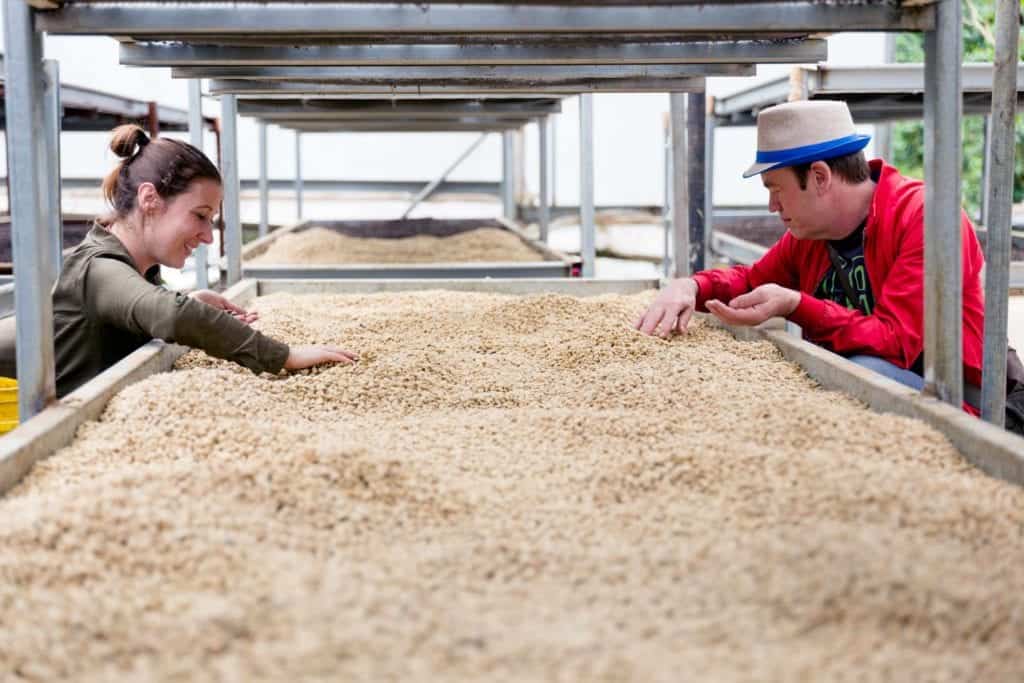 Scott Rao's advice was followed also when choosing the right equipment. Both of the coffee professionals enjoy making informed decisions, and so Scott recommended Gwil to ask different manufacturers several questions regarding their roasters. Eventually, he ended up with Scott-advised 1kg and 15kg gas Mill City with various modifications suggested by, you guessed it, Scott Rao. In addition to the roasters, Gwil also roasts using Artisan roasting software on the 1kg and Cropster on the 15kg machines.
Fruity and sweet Natural and Washed coffees
At the moment, their first coffees are roasted in small batches. Gwil explained the thinking behind this: "We want a small selection of coffees so we can really get to know them and roast them well. By 'well' I mean having delicate, juicy flavours and lacking dryness or roasty notes. We will always carry a Natural (pink label) and Washed (blue label), I like both. So far we have had the highest demand for our naturals."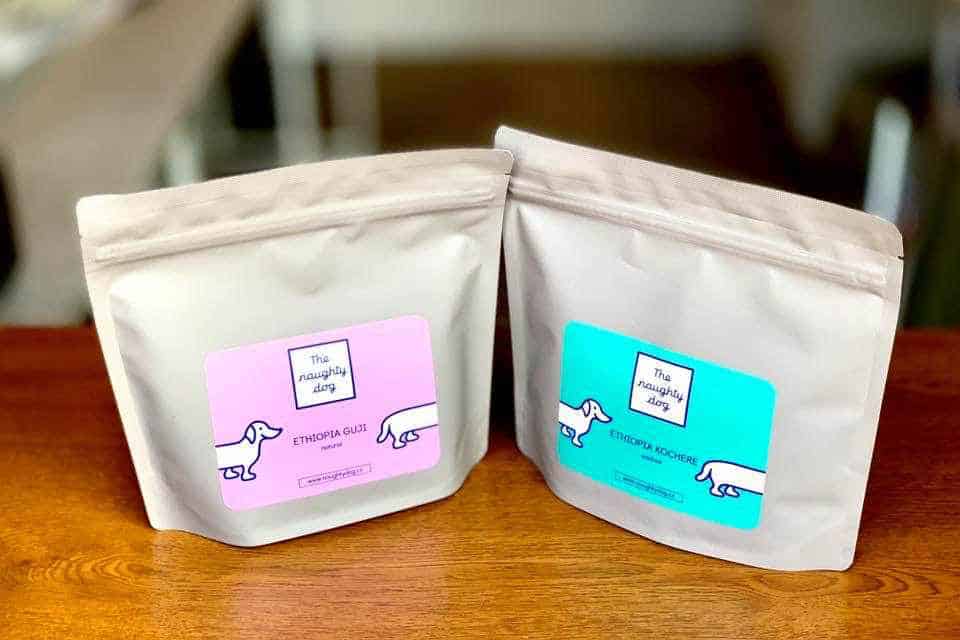 The focus will be on filter coffees, rather than on espresso, as they do not want to do high volume sales just yet. You can expect coffees from people that Gwilym and Petra know and trust, as buying a bag of bad greens would not be sustainable for such a small-volume roastery. "Currently, we use Cafe Imports but also expect us to source from our friends in Panama and collaborate with other roasters to purchase green coffee," Gwilym added. He promises to be roasting coffees that are fruity and sweet rather than chocolate and nutty.
But what is the main ambition of this project? "To learn, to grow as professionals and to enjoy it – and so far I am really enjoying the process of roasting," was Gwilym's answer.
If you would like to try some of Gwilym's The Naughty Dog roasts, get in touch with him. The shipping is only available in Europe so far, but they are working on an efficient packing system—they'd really like to practice on you!
The importance of collaboration
Finally, we are happy to share Gwilym's impression of the community of small roasters and roasting companies who have offered their help with roasting, sharing equipment and knowledge and more. We agree with Gwil when he says: " The only way micro roasters will be able to survive and compete against the larger companies is by collaborating." And he would like to continue in this spirit, keep this attitude and collaborate where possible.