Nicosia, the easternmost capital in Europe, famous for its Halloumi cheese, is now aiming to provide its citizens and visitors with third wave coffee.
The city of Nicosia has been divided into two parts by the United Nations Buffer Zone in Cyprus (Green line) since 1964. It reflects on the expansion of the speciality coffee scene, too. The scene seems to be more visible on the southern side of the city, due to an amazing job done by locals as well as Greek natives who came to the island in order to live from their passion and offer a new product to Nicosians.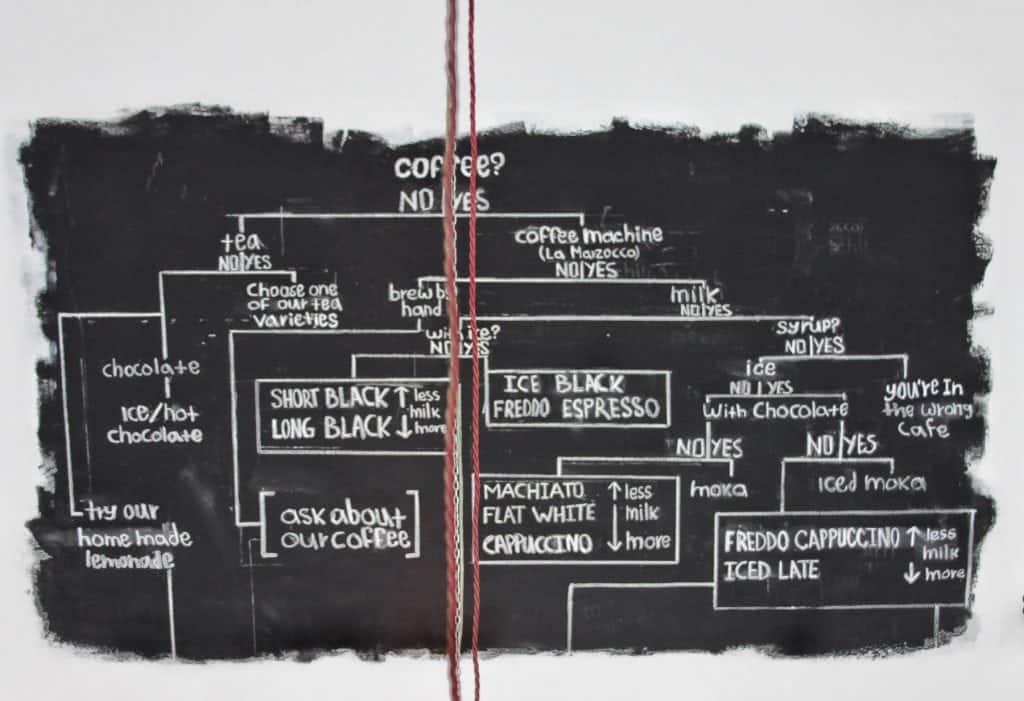 A challenging job, as Cypriots have always been proud of their Cyprus coffee, a variation of Greek or Turkish coffee, but also huge consumers of Frappes and other cold coffees. However, the national SCA Chapter was recently established in Cyprus and aims to help the local speciality coffee scene grow and gain recognition.
Thanks to helpful chats with locals, I managed to create a list of great cafés across the southern part of Nicosia. I decided to start my discovery with the first café to offer speciality coffee in town, Brew Lab, continued with Menta café as well as two Nicosian roasteries, A κχoffee Project and The Daily Roast.
Brew Lab
Brew Lab is a small café that was opened in 2013 in Stasikratous, a few steps from the old town in a business and shopping district. I had the chance to meet Christos Lialos here, the owner of Brew Lab.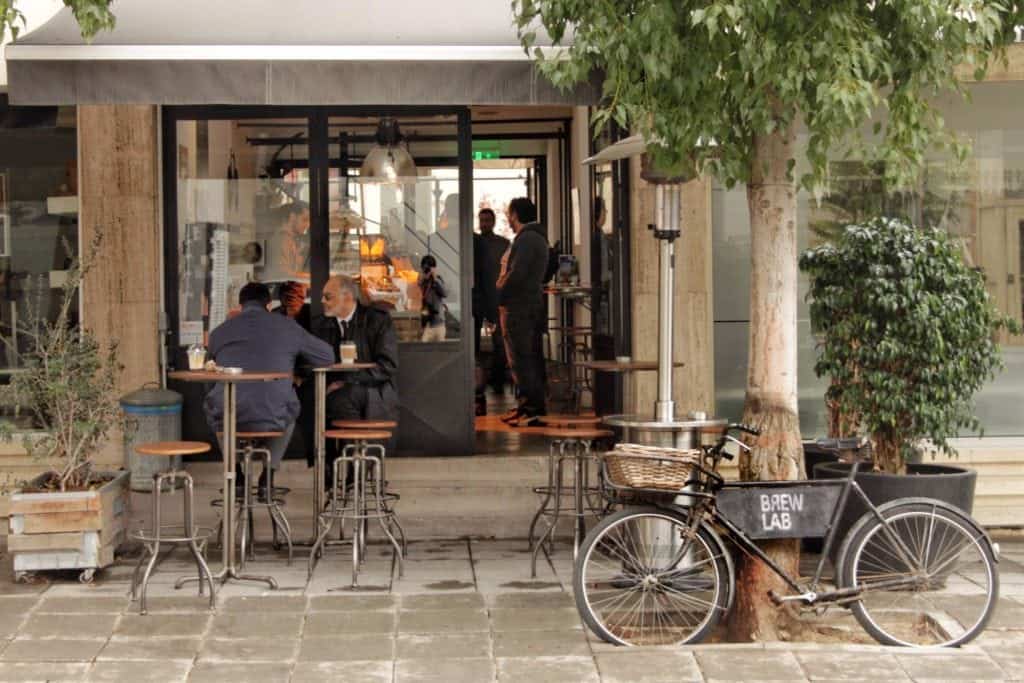 Originally from Athens, Christos used to work in the retail industry in Greece before the financial crisis hit the country in 2007, which caused many job losses. He decided to move to Cyprus and was surprised by the difference between the Greek and the Cypriot capitals, in terms of quality of the coffee offered here.
Since Christos' cousin worked at Mind The Cup, a speciality café in Athens, Christos became fond of the idea of opening a café himself, providing quality coffee to people of Nicosia, with a Greek touch to it. This is why since the beginning Brew Lab has worked with the team at Taf. They provide the coffee and training for their baristas.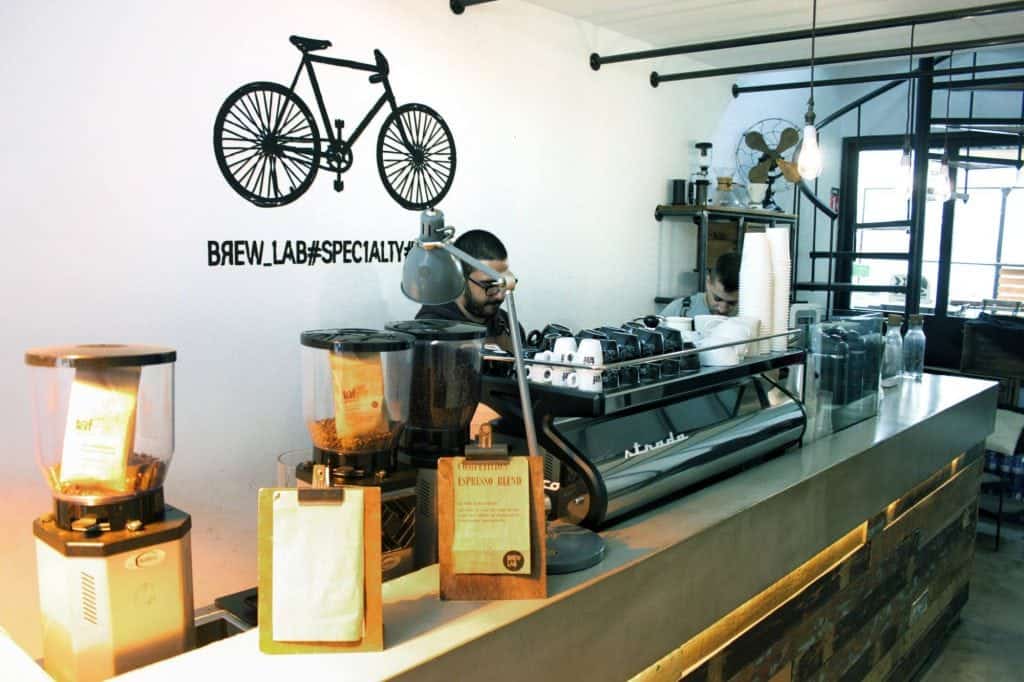 Brew Lab serves hand-brewed coffee, as well as espresso-based drinks with a La Marzocco Strada. I ordered a flat white, made with Costa Rican Cerro La Cruz beans, prepared by Constantinos Neophytou, a barista in the café.
While I was sipping on my coffee, Christos shared a few stories about the importance of cold drinks in the Cypriot society. That was also the reason the team did not want to change its customers' wishes and worked on how to offer good quality cold drinks, instead.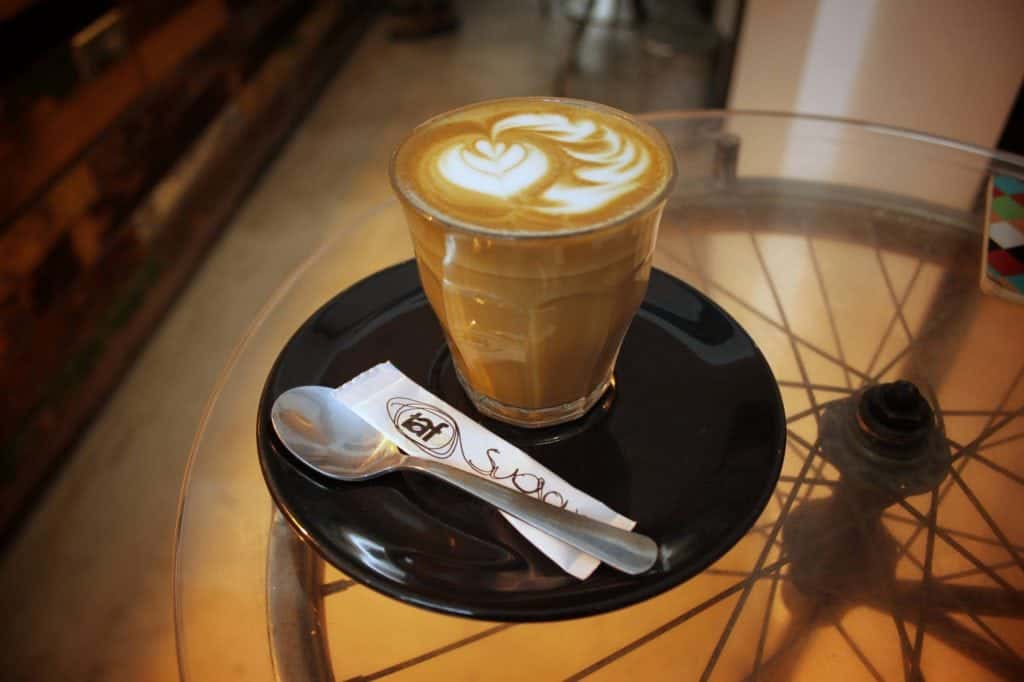 Christos spent almost one year working with Panagiotis Vitalis (Greek Cup Tasters Champion 2016) on a drink similar to Frappe. They ended up with a "cold flat white", a drink that's grown in popularity across many cafés in Cyprus.
Brew Lab plans to open a new place with a significantly different concept than their current location.
Stasikratous 3, Nicosia 1066, Cyprus
Website, Facebook, Instagram
Menta Speciality CoffeeShop
Two streets over from Brew Lab, Michael Christodoulidis and Katie Gregoriou opened Menta in 2015, and they designed it from scratch, too. Opening a café had been Michael's dream. Before Menta, he worked for seven years in the coffee industry, witnessing the progress of the coffee scene in Greece and Cyprus. However, he acknowledges his dream could hardly become true without the support of his wife, Katie.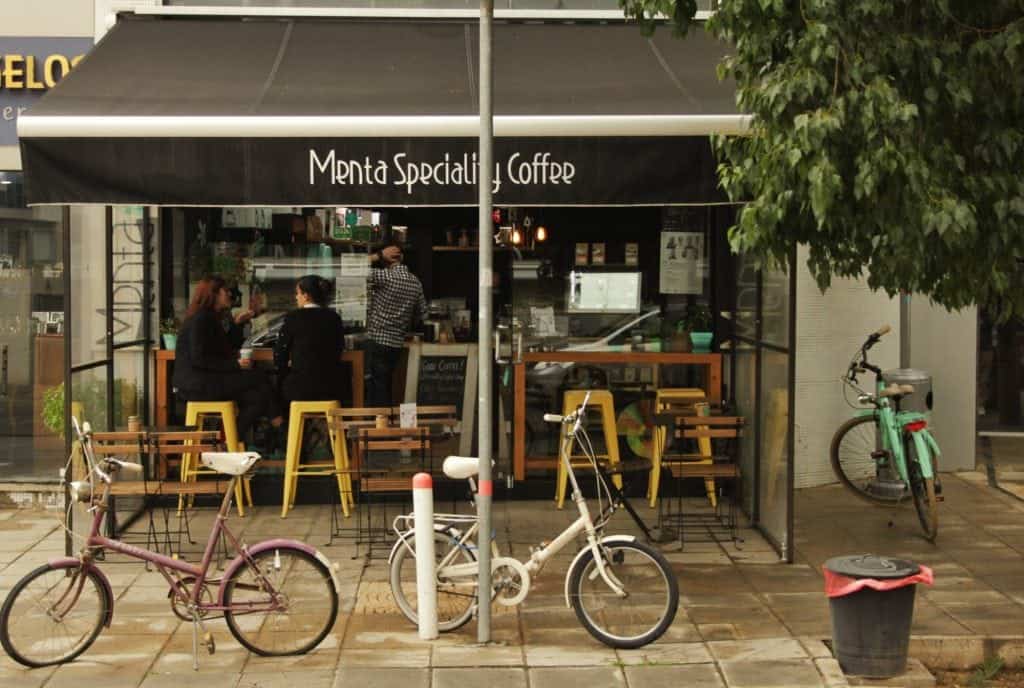 Michael serves coffee from Samba Café, a roaster located in the suburbs of Athens, and he brewed me a pourover with V60, as I already had a milk beverage at Brew Lab.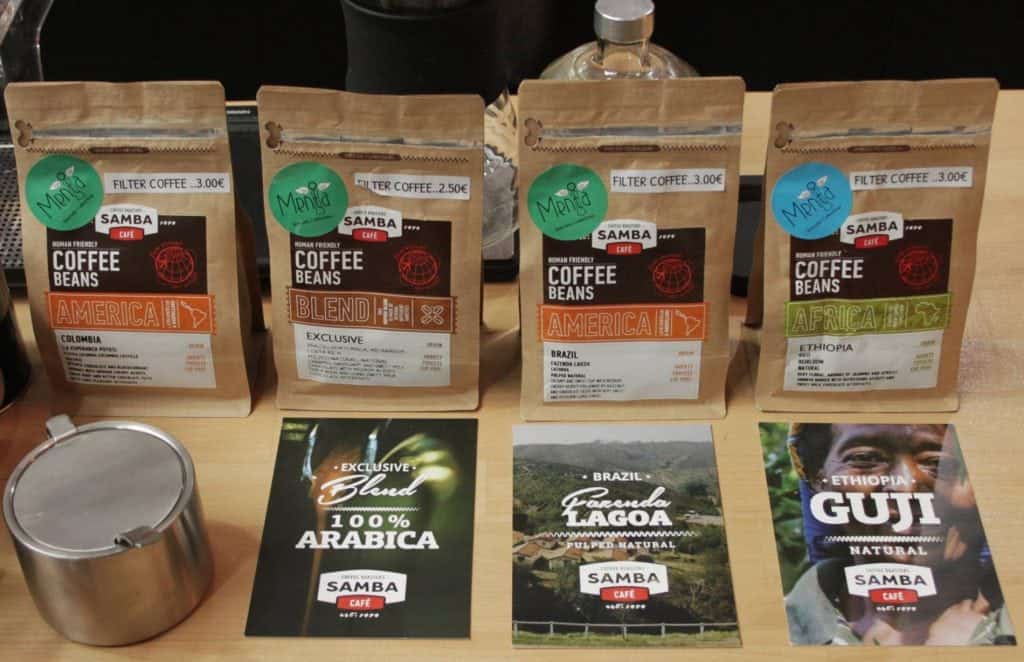 Menta attracts both corporate people working in the area as well as locals who enjoy sitting on the terrace on the weekends. As Michael mentioned: "I don't put any pressure on my customers, I will serve whatever they want, with or without sugar". Although he is understanding of people's habits, many of his customers realize that he brews his coffee "differently". And once they are ready for the "different" coffee, they usually do not hesitate to ask him more questions about the coffee preparation.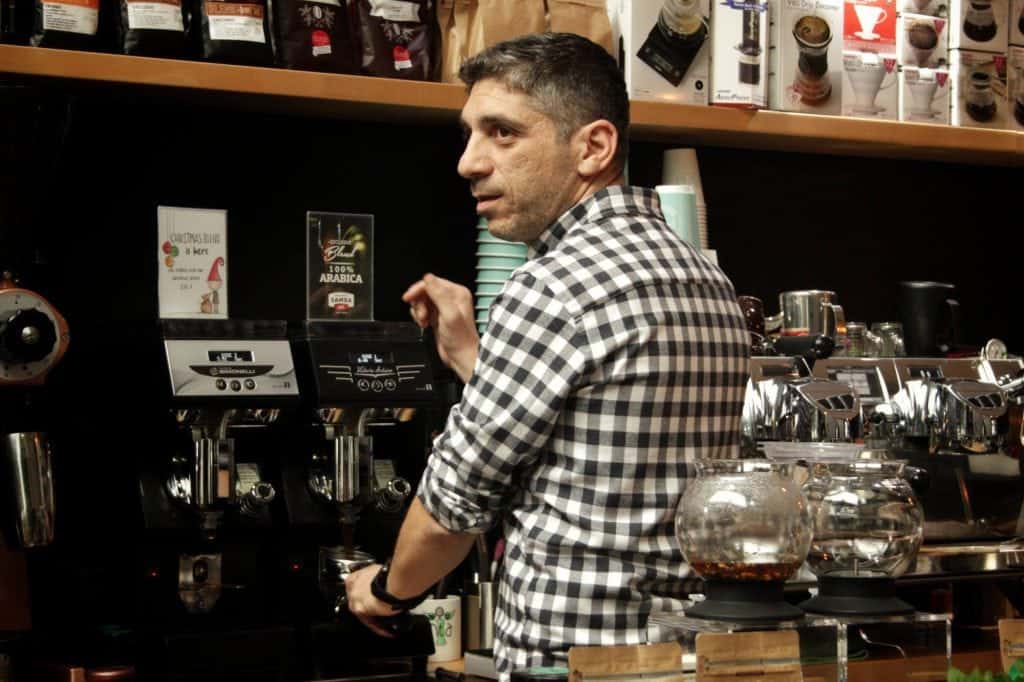 A κχoffee Project
Located at the intersection of Pindarou and Androkleous streets I found A κχoffee Project. Just a few steps away from the old town, in a residential area made of modern buildings. The current space where Maria Flouri and Christos Soteriou settled their "A κχoffee Project" is probably one of the most stylish cafés I have seen in the past months, a bright room with large windows, a lot of space and a long bar.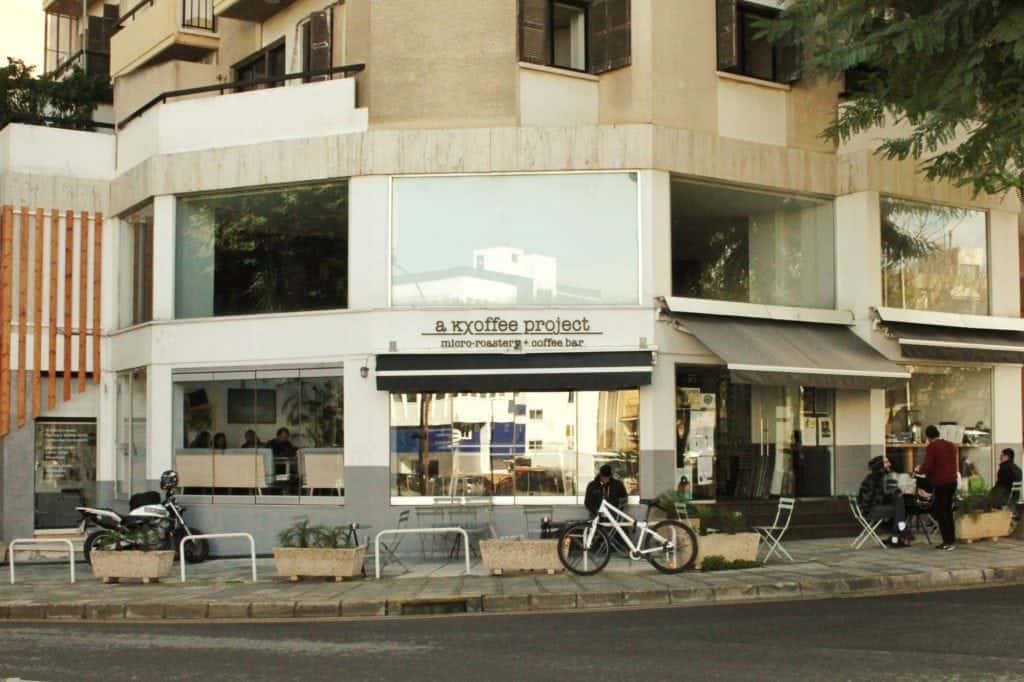 A κχoffee Project is a real family business. The young couple works together with Christos' mother in the kitchen, and his father helps with the necessary repairs.
Their story started when both Maria and Christos lived in London, the city where they garnered a strong interest in speciality coffee. When they came back to Cyprus, they started roasting coffee for their personal use. When a friend pushed them to roast for other people, their project came to life.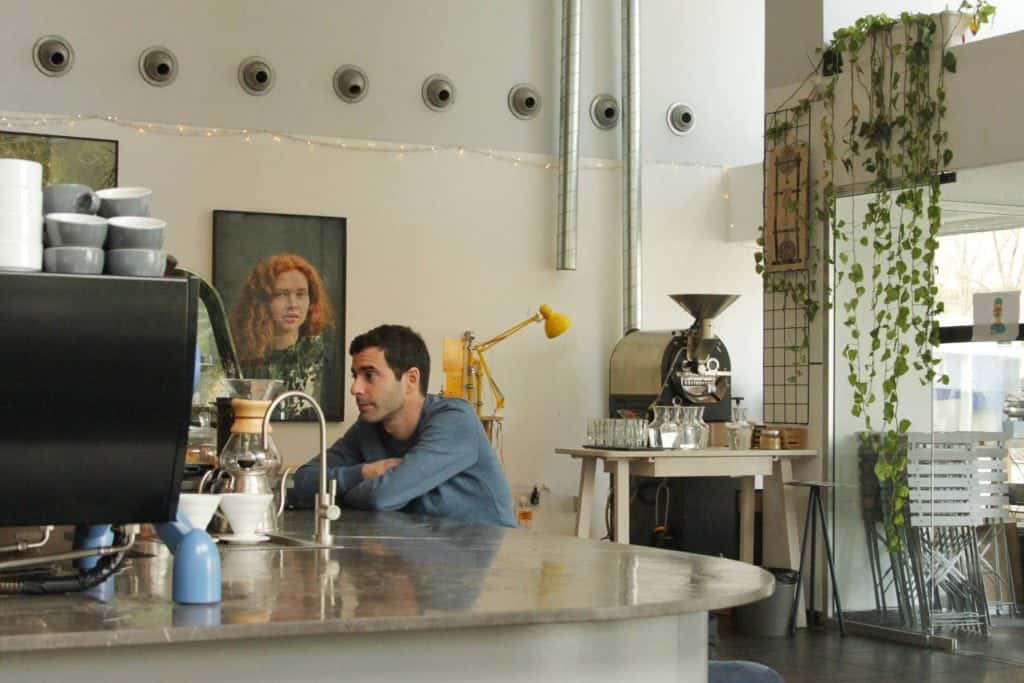 They currently use a "Coffeetool" roaster and began roasting for their shop's own use, but now they also roast for a couple of restaurants in Nicosia and a brunch place in Limassol.
A point of fascination for their clients is definitely their "Cold Drip" brewer that's mounted on a big tower, needless to say, the 12 hour brewer has gained a lot of attention.
Today, pourover coffees are more popular than the Cold Drip and attract people from diverse backgrounds. Business people order their coffee to-go before heading to work, freelancers work from the café, students, as well as a fair amount of coffee lovers of all ages come and enjoy coffee here.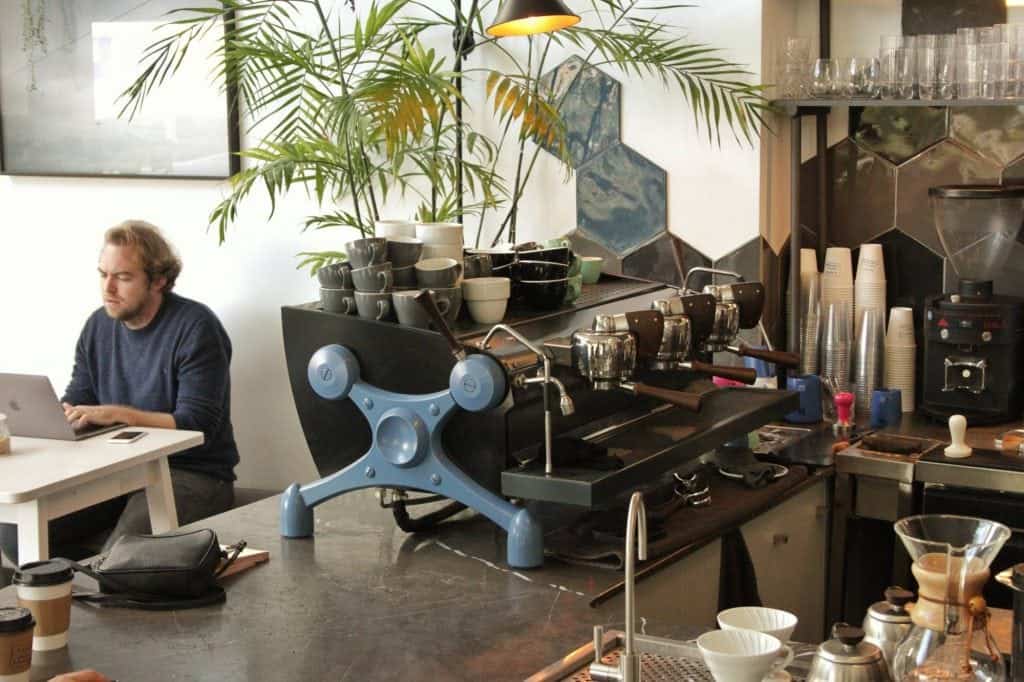 The Daily Roast
The Daily Roast, the café—that has also a new roastery space—owned by Aris Christoforou, opened on Markora Street in 2014. The café is the perfect place for people who want to feel at home or to socialize over a cup of coffee. I talked to Stavros Fokou and Valeruta Timis, the two baristas who were on site. Valeruta prepared my flat white, while Stavros shared some information about The Daily Roast with me.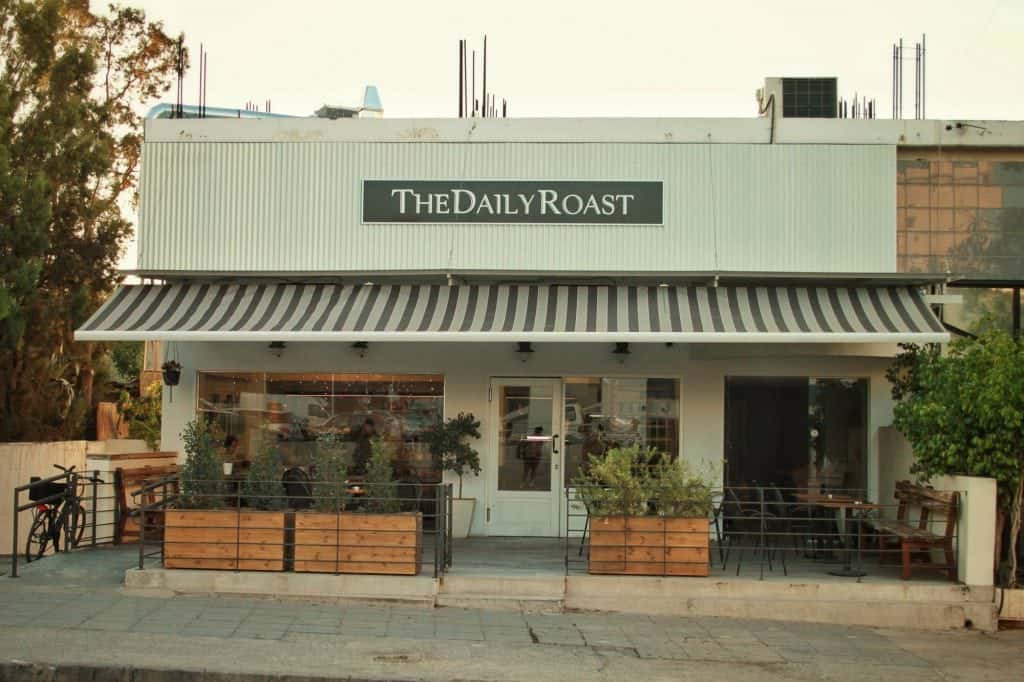 We discussed the speciality coffee scene in Nicosia, and Stavros' wish was: "To have a stronger community in order for the baristas in Cyprus to learn from each other". It shows how important entering in the SCA Chapter might be, opening ways for baristas to collaborate, as they all want to improve their skills in the coffee world.
Stavros and Valeruta also directed me to Esperidon Street, where Aris relocated the roastery and opened a new café. Here, Aris roasts on a Zara roaster, which he brought from Greece.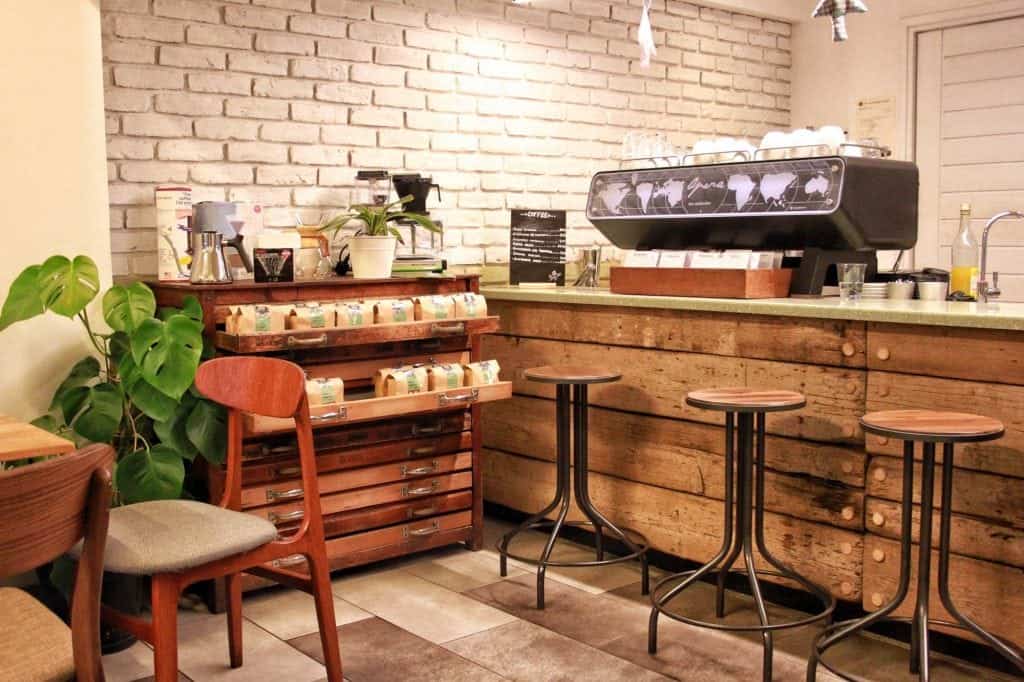 Located in a residential district, this new place offers more space for its customers who have access to a wonderful terrace in the backyard. Snacks, sandwiches and pastries are also served, making this café a great spot for freelancers working remotely.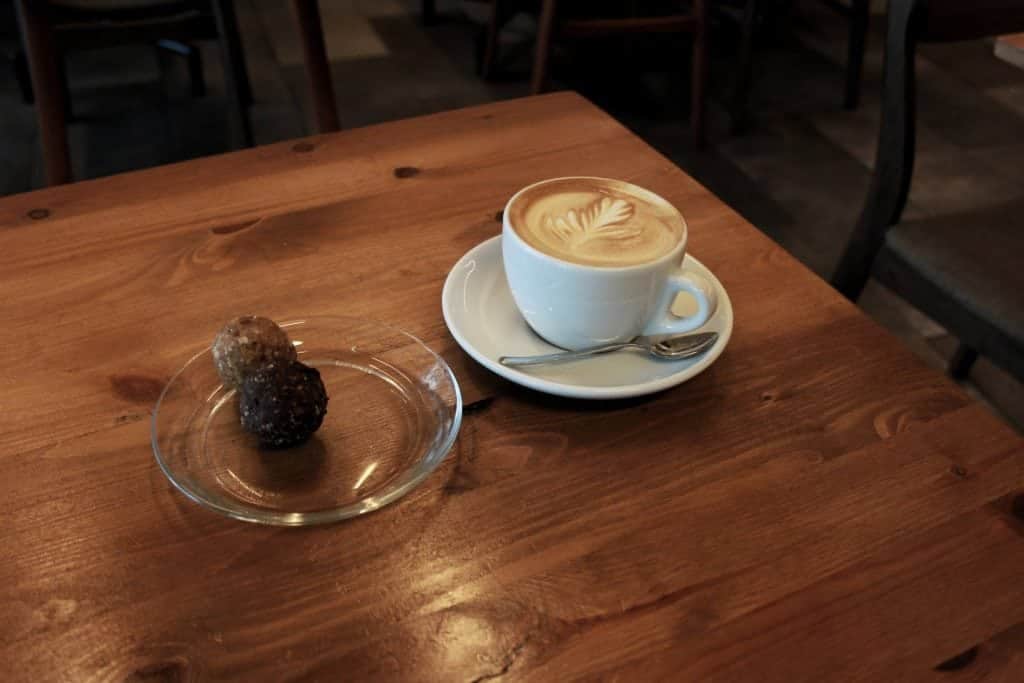 The last divided capital in the world sees its Greek side gaining more and more players in the speciality coffee industry, where a community is slowly being created. One of the regrets I had upon leaving was that I didn't manage to find any place on the other side of the city, nor did I meet anyone with more information about it. Nevertheless, I had a pleasant journey meeting everyone in Nicosia, and I wish to see Cypriot baristas successfully achieve their dreams.