Guest article by our friends at Coffeeness.
I've spent years reviewing fully automatic coffee makers, and I've put dozens of machines to the test. These days, choosing an automatic espresso machine is a daunting task; there are just so many models to choose from. Plus, manufacturers are constantly releasing updated machines with supposedly revolutionary new features.
I have to say that automatic coffee makers have come a long way. Brands like Jura and DeLonghi have worked hard to overcome the inherent limitations involved with all-in-one machines that do everything for you. Still, that doesn't make choosing the right machine for your needs any easier. Besides, even a relatively affordable automatic coffee maker represents a substantial investment.
With that in mind, let's look at a few things to consider before you commit to any specific model.
Your Budget
Unless you consider money to be no object, how much you're able to spend will likely be a major factor in your decision. Of course, it can be all too tempting to pull out your credit card and hit the Buy Now button without thinking things through. Still, the last thing you want is a case of buyer's remorse.
Fortunately, there's a pretty wide price range when it comes to automatic coffee makers, and a high-quality machine doesn't have to cost the earth. I always recommend thinking about how often you're going to use the thing.
For example, if you're boosting the profits of your local coffee shop every day, making coffee at home instead will save you a lot over time. Essentially, your new coffee maker will pay for itself relatively quickly. On the other hand, if you only plan on using the machine every once in a while, you might not be able to justify spending thousands of dollars.
With all that said, coffee maker prices tend to fluctuate wildly. So, do yourself a favour and monitor a machine you're interested in for a week or two before committing.
Design and Materials
While some folks just need a machine that'll make great coffee, others want something that's both functional and beautiful. If you fall into the latter category, consider manufacturers like Jura and Miele. They both produce stunning machines that'll elevate the aesthetics of any kitchen.
Of course, it almost goes without saying that you'll pay a premium for all that classy design work. Speaking of paying extra, automatic machines that feature a lot of stainless steel or aluminium in their construction will always cost more. However, rugged metal housing is going to last a lot longer than plastic.
Finally, automatic coffee machines can take up a lot of counter space, so it's a good idea to take measurements before buying. Remember that you'll need to access the bean hopper and water tank on a regular basis, so overhead cabinets could get in the way unless there's sufficient headroom.
Coffee Quality
Let's face it, a fully automatic coffee maker is a pretty attractive proposition. I mean, who doesn't like the idea of being able to make specialty drinks with the touch of a button? That said, if your machine can't produce delicious espresso, you might find yourself creeping back to the local cafe with your tail between your legs.
As I mentioned earlier, there are limitations involved in how a machine like this works. Without getting too technical, an automatic coffee maker's internal brewing mechanism can easily get clogged up, so it can be difficult to achieve authentic espresso.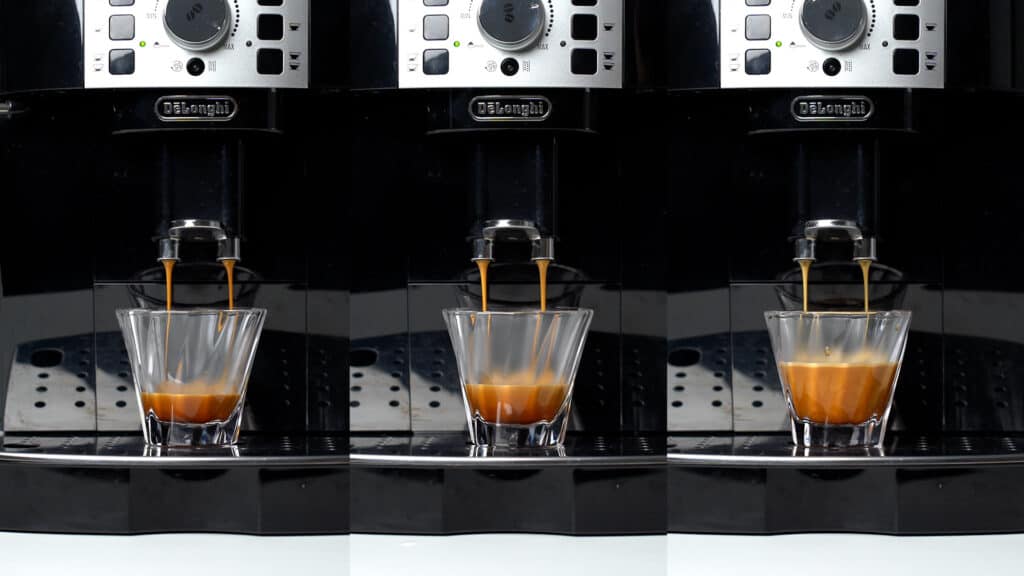 That's why you shouldn't worry about infinite grinder settings – if the grind is too fine, you could run into trouble. Fortunately, manufacturers have made great strides in getting around these issues by coming up with sophisticated brewing technology. Jura's Pulse Extraction Process is a case in point. In fact, I'd say some of the better automatics come close to producing espresso that's as good as any you'll find.
As a general rule of thumb, look for a machine that has a pre-infusion function as well as adjustable settings for strength, water temperature and espresso volume. The more control you have over your espresso the better.
Milk System
For lots of people, an automatic milk frother is a huge part of an automatic coffee maker's appeal. I totally get it – some milk frothers are able to whip up beautifully textured milk for a cappuccino, flat white or latte macchiato.
You'll find different types of milk systems, so it's good to be aware of what to look for. Some machines feature nifty integrated carafes that can be stored in the fridge when not in use. Alternatively, there are cappuccinatore systems with thin hoses that sit in an external container. Either way, you'll be faced with quite a lot of cleaning and maintenance, even if the machine has an automatic flushing feature.
One way to avoid all that maintenance is to buy a machine with a manual steam wand. However, that kind of does away with the whole "one-touch specialty coffee" idea. With that said, you might end up liking a more hands-on approach to milk foam. You'll have more control over the results and you'll develop your barista skills into the bargain.
Of course, if you never drink milk-based specialities, a frother of any kind will be redundant. As it happens, there are some fantastic automatic machines without milk systems. For example, the Jura ENA 4 is a compact, streamlined beauty that makes superb espresso and coffee.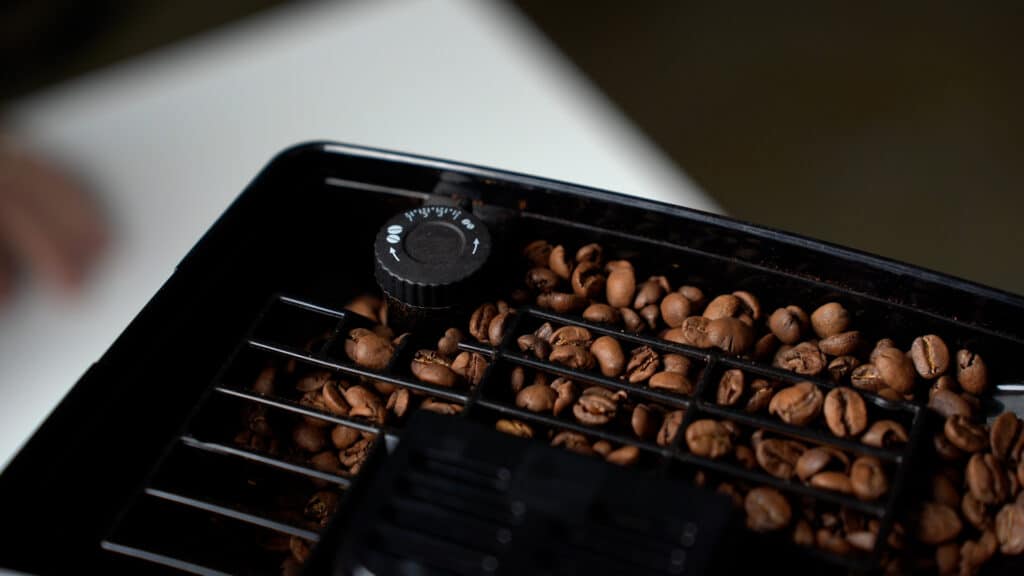 Special Features
Recently it feels like manufacturers are in an arms race to equip their automatic machines with as many special features as possible. It's not at all unusual to encounter dozens of specialty drinks, sophisticated colour touchscreen displays and the ability to operate the machine remotely from your phone. There are even high-end machines with more than one grinder out there.
Suffice to say, it's easy to get distracted by all these features and lose track of what you actually need. So, take a breath and think about whether you'll ever really need to control your coffee maker remotely. Also, if you stick to the same drink day in, day out, what's the likelihood that you'll make use of that cold brew function?
Of course, if you're looking for a machine that'll be used in an office or a large household full of coffee lovers, a machine like the Miele CM 7750 will make sense. It's got three bean hoppers, 10 user profiles and can make just about any drink under the sun.
Ease of Cleaning
Whether you like it or not, owning a fully automatic espresso machine means getting used to regular cleaning and descaling. As mentioned earlier, automatic milk systems need to be cleaned after every use. Depending on whether you're using an integrated flask or an external cappuccinatore, that can mean dismantling the whole system and rinsing every little component.
Many machines come equipped with automatic cleaning programs that flush the coffee and milk circuits after each use. Still, as tempting as it might be to call that good, you'll need to do some deeper cleaning too.
The most important thing to take care of is the machine's internal brew group. This is where all the magic happens, and if the brew group fails you're out of luck. While most machines have a removable brew group that can be taken out and rinsed every day, some have a fixed unit. In that case, you'll need to pay attention when the machine tells you to execute the necessary cleaning program. You'll also need to have a supply of the right cleaning tablets.
For the most part, maintaining a fully automatic coffee maker won't take up too much of your time. However, it'll require more care and attention than a semi-automatic espresso machine.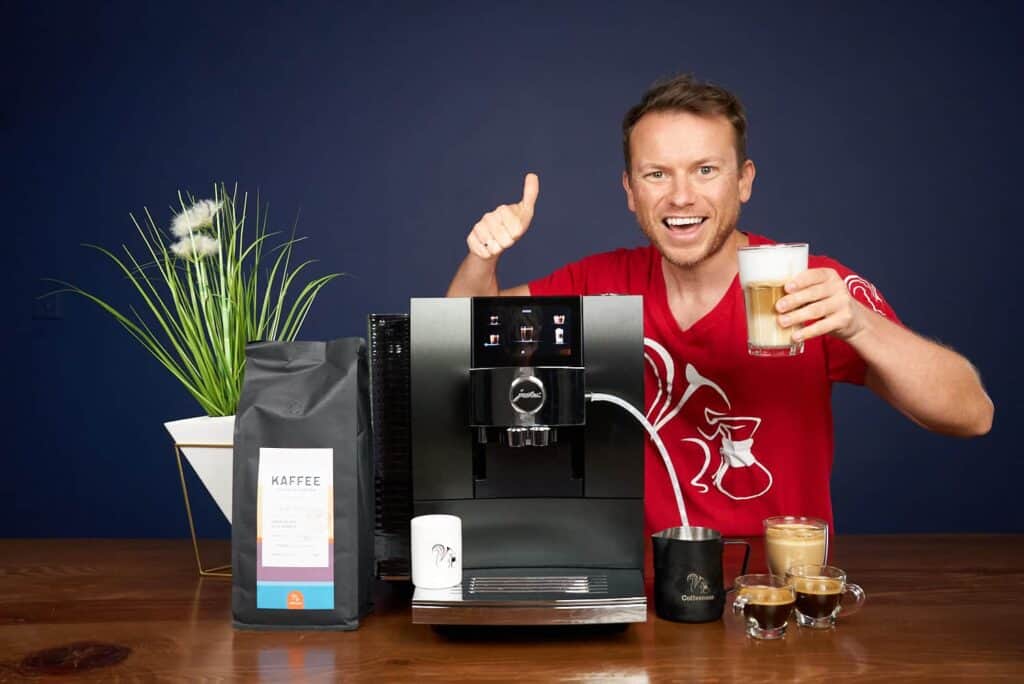 Final Thoughts
By now you should hopefully have a clearer idea of what to look for in an automatic coffee machine. As you're shopping, just remember to stay focused, and don't get distracted by superfluous features!
There are tons of great reviews out there which can help you narrow down your search even further. If you're looking for a budget-friendly machine, consider checking out what Philips and Gaggia have to offer. As for the crowded mid-range segment, I'd say it's hard to beat a DeLonghi machine.
For those of you who can spend more, you'll likely find yourself wrestling with the Jura vs Miele argument. Only you can decide, but both manufacturers produce spectacular machines!