Dale Harris is one of the kindest people we have had the pleasure of meeting in the Specialty Coffee industry. Over the course of a few years, we have seen Dale at several coffee events, followed his competition presentations and even brewed coffees with him. During this time, we have witnessed his friendly and kind approach to every customer, speaking with modesty, despite his great knowledge and experience. We would like to invite you to read on, to learn about Dale Harris' achievements—he is the 2017 World Barista Champion—and his reflection on the coffee industry that he has been a part of since 2009.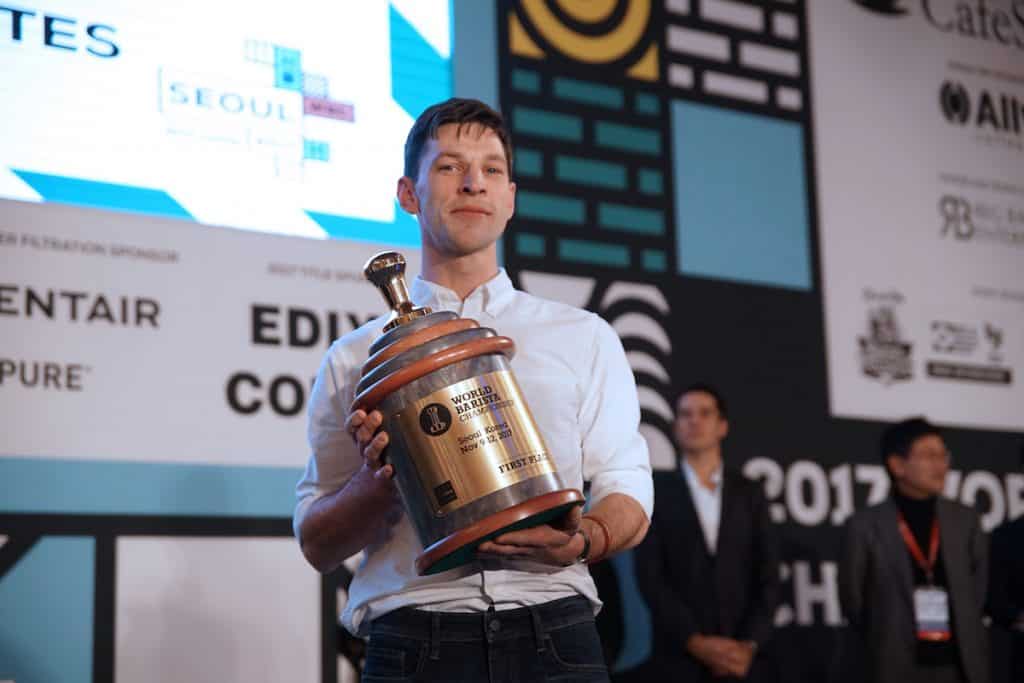 Dale's answers brought a smile to our faces and filled us with excitement for the whole industry, its people, and the years it has to come. We hope it will have the same effect on you.
Dale, it has been great following your journey since a few years ago. Full disclaimer here, you had started working in coffee and competing before we even knew about speciality coffee. How is it going for you?
Things are going pretty well! The last year has been full of excitement and new opportunities and lots of fun, but I think in most cases, they've all been tied to the bits and pieces of work and knowledge we'd been developing over the years, and it's a happy thing to see it realised. There have been lots of ups and downs over the past 10 years, but I love being a part of the coffee community, I love the product we get to work with and I continue to learn new things all the time.
You are the reigning World Barista Champion. Since 2009, you competed every year in the UK Barista Championships, finally winning the title in 2017. Can you tell us about your competition journey? What motivated you to compete for the first time in 2009, and what would be the motivation now?
My initial motivation to compete was tied to my desire to get involved in specialty coffee. I'd left a previous career in clothing to follow a passion I felt for coffee and its stories, but at that time, around 2007, specialty coffee was in its infancy in the UK – a few shops in London doing good things, a few roasteries across the country, but very little opportunity where I lived. I took a job for a chain cafe and was progressing well, but was desperate to learn more. After switching jobs, I was travelling a little more but still needed to find a way to engage in the small but growing community – competition allowed that first step, introducing me to wonderful people and opportunities to learn together.
Over later years, as I continued to develop my skills and progress within my career, competition remained as both a tool to help me focus my learning and grow each year, but also as a way to keep spending time with the espresso machine, making coffee.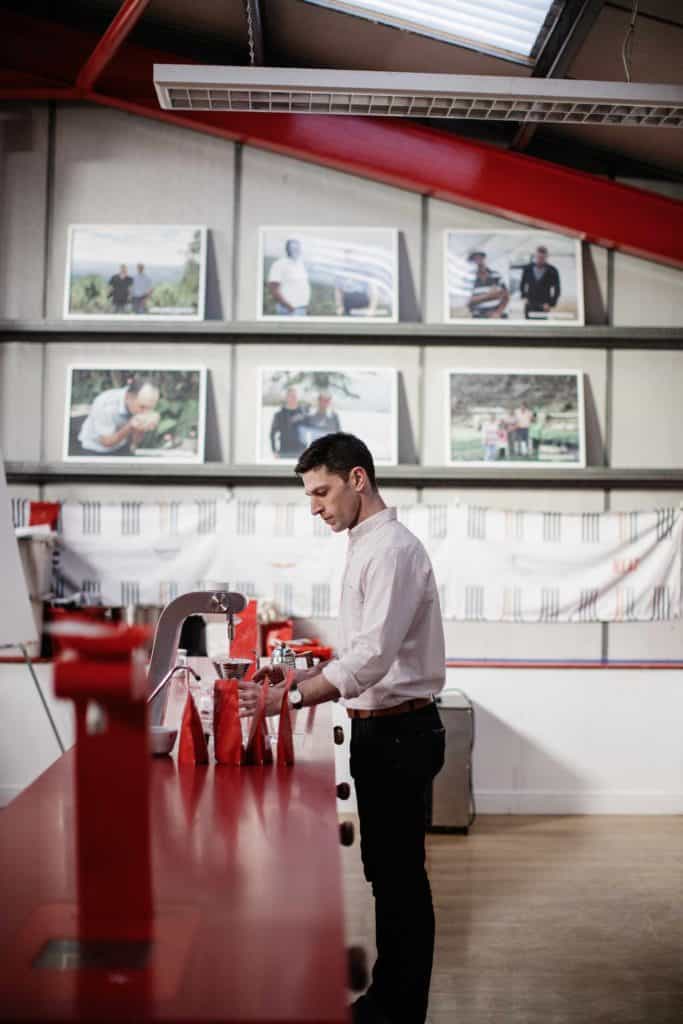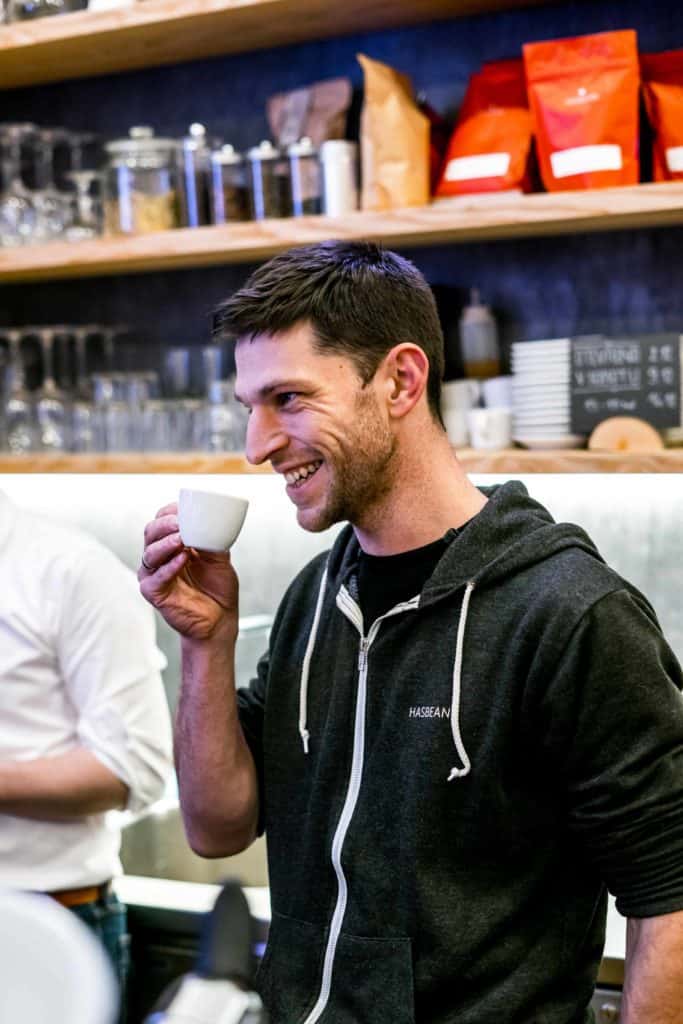 I competed for a good few years running. Every year had ups and downs, but on reflection, each competition left me with a little more focus on a particular area, and with more tools to take to other aspects of my work. The practice also all came into use for the WBC [World Barista Championship] – I can see traces of those experiences all the way through the routine we presented at Seoul.
This year I was too busy to think about the fact I was missing the UKBC [2018] and maybe I will now find other ways to keep growing and learning. The idea that I will never compete that way again is still a little unsettling after so long and the truth is I had fun every single time!
At HasBean, a UK-based green-bean buyer and roaster, you work as the Director of Wholesale. Tell us more about your job and how has it been helpful for you as a competitor.
For most of my time at HasBean, I've worked as a jack of all trades supporting our customers with training, coffee choices, and equipment – now I'm trying to spend more of my time developing a larger team to help with those tasks. We're still a small growing company so there are lots of other projects I get involved with to keep things interesting.
When you represent a company as a barista or trainer, you spend a lot of time codifying how people should work with your coffees, tasting your roasts, and repeating all that information to customers at all stages of their journeys. Competition always forced me to think outside of that box, taste other things and consider other approaches – some of that feeds into how you then work with your customers and leads to better results for both of us.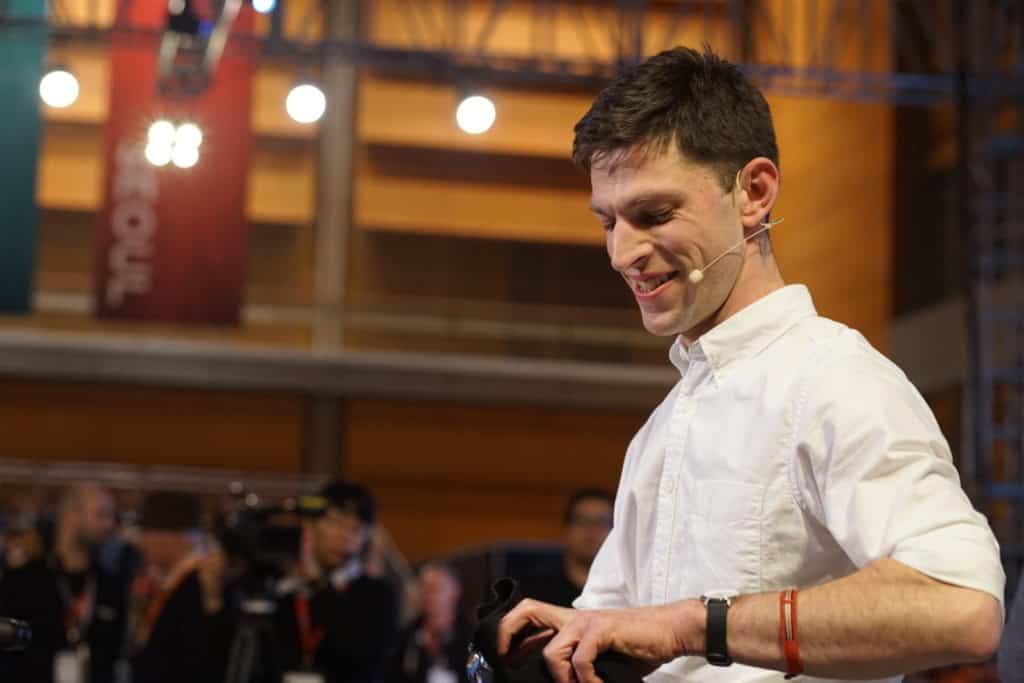 You spend quite a bit of time travelling between Seighford, Stafford, Has Bean's base, as well as London, where you worked at Has Bean's pop-up cafe [H]AND. What else is on your weekly agenda, and at what cafes do you like to drink your coffee, if not at work?
Our customers are spread out all across the UK and Europe so I spend most of my week in the car visiting customers, and post-WBC, a fair bit in planes travelling to cool places to share my experiences and learn more about how coffee is served elsewhere.
When I'm in London, one of my favourite spots is Workshop Marylebone – the team there are super sweet and that's really the thing that makes me want to return to a cafe. Customer-wise, it's hard to pick a favourite but I'm really excited about installing some equipment next week in Manchester, for Pollen, who are moving into bigger premises. I love what they do!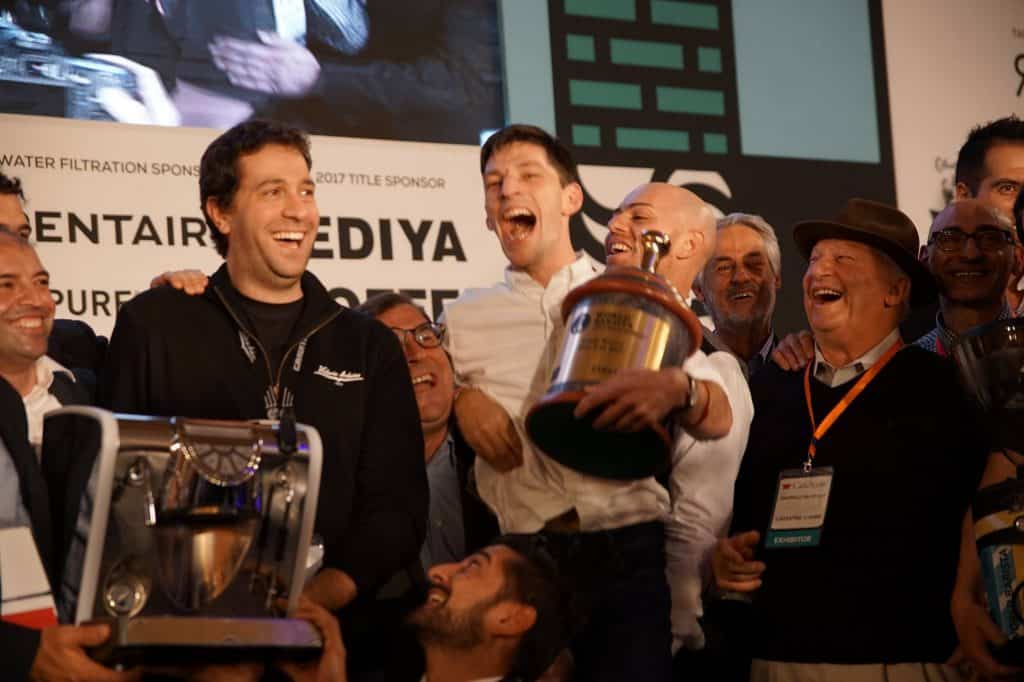 How did your participation in the championships help you progress in your career?
The connections I built through competition – people like Estelle Bright, Will Corby, Jess Macdonald, John Gordon – are really what has helped me progress. There are so many people who've been instrumental to my growth I first came in contact through those events!
I also think the role at HasBean and other opportunities, like getting involved at the early stages of the Barista Guild of Europe, were a result of getting involved in that community, long before I was truly successful in competition – the rewards aren't just tied to winning.
What would you like to learn and do next? Are there any plans to start roasting, for example?
At the moment, I'm trying to make the time to think about the future and keeping my options open so I can work slowly towards the next big adventures, whatever they are – whilst I'd like to understand roasting better from an intellectual standpoint, I really don't see it as an interesting career step for me. I enjoy interacting with people too much for it to be my main focus!
One day, I hope to take some time out and really learn something separate – I'm interested in pastry chef skills and I dream of taking 12 weeks (or years) out and exploring that, but there are also so many facets of coffee I want to know more about, particularly farming and agronomy. For now, I'll keep on with what I'm doing!
What do you see as the most significant development in our industry since your early years of working in the speciality sector?
This is a tough one – technology has developed so much and it's far easier to produce the coffee you want consistently now. In some ways, I see that as a low-hanging fruit, and now we have to do the hard work across all levels of the industry to develop sustainability and ensure that the financial benefits of the growth of specialty consumption are pushed all the way back to origin and invested in our future, which is a long way from secure.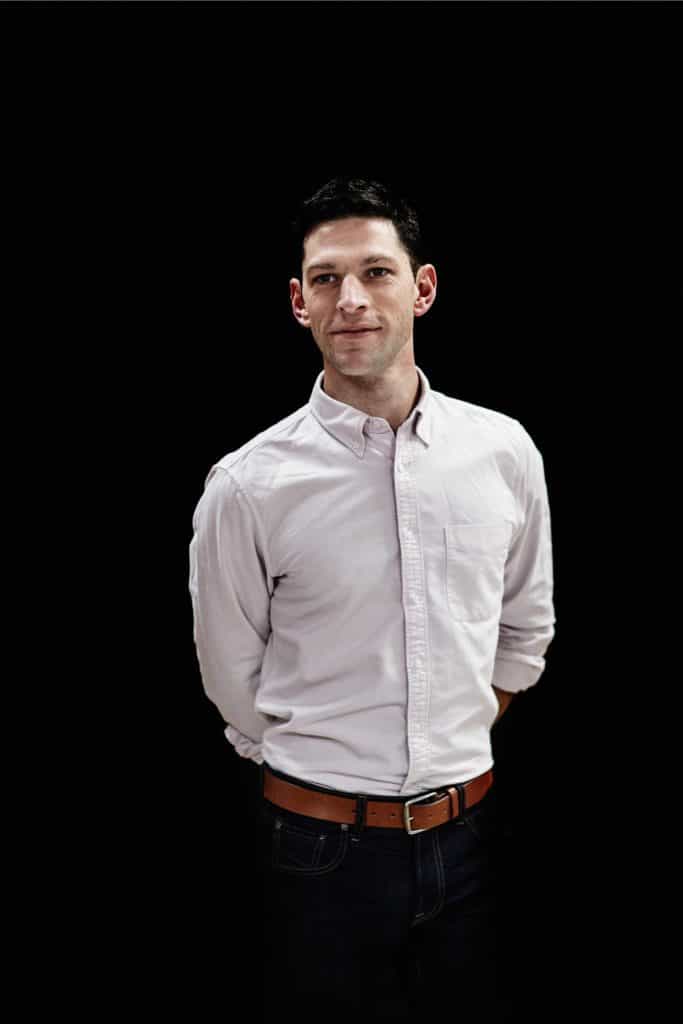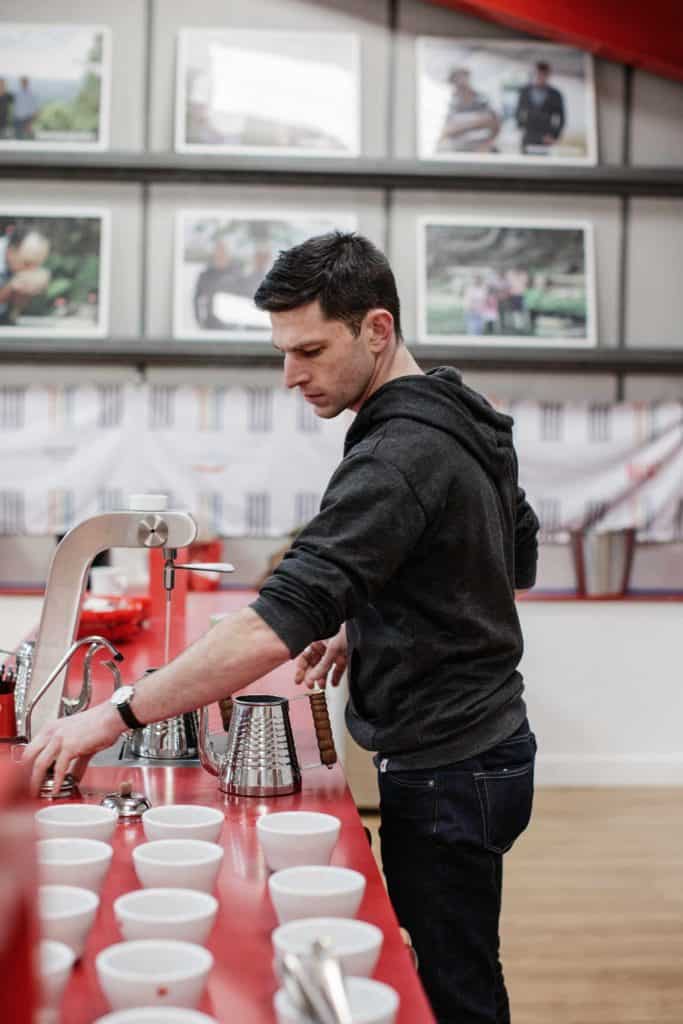 In my opinion, one of the most powerful developments has been wrought by the internet and mobile technology. We can all now share our recipes and ideas, develop our networks for information and education (ECT is a perfect example of this!), and build true relationships with partners across the world – this ratchets up the speed of change but it comes with dangers – novelty spreads as quickly as true steps forward.
The longer-term development is the impact of climate change on growing communities: our industry will change because of this but it will disproportionately affect the people with the least resource to protect themselves and their future. The coffee industry has the opportunity to lead the world in how we react to this problem and every barista can be involved in the solution, with the way they communicate and how they focus their practices on buying coffee with long-term, meaningful relationships, rather than focusing on just the 'best' (read: most expensive) coffees.
I'm optimistic about people and the future in general – we don't really have an alternative to working hard together.
In your 2017 competition presentation, you addressed the issue of communicating the product and its tasting notes to the customers. What does the industry struggle with the most communicating with its customers? How do you think the service will develop in the future?
It's super easy for the coffee industry, particularly specialty cafes, to speak a language that's only shared with people in our business – discussing brew ratios and the impact of variety and altitude without taking the time to bring our customers, the people who finance our endeavours, along for the ride. We need to lose the shorthand, and stop repeating information that doesn't have true value. What does an altitude measurement or rate-of-rise mean without context?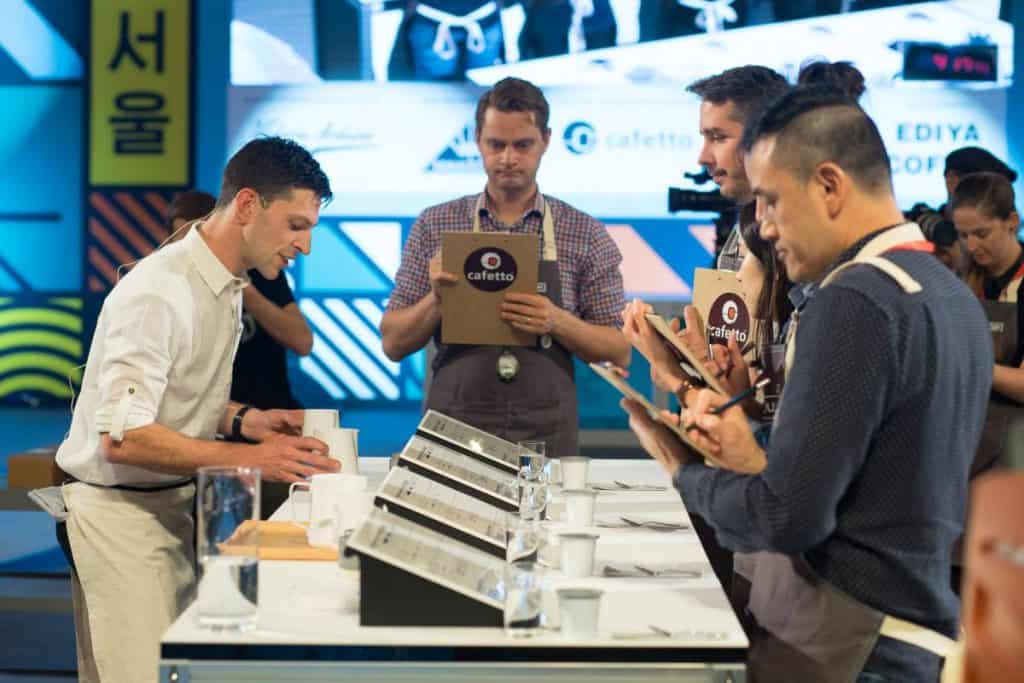 Customers will buy tasty things, or cool things with patterns on the top, but we'll only affect meaningful change and progress if we can build a bridge between the customers' experience and the work that's being done on farms, at roasteries, and within cafes that shape the experience.
What areas of the industry would you like to see change for the better?
We need to see more collaboration between businesses, and less dispersion of the market across small businesses, new roasteries and cafes as so much income ends up being 'lost' in marketing and brand development instead of investing in the supply chain and barista and farm incomes. This doesn't mean small businesses won't remain the biggest drivers of change, just that I believe they're better served by working together as a movement than as individual interests fighting for market share which ends up in a 'race to the bottom' around who's cheapest and that negatively impacts quality and progress.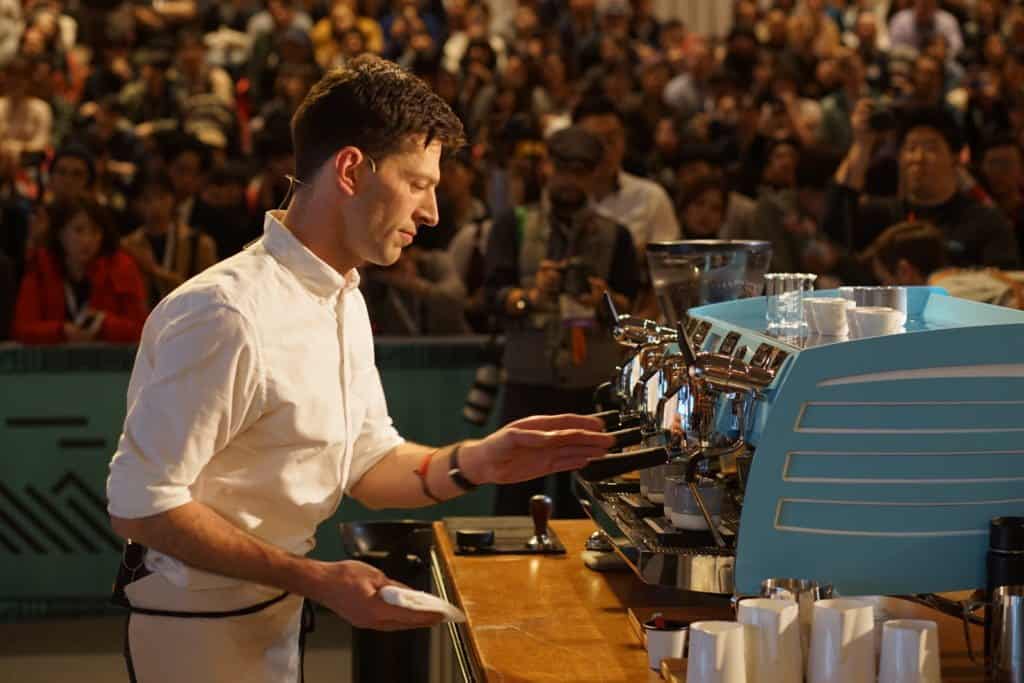 Who were the mentors that inspired you and taught you the most?
Of course, the biggest one is Steve [Leighton], I've learnt so much about coffee as part of HasBean and the way we work with farms has shaped my ideas of what's truly valuable. I've also learnt so much about how to build a business through people – setting a vision and trusting the team to develop ideas, allowing each of us to grow and impact our future. We work hard, we make mistakes, but we work together slowly towards a shared long-term goal.
There are many others – too many to mention – but it's also true that I find inspiration in younger baristas forging their own paths in the world. I get super excited by seeing through social media what Tim Willems is doing in Nicaragua and Tim Schilling is learning at the pastry section of the Savoy!
It may seem like you only work, but you actually like to bake as well, modestly calling yourself 'an average baker'. What are some other ways of relaxing for you, and do you have a favourite recipe?
Sometimes it feels like there is only the time for work, and that's something I'm still working on balancing – right now I'm juggling my day-job, the opportunities that have come from WBC, and making time for family – my kids, Jenn and our dog, Hiro – which ultimately are my reasons for doing the work.
I love baking bread – I'm pretty happy with my recipes and techniques but would love to get better faster and understand the differences between what I do at home and how things work on a larger scale. I'm also hoping to get better at croissant dough, laminated pastry, and viennoiserie, but because I try to avoid using commercial yeast, the methods are slow. I need to build a more consistent schedule so I can regularly spend 48hrs in one place!
You recently came back from China. What was the trip about and what were the key impression of their coffee culture?
I visited Shanghai in April, working with a small cafe company called Greybox giving some lectures on specialty coffee. I had an incredible time, but I'm not going to pretend to fully understand Chinese coffee culture from one city – I hope to spend more time across the country in the future and build a better picture.
Much like my time in Korea, my initial takeaway is that there is a lot of power in being able to establish a coffee culture in an environment not shaped by a weight of traditional preferences. Coffee is a pretty new thing in the market but instead of trying to convert drinkers of instant coffee or Italian espresso, they are beginning with temp stable machines, direct sourcing, refractometers – the lessons that we've learnt slowly over the last 20 years.
I do believe that the rise of specialty coffee culture in Asia and South America will change the world both through consumption and production and their effects on the market – the next 10 years will be super interesting!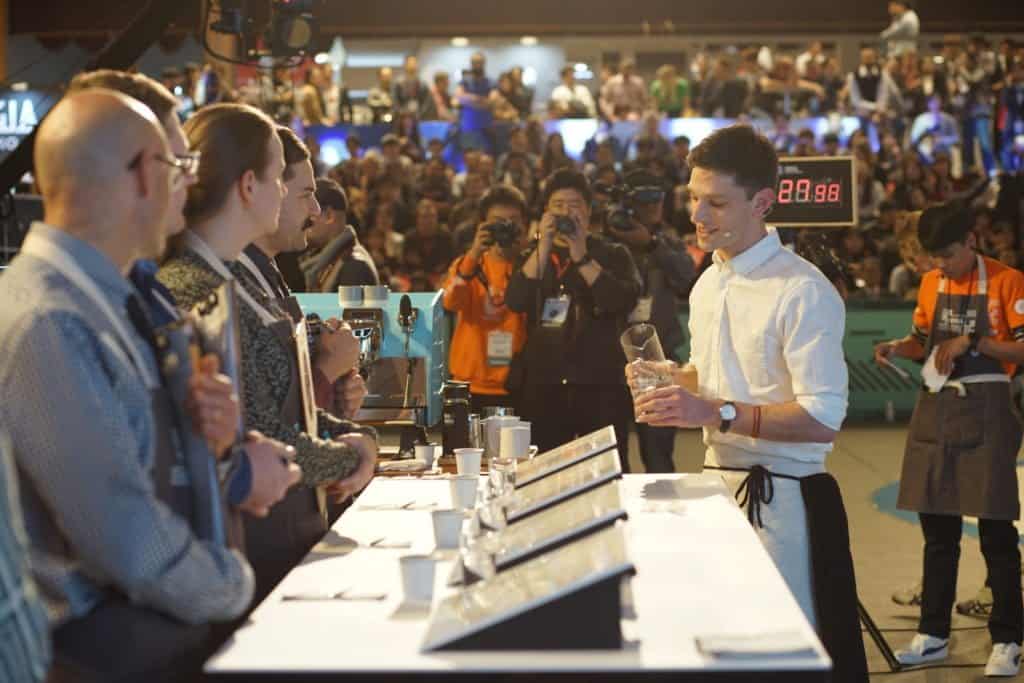 Have you got some key takeaways from your time of being the World Barista Champion? Are there even any more lessons for you to learn?
Because the competition in Seoul was in November, I'm really only 6 months in, and I've been slow to get started. I hope when a new champion is crowned in Amsterdam, the world doesn't forget me completely as I'm really enjoying the opportunities to travel and learn. Whilst winning the championship was the end of one road, it was also a beginning and now I'm choosing which steps to take for the next few months and years and how I can both keep growing, but also positively impact the industry that's given me so much.
Reflecting on the post-competition time, what do you hope young baristas to have learnt from you, what example do you hope to have set?
In terms of competition, I hope our win, which included a number of choices people suggested would prevent our success, will inspire not repetition of my ideas but the recognition that the rules and judging allow lots of different interpretations. I want to see competitors focussing on their passion and driving their messages about coffee forward through their drinks, presentations, and brewing techniques: the only ingredients necessary for success are honesty and hard work.
Outside of competition, I hope my career can be proof that you don't need to start in the right place or surrounded by coffee excellence to succeed – I started ten years ago in a chain cafe wiping tables. Specialty coffee, at its best, is an industry with opportunities for everyone, wherever you are, so think about where you want to go, what you want to achieve and start heading towards that goal. The goals might change and shift as you move forward and that's ok, but it's important to choose a direction and get started.
Is there anything you would like to manage before you hand the crown over to a new World Barista Champion?
I haven't made it to origin yet whilst having the title and it looks like that opportunity will be afterwards, which makes me a little sad as I think it would have maximised the positive impact I could have in those places. I will just have to work harder when I get there to bring value and attention to the good things that are happening.
Thank you, Dale, for the interview!
Follow Dale Harris as he keeps on working hard, travelling, baking and spreading his message about Specialty coffee.