Having travelled in more than 50 countries and drinking one delicious cup after another, Croatia remains closely tight to my heart for its peaceful atmosphere and family members I visit there, but the coffee had never won me over, despite the rich coffee-drinking culture in the region.
Not until my last visit in October, when I had the chance to visit D16, a small cafe located in one of the tiny streets in Diocletian's Palace, a historical part of Split that is a UNESCO world heritage site and the heart of the Croatian second largest city.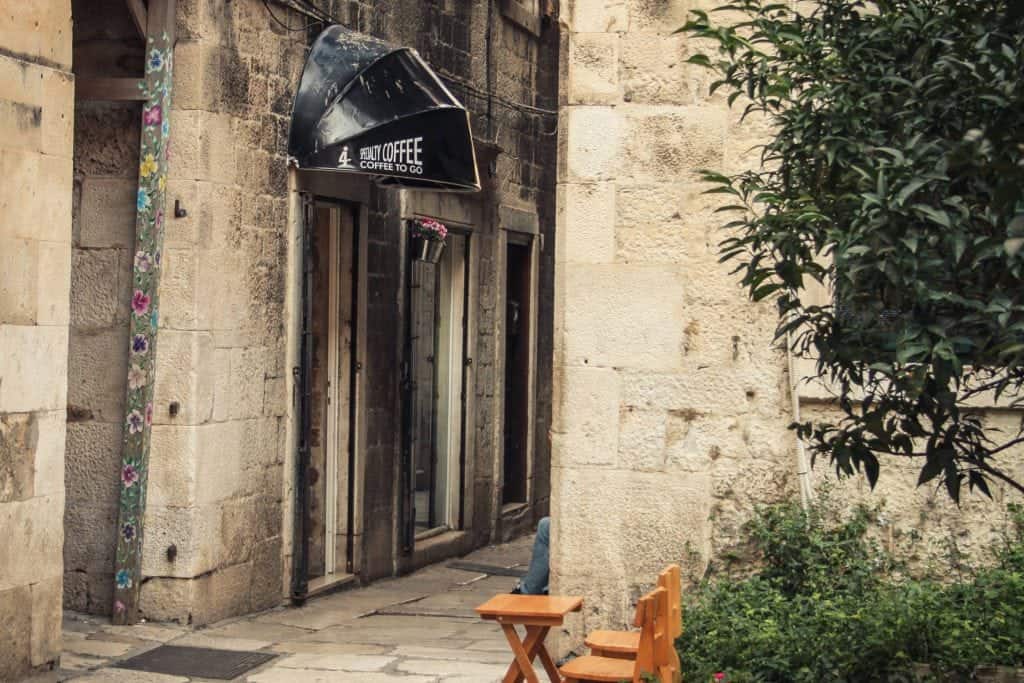 Today, D16 has established itself as one of the first businesses promoting speciality coffee in Split and in the whole Dalmatian region, having traditional drinks, as well as filter and espresso coffees on the menu.
The place is owned by Nikola Besednik, who shared with me the concept behind D16, how he entered the speciality coffee world and how he sees the future of the scene in the Dalmatian region, in the coming years. He welcomed me to his cafe by offering me an Aeropress brew and dug in, first, into his own story. It all started in his village, Kastel Luksic, 18km away from Split.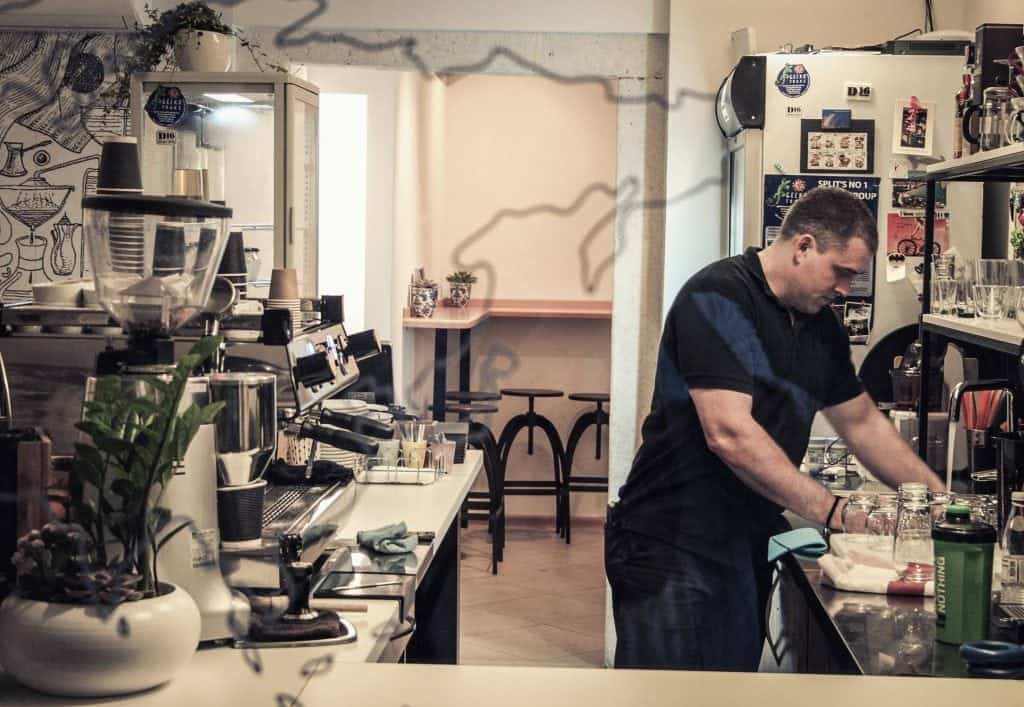 Nikola met a speciality coffee lover from Kastel Luksic who used to live in the US, and who ran a cafe in the village. Nikola used to drink his coffee there in the mornings. He realized that the coffee was somehow different from the ones he drank in other places and got curious about it. Once decided that he wanted to learn more about the beverage, he went to Vienna School of Coffee. There, he met Nik Orosi, several times Croatian Barista Champion, to discover more about the speciality rocket fuel.
After some training, Nikola worked at 4coffee soul food, a speciality cafe located in Split, currently under renovation. Gaining enough experience, he then decided to realize his dream of opening his own cafe.
D16: pleasure for tourists, new concept for locals
D16 is a place of a very simple design fit in between a combination of old walls from the Diocletian time and white walls decorated with a couple of mural drawings by Luka Duplancic, a local graphic designer and artist. However, Nikola and his team have many ideas in their minds for the next months, in order to improve the way the place looks.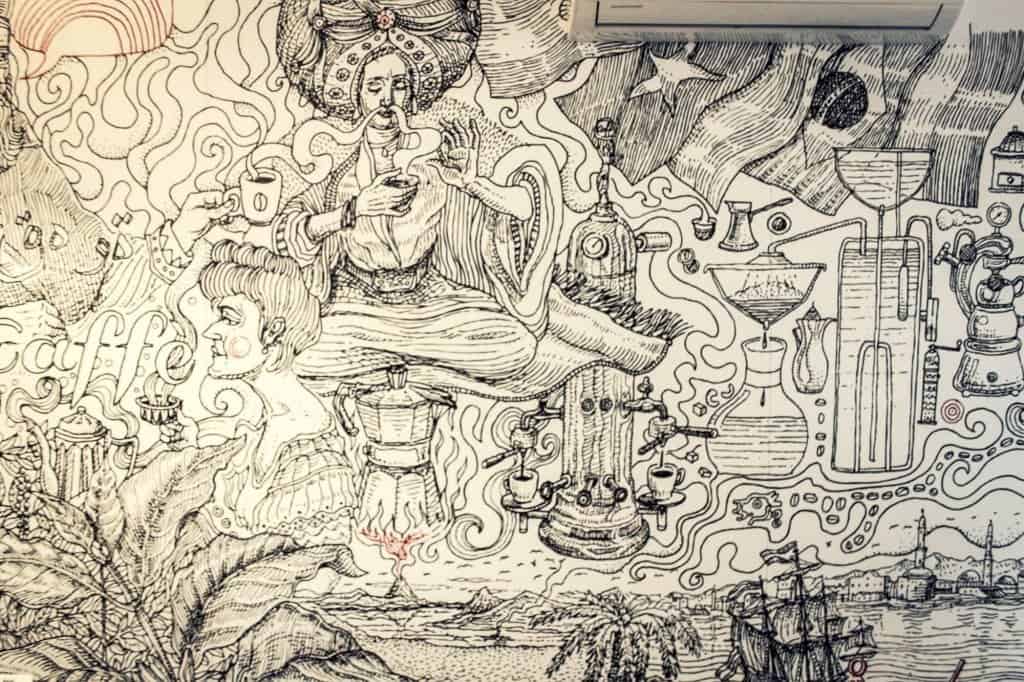 The modesty of the cafe's design is also due to the seasonality of the business in Split. Local businesses depend a lot on tourism, and so the team had to rush a bit and the cafe had opened its doors before the summer season started. This allowed D16 to secure a decent income for the less crowded months of the year.
Numbers of tourists are booming
Nevertheless, Croatia has seen its number of tourists booming in the last years, especially thanks to visitors from Australia, the United States, Germany, France and Poland. These countries have one thing in common, their knowledge of speciality coffee, meaning that there is a growing demand for a good quality cup as the city welcomes new visitors every year.
In the past, the tourists lacked a quality cafe that would serve what they were used to, and therefore, opening D16 in the old town of Split was a wise decision. Even the coffee lovers visiting Split on vacation end up at D16 apparently, such as Dritan Alsela, the latte art legend based in Germany, who came last summer.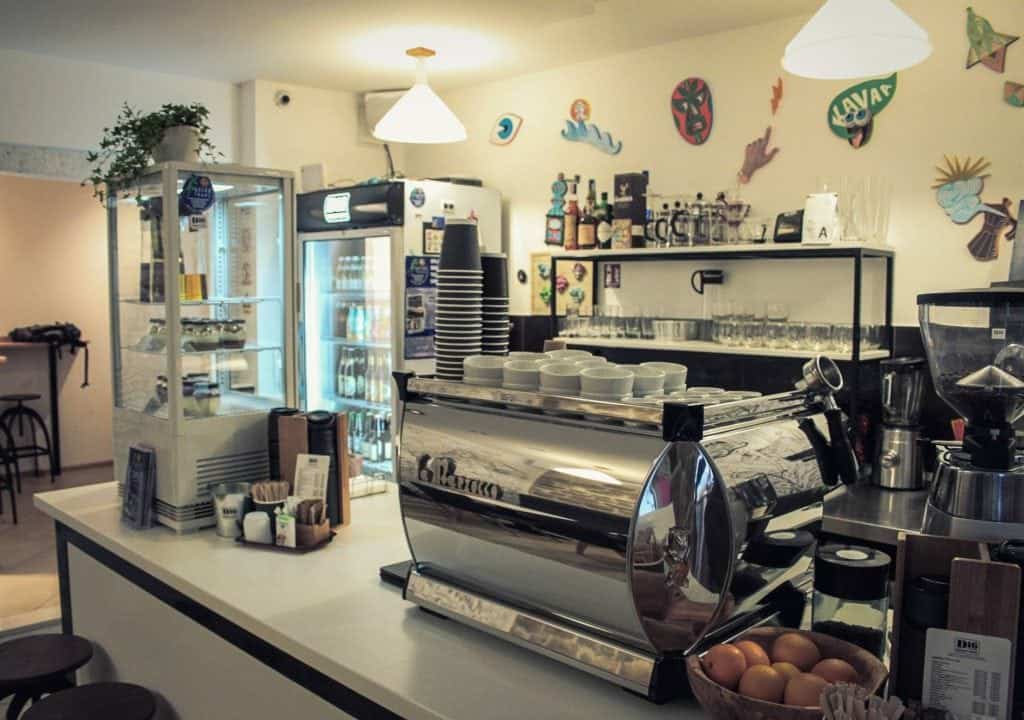 Locals have a growing passion for speciality coffee
However, the balance between locals and tourists is about 50/50. Croats are getting more enthusiastic about third wave coffee, especially the young generation who is keen on ordering flat whites (I also ordered one), inexistent in the Croatian culture a couple of years ago. Local customers also enjoy staying longer at D16, to work from their laptops at a couple of tables available. More traditional coffees, such as "kava" (the Croatian equivalent of Turkish coffee) and espressos are also popular among locals working in the old town.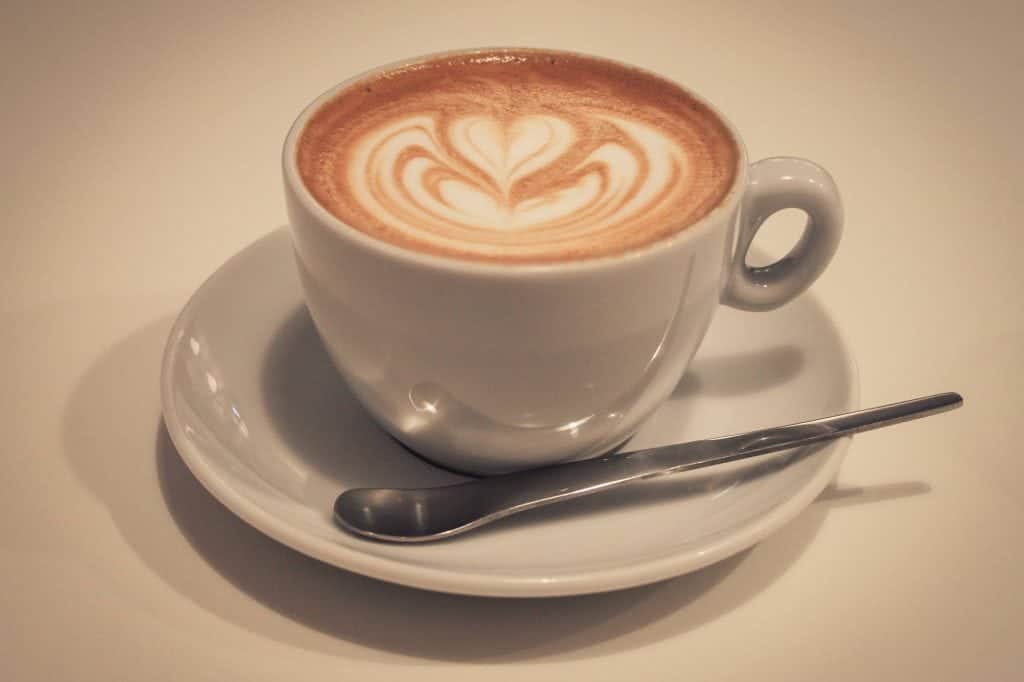 D16 Re-establishing the coffee-drinking culture of Split
At D16, the team is working hard on re-establishing the coffee-drinking culture of the Splićani (inhabitants of Split), who are similar to Neapolitans when it comes to coffee and football. They are proud of their traditions, which makes the task a challenging one, but people like Nikola are convinced that the speciality coffee scene will boom in Split as it has in other European cities.
D16's customers can find a variety of beans roasted fresh, in small batches, and prepared on several filter methods. Although this may be a reality at the majority of cafes in big European cities, it is a rather new thing for the citizens of Split. D16 is collaborating with a friend who roasts coffee on demand. His roastery is based in Sibenik, and until D16 finds an accommodating space for its own setup, the roastery will keep on supplying them with beans.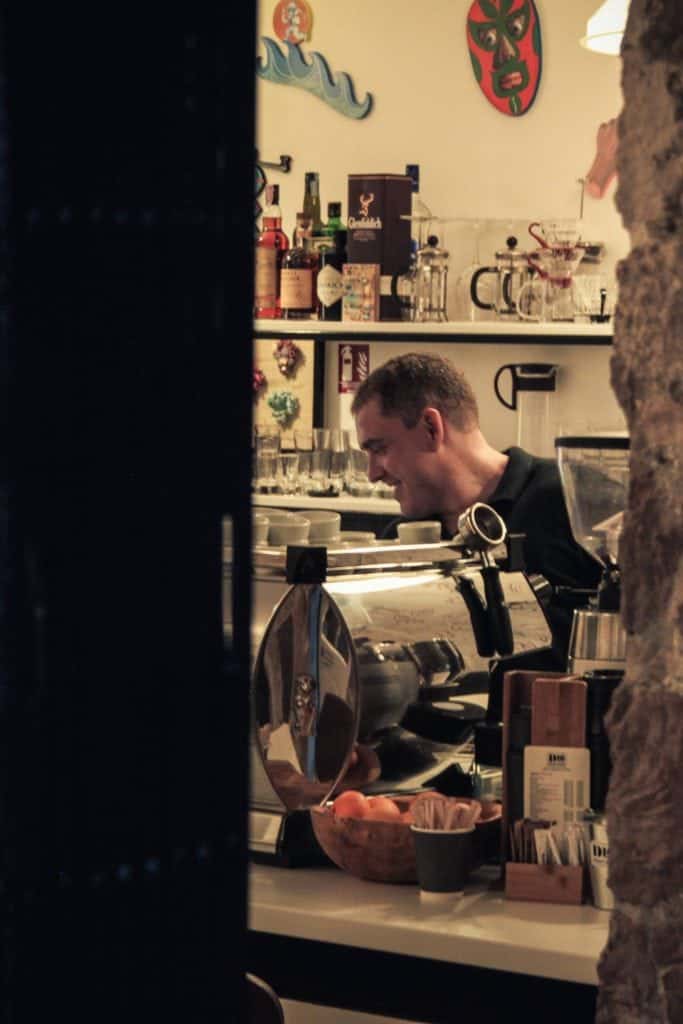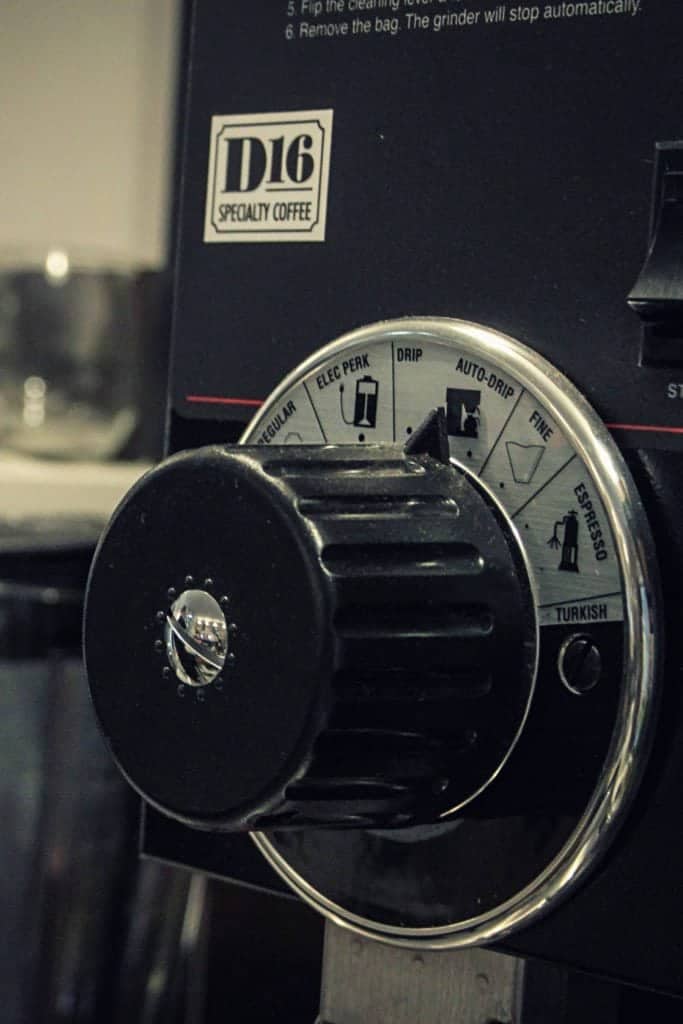 Opening a roastery in Split is only one of the big plans Nikola shared with me, though. He would like to expand his cafe business and open shops in Sibenik or Dubrovnik, two popular touristic cities and potential coffee hubs for the young generations. Nikola also understands that the growth of the company depends on the whole team, and plans on educating his staff, as well as supporting them through barista competitions.
You can expect a lot of novelties from Nikola, who will bring D16 in a new coat, as rebranding is also on the cards. I really hope his plans will work out and cannot wait to re-discover the scene when I come visit in summer.