Jessica Symes is a 27 years young! (as she says herself) grown-up coffee professional that currently sports the position of a Regional Barista Trainer at Extract Coffee Roasters. She got her experience and industry know-how working in London for 6 years already.
Jess resonates with positive energy and proper, authentic shine that makes everyone around her feel comfortable and sheltered. These qualities definitely help her in working with trainee baristas and add an extra cosy layer to the training sessions. Quality-focused but also cheeky with a big sense of British humour!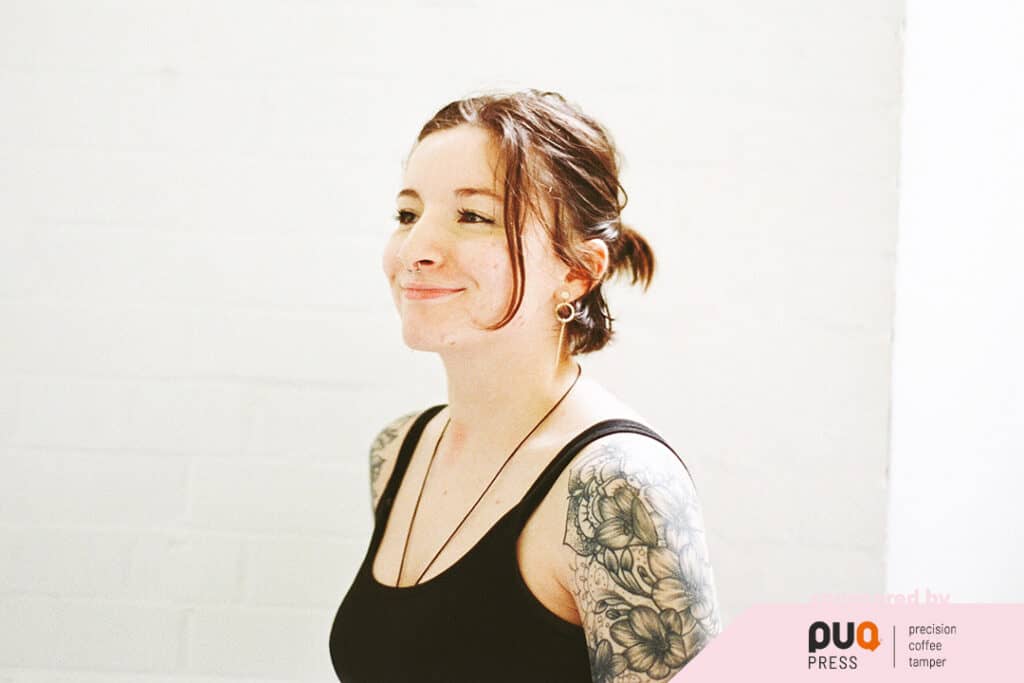 Jessica, what is your first memory with coffee?
My first memory is probably of my dad always drinking it. Before he'd wake me up for school, he would leave a coffee outside my bedroom door (which was always with milk and 2 sugars!). We only drank instant coffee then, because that's all we knew! Even now when I go back home, I'll drink it when he's offered – just for nostalgia.
Could you describe the moment or situation that made you decide to become a barista?
When I was younger, I would always save my pocket money for a weekly trip to Starbucks. It was the place to go to in my town, so we used to hang out there all the time. I remember thinking how cool it was to make so many different drinks and how good everything smelt. That's when I wanted to be a Starbucks barista. Plus I wanted the drinks for free! Oh, how 15-year-old me used to dream! – But that's how my journey started. Starbucks became my stomping grounds.
As soon as I learnt what arabica coffee was, the bean-to-cup journey and how many varieties and processes you could get and how much you could EXPLORE that, then that was it. I jetted off to London to learn about speciality coffee and discover the many, many roasters that reside in London. That's what I wanted to do next. I wanted to work for those guys. I wanted to explore and learn how to make amazing coffee.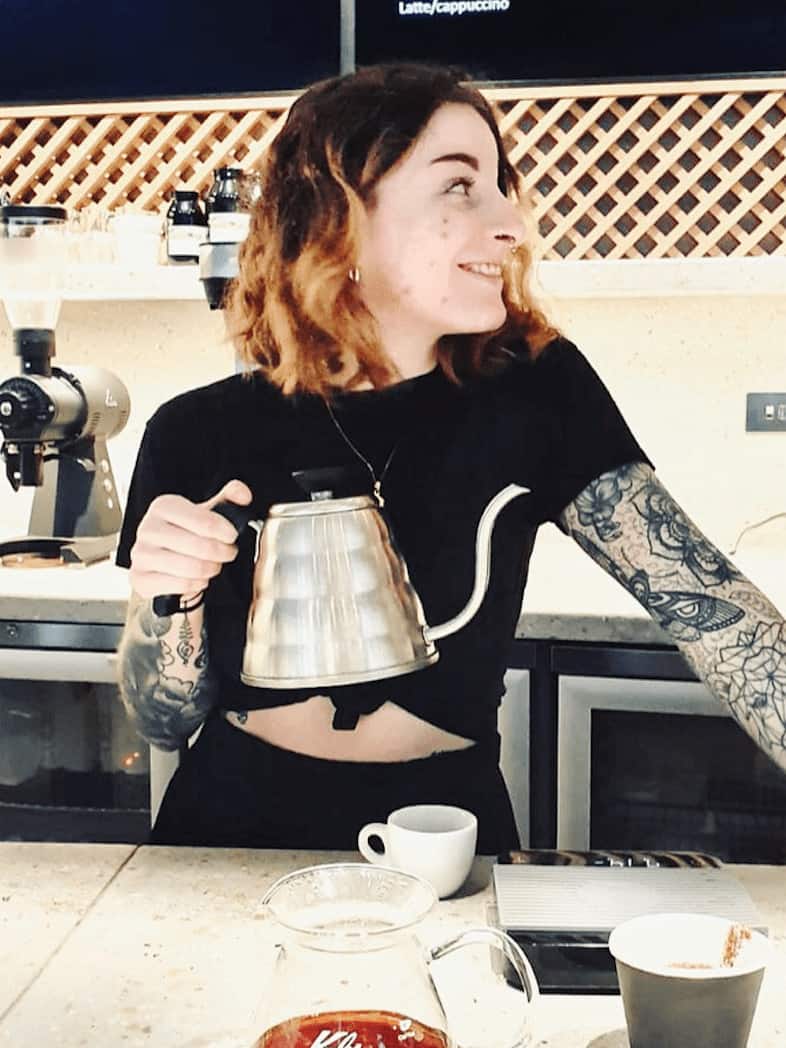 What is the funniest thing that you have experienced behind the bar? Can you recall any embarrassing moments?
Oh boy. There's been so many! I suppose the most common funny experience is mixing up my regulars names or seeing their doppelgänger and being very confident in striking up a conversation with them, just for them to have NO idea what you're on about. That's happened more times than I'd like to admit!
Luckily, we'd laugh it off and the doppelgänger was happy to know there's someone out there like them aha!
"As long as you're eager and willing to learn, then that is always an open door".

Jessica Symes
If a career in coffee was not an option, what job would you be doing?
That's a good question. I think if I carried on studying, I would've become a photographer or a graphic designer. But now I only do photography for fun and the graphic design part has fled and jumped out the window!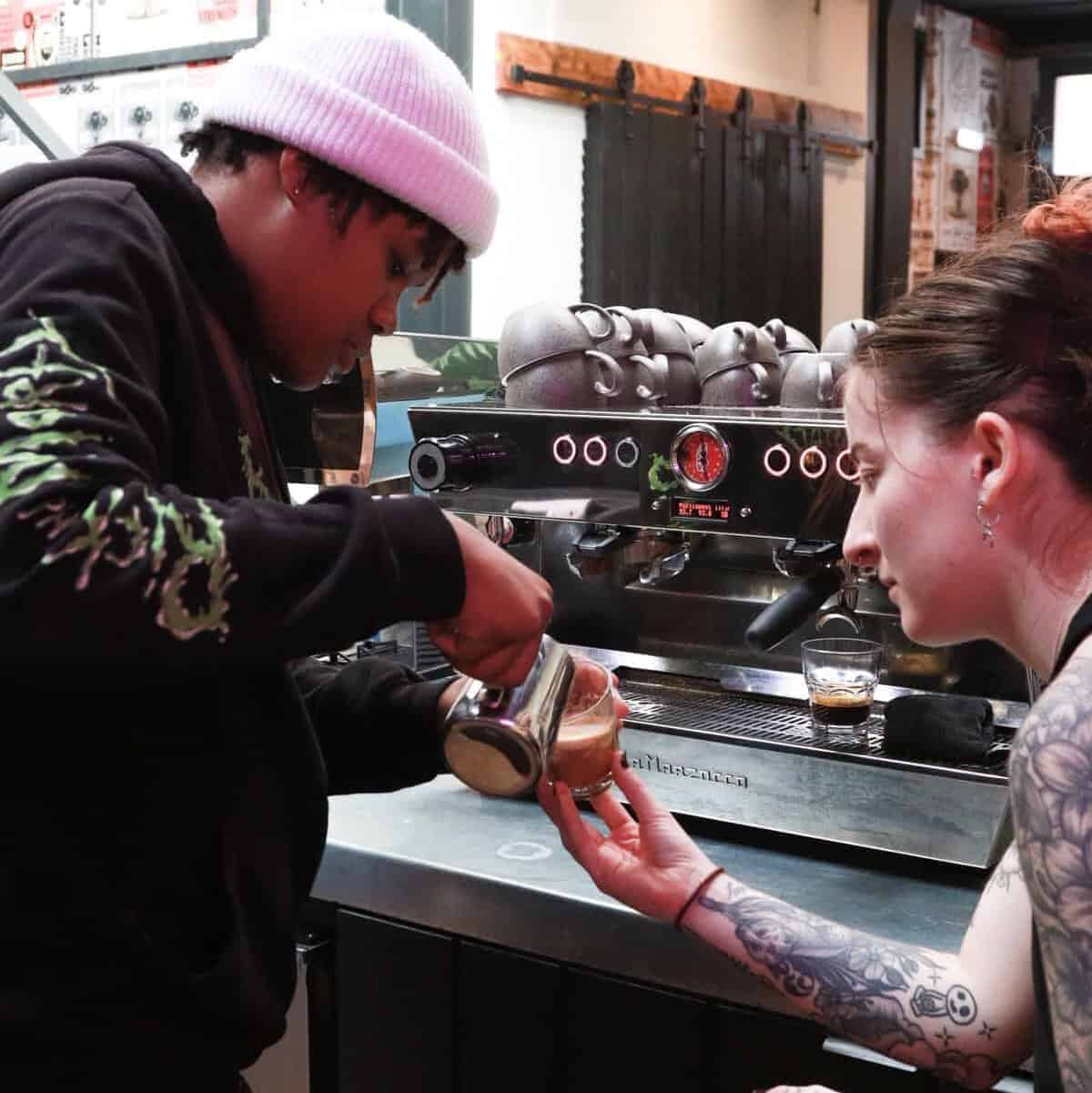 Do you have an unusual habit or hobby that you love?
Hopefully, it isn't too unusual – but I love weight training at the gym! I'm also studying to become a qualified personal trainer, just for fun. Not long to go now!
I also love to read in my downtime. Whether it's about coffee, sports, personal development or a classic, you'll always find a book or two with me in my bag!
Are there any bad recommendations you hear often in your profession? What is your piece of advice for anybody starting a career as a barista?
This is a tough one. I guess the biggest setback I've seen in individuals is them thinking that their experience in one place isn't good enough to get into another, or that names of places will suck them down.
My piece of advice is this. Regardless of your work background or where you've come from, don't let your thoughts hold you back from thinking you're not good enough to start somewhere or to carry on growing and developing.
As long as you're eager and willing to learn, then that is always an open door. Our industry is always looking for anyone who's passionate about people and/or coffee and who's eager to learn.
Remember, we've all gotta start somewhere! Besides, if your passion for coffee and people shines through, you'll have no problem with wanting to become a barista and getting into coffee or diving deeper into the world of it!
What's the most common question you get asked during barista training? How do you answer it?
Ah! This is a great one. I'm always asked WHY we're so specific with HOW we treat and use coffee to produce the best outcome on taste or quality.
Well, that coffee has to come from a long way and go through a lot – before we can even come to drink it. Each cherry (coffee beans) is hand-picked. Then they're cared for, looked after and processed. There's SO much attention and care that goes into that, to make sure that they produce a coffee that WE can enjoy once it's shipped to the roaster. Then our roasters have to find the best way to showcase that coffee and essentially bring it to life through roasting. That in itself requires a lot of attention and care.
So then I ask my students, why would you want to spoil something that's gone through so much – when it comes to brewing it?
That's why we highlight the importance of being specific with our brewing methods and recipes, and all those steps in between, to help us produce the best espresso or the best brew that we can make behind the bar or at home.
That for me – is the magic of coffee. Being able to produce the best out of it and make it taste great. Then, you get to share that with others!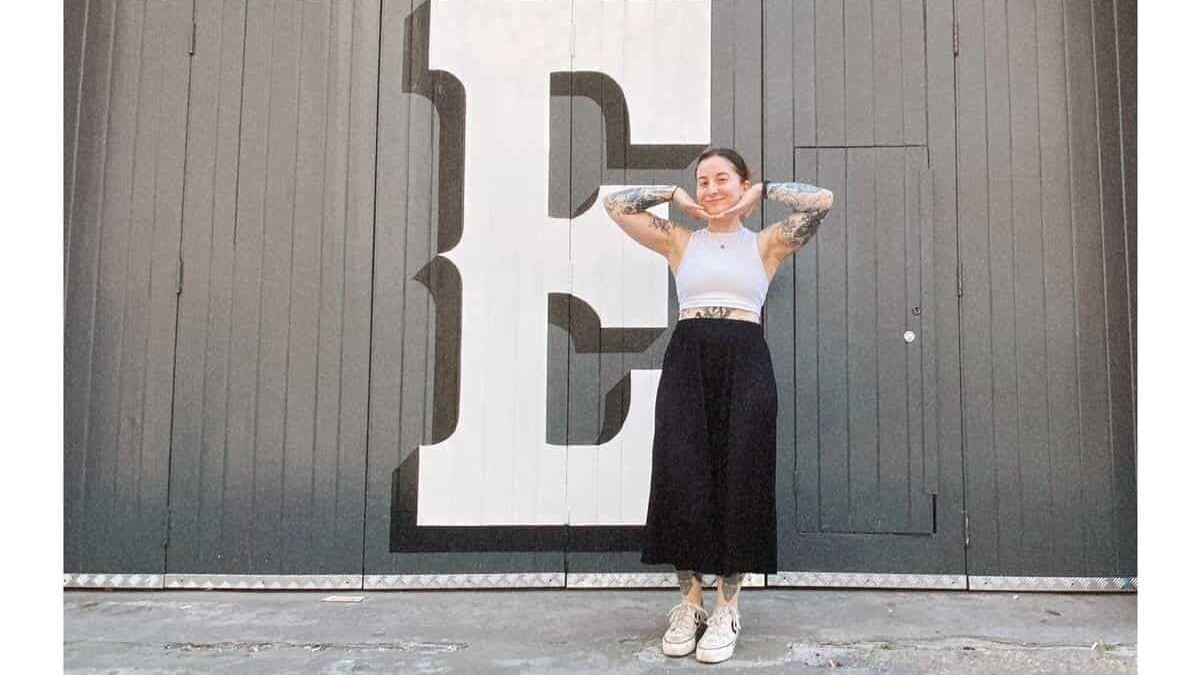 What's the most satisfying part of the job of a barista trainer?
Being able to inspire people! You get to meet so many wonderful new people every day, but when you see that little light go off in their head or their eyes shine when they get excited because of what you're teaching them – that power to inspire them is the best part of me.
That – and seeing everyone light up when they make their first heart on a coffee. That'll never get old.
What has been the best experience you have had in the speciality coffee industry so far?
The community. I wouldn't be where I am today without leaning and learning from my friends and my previous and present colleagues. Everyone inspires each other. Everyone lifts and supports each other.
At first, I never felt like I fitted into our coffee world. But then you quickly learn how small it is (in the best way) as everyone knows everyone really. If you ever want to learn something new or try something new, there's always someone out there ready to help or to answer a question. All you've got to do is ask! You'll never run out of baristas or coffee friends!!
What coffee challenges are you looking forward to? Any new projects or collaborations?
Within my career – I'll be expanding my knowledge and growing as a professional trainer. At work, we've got endless projects happening behind the scenes but we've just entered our collaboration season with our Inner Strength coffee which is a part of our Grounds Up charity collective.
Each year it'll release and we'll raise and donate money to our charity partners across London and the U.K. – which is incredible, with the likes of Hotel School & Beyond Food, Empire Fighting Chance, So Let's Talk and The Long Table.
So not only do we launch a tasty coffee – we launch a coffee with a purpose to help benefit those who haven't had such a fortunate start as others. It's been incredibly rewarding to see how far they come and it's wonderful to work with such great partners.

Quick Fire Questions for Jessica Symes:
Would you serve filter coffee with milk if asked for it?
Yes, unless I've hand-made your brew. Then I might battle you for a minute. But of course, take the milk if you want!
Do you ever take sugar with your coffee?
I've been known to sometimes have sugar in my decaf. I can't help myself.
Espresso or Filter coffee?
I love both. But filter.
Do you aim for Sweetness, Acidity, or Body?
I'm a sweet-tooth gal. So sweetness and bodddaaay!
Milky or Black?
Black filter. Or an oat flattie. Depends on the oat.
Slurp or Spit?
Sluuuuurp!
Sit in or Take Away?
Take away.
Cake or Pastry with your coffee?
Cake. Always the cake.
Favourite piece of barista equipment?
Kee's Spirit will always have my heart.