Meet Ryohji Hope, a 24-year-old coffee professional from London. Ryohji was born in Japan and moved to the UK when he was 9 years old. He currently works for Origin Coffee as a Senior Trainer & AST (Authorized SCA Trainer) and has been in the coffee industry for nearly 8 years. Ryohji has achieved many accomplishments in his career, including becoming an AST and winning the English AeroPress Championship 2021.
Ryohji began his journey in the coffee industry as a barista at The Almond Thief, a specialty bakery where he discovered his passion for the industry and the science behind each cup of coffee. He worked his way up to Head Barista before moving to London to work for Origin Coffee. He later worked as a trainer for Redemption Coffee before returning to Origin to take on the role of Trainer with the opportunity to become an AST.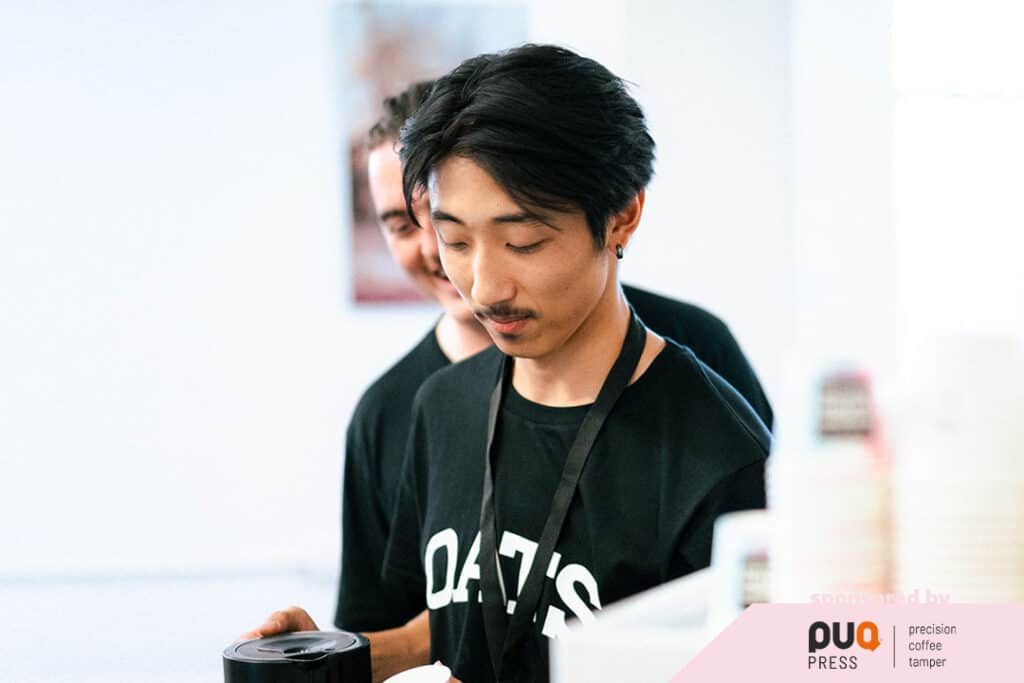 Ryohji, what is your first memory with coffee? 
Not liking it… 😂 I worked in a non-speciality coffee shop before The Almond Thief and I remember thinking "never in a million years will I start drinking coffee!" but soon learnt that coffee doesn't have to be bitter, ashy, and smoky.
Could you describe the moment or situation that made you decide to become a barista?
I took interest in working in the industry for a classic reason, I saw someone pour a swan and my initial thought was "I wanna learn how to do that". So I started looking for places that offered barista training to a total newbie! But I think I started taking being a barista seriously when I first tasted an Ethiopian coffee at cupping and realised how different coffee can taste.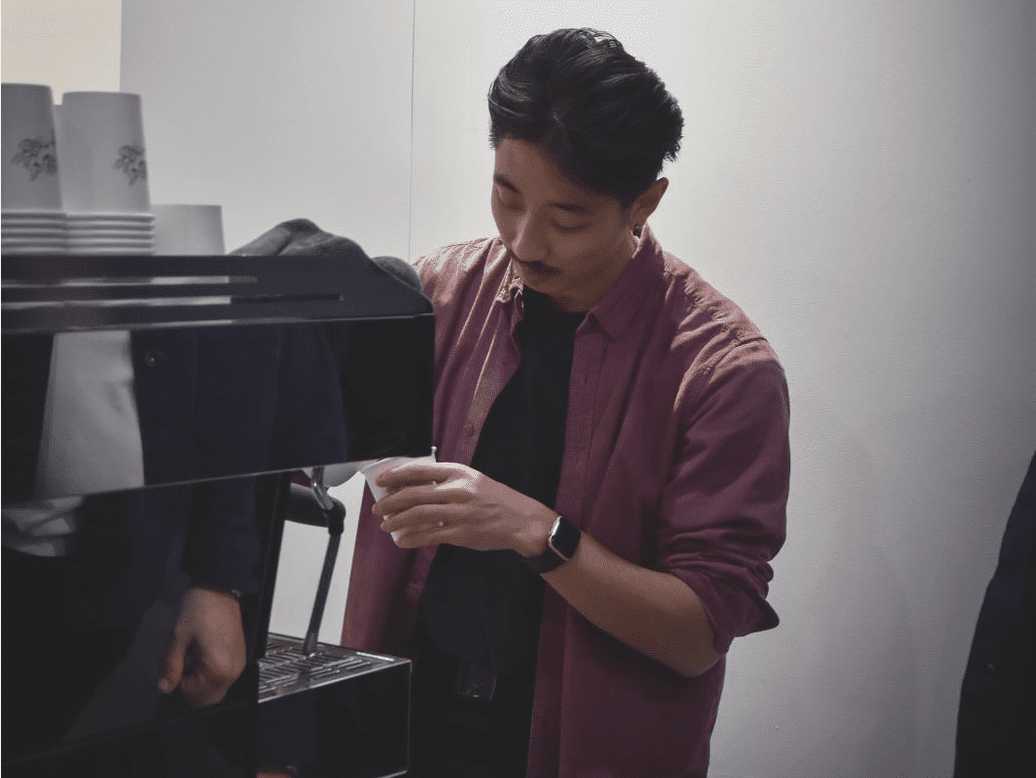 What is the funniest thing you have experienced during barista training? Can you recall any embarrassing moments?
My latte art is shocking when under pressure and when I started as a trainer I used to pour THE WORST hearts when demonstrating. That was funny and embarrassing at the same time!
If a career in coffee was not an option, what job would you be doing?
Oooooh yikes, that's a tricky question. I would probably be trying to make a living through breakdancing! Although that is very difficult to do…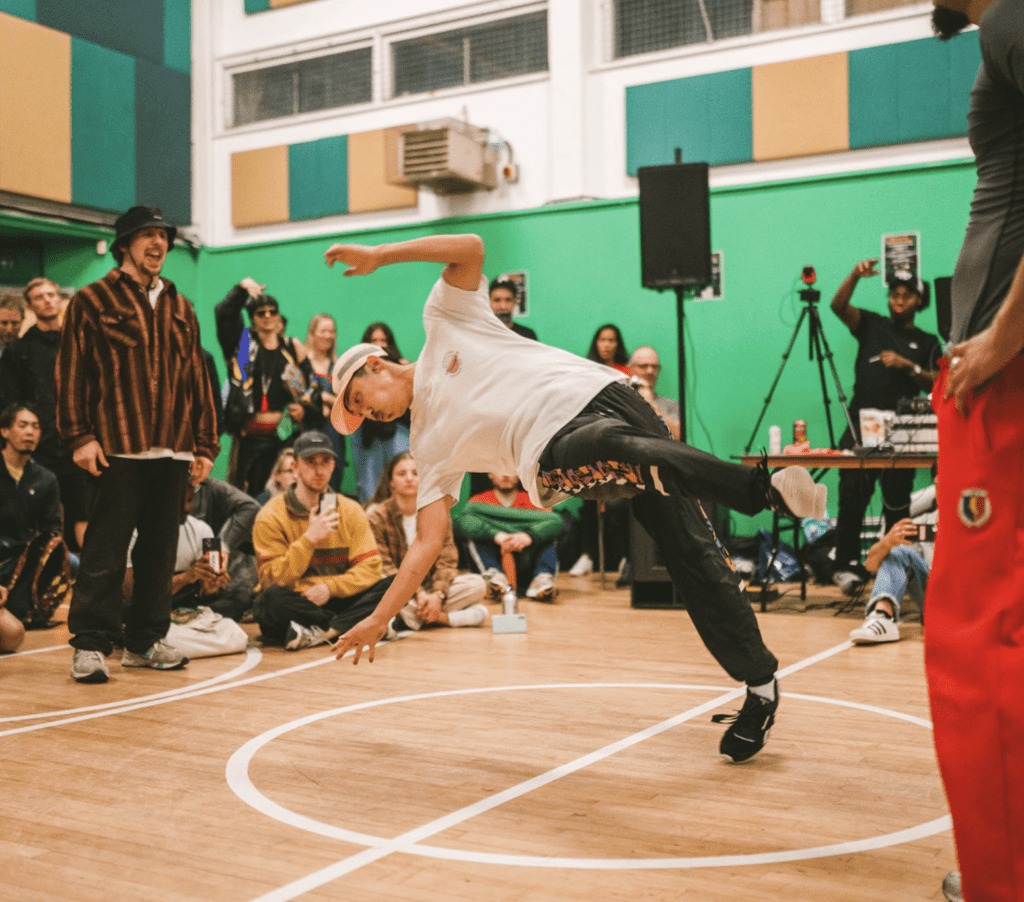 Do you have an unusual habit or hobby that you love?
As you might have figured out from the previous answer, I breakdance! I got into dance through school doing GCSE dance. I then saw Diversity perform on Britain's Got Talent and I took interest in street dance! Pulled together anyone that had experience in dancing and created this short piece which we performed at a few different shows (thinking back to it now gives me the shivers… 😅)I then started to specialise in breakdancing after seeing the crew I am a part of now perform at one of the shows I took my piece to!
With it, I do competitions travelling across the UK and sometimes abroad (so far I have competed in around 60 events), performances (me and the crew that I am a part of known as Just4Funk have performed at Glastonbury last year and in 2018), I used to teach it at my old school before moving to London. Breakdancing has definitely taught me a lot about discipline and trusting the process. It's such a physically straining style of dancing so you really have to stick to practice, even if it's something boring or if you feel like giving up to achieve your goals. I now apply this mindset to everything I do! You won't get anywhere by skipping steps or giving up on things because it gets too hard sometimes… 
It's also an amazing way for me to release and take my mind off of everything while getting some exercise into my life! I actually currently train/practice In Origin cafe space after they close most nights.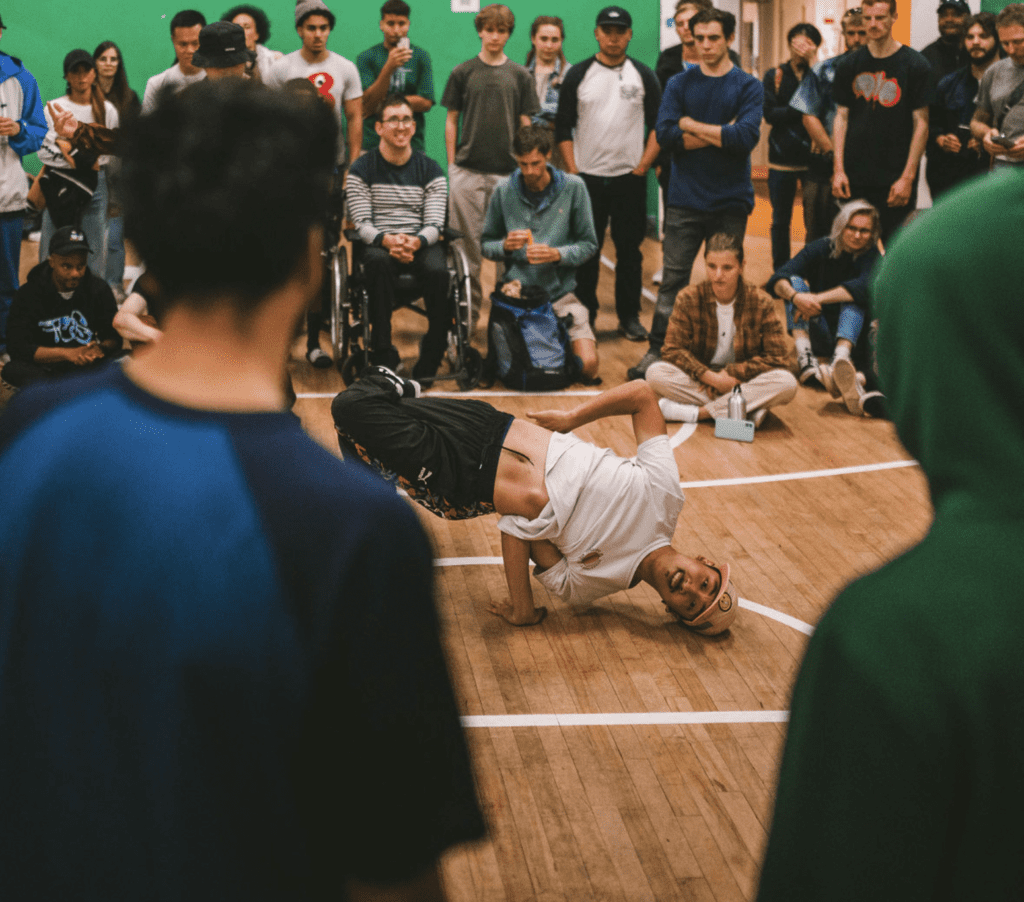 What is your piece of advice for anybody starting a career as a barista?
My advice would be: Don't rush! Take it 1 step at a time. Give yourself time to develop and grow 'Slow is smooth, smooth is fast'. Don't overthink. Sometimes if I start spinning out in my own head thinking about coffee, I remind myself of a great quote by our Head of Coffee Freda "It's just coffee"!
Do your own research too! It's great to be trained by someone and listen to what they say and take into account what they say BUT you should also test those theories yourself if you can! Not only might you find that the theory didn't work the same way for you as you had expected but it'll help you understand the theory better.
What's the most common question you get asked while leading a barista training? How do you answer it?
In our Basic Barista courses, we do a tasting of different scoring coffee and more often than not I get: "Why do the higher-scoring coffees taste weird to me?"  And I answer it by saying that coffee is a preference and just because it scores high doesn't necessarily mean you're going to like it! And that's Ok!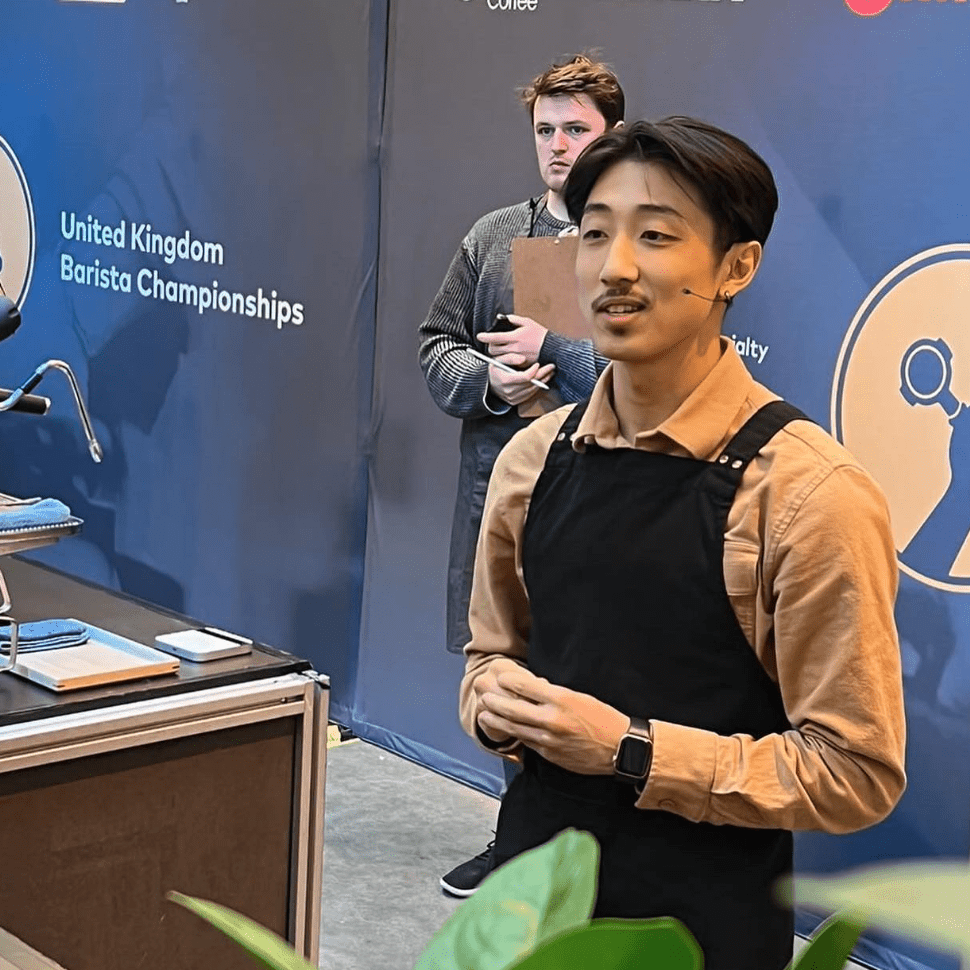 I also get the question: "How long did it take you to pour latte art?". It took me 2 months to pour a very very bad heart… there's actually proof of it on my Instagram I think! Baristas make latte art look easy but you have to remember that we are pouring milk constantly, every day!
Ryohji, what's the one coffee recipe that everybody should try? Why?
I don't have a recipe that I think everyone should try but I would say, don't stay inside the box. While brewing try something new or different and keep pushing the boundary. I've been playing around with brewing temperatures for a while now. My most recent AeroPress championship recipe used a water temperature of 62°C!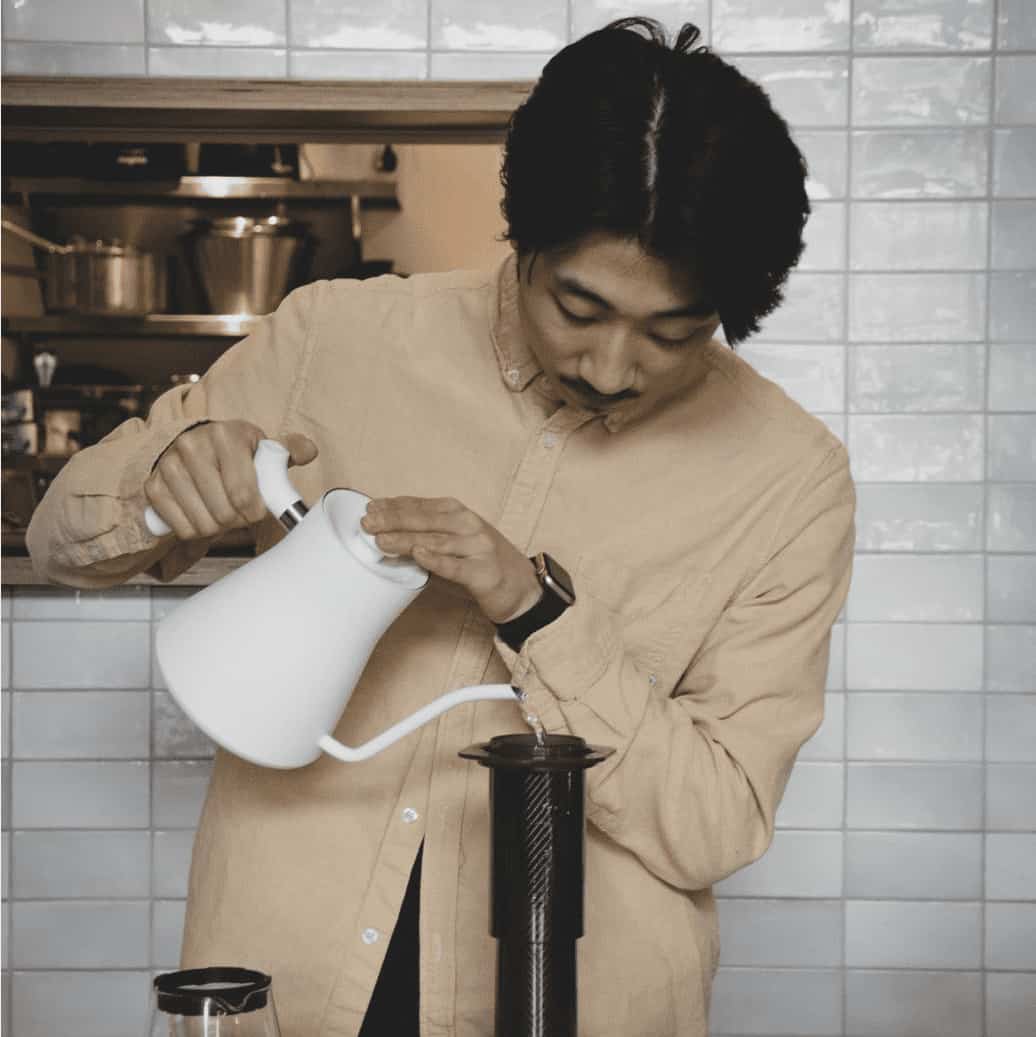 What has been the best experience you have had in the speciality coffee industry so far?
Wowwww, I have no idea, there are so many! I do loooooooove coffee festivals. I had a lot of fun working at the most recent Manchester Coffee Festival! I like any events that gives me the opportunity to see all of my friends from the industry, catch up with them, and have fun! Also, the support I receive from these people when competing is very special. It's always amazing to know that you have all of that support behind you.
What coffee challenges are you looking forward to? Any new projects or collaborations?
Entering more competitions! Currently working towards my UK Barista Championship 2023 heat. Got the hunger for these competitions now! But other than that, just keep doing my thing and work towards my goals! Bring on 2023!!!

Quick Fire Questions for Ryohji Hope:
Would you serve filter coffee with milk if asked for it?
Yes, coffee is a preference! 
Do you ever take sugar with your coffee?
No… never did, and never will…
Espresso or Filter coffee?
Filter!
Do you aim for Sweetness, Acidity, or Body?
Sweetness.
Milky or Black?
If it's filter, always black. But I do like a classic Flat white!
Slurp or Spit?
I do both.
Sit in or Take Away?
It depends on the vibe… but I do prefer to sit in.
Cake or Pastry with your coffee?
Yes to cake AND pastry! But I try and enjoy the coffee first before I tuck in.
Favourite piece of barista equipment?
My Comandante grinder. It has changed my life.