Our Barista Stories series has been long in the making. Since our first visits to cafes around Europe, we have met many amazing baristas who have had a number of interesting stories to share. We love the speciality coffee community exactly for the people building it and are thrilled to introduce some of those individuals to you.
Baristas truly are the ones who contribute to the atmosphere in the cafe massively and are the key reason why we'd revisit.
Read on to meet GIan Zaniol, brewing your daily cup of coffee at Chapter One Coffee in Berlin.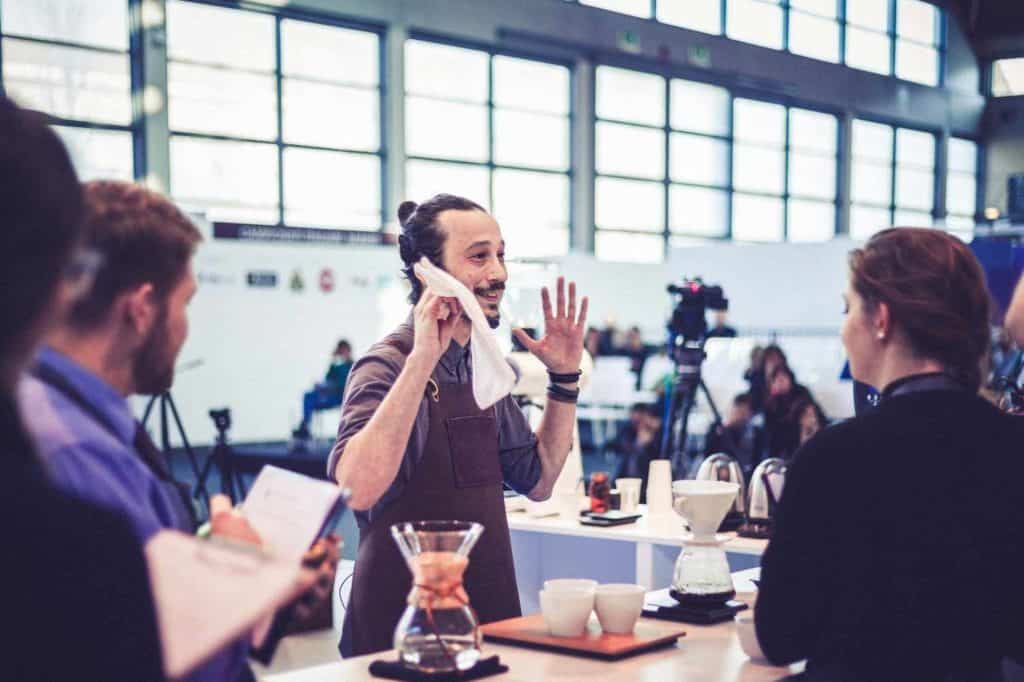 You can run into Gian Zaniol in Berlin, although the 38-year-old barista is originally from Venice, Italy. At Chapter One Coffee in Berlin is where he currently works full time. Gian has been in the speciality coffee industry for the past 6 years. You may also know he is the 2017 Italian Brewers Cup champion and came second at this year's competition.
A few questions for Gian
What led you to coffee?
When I moved to Germany I spent 2 weeks searching for a job and during this research, my girlfriend Ann-Kathrin encouraged me to try to work in speciality coffee. She took me to a coffee place called Godshot in Prenzlauer Berg, which became my second home for a while and where I got in touch with specialty coffee for the first time. Before Berlin, I knew nothing about the third wave. I always had a big passion for coffee, but I never thought it could be a job with so many satisfactions.
Could you describe the moment or situation that made you decide to become a barista?
It's something like 15 years that I have been working behind the counter, but after I got my first job in speciality coffee, I fell in love with my profession anew, in a completely new, totally different way. A way of working that considers quality in the first place and as the most important target offered me a world of new possibilities. I understood that coffee was my future.
What is the funniest thing that you have experienced behind the bar?
I think the approach of people with smartphones is super funny. Very often I see people in a group that don't talk to each other for hours.
Can you recall any embarrassing moment?
A guy was flirting with a girl and he didn't see his girlfriend who was looking at him from the outside. The fight and humiliation of this guy was a rough moment.
What would you do if you were not working in coffee?
I would probably be working in a record store.
What is an unusual habit or hobby that you love?
I love to sing very loudly when I'm riding my bike and to see the reactions of the people around me. I like to make people laugh.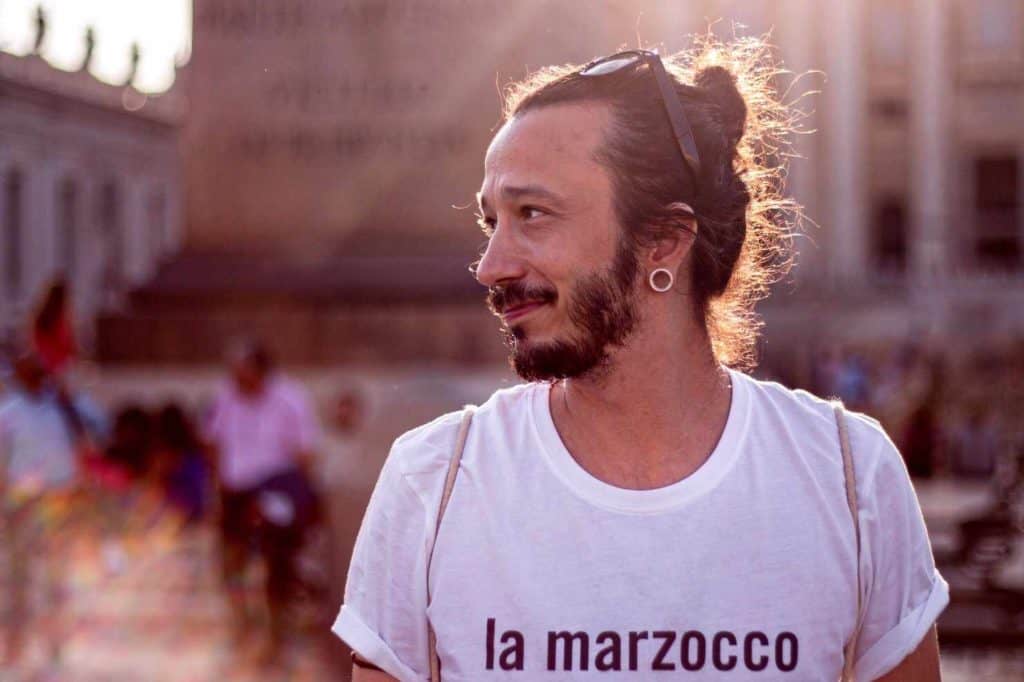 What are some bad recommendations you hear often in your profession? What is your piece of advice for anybody starting a career as a barista?
The bad recommendations I hear often, unfortunately, are about bad attitude and arrogance of some baristas as well as long waiting times. This is not very cool and does not help the speciality coffee scene. Everyone, whether he knows about speciality coffee or not, should always be welcomed and be treated nicely, otherwise, how is it possible to win people over to this scene?!
I saw many people doing this job only to earn money, only to have a job and often these people are unhappy. What I think about being a barista is easy: to me, it is the best job in the world, but I chose it and that's the point. You have to do something you really like and then there is a lot to do and to study. Be humble because you can learn something also from a guy who started to work yesterday, be curious and try everything. Last but not least talk with your customers and try to understand them, it's the key of your success.
Looking back, what one thing would you wish to know when you were starting to work as a barista?
That I had to learn everything from the beginning.
What qualities set a good and a great barista apart?
A good barista is someone who knows how the job works, someone who has good skills and knows how important our customers are; a great barista is someone who has all these qualities and it is clear from the first moment you enter the shop that he/she loves the job he/she is doing. And for this reason, this barista wants to share his knowledge with everybody, always trying to improve his/her skills. A great barista to me is someone who puts himself in his job.
If you have a bad day at the cafe, what helps you to handle it and provide good customer service?
I treat every single customer the same way I would like to be treated when I'm in a coffee shop, I love to talk with my guests and to have a nice atmosphere. If you have this and a good team it is pretty hard to have a bad day. For us customer service is absolutely fundamental, with kindness and a bit of know-how, people usually don't mind waiting. If they know you are doing your best, they even understand if there is a logistical problem.
What is the one thing that you would miss the most if you could not work as a barista/in coffee anymore?
I would miss for sure to be in touch with so many people, the easy talking with my favourite customers on the lazy winter days, talking about coffee all the time, basically, I would be missing everything of my job.
Imagine the perfect day in your city. Perhaps you have an old friend visiting. What would be top 3 to 5 activities or places you would show them?
A Little Coffee Tour: Chapter One, Bonanza Coffee Roasters, Populus Coffee, Ben Rahim, The Barn Roastery …but the list can be much much longer.
I would also go to the Wannsee lake, bring them to a concert (Rock'n'Roll concert), and wait for the sunrise sitting on a riverside.
What do you consider some of the best experiences you have had in coffee so far?
Winning the Brewers Cup in Italy last year and making the second place this year completely changed the way I think about coffee now. The World Brewers Cup was an incredible experience, I met so many people which I'm still in touch with. But what I really consider the best experience of the last 6 years is working at Chapter One, they changed my life and I'm so glad.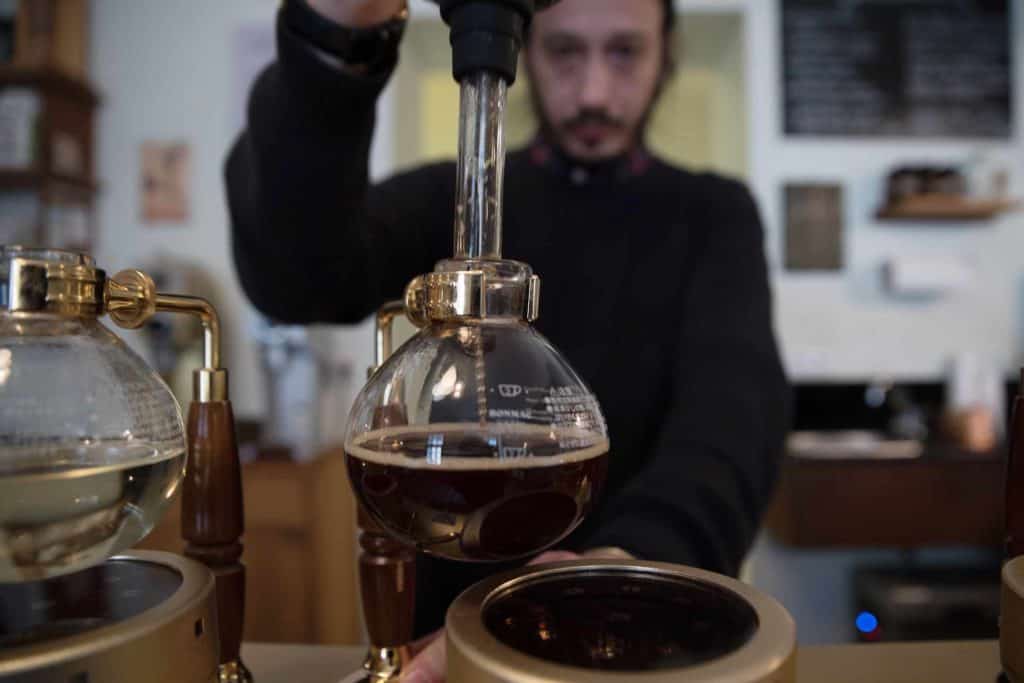 Quick Fire Questions
Would you serve filter coffee with milk, if asked for it?
Yes
Do you ever take sugar with your coffee?
No
Espresso or Filter coffee?
FILTER!
Do you aim for Sweetness, Acidity, or Body?
Sweetness
Milky or Black?
Black
Slurp or Spit?
Slurp
Sit in or Take Away?
Sit in
Cake or Pastry with your coffee?
Cake
What is your wifi password in a cafe?
No internet