An astounding 18 years in the hospitality sector and finally since 2 years with his own place focusing on specialty coffee – Pedro Reale, the owner of Black Bird Coffee Corner.
Pedro, born in Argentina is trying to make a difference and bring the hospitality spirit to the most tourist part of Barcelona right next to the iconic Sagrada Familia. The area is for years occupied by big coffee and fast-food chains and Blackbird Corner offers a refuge for us coffee geeks who are always on the lookout for quality and specialty beans.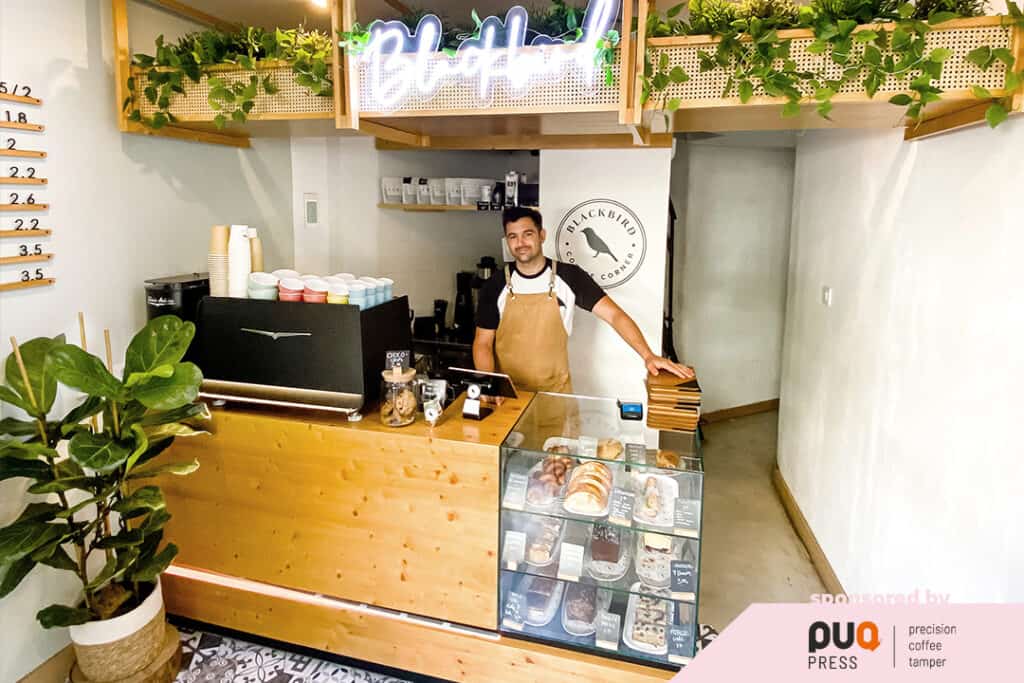 Pedro, what is your first memory with coffee? 
There are several moments that I remember since I was a kid, my mum and my grandma used to do a pour-over coffee every day with cookies, those mix of smells will remain etched in my memory.  
Could you describe the moment or situation that made you decide to become a barista and a cafe owner? What was the reason behind your decision to open Blackbird Coffee Corner?
I've always been close to coffee, but I never got fascinated until I discovered the speciality coffee industry. I get stunned by the movement around the world from the plant to the cup and little by little started to get more knowledge, trying new coffees, and getting insights about different brew methods.
Then COVID brought me the opportunity to think more about what I can do, what's next and where I want to be, so I put full focus to open Blackbird Coffee Corner and start a new chapter in my life.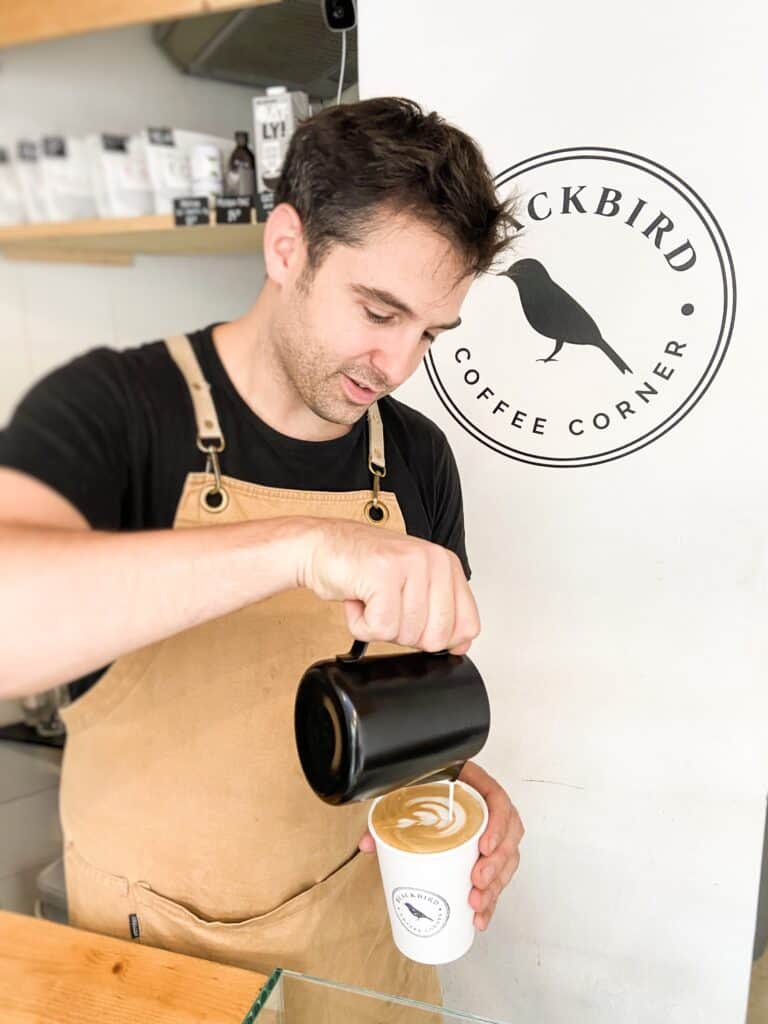 Tell us a bit more about Blackbird Coffee Corner 🙂
Blackbird Coffee Corner is located a few steps next to Sagrada Familia in Barcelona. It is a corner to enjoy some coffee drinks, try our homemade pastry, including gluten-free and vegan options.
Since the opening, I've been putting every single minute and my entire energy into this project.
In the beginning, it was not easy due to restrictions, max capacity, and people's fears, but I was always optimistic to create a new space dedicated to getting to know the speciality coffee in the Sagrada Familia neighbourhood. 
Day after day we are continually growing, learning, and showing speciality coffee to locals and tourists.
If a career in coffee was not an option, what job would you be doing?
Hotel or something in the food and beverage industry for sure. I have a degree in Hotel Management and that is what I love to do.
What is the funniest thing that you have experienced behind the bar? Can you recall any embarrassing moments?
Being a barista is full of good moments, every day in Blackbird is so much fun, there is a community of neighbours waiting for the opening to share with us this experience… The opening was very embarrassing – with new space, new tools, and so many people waiting for their coffee, it was a mess but I learned a lot from those days.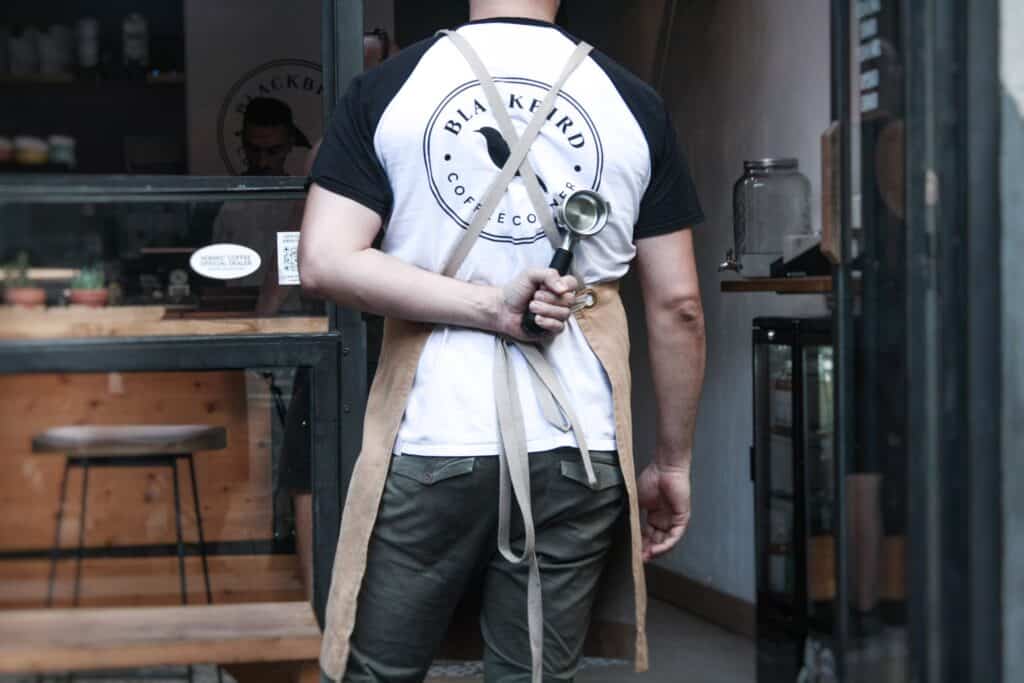 Do you have an unusual habit or hobby that you love?
As an Argentinian, every Sunday off I love to drink mate. I love coffee but this is a drink that I enjoy very much at home.
How has your life changed since you opened your own cafe and started to work behind the bar?
The moment that I made the decision to open my cafe, it was a complete change. I'm giving my entire time, effort, and passion to this as I never did it with other jobs. I constantly think, improve and find new things to be more professional.
What has been the best experience you have had in the speciality coffee industry so far?
Meet people, It's amazing how many people you can meet every single day sharing this passion for coffee.

Quick Fire Questions for Pedro Reale:
Would you serve filter coffee with milk if asked for it?
Yes, sure!
Do you ever take sugar with your coffee?
Never.
Espresso or Filter coffee?
Filter in the morning and espressos for the afternoon.
Do you aim for Sweetness, Acidity, or Body?
Sweetness.
Milky or Black?
Black.
Slurp or Spit?
Slurp.
Sit in or Take Away?
Sit in.
Cake or Pastry with your coffee?
Blackbird`s pistachio cake.
Favourite piece of barista equipment?
Naked portafilter.