Meet Kryštof Bartoň, a highly skilled barista and co-owner of Kmen Coffee Roasters. Approaching his thirtieth birthday in a month's time, with a career spanning eight years in the coffee industry, Kryštof has garnered extensive experience and proficiency in his craft.
Kryštof hails from South Bohemia, Czech Republic and currently resides in České Budějovice. Kryštof's responsibilities encompass the role of co-owner at Kmen Coffee Roasters, where he leads his team together with Lucie and Petr.
His interest in the industry came after leaving college and travelling to Canada, where he discovered his passion for coffee. Upon his return to his homeland, he commenced his journey by joining forces with the accomplished Café Datel, furthering his knowledge through courses, drills, and training.
Despite his stopover in New Zealand, Kryštof's fascination with coffee never waned, leading to the creation of their own roastery and café, Kmen. Driven by a commitment to quality, innovation, and customer satisfaction, Kryštof definitely inspires not only the Czech coffee community but way beyond.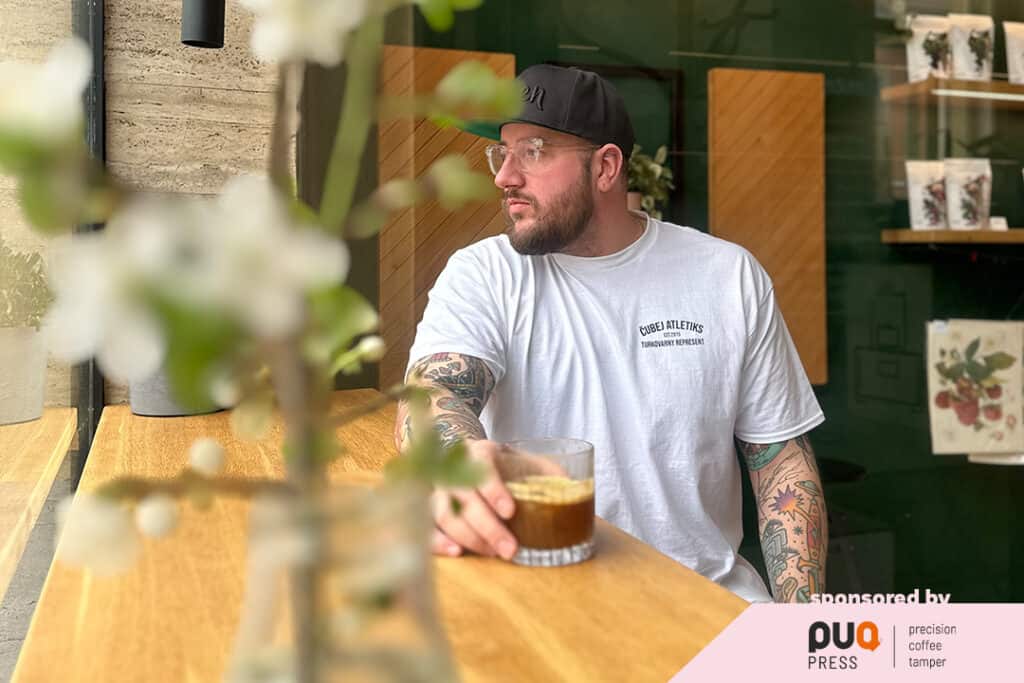 Kryštof, what is your first memory of coffee?
Drinking yucky instant coffee during high school. With real coffee, specialty coffee, I still remember the moment I drank a juicy Kenyan for the first time from my colleague Petr, around 8 or 9 years ago.
​​​​What inspired you to pursue a career in the coffee industry, and how did you get started? What did you do before coffee?
I already worked in the hospitality industry during my university studies. But after I became a college dropout and travelled to Canada, I became more into coffee. After returning, the path was clear for me. I went straight to the people from café Datel, legends from our city and started to improve, I went to courses, drills and acceleration behind the coffee machine. Since then, I never left the coffee business, even when I was living in New Zealand. Later we started our own roastery and café Kmen.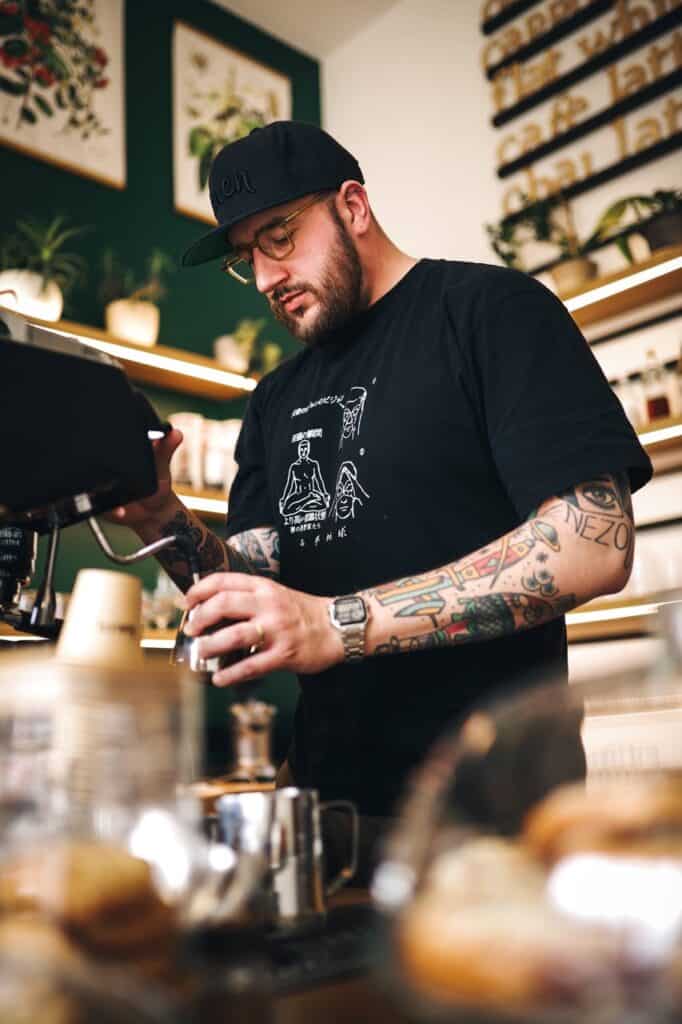 Tell us a bit about your place.
Me and my partners in crime… I mean business, Lucie and Petr started Kmen Coffee Roasters at the very end of 2021. Renovating objects in hard times of covid was really challenging, but we make it happen. We ended up with open space roastery with an espresso bar at the front.
The dominating piece of the entire place is a 15kg Giesen roasting machine. Our packaging and visuals are flowery, herbarium-like and represent fruity, nutty or any other flavour profile in our coffees. You can see the whole process. Roasting, packaging, cuppings of new samples or our own production cuppings, all in one place.
What kind of experience do you want your customers to have when they visit your place?
During my travels I learnt not to segregate and put people into boxes, so I want everybody to feel comfortable. Are you an experienced barista or coffee enthusiast? Great, tell me where you work, and what kind of filter coffee I should make you. Are you having a meeting with your granny or grandpa? Here is sugar for her latté, or extra milk for him, for his lungo.
Of course, coffee for me and my colleagues and other people from the industry is really something else. We look deeper and we know stories of the producers farmers etc. However, for most people, it is more about that pleasant moment with a friend, family, loved one, or just yourself. It's not only about a drink, it's more of a social event.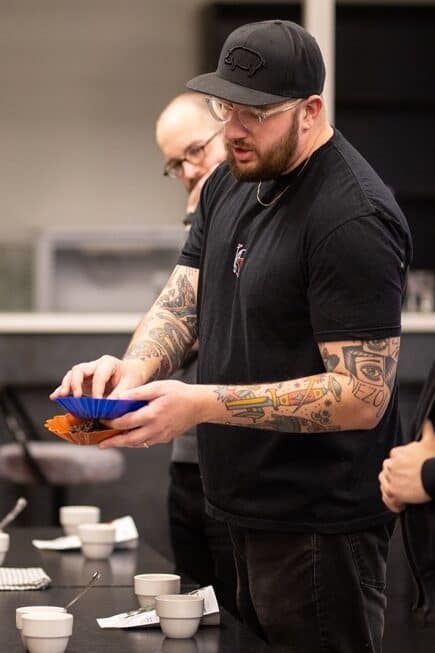 What is your favourite part of the day in your cafe, and why?
Behind the coffee machine during the morning rush. My music, the familiar faces of guests, all the orders I know right after they step in. Ask them, how are they.
Also at the roastery when cupping new samples from our importers and deciding what we should order.
How do you stay motivated and inspired to keep improving your coffee-making skills?
The Czech barista community is pushing me forward. Meeting people from different places, seeing how they are doing coffee business, sharing experiences, recipes… Expos and specialty coffee festivals are the best places to do that, in my opinion. Also, I would really like to compete again if I will find time for that. That pushes me the most in perfecting my craftsmanship.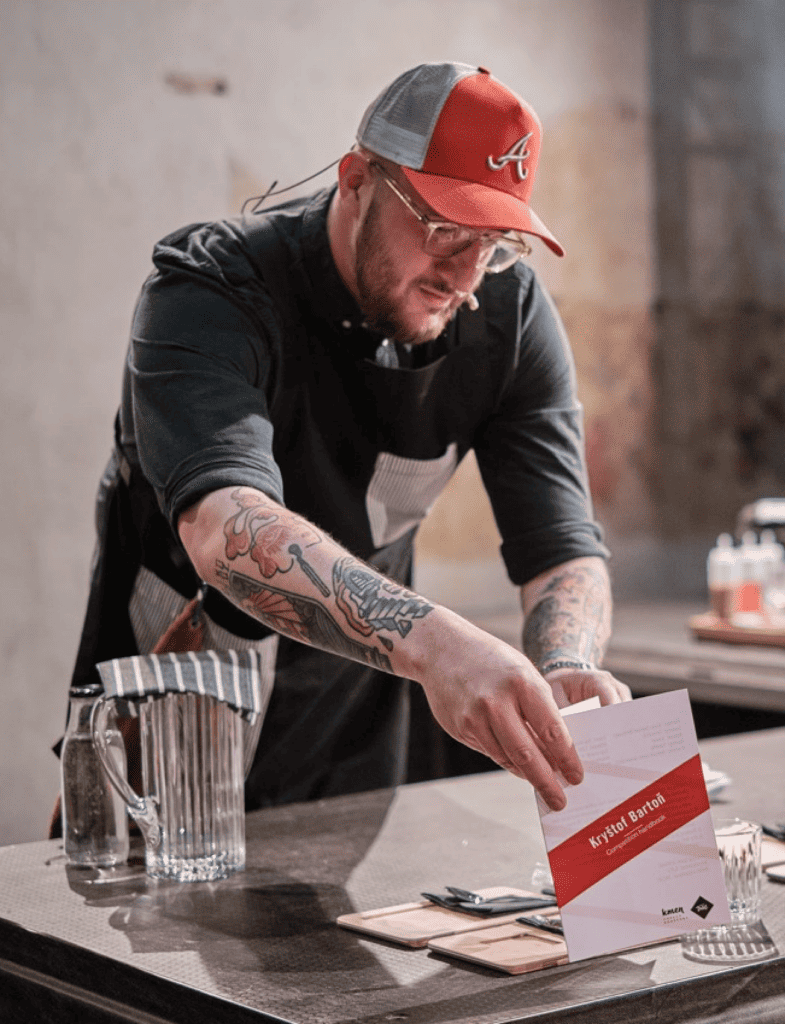 What are the current trends in cafes in your region? Are there any trends you promote yourself and would like to see more often in other places?
People started sharing more experiences together and that's great, more cooperation, more bar takeovers etc. You can create a common thing with somebody and it feels so right. From roastery's point of view is it changing your coffee (mostly on filter) a lot. Don't know how to feel about that. It's nice to know your roastery and know what to expect.
What do you think is the most important quality for a barista to have, and why?
Craft wise – CLEANING! It took me time to learn that, but keeping your machine clean, your portafilters as well, and doing that extra step of cleaning whenever it is possible, improves the taste of your shots soooo much. Also drinking tons of coffee. Elevating your pallet, noting the taste notes, training your senses. And hospitality, empathy for people, and knowing boundaries with your guests. But that's something, you can't learn that easily. You have to have it in you a little.
What kind of community do you hope to build around your cafe, and how do you plan to foster that sense of community?
Tough one. Is it something you can influence, or is it something organic? You can't choose the people who come to your café, they choose you and that's the beauty of it. Knowing they decided to come to you, that's a blessing for me! We are trying to have more public cupping sessions so we can give back to the community. Also, engage with cyclists, we like cyclists and bikes!
What coffee challenges are you looking forward to? Any new projects or collaborations?
We are working on project "2" for quite some time now, so hopefully, this will be ready soon. And in the future? We have some plans but about that later.

Quick Fire Questions for Kryštof Bartoň:
Would you serve filter coffee with milk if asked for it?
Should I go grab cream from the back as well for you?
Do you ever take sugar with your coffee?
Only in the form of simple syrup for my iced cappuccino. As a treat!
Espresso or Filter coffee?
Espresso.
Do you aim for Sweetness, Acidity, or Body?
Balance. But if I have to choose: sweetness and body
Milky or Black?
Black.
Slurp or Spit?
During big cupping spit, on other occasions one sip.
Sit in or Take Away?
SIt in.
Cake or Pastry with your coffee?
A savoury pastry.
Favourite piece of barista equipment?
An extra portafilter with a blind basket, so I can clean showers of the espresso machine every few minutes. Cleaner the better.