Our Barista Stories series has been long in the making. Since our first visits to cafes around Europe, we have met many amazing baristas who have had a number of interesting stories to share. We love the speciality coffee community exactly for the people building it and are thrilled to introduce some of those individuals to you.
Baristas truly are the ones who contribute to the atmosphere in the cafe massively and are the key reason why we'd revisit.
Read on to meet Aurélie Monnin, brewing your daily cup of coffee at Holybelly in Paris.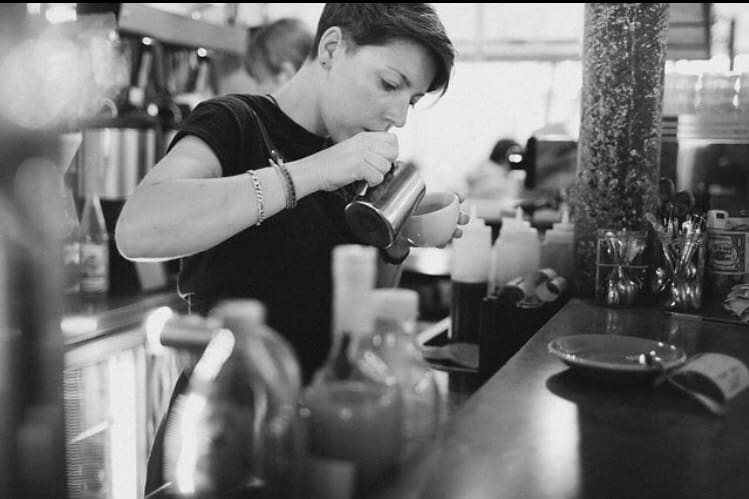 Aurélie Monnin (27) is the Head Barista at one of our favourite brunch cafes in Paris, Holybelly. She has worked in coffee full-time for three years now, travelling the world in the meantime and discovering that being a barista is the perfect job for her.
A few questions for Aurélie
Do you remember your first memory with coffee?
Oh yes, [it was] during my second travel in Australia, when I met my roommate in Melbourne, around a cup of coffee. He's a total Coffee Lover at home and a regular of several coffee shops in town. This is how I started to take up my first habits with coffee in this city and I still want to discover more.
Could you describe the moment or situation that made you decide to become a barista?
At the end of this year, while travelling around Australia, I was thinking about a job that would allow me to find work anywhere and continue to travel. Barista was then obvious, I'm a morning person who likes to walk the city before I wake up to go to work. I like to see regulars come the morning after morning, take their favourite coffee. Exchange a few words and especially smiles. [It] they seem to be starting their days well, so do I. Once back in France, I fell on the Holybelly restaurant and then told my friends: "If I should be a Barista at a place in France, it would be here."
What is the funniest thing that you have experienced behind the bar? Can you recall any embarrassing moment?
It was a Sunday morning like the others, I had been working for several months already at Depot restaurant in Auckland, created by Al Brown. When I prepare and run flat whites to a table of four guys. So I was super friendly with my French accent, we joke, I probably blush a bit and come back behind the bar. That's when my manager asks me if I know who these guys are. "Euh, no!" I said. They were very famous All Blacks players.
What was the most memorable coffee in your life, and was there one that you'd like to forget?
The most memorable coffee was during this winter, La Brûlerie de Belleville told me about their new arrival, a coffee from Honduras (Santa Barbara), Neptaly Bautista. Tasting notes; candied fruits, honey, apple and exotic fruits with complexity and balance.
If a career in coffee was not an option, what job would you be doing?
Probably I'd come back to fashion design and create outdoor and travel clothing, mixed [genders], comfortable and practical for every day. What is certain, I'd be travelling first and foremost for odd jobs for several years. Fortunately, I found myself quickly.
Do you have an unusual habit or hobby that you love?
Oh yes and it's very simple, I love to walk the streets of a city that I know or discover, to come by a cosy coffee shop, to sit down with a coffee of course and a little something to eat, and contemplate, sometimes for hours, everything that surrounds me. I write, draw and especially get carried away in my thoughts.
Are there any bad recommendations you hear often in your profession? What is your piece of advice for anybody starting a career as a barista?
In France, the profession of the barista isn't widely known, including people outside the restaurant industry. So, people quickly confuse barista with a wine sommelier. I rectify before they ask me for advice on wines, I'm only an amateur. But it is funny sometimes.
Just [let yourself] be surprised by the taste of coffee, drop these prejudices and start learning every day.
Looking back, what one thing would you wish to know when you were starting to work as a barista?
That I could become addicted to good coffee.
What qualities set a good and a great barista apart?
For me, it's the consistency and rigour that make the difference, being able to adapt to the events that can happen, to the different places, to each colleague. Not to mention to share and continue learning.
When you have a bad day at the cafe, what helps you to handle it and provide good customer service?
My colleagues are always there, we support each other. It's comforting.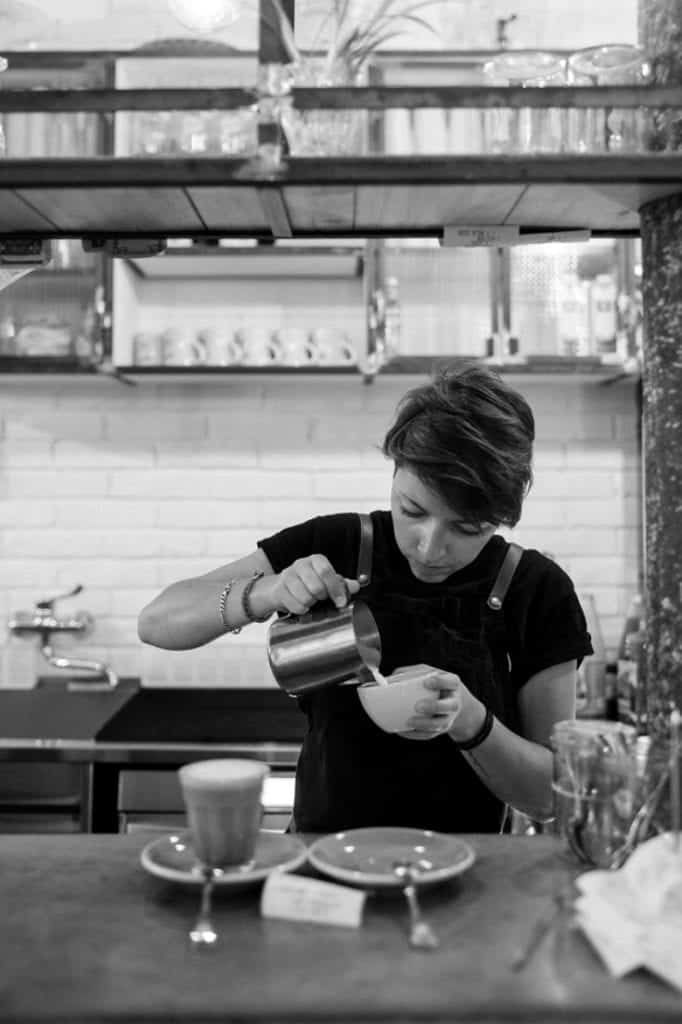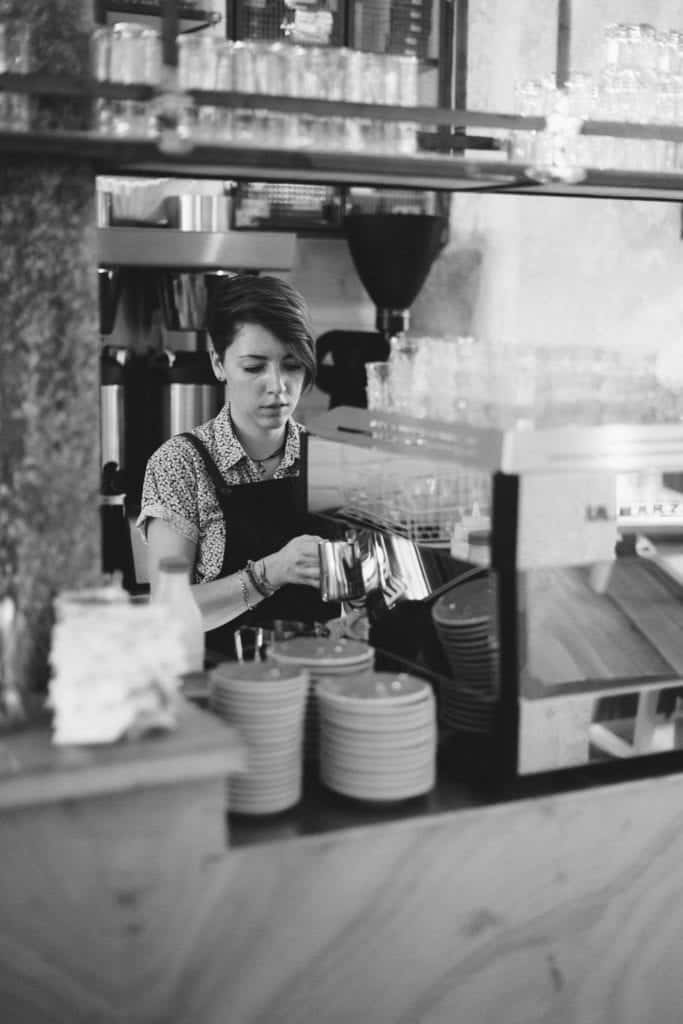 What is the one thing that you would miss the most if you could not work as a barista anymore?
Being able to have fun as a barista. I like the challenge of working alone sometimes, knowing how to organize and maximise all these actions to be efficient and to be able to serve a full restaurant. It's like a dance behind the bar. Holybelly also found a nice nickname for me: Octopus, and I love it.
What cafes and roasters make the top-five list of places to visit in your city? Where would you take your visitors?
Do I have the right to quote Holybelly? Not just because I work there, but because it's a winning combo between good quality service and products, always with a touch of humour. La Brûlerie de Belleville roastery, recently installed in their big and new space. They are innovative and always listening and passionately sharing their coffee knowledge. Télescope, who serve a well-calibrated espresso or AeroPress, very good to drink on the bench in front of the shop during the summer. Cafe Loustic, which has got good and chill atmosphere to grab a seat and a cup of speciality coffee, located close to Le Marais. Mino, nothing about coffee, but just my spot at the moment to go out, drink a very good cocktail and share some food with friends. It is a new bar in Paris at Menilmontant.
What has been the best experience you have had in the speciality coffee industry so far?
Recently, I met Benjamin Paz, a coffee producer from Honduras. I have always loved coffee from this country, but I must say that knowing the story of this man with a family and human values, his career and those of his employees/friends touched me deeply. And to be sincere, it gives his coffee a different taste.
Quick Fire Question
Would you serve filter coffee with milk, if asked for it?
Yes.
Do you ever take sugar with your coffee?
No.
Espresso or Filter coffee?
Filter coffee.
Do you aim for Sweetness, Acidity, or Body?
Sweetness.
Milky or Black?
Black.
Slurp or Spit?
Spit.
Sit in or Take Away?
Sit in during winter & Take Away in summer.
Cake or Pastry with your coffee?
Pastry.
What is your wifi password in a cafe?
enjoyyourcoffee