Modest, humble and champion very often paired together sound like an oxymoron however Agnieszka Kruk is a great example of a very shy, down to Earth… award winning and champion title snatching barista. She represented Poland both on the World Cup Tasters and World Cezve/Ibrik Championships.
Agnieszka was born in a small town next to Olsztyn, Poland. She studied urban planning in Olsztyn and afterwards moved to Poznan where she started her barista career. After a while Aga moved to Berlin where she did several gigs and currently works as a barista in Companion Tea and Coffee. As she says herself: "I really enjoy my current workplace due to the possibility of work with not only specialty coffee but also high quality tea".
Agnieszka not only works behind the bar but also advises coffee business, is a coffee trainer and coach as well as an enthusiastic and curious researcher.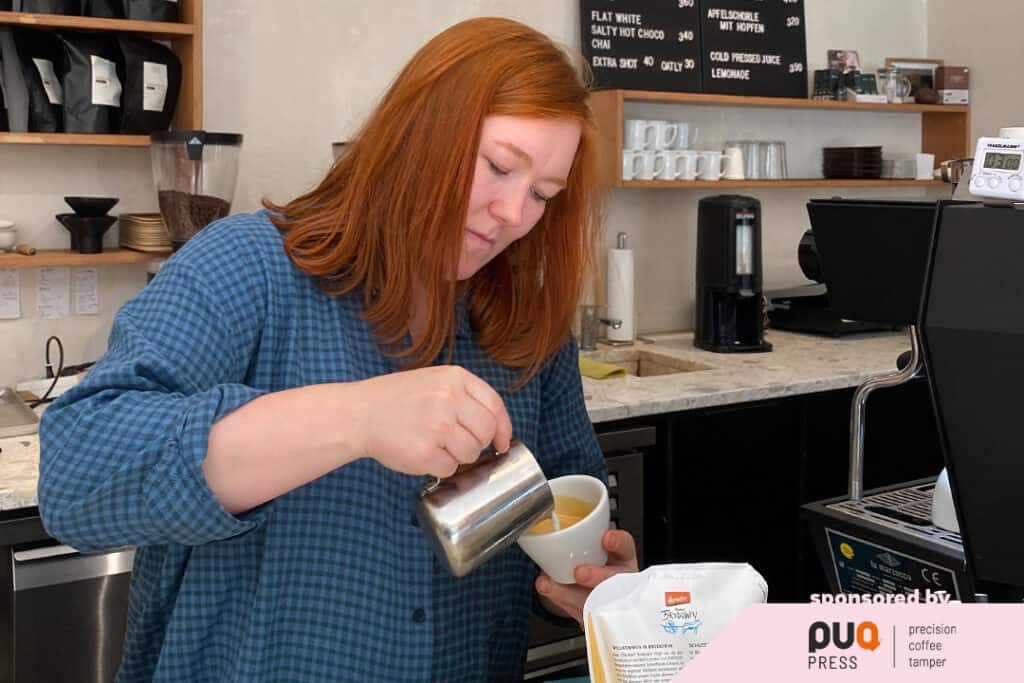 Agnieszka, what is your first memory with coffee? 
My first memory of coffee of course comes from my family home, where my parents would sit around the table after dinner and drink strong black coffee brewed in a glass. Of course I  always wanted to join this daily ritual. So after a while, they started making me decaf "grain coffee" – a drink made from roasted grains. Years later, you can still always find such "coffee" in my kitchen cabinet.
Could you describe the moment or situation that made you decide to become a barista?
It was not so much a moment but a series of events. Where I studied, the profession of a barista was quite unknown and when I started brewing filter coffee for myself as a student I discovered that there was a lot of scientific knowledge behind it that I didn't have much access to. So I became a barista just to understand the scientific part of the whole coffee brewing process.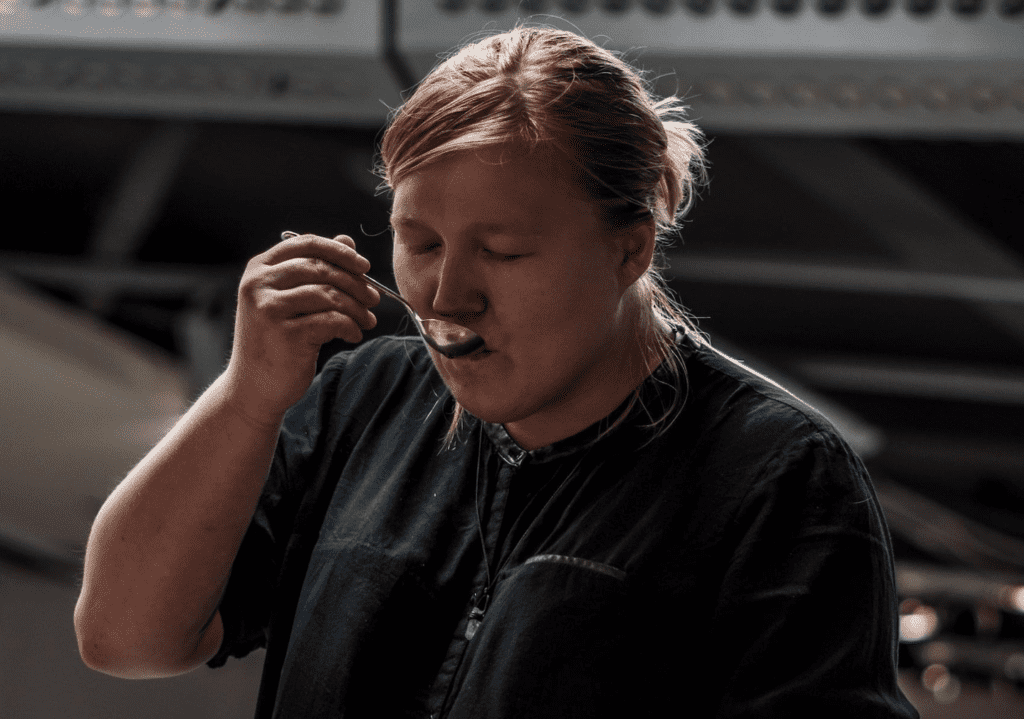 Can you recall any embarrassing moments from working behind the bar?
I had many embarrassing moments but one of them became one of the first lessons on how to speak more politely and diplomatically in public. A customer came into the coffee shop the other day and started asking me quite a lot about one of the coffees, so I expressed my opinion on the pros and cons of the beans, mentioning that I wasn't a fan of that particular roasting style. In the end it turned out that I was saying all this to the person who roasted that coffee. As a barista new to the industry, all I could think about was getting as far away, change the country and identity. So embarrsaing!
If a career in coffee was not an option, what job would you be doing?
There is a good chance that I would work in my field of study as an urban planner.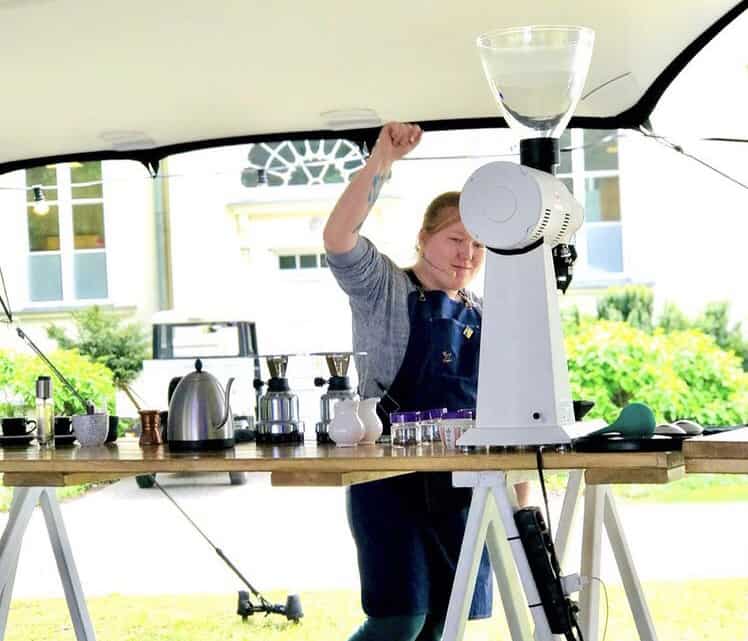 Do you have an unusual habit or hobby that you love?
Definitely, outside of work I very much enjoy dancing Argentinian tango and recently also I started to create my own perfumes. It's fascinating and I can use all of my cup tasting and sensory knowledge in a new field.
What is your piece of advice for anybody starting a career as a barista?
Hmm… I would say be curious and challenge yourself. Try as much as possible to keep learning and improving. This will keep you happy in a job that can sometimes be very repetitive and mundane.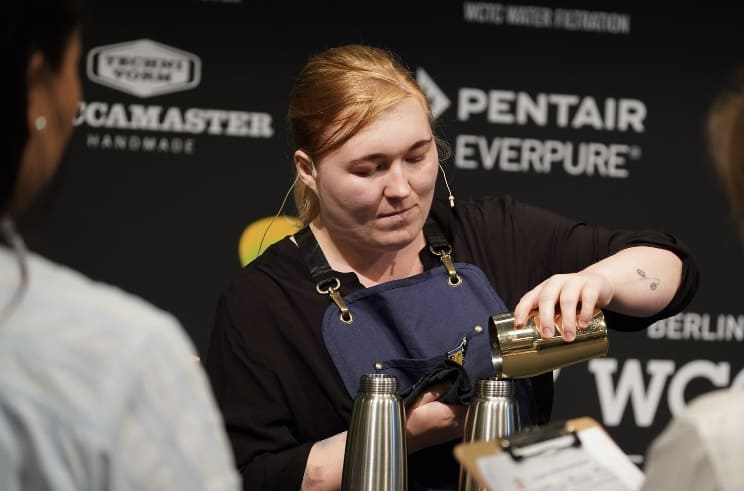 What's the most common question you get asked behind the bar or during training? How do you answer it?
How I manage to speak so much to people and appear engaged and cheerful. To be honest I haven't found an answer to this question yet 😀
What is the one thing that you would miss the most if you could not work in coffee anymore?
Definitely weekend rushes. I love the vibe, challenge, buzz and sense of achievement and satisfaction at the end.
What is the best thing for you in the Cup Tasters Championship and what is the best about the Cezve/Ibrik Championship?
I love Cup tasting for the transparency of this competition and for the opportunity to practice focus and discipline like no other competition. With the Cezve/Ibrik Championships I can overcome my weaknesses in public speaking and at the same time promote this unique way of preparing coffee.

Quick Fire Questions for Agnieszka Kruk
Would you serve filter coffee with milk if asked for it?
Yes of course. 
Do you ever take sugar with your coffee?
No.
Espresso or Filter coffee?
Filter.
Do you aim for Sweetness, Acidity, or Body?
Balance.
Milky or Black?
Black.
Slurp or Spit?
Slurp!
Sit in or Take Away?
Sit in.
Cake or Pastry with your coffee?
Cake all the way.
Favourite piece of barista equipment?
A cupping spoon.