Our Barista Stories series has been long in the making. Since our first visits to cafes around Europe, we have met many amazing baristas who have had a number of interesting stories to share. We love the speciality coffee community exactly for the people building it and are thrilled to introduce some of those individuals to you.
Baristas truly are the ones who contribute to the atmosphere in the cafe massively and are the key reason why we'd revisit.
Read on to meet Thomas Elliott, brewing your daily cup of coffee at Prufrock Coffee in London.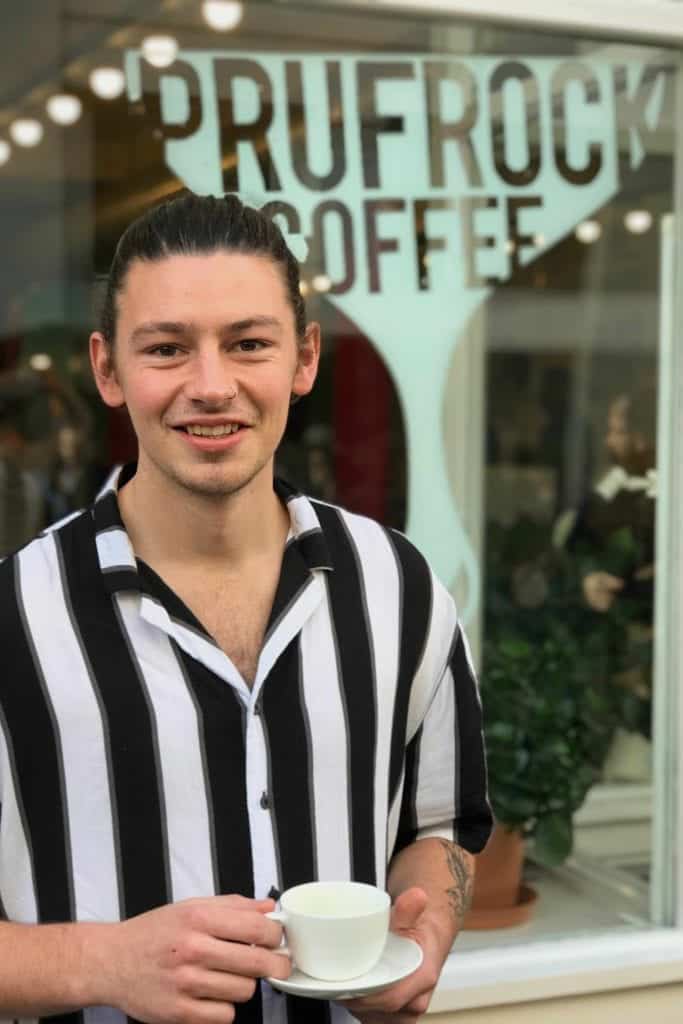 Thomas Elliot is a 24-year-old barista who, after having worked at London's Milk for a few months, went back to Sydney, Australia, to return to London three years later, landing a job at one of the most iconic speciality cafes, Prufrock Coffee. He works there full-time as the Weekend Manager and barista. Out of his seven years in hospitality, he has worked four in the speciality coffee industry.
A few questions for Thomas
What led you to coffee? Could you describe the moment or situation that made you decide to become a barista?
I've been in the hospitality industry since I was 17, so I have always found food, drinks and the whole dining experience very fascinating. But it wasn't until I was working in London (2014) for a few months at a cafe called Milk that I got a full grasp of how interesting and exciting coffee could be. I was drinking things I never even thought was possible and it changed my whole perception of coffee. Moving back to Sydney, I wanted to learn more and more and luckily got a job lined up at Reuben Hills where I ended up staying for 3 years and took over managing during my last year! Even though I never worked directly behind the espresso machine here, I learnt more than I ever could about coffee and customer service that gave me the motivation to keep pursuing more.
What is the funniest thing that you have experienced behind the bar? Can you recall any embarrassing moment?
There are a fair few, to be honest with you! For those who know me, I tend to be a pretty clumsy person which is extremely unfortunate when you work in hospitality, so you can only imagine some of the incidents I have had! All which are very embarrassing but luckily I have had some top people around me to get me through.
What would you do if you were not working in coffee?
I probably would still be studying! I did a few years studying sports science and high school teaching on and off before I made the leap to full-time coffee. If not I would probably be exploring other areas of the industry, I spend as much time as my bank account allows me exploring restaurants and bars which is something I am extremely interested in!
What is an unusual habit or hobby that you love?
Not unusual, but myself and my housemate (and workmate) Sam, love football. So for two Aussies in London, it's a dream to be in the same time zone as European football, which meant we had to get Tottenham memberships and get on as many football games as possible!
What are some bad recommendations you hear often in your profession? What is your piece of advice for anybody starting a career as a barista?
One thing I do find is that I sometimes struggle to convince people that the path I am going down can lead me somewhere. I would want people starting out in the industry to just believe, be confident in themselves. I know it took me a long time to tell myself that the choices I made for my career were the correct ones, but I look back now and don't regret a thing! The industry is such an amazing thing to be a part of and as long as you are confident in yourself and willing to push for more, you can pretty much go anywhere!
Looking back, what one thing would you wish to know when you were starting to work as a barista?
Just how much there is to know and learn! I find myself learning something new every day, whether that be with coffee itself or just the overall industry. This does make things very exciting though, and something that makes it very unique from a lot of other professions.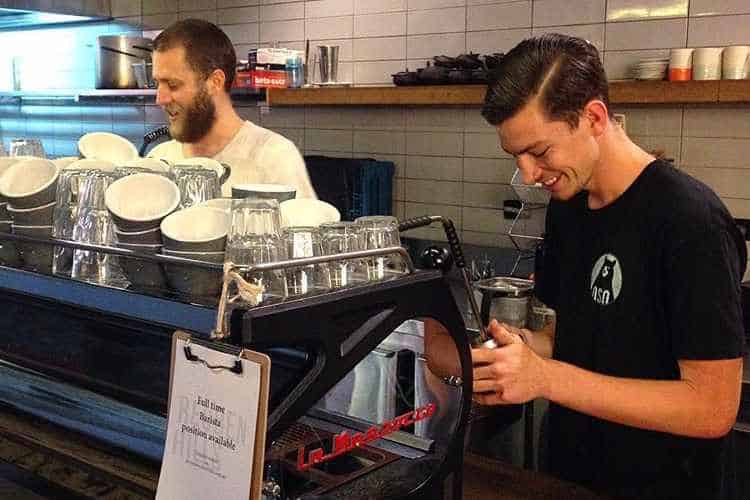 What qualities set a good and a great barista apart?
Cleanliness and service are two big ones for me. Being able to constantly clean, tidy and organise the bar around you whilst still being able to serve great coffee is such an important aspect of working behind a bar.
At the same time, you want to be treating customers the way you would want to be treated when visiting a cafe for coffee and food. There's no point providing great products with poor service, it doesn't end well!
What is the one thing that you would miss the most if you could not work as a barista/in coffee anymore?
Probably the biggest thing for me would be being part of such an amazing culture. A lot of my life revolves around coffee, hospitality and the people involved in it. All my friends are either in the industry or customers who I have met along the way, so the idea of leaving such a tight-knit group is daunting and something I don't plan on doing.
Imagine the perfect day in your city. Perhaps you have an old friend visiting. What would be top 3 to 5 activities or places you would show them?
If I had to choose a perfect day for someone to visit, It would be a sunny Saturday in the middle of summer! We would start the day by heading early down to Milk in Balham to smash some brekkie and coffees, definitely an all-around favourite – food, coffee and service! We would probably make out for a spot of shopping and a walk around Seven Dials and Neals Yard, some really great clothing stores around this area which I wish I could just live in!
An afternoon coffee can never hurt, so from here a trip to Rosslyn Coffee is a must for a quick spro or filter to keep you going via the magnificent St Paul's Cathedral! Hop on the tube and we make our way to catch the last couple of hours of Broadway Market, even if it's just a potter, pick up a beautiful bottle of wine from Noble Fine Liquor and head to London fields for an evening picnic to finish off a perfect day! (If you are still up for more after this, a cheeky pint at Mother Kellys or Mikkeller is highly recommended).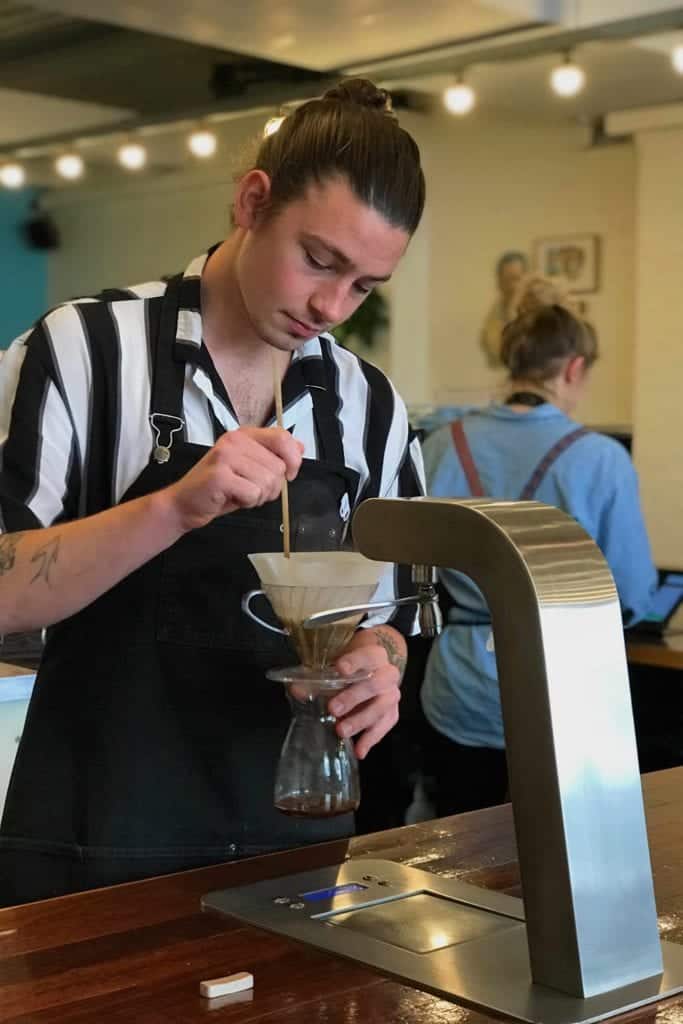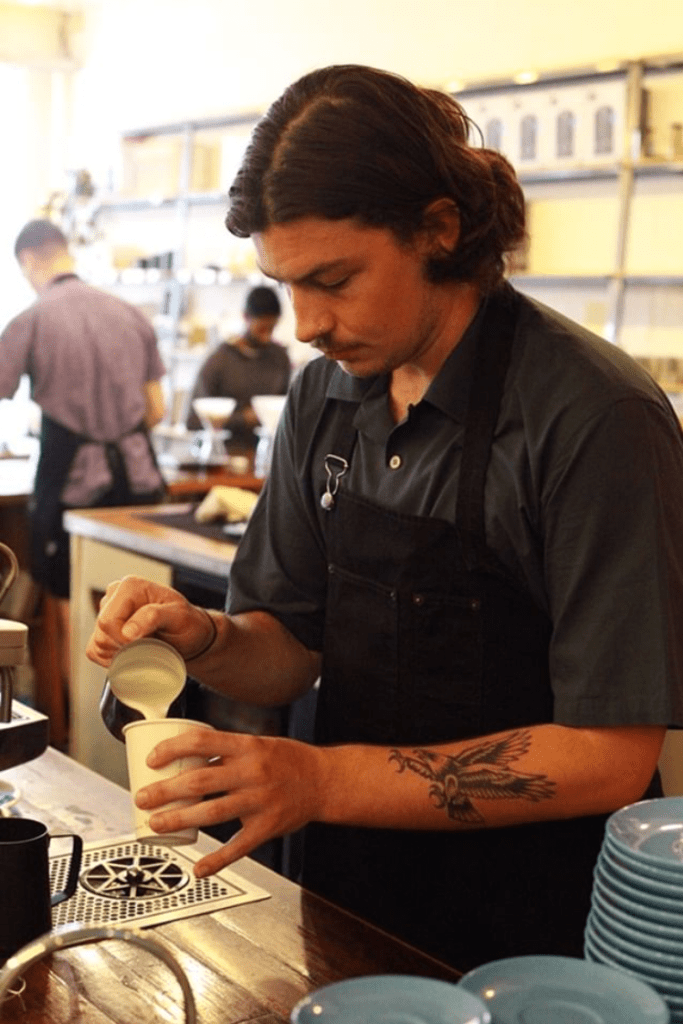 Quick Fire Question
Would you serve filter coffee with milk, if asked for it?
Yes!
Do you ever take sugar with your coffee?
Nope.
Espresso or Filter coffee?
Filter.
Do you aim for Sweetness, Acidity, or Body?
An overall balance would be perfect, but I love a sweet coffee!
Milky or Black?
Black, but I do treat myself with a milky every now and then.
Slurp or Spit?
Spit.
Sit in or Take Away?
Sit in all day!
Cake or Pastry with your coffee?
Pastry, one Kouign Amann, please!
What is your wifi password in a cafe?
Open network innit.