Our Barista Stories series has been long in the making. Since our first visits to cafes around Europe, we have met many amazing baristas who have had a number of interesting stories to share. We love the speciality coffee community exactly for the people building it and are thrilled to introduce some of those individuals to you.
Baristas truly are the ones who contribute to the atmosphere in the cafe massively and are the key reason why we'd revisit.
Read on to meet Mike Jordan, brewing your daily cup of coffee at The Bath Coffee Company in Bath.
You will find Mike Jordan on the bar of The Bath Coffee Company in the historical city of Bath. Originally from Essex, the 23-year-old has worked his way up to the position of a Head Barista in just a year and a half in the coffee industry. If he is not on the bar, he pursues various music-related endeavours.
A few questions for Mike
What led you to coffee? Could you describe the moment or situation that made you decide to become a barista?
I think what really led me to coffee was when I started University and gained an interest in food and drink and what amazing flavours were out there. I started experimenting and cooking interesting meals for myself having left home and through that became fascinated with different tastes, which are so prevalent in coffee. The idea that the coffee could taste completely different depending on who made it, where the beans were from, the type of coffee you had etc really excited me and I wanted to learn more and be a part of it.
What is the funniest thing that you have experienced behind the bar? Can you recall any embarrassing moment?
So many funny things have happened at that cafe, it's a bizarre world full of hilarious people. We use old coffee beans as decorations around the cafe that are in little jars with flowers poking out the end. They've been there for a good two years now. I remember when one customer took it upon themselves to assume that the one on the counter was a taster. Before I even had a chance to stop them they'd shoved it into their mouth. Not only that but they looked at me, nodded and went 'Mmmm, tasty'.
What would you do if you were not working in coffee?
I'm currently in a band called Dame Jean and we're always rehearsing, gigging and making music which is one of my biggest passions. We all get on so well and it'd be amazing to go on tour and play our music to someone other than our Mums… I've also just started writing music for TV as well as doing sound design for various plays, where I get to be really creative and make weird and wonderful noises. I guess I would just be doing more of all those things if I gave up the barista life! I'd probably do some travelling in between in at all too.
What is an unusual habit or hobby that you love?
I collect beer mats. I guess that's a hobby? I mean, I've been told it's unusual that's for sure. Really it's just an excuse to go to the pub.
What are some bad recommendations you hear often in your profession? What is your piece of advice for anybody starting a career as a barista?
'You should tell the customer how to drink their coffee.'
I mean, I get it. There are certain dos and don'ts when it comes to coffee in order to really get the best taste out of. But if someone wants to put 3 sugars in their coffee, then just let them. It's all about giving an individual experience to every customer. Some want to learn, some want to be guided, some want to tell you their life stories and some will just ask for a 'normal coffee'.
My advice to anyone starting a career as a barista is to learn, show off your knowledge, and most importantly be yourself. I think the great thing about being a barista is that you get to be you while on the job. Let your personality shine and customers will feel way more at ease, relaxed and up for a chat.
Looking back, what one thing would you wish to know when you were starting to work as a barista?
Not to panic when it gets busy. Most people understand that you're doing everything as quickly and as efficiently as you can and you've just got to take it in your stride. Oh, and of course, just smile through it.
What qualities set a good and a great barista apart?
Attention to detail. To be a great barista you've got to really give your time and efforts into each coffee and each customer. Make sure you get the right grind and extraction along with getting the milk the right consistency for the drink (with some latte art too to make it look pretty). It's amazing how changing each step even slightly makes such a difference to the end taste. People will ask for weird variations of drinks to suit them and if you've got the means and ingredients then be more than accommodating. Be willing to explain the drinks that you serve too as a lot of people still don't know the different drinks available in the speciality world. It's important to not make them feel silly for asking questions. The more they know, the more likely they are to ask for the drink they really want.
If you have a bad day at the cafe, what helps you to handle it and provide good customer service?
Sometimes it feels like everyone has got it in for you but it's important to remember that everyone has their own problems and you can't be too quick to judge. You don't know what they're going through. People may be rude or try and aggravate you but you've just gotta kill them with kindness! If you're friendly and chatty then people generally respond well. And if they don't, I just stay professional. Honest.
What is the one thing that you would miss the most if you could not work as a barista/in coffee anymore?
The range of people you meet on a day-to-day. I get such a range of customers in the cafe, some of which I've become great friends with and would not have met if it weren't for our shared love for the gift that is coffee. Young, old, tourists, locals, it's all great. It's amazing how happy people get when they receive a decent cup of coffee, I'd definitely miss that part too. It's great being able to taste different coffees all the time, from all over the world. You get to learn which flavours are more prevalent from certain areas. I'd also miss Adrian (my boss) hugely. He roasts all the coffee himself at Square Root Coffee and has a passion that's second to none. We've always got on really well and I'd definitely miss working with him on a regular basis. The atmosphere he's created at the cafe is great, and one of the biggest attractions to all the regulars.
Imagine the perfect day in your city. Perhaps you have an old friend visiting. What would be top 3 to 5 activities or places you would show them?
First off it's got to be sunny. Bath is just beautiful when it's sunny and you can truly appreciate all the architecture and the parks that are dotted around. Everything's just better when it's sunny though, right? Bath is obviously famous for the Roman baths, the abbey and the crescent but I'd like to show them a more alternative side. I'd take them to my work to have a great coffee from a small independent, another cafe, Cascara, has the ultimate vibe with colourful walls, plants galore and, as well as doing great coffee, also has freshly made juices. Mokoko is another one for an impressive bean rotation (all of which are amazing). Then we'd go to Chai Walla to grab some banging Indian street food for lunch. Then we'd up Independent Spirit to get some interesting craft beers before going to Victoria Park to drink and BBQ the night away. I'm sure we could probably fit in some crazy golf too for good measure.
What do you consider some of the best experiences you have had in coffee so far?
Roasting coffee with Adrian. It was great seeing the process from green bean to cup and learning the part of the process that happens before preparation of the drink in the coffee shop.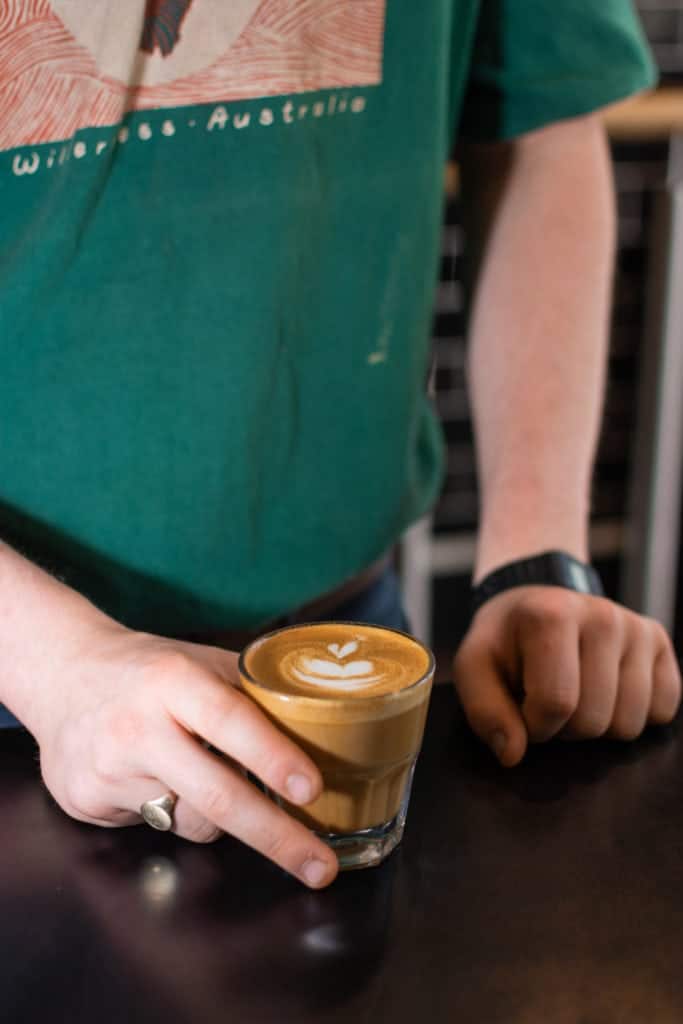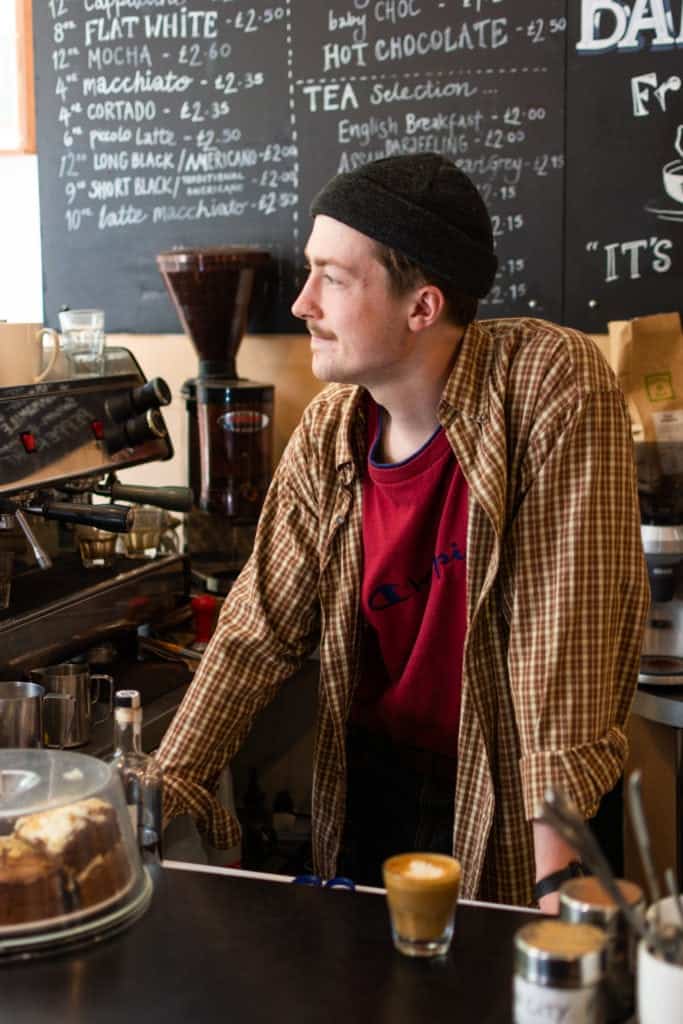 Quick Fire Question
Would you serve filter coffee with milk, if asked for it?
Yes
Do you ever take sugar with your coffee?
No
Espresso or Filter coffee?
Espresso
Do you aim for Sweetness, Acidity, or Body?
Sweetness
Milky or Black?
Milky milky goodness
Slurp or Spit?
Splurip!
Sit in or Take Away?
Sit in. Always. Just so you can properly enjoy it. Also avoids spilling coffee over yourself.
Cake or Pastry with your coffee?
Pastry. Flat white and an almond croissant is one hell of a pairing.
What is your wifi password in a cafe?
Come in and find out!
Photos: Courtesy of Isaac Watson.