Heidi Philip-Smith, a 29-year-young(!) coffee professional from Lymington, Hampshire, is currently a Barista & Latte Art Trainer at the London School of Coffee. Heidi has more experience and achievements than a few baristas combined together. A Q Assistant, the UK Latte Art championship finalist – 3 times (!) and World Latte Art competitor in 2017, 3rd place in the English AeroPress Championship in 2021.
All that in 9 years… but! Heidi is still one of the most humble, approachable and lovable coffee pros out there with a personality that compels and inspires. Heidi not only competes but genuinely cheers, guides and supports others. Excited about life, coffee and people!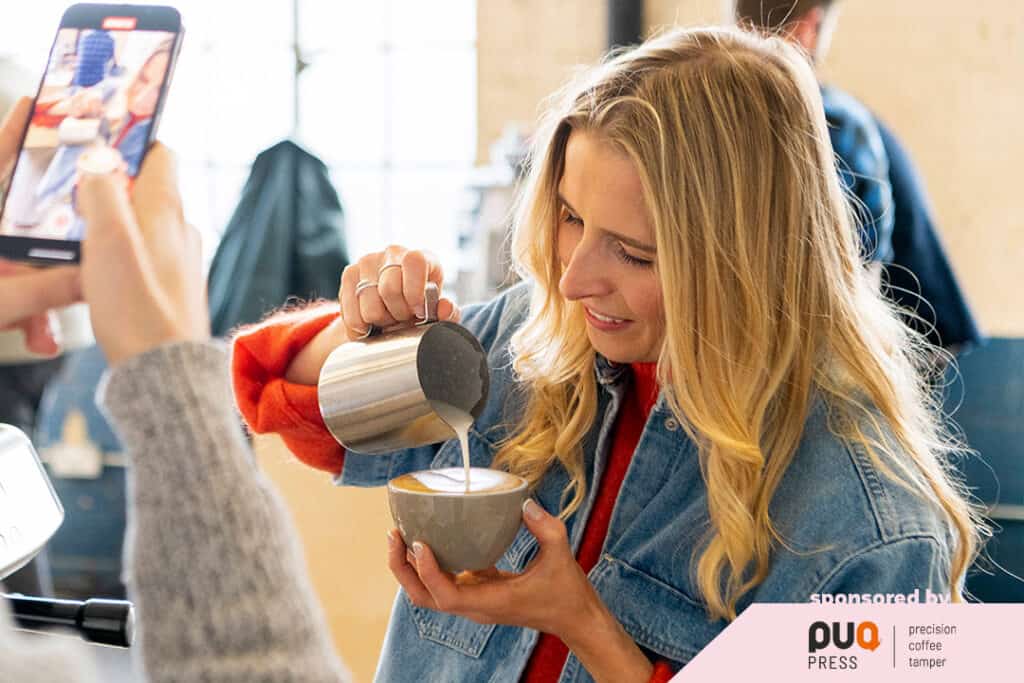 Heidi, what is your first memory with coffee? 
My first speciality experience memory was when my friend Joao took me on a coffee tour around London and I had a tasting flight at the workshop and that just blew my mind – it was the first time I enjoyed drinking espresso and filter coffee!
Could you describe the moment or situation that made you decide to become a barista?
I guess the moment that made me decide that I wanted a serious career in coffee was In 2014 I entered my first latte art competition at the London coffee festival it was a head-to-head throwdown and I had to compete against Dhan Tamang – who I was a huge fan off  – obviously, I didn't win but I really enjoyed the whole experience. Meeting Dhan and seeing what he was doing with his career made me think: "Wow this looks fun I want to do this".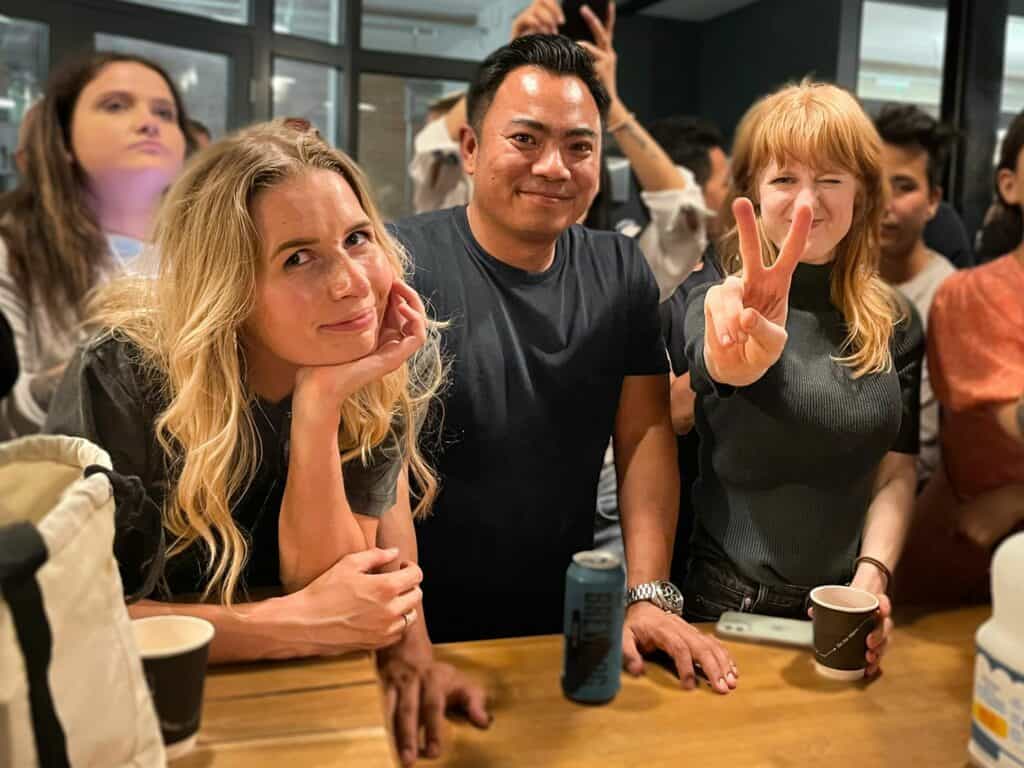 What is the funniest thing that you have experienced behind the bar? Can you recall any embarrassing moments?
The most embarrassing moment was when I was wearing my phone necklace at work and had to carry a bucket of waste milk and coffee over to the sink and didn't realise my phone was deep in the bucket of milk!!!! luckily phones are waterproof now!

And the funniest moment for sure was when I and my boss – Gayle had to make an online video for a latte art course. From the beginning, we were in stitches because I couldn't read off the board and nothing I said seemed to make any sense. (Being on camera is such an unnatural thing for me and I admire anyone who can do it). But yeah, that day was really funny- and if you are wondering… no we haven't ever submitted the videos we made for the online course because they were so bad! 
If a career in coffee was not an option, what job would you be doing?
100% I would want to be in the circus! But if I didn't make the cut for that, I would be a bartender. I have always wanted to work behind a bar and make cocktails!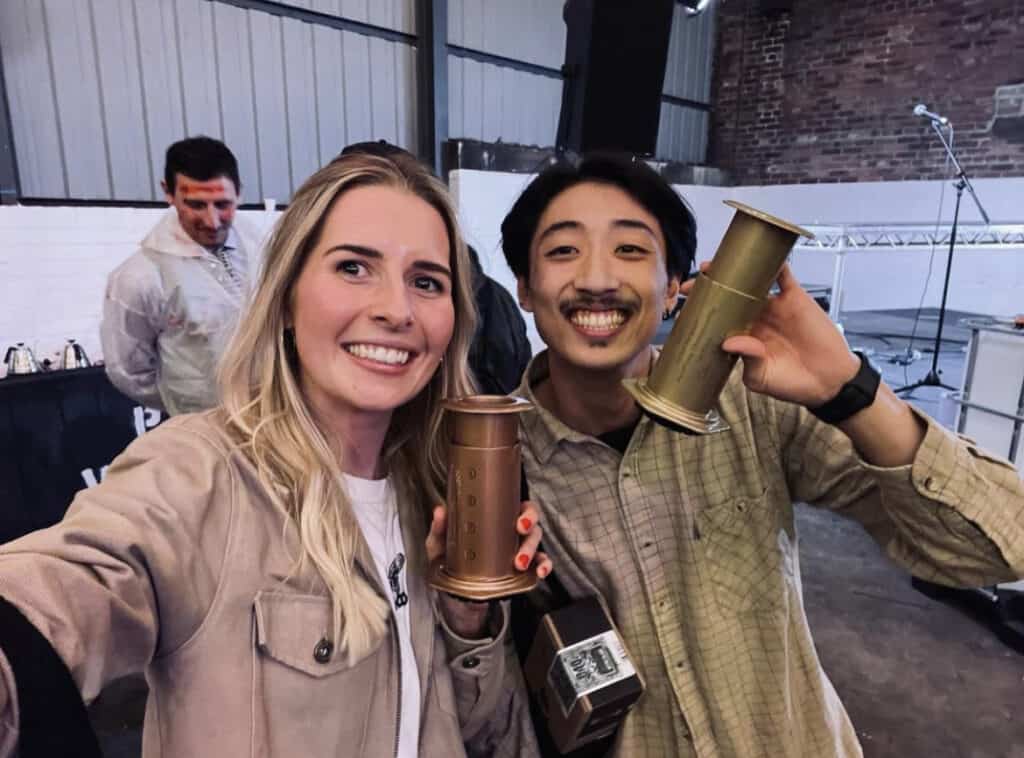 Do you have an unusual hobby that you love?
Hobbies – I do flying trapeze in Regents Park every summer. It is a huge passion of mine!
What is your piece of advice for anybody starting a career as a barista?
The best advice would be to listen, anyone and everyone have something to share. 
What's the most common question you get asked during barista training? How do you answer it?
"What's your favourite pattern to pour?"
Anything tulip-based: stacks or inverts. But wrapped tulips for sure are my favourite patterns to pour!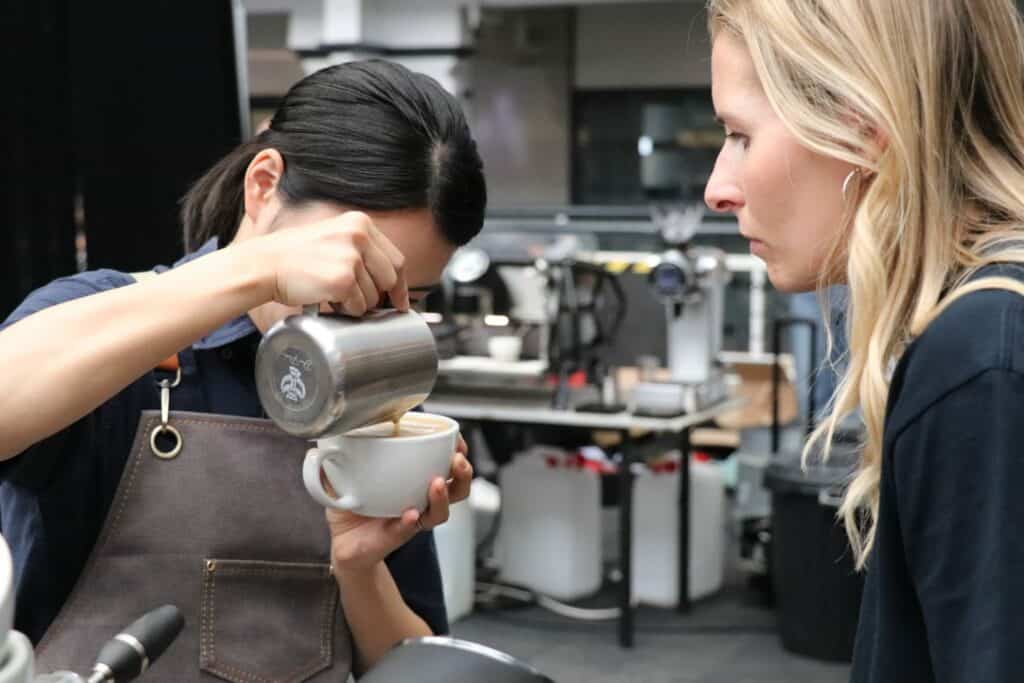 What's the most satisfying part of the job of a barista trainer?
Of course, cleaning the machines down at the end ahah (kidding!) It's probably when the students I teach pour their first-ever pattern, that's always a nice moment or when they send me updates of their progress. 
What has been the best experience you have had in the speciality coffee industry so far?
I have had too many, London Coffee festival this year was pretty special!
What coffee challenges are you looking forward to? Any new projects or collaborations?
I am looking forward to judging the next season of barista championships, I am also getting back into competing myself – I have Cup Tasters championship coming up in November at Manchester Coffee Festival plus I am going to apply for London Coffee Masters next year!

Quick Fire Questions for Heidi Philip-Smith:
Would you serve filter coffee with milk if asked for it?
The customer is always right, but I would probably be crying inside.
Do you ever take sugar with your coffee?
Nope. (That's a lie, if I am hungover I will put sugar in it!)
Espresso or Filter coffee?
Filter.
Do you aim for Sweetness, Acidity, or Body?
BODY.
Milky or Black?
Black.
Slurp or Spit?
Both.
Sit in or Take Away?
Sit in always.
Cake or Pastry with your coffee?
Pastry!
Favourite piece of barista equipment?
Ahhhh some sort of milk jug.