Meet Dávid Csaba Doma, a 33-year-old experienced barista from Budapest, Hungary. Dávid works at Ohana – The Coffee Family where he brews coffee since the beginning of the project. With four to five years of experience in the coffee industry, Dávid has established himself as an inspiring presence in the Hungarian coffee scene and beyond!
Dávid's passion for coffee is not only limited to his job but also extends to his achievements in championships. In 2020, he won the Bronze medal in the Brew Coffee Championship, which was followed by two consecutive wins in 2021 and 2022. In addition, Dávid also won the Irish Coffee Championship in 2021 and received the Bronze medal in 2022. In total three bronze and three gold medals, maybe it is time for a silver one?
Dávid's accomplishments speak for himself and are definite proof of his dedication to growing his coffee skills.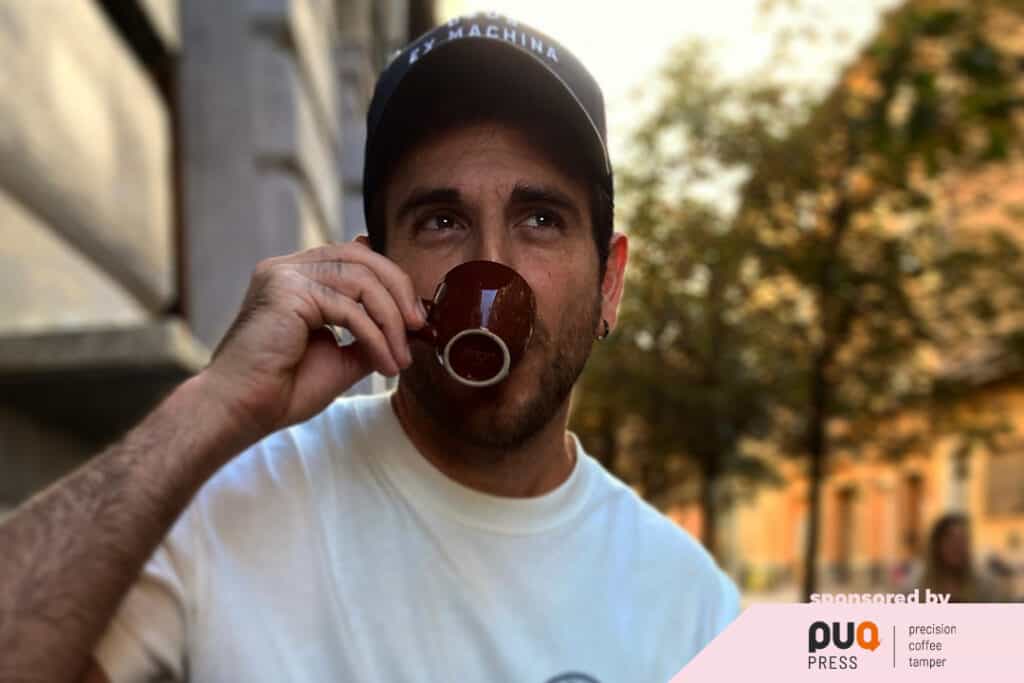 Dávid, what is your first memory with coffee? 
It was a terrible experience. We were running a restaurant and obviously, we had coffee there as well. Back then I never could understand how people could like this terrible drink.
​​What inspired you to pursue a career in the coffee industry, and how did you get started? What did you do before coffee?
Art was always my passion but I was also interested in hospitality. So I tried to find a way of combining these together and it happened to be coffee. My first step towards coffee was to manage a specialty café. The project was quite fun and challenging since I haven't worked with specialty coffee before.
Besides the usual equipment, the cafe also had a small roaster. From then onwards I got really involved in the world of coffee, always so exciting to explore. Since then I've learnt a lot and helped other cafés. Finally, I could utilise my artistic and coffee skills to make the perfect combination.
Tell us a bit about Ohana – The Coffee Family. What is your role there?
We have created a unique place in Budapest with a different approach. I've been part of the project since day one. I love it like it's my child. The best thing is to make coffee for the guests. Also to create exciting recipes, experiment with new tools for filter coffee and search for new coffee roasters to feature.
What kind of experience do you want your customers to have when they visit you at the cafe?
When people come to the café I want them to have the best coffee experience. To enjoy themselves and ask freely about the coffee they're consuming. I love to explain the origin and background of the coffee, the flavour notes so they get a better understanding of the taste of the particular coffee they're drinking. This way they are getting more than "just a coffee".
Perhaps this way they'll be more open towards specialty coffee culture. I would also like to host cupping sessions. I've done it in the past and it's a great way for guests to get to know and understand coffee better.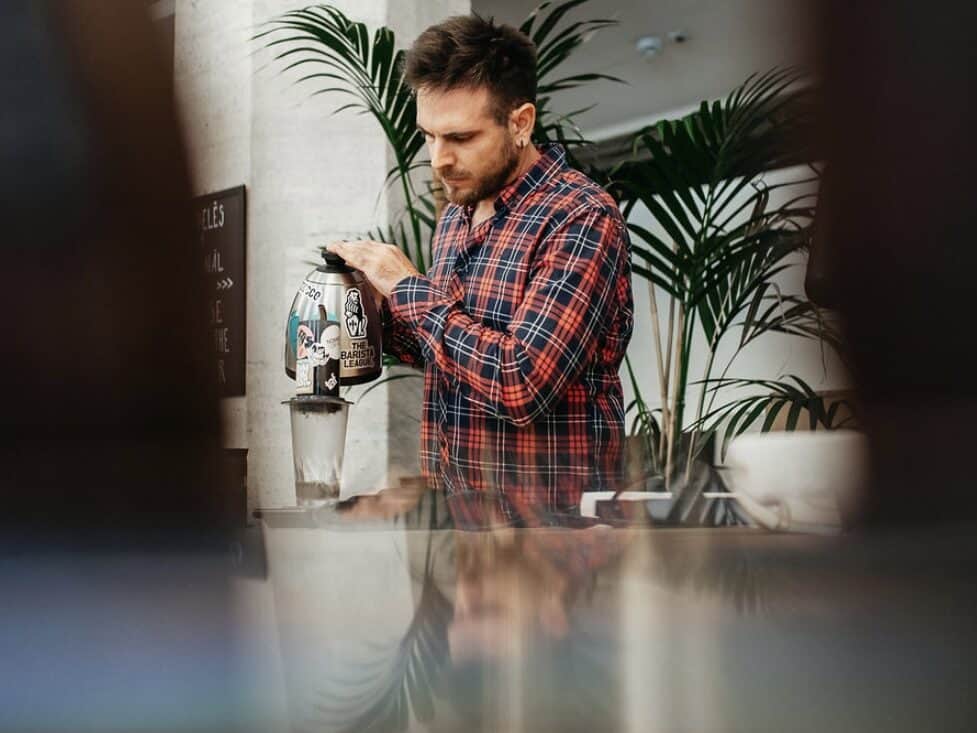 What is your favourite part of the day in your cafe, and why?
The afternoon's when it is the busiest. I love being behind the bar with my colleagues while everyone is in their zone doing their thing but enjoying it and having a laugh at the same time. 
How do you stay motivated and inspired to keep improving your coffee-making skills?
I try to visit as many cafes as possible. I have a lot of friends who work in the coffee industry so every time there's new coffee we're always tasting/testing it and sharing our opinions.
"The best thing about coffee is that there's always something new to learn".

Dávid Csaba Doma
I also use a lot of tools at home to test new coffees. I collect recipes and have many foreign friends on social media where we often exchange ideas and our experiences etc. The best thing about coffee is that there's always something new to learn.
What are the current trends in cafes in your region? Are there any trends you promote yourself and would like to see more often in other places?
I think the current coffee trend is the use of good quality alternative milk. I like them a lot they're really good to work with. Also, I work a lot on cold brew recipes which I think will be even more trendy. There's a lot you can do with cold brew. For example, I've been testing adding fruity flavours like orange, peach and plum. The fruits are macerated within the cold brew creating strong flavour notes. I remember one cold brew I did that had orange and chocolate notes. It was so nice. These drinks can be paired with tonic water to create new compositions. I advise everyone to be brave and to experiment with new recipes.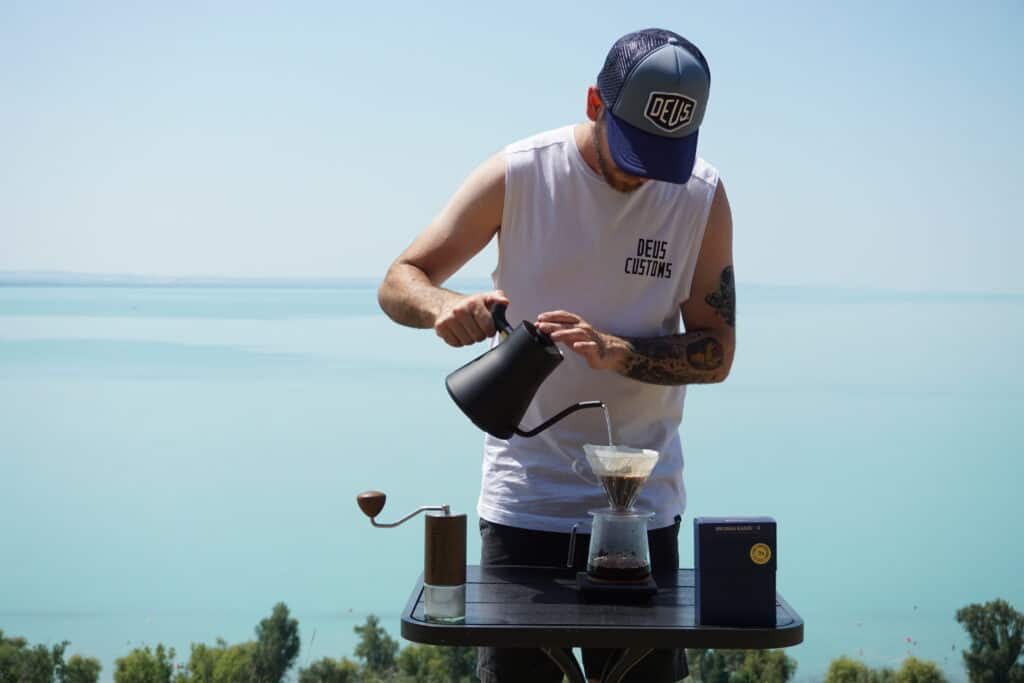 You have some nice achievements in championships. Can you tell us more about them? What are the next championships you'd like to take compete in?
My first competition was a barista championship, where I gained a lot of experience. Later I participated in a brewing competition and took the bronze medal. After that, I was even more in the mood to compete again. During the years I tried many different tools during championships. Then I tried myself at the Irish coffee competition. It was a different world, getting to know new things. alcohol, coffee! it's very exciting, you quickly get drunk here during practice.

I love to compete. I always focus on finding the perfect coffee and creating the best recipe possible to enhance the flavours. I improve and grow a lot during my preparations, I practice and read a lot. I present to my friends and ask for their opinions. Also, you can meet a lot of new people at these competitions. You can learn a lot from one another which is really great. My goal is to compete internationally one day. Unfortunately, there's no SCA chapter in Hungary at the moment which means I can only compete nationally. Until then I will compete anyway since it's so much fun!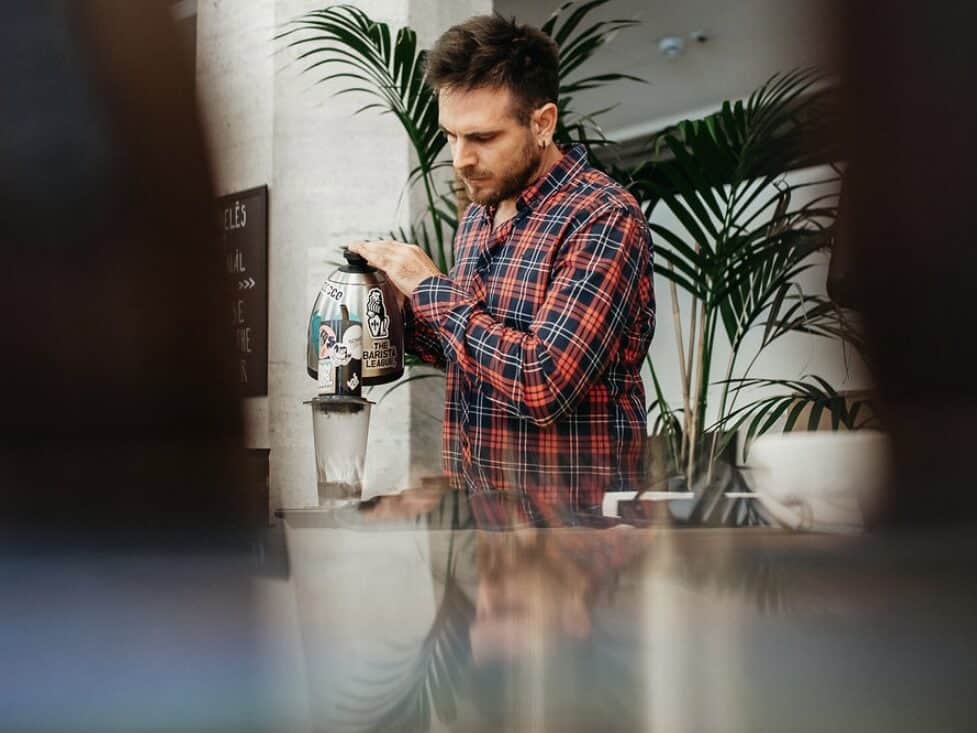 What is the most important thing to have in mind when you start to compete in coffee championships?
There are a lot of such things. Firstly make sure to have enough time to practice for the competition. Keep practising, trying new recipes with different tools. Then the presentation itself is also very important. The way how you present your drink or how you talk about it. This is also good for you to improve how you communicate with other people about coffee. You learn a lot of professional phrases which is also important.
You have to get used to not being in a café It's a different environment. This you can only improve on through experience. So you need to consider all these factors. From practice to competition, it's a long road and will require a lot of energy so it's important to get enough rest other wise it can affect your performance when competing.
What coffee challenges are you looking forward to? Any new projects or collaborations?
I'd love to improve my coffee roasting skills. That's my main goal. I haven't collaborated with anybody yet, but I'm open to anything and if it interests me and fits my values, I'm up for it!

Quick Fire Questions for Dávid Csaba Doma:
Would you serve filter coffee with milk if asked for it?
Maybe…
Do you ever take sugar with your coffee?
No.
Espresso or Filter coffee?
Filter coffee.
Do you aim for Sweetness, Acidity, or Body?
Sweetness.
Milky or Black?
Black.
Slurp or Spit?
Slurp.
Sit in or Take Away?
Sit in.
Cake or Pastry with your coffee?
Pastry,
Favourite piece of barista equipment?
Comandante grinder