Meet Ben "Benji" Lewis, an exceptional 29-year-old coffee professional who already has an astounding 13 years of experience in the industry. Ben comes from Bath but you can see him rocking all around the United Kingdom and beyond. Always keeping himself busy with new projects and brand collaborations.
Benji won a variety of latte art competitions and has been the UK Latte Art Championship Finalist 3 times while being coached by the industry legend Dhan Tamang. He also coached himself for the World Latte Art Championship. Ben for years had longer commitments with brands as well as shorter collaborations however recently he decided to become fully self-employed as a promotional barista, trainer and content creator. Tune into the interview to get to know how Ben set a sturdy and concrete base to be able to shape his career as he desires.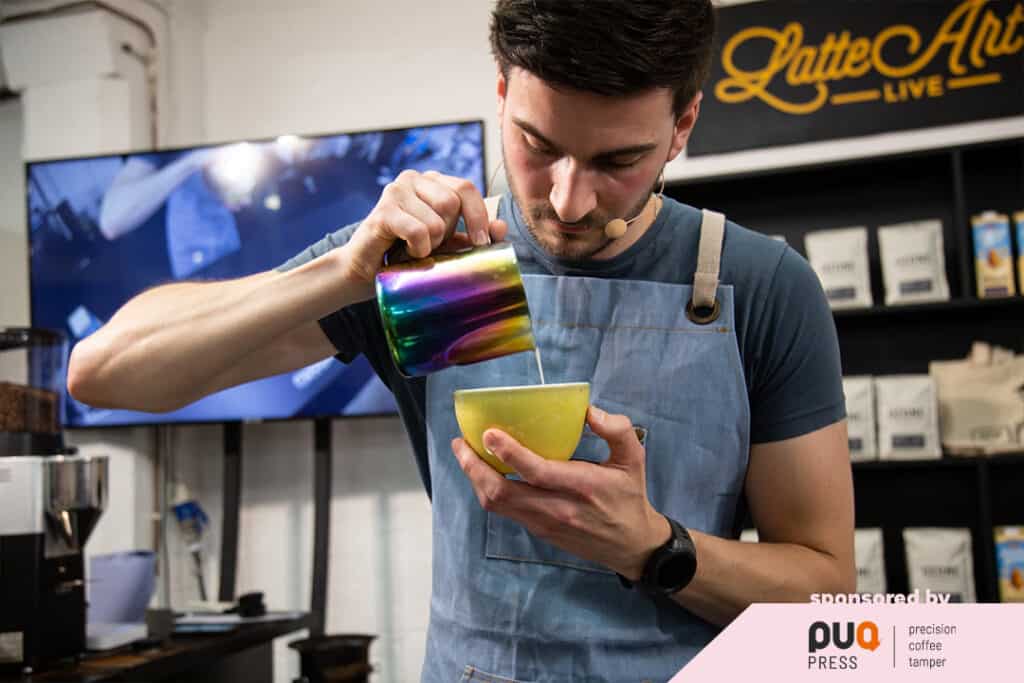 Ben, what is your first memory of coffee?
My first memory of coffee came from working in a famous coffee shop chain in Bath, we were heavily encouraged to try the whole range of coffee and to document our experience and match up flavours – I didn't know this would actually be useful in the future… I think we just used it as an excuse to pair flavours with cakes so we could eat them on shift!
​​​​​​What inspired you to pursue a career in the coffee industry, and how did you get started? What did you do before coffee?
I did absolutely nothing before coffee because it was my first real job at 16! But, moving into specialty coffee was more of a journey for me, I gave up working to finish my degree in my 3rd year of university and during that time I was given a job interview by my friend that I absolutely did not want.
So I turned up to the interview in a hoodie and trackies to subsequently be hired anyway… I have no idea whether he saw something in me as a person or he so desperately needed staff, but this changed my career path entirely and the boss who hired me turned out to be the UK Latte Art Champion.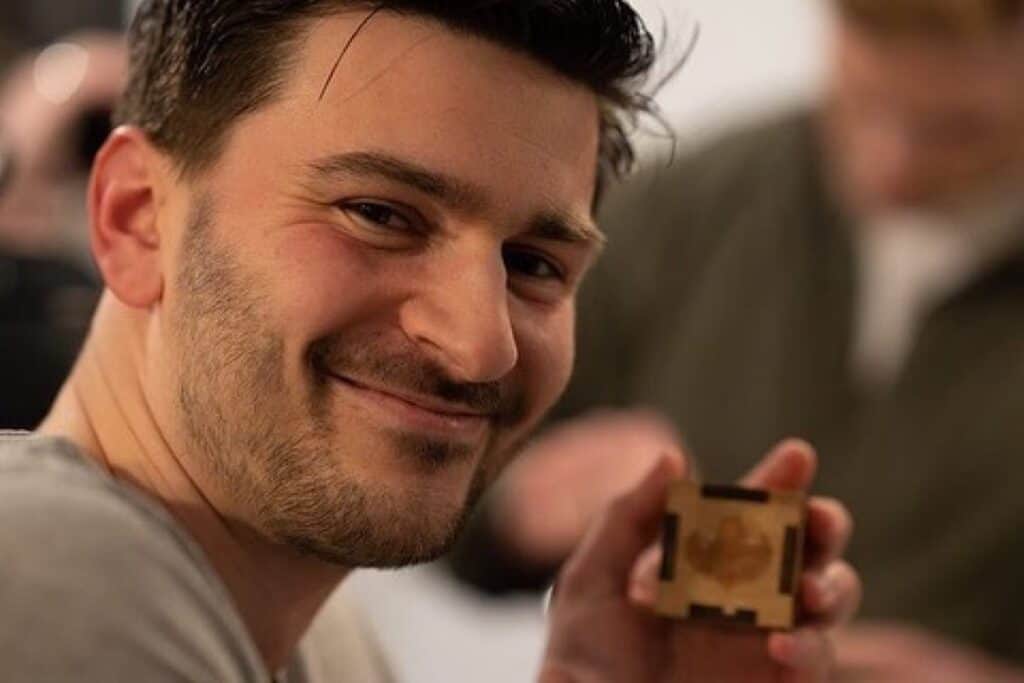 Tell us a bit about your journey and career so far in coffee.
My journey began with that first hire in specialty coffee, learning I could be good at latte art became an obsession that took over and being a competitive person with very limited athletic talent, I found a great avenue for that competitive spirit.
I continued doing this as the fun part of my job whilst I managed a chain of cafes, eventually going on to compete in the UK Latte Art Championship alongside my mentor who placed 1st and I came 2nd which was one of the best moments I've had in my coffee career. I eventually moved on from running a chain of cafes to doing marketing for an espresso machine company whilst doing the fun barista work on the side, before leaving to go out on my own in October 2023.
How did your experience as the UK Latte Art Championship Finalist influence your career and daily work?
I was surprised to find that you get a lot of attention and respect for simply reaching the finals of a coffee championship in the UK I have still not won. I think having the gall to compete puts you in with a group of people who heavily respect the effort.
What helped my career after competing, was using my knowledge of marketing and social media. I was able to carve out a niche for myself within coffee by creating logos, cartoons and designs on coffee using colours and promoting myself as much as possible… this led me to work with amazing brands such as: Disney, Cartoon Network, Kraken, Honda promoting myself even further!
However, I do think that I may be a bit of an anomaly for this, I think that the UK could do a lot more to promote and support its competitors and champions.
What challenges did you face during your time as a latte art competitor, and how did those experiences shape your skills and perspectives? Do you plan to compete in the next seasons?
Training is the biggest challenge as a competitor, if you are working as a barista as most are and training for a comp, you are either getting up crazy early to practice before your shift or staying crazy late afterwards! But, every single competition I've done has taught me far more than I would have expected, each one greatly expanding my knowledge in such a short space of time.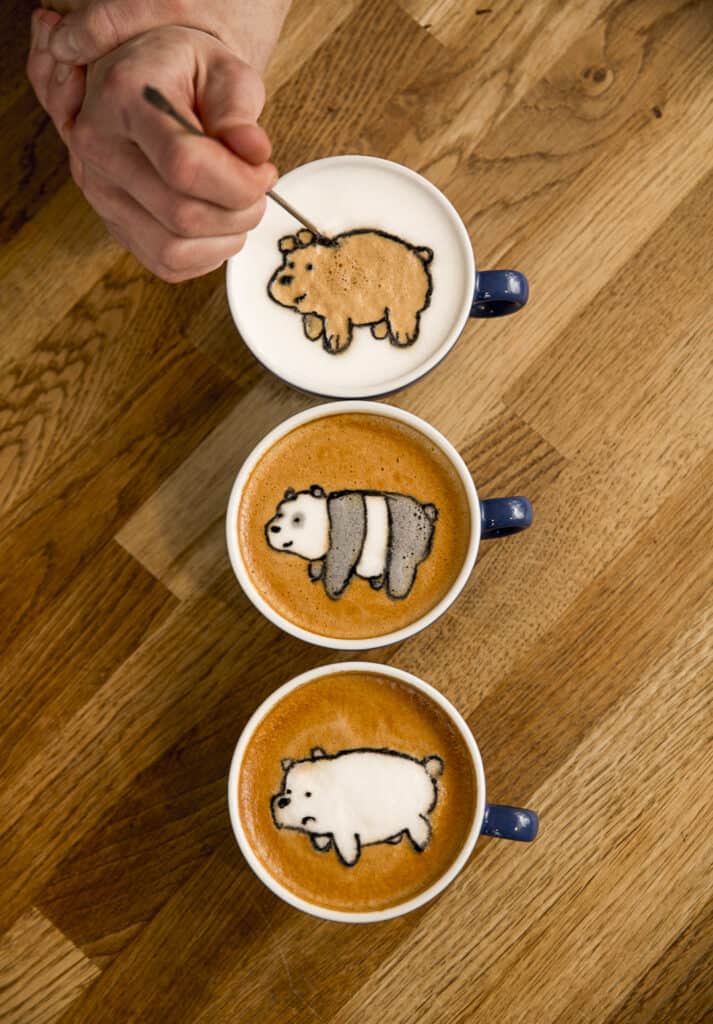 I think that we all want to develop skills and be better but, we all need a reason to dedicate our time to doing so, thus having the deadline of a competition date forces you to be better, much quicker – I even competed in Cup Tasters once, got 1 out of 4 correct and was my fastest loss ever but, the training leading up to it was invaluable.
And yes! I would like to do UK Latte Art Championship again, for me not having the 1st place trophy feels very 'unfinished' and I would love to get that gold and represent the UK at a World Championship!
You decided to embark on a new adventure and become a self-employed coffee entrepreneur. Which areas will you focus on?
Ha ha! I think I will focus on everything that comes my way! I've been hired to be a promotional barista, a trainer and a content creator on the side of my main jobs for over 5 years so, giving myself the ability to take on what I want to do full-time is an exciting prospect, I'm hoping to do everything and maybe in a few months streamline it a little bit! I've been doing it for only a few months now and have been able to say 'yes' to so many amazing opportunities, things I've had to stave off because of full-time employment, so I'm very happy so far!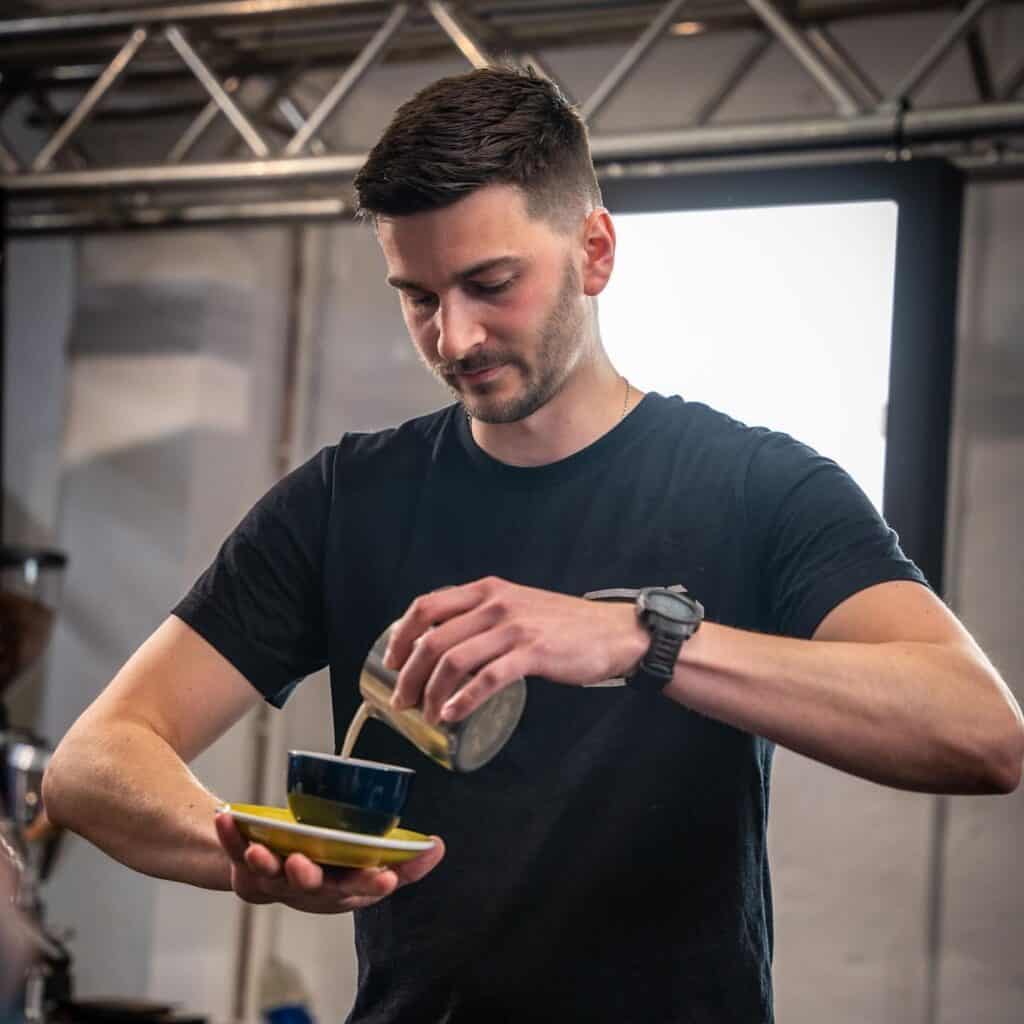 What kind of experience do you want your clients to have when they do projects/training/events with you?
It depends on what I'm doing of course. In training I like having people with no experience at all and starting people on their coffee journey but, I also LOVE helping talented latte artists tweak their skills to get to the next level. At 'Latte Art Live' during the London Coffee Festival, I run a show called 'Next Level Latte Art' endeavouring to take whichever skill level a latte artist is at and push them to create more complex designs without jumping drastically from Heart to Seahorse in one session!
When I'm doing latte art or content projects for companies a lot of them aren't aware of what I'll actually be able to produce, they'll ask for something small and I thoroughly enjoy being able to give them a much better product in return for what they asked, either a picture perfect logo on a coffee for their company or a well-shot video that mimics professional levels – I think a great combination of low expectations and high delivery has helped me build a wealth of contacts in the industry and kept word-of-mouth spreading!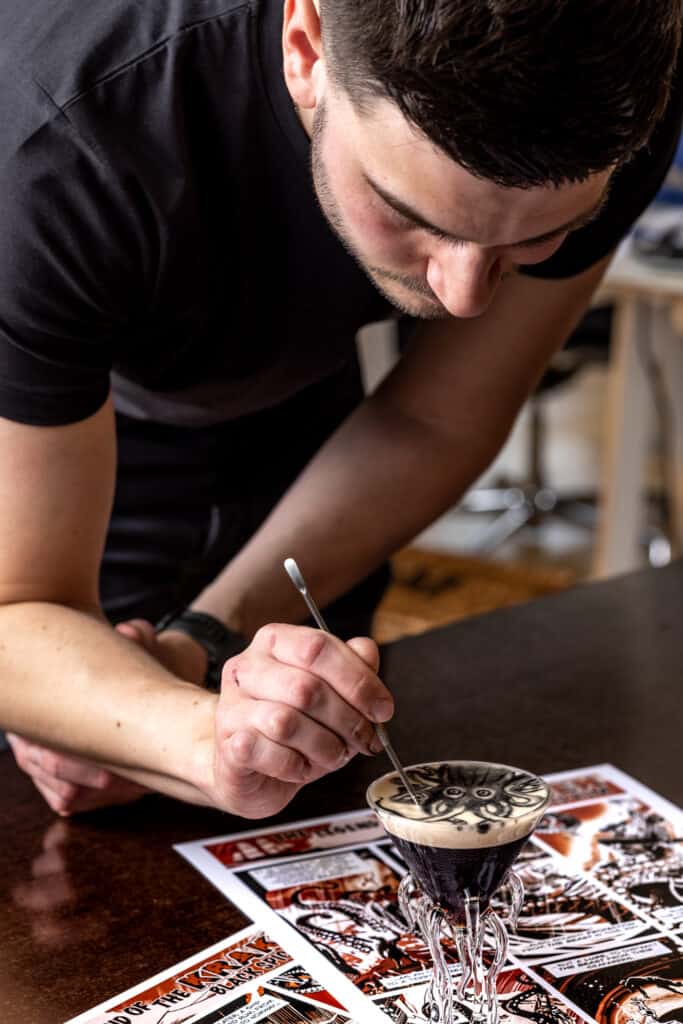 How do you stay motivated and inspired to keep improving your coffee-making and business skills?
I think I struggle as most people do with confidence in going from extreme high peaks to deep low valleys. For me staying motivated is simply trying not to let myself dip into the valleys quite so much. Especially with my current career trajectory, it can be easy to believe that I'm: not good at anything, no one will ever hire me again and get extremely de-motivated, but one small thing can turn it all around. A contact person saying they know someone interested in a training course, a friend asking for help building their marketing strategy for their roastery. These little things help stay on track and I try to use the temporary motivation to seek out more opportunities and bigger projects, it also helps to have an overwhelmingly supportive girlfriend who will remind me constantly to keep going!
I have been so fortunate to be involved in some amazing projects: shooting content during origin trips to Kenya and Colombia, training professional rugby and football teams, working with famous influencers and celebrities on their coffee brands and creating latte art for amazing companies but, despite doing these incredible things the highs of the events rarely last that long, so it's really important to take time to appreciate each one and use the positive energy you feel from doing them to motivate myself to seek out the next.
With my new path I am building the skills that I enjoy the most, not what a company needs or what a boss tells me to do, I have an opportunity here to grow what I want to be and that is motivating in itself.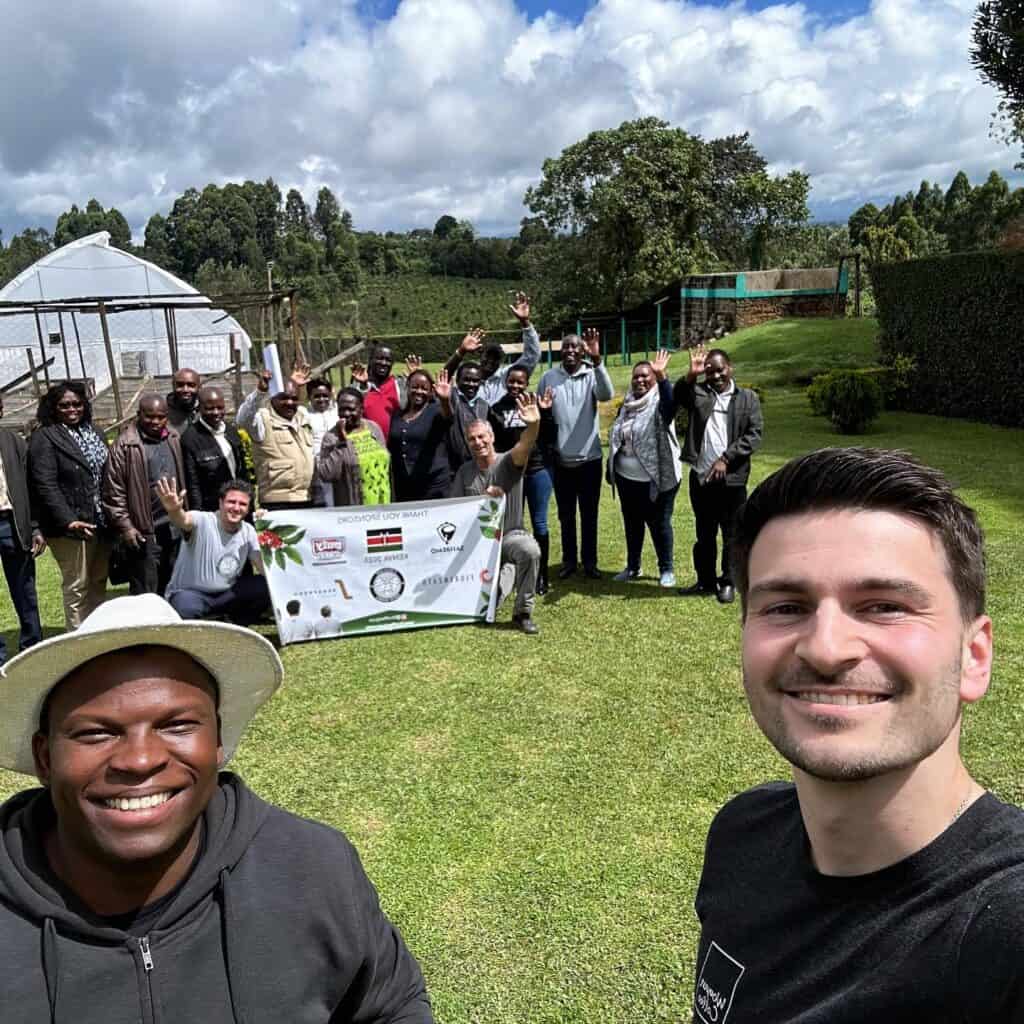 What are the current trends in cafes in your region? Are there any trends you promote yourself and would like to see more often in other places?
Ooh, that's an interesting question, I might be a little out of touch with cafe trends to be honest as of late, I know that the frozen filter menu is starting to crop up more and more for expensive and rare coffees and I would love to see that done even more.
I think that it allows people with a deep interest in trying complex and interesting coffees to try them without unsuspecting customers stumbling into it if they are simply used to 'just a filter coffee' – I think it's a great tool for balancing the specialty diehards and the general public.
Are there specific projects or initiatives on the horizon that you're particularly excited about?
I'm very fortunate to say that I do! As mentioned I am fresh off of being in Kenya shooting an origin trip for the '3 Coffee Guys' that take people on fun and educational tours of coffee regions, so I will be continuing that on their next few tours around the world creating videos for their social media.
I will also be in NYC next month aiding the launch of the new Florence by Mills brand at a special event for Millie Bobby Brown's new coffee range hosting some sessions for the public… alongside finishing off my website – baristabenjicoffee.com, creating myself some social media content and balancing a whole bunch of other things, maybe having a life somewhere in there…
I asked for this right? Hahaha

Quick Fire Questions for Ben Lewis:
Would you serve filter coffee with milk if asked for it?
Of course! I wouldn't drink it but, I would never turn someone down.
Do you ever take sugar with your coffee?
No, it's nice to sample sometimes though.
Espresso or Filter coffee?
Filter 100%
Do you aim for Sweetness, Acidity, or Body?
I eat fruits well before they are ripe, I like A LOT of acidity.
Milky or Black?
Make Milky, Drink Black.
Slurp or Spit?
Slurp.
Rosetta or Tulip?
Tulip.
Favourite piece of barista equipment?
Probably my latte art pen given to me by my mentor – Dhan and the engraved cupping spoon given to me by one of my best friends.