Our Barista Stories series has been long in the making. Since our first visits to cafes around Europe, we have met many amazing baristas who have had a number of interesting stories to share. We love the speciality coffee community exactly for the people building it and are thrilled to introduce some of those individuals to you.
Baristas truly are the ones who contribute to the atmosphere in the cafe massively and are the key reason why we'd revisit.
Read on to meet Alexandre Paula Freitas, brewing your daily cup of coffee at Milkees in Lisbon.
Alexandre is a 34-year-old barista originally from Rio de Janeiro in Brazil, but nowadays, he lives in Lisbon, where he opened a cafe with his partner. Although he is the co-owner, he works at Milkees full-time. What more, Alexandre has only worked in coffee for a year now!

Alexandre, do you remember your first memory with coffee?
Holidays at my grandma's house. Every morning there was a boiling pot of coffee on the stove. My brothers and I didn't like drinking it. Instead, we just used it for dipping our cookies and bread.
Could you describe the moment or situation that made you decide to become a barista?
After spending a sabbatical year in Portugal, my husband and I decided to open a business here. He is a pastry chef and our plan was a place to sell artisanal pastry. Since we also wanted to serve some good quality coffee, I started a barista formation. Along the way, I got in love with speciality coffee and our original idea evolved to opening a coffee shop. I ended up becoming the barista.
What is the funniest thing that you have experienced behind the bar? Can you recall any embarrassing moment?
In Portugal, there are some really peculiar habits regarding coffee, especially among the elderly. One day an old lady arrived and asked for a "no-beginning". My look must have been so confused, that after a few embarrassing seconds she started teaching me. You brew espresso, but discard its first third before pouring it in the cup. I found out later, that this is not an uncommon order at the traditional coffee houses here.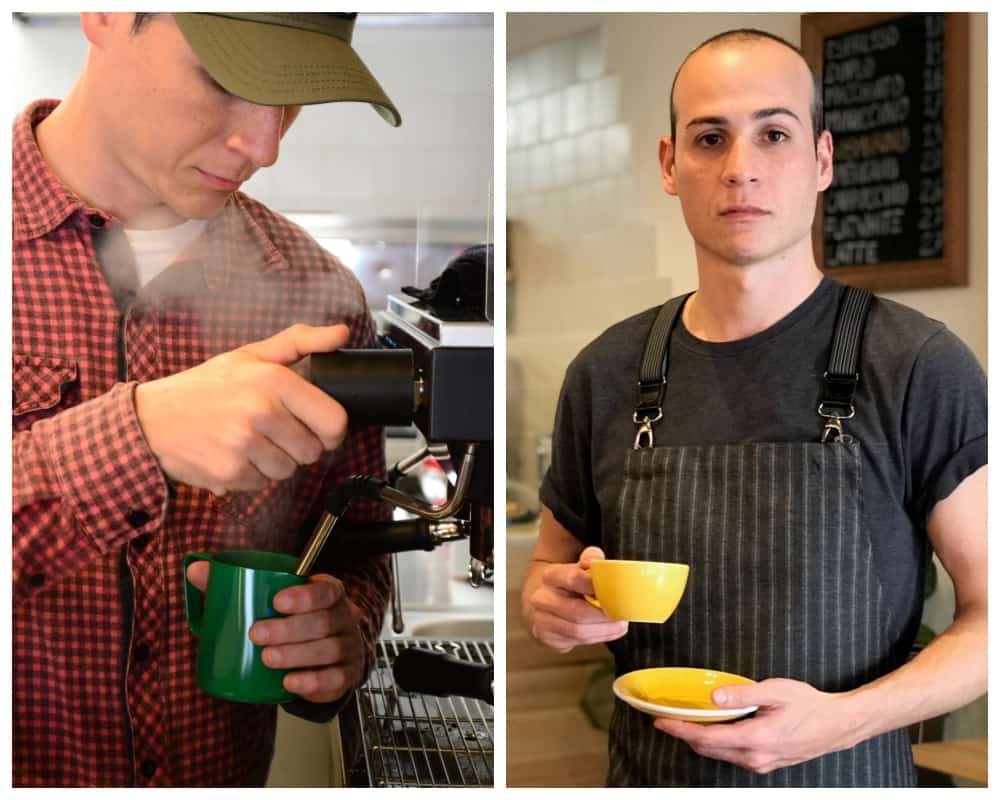 What was the most memorable coffee in your life, and was there one that you'd like to forget?
The most memorable was the first real cappuccino I had in my life. It was so perfect that I was never able to order a cappuccino at a "regular" place anymore.
Once, in a fancy hotel room in Buenos Aires, I took a coffee from a Nespresso machine. It tasted really strange and I decided to open the machine to check it. It was disgusting—full of mould; even the water was dirty. This I would like to forget.
If a career in coffee was not an option, what job would you be doing?
I would go back to my original job as a geologist researcher.
Do you have an unusual habit or hobby that you love?
I love working with wood. I even have a tiny workshop in my apartment. This hobby was very useful when we opened the coffee shop, since I was able to build a lot of its furniture.
Are there any bad recommendations you hear often in your profession? What is your piece of advice for anyone starting a career as a barista?
A lot of people in the industry say it's impossible to make great coffee without the best (and most expensive) machines. Of course, the equipment is important. However, a good barista with technical knowledge and good coffee beans can do an amazing job with just entry-level equipment.
Looking back, what one thing would you wish to know when you were starting to work as a barista?
That, in general, customers are much more interested in the taste and mouthfeel of their coffee than in their latte art. This is a technique that takes time to be mastered and used to frustrate me a lot in the beginning.
What qualities set a good and a great barista apart?
The discipline to have their working space always perfectly cleaned and organized. Especially at the end of an exhausting day.
What helps you to handle a bad day at the cafe and provide good customer service?
Thinking about the regular customers that really appreciate and value your work. A complement of one of those customers can really save a bad day.

What is the one thing that you would miss the most if you could not work as a barista anymore?
This may sound a little crazy, but I would miss my equipment that I feel responsible for and have to take care of. They are almost like my babies.
What cafes and roasters make the top-five list of places to visit in your city? Where would you take your visitors?
Olisipo
Hello, Kristof
Café de Finca
Escalfado
Janis
What has been the best experience you have had in the speciality coffee industry so far?
My first time tasting speciality coffee in Coffee Lab. They are an amazing coffee shop, roaster and school in São Paulo. It was a long time ago—even before thinking of becoming a professional barista—and was unforgettable. Years later this experience still inspires me.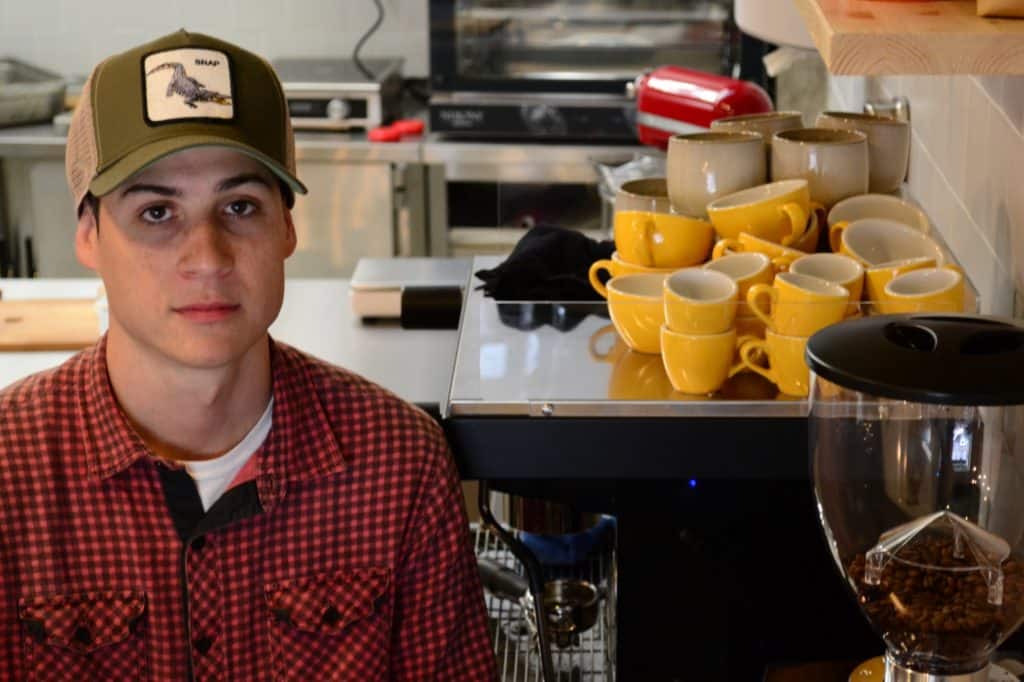 Quick Fire Question
Would you serve filter coffee with milk, if asked for it?
Yes.
Do you ever take sugar with your coffee?
No.
Espresso or Filter coffee?
Espresso.
Do you aim for Sweetness, Acidity, or Body?
Body.
Milky or Black?
Milky! For sure.
Slurp or Spit?
Slurp.
Sit in or Take Away?
Sit.
Cake or Pastry with your coffee?
Pastry.
What is your wifi password in a cafe?
Pleasenosugar