Radu Potolea tells us the story of MADISON Perfumery, an absolute beauty, one of Europe's leading niche perfumeries, operating luxury stores in Bucharest, Budapest, and Reykjavik. The perfumery caught our attention—with its approach to coffee service! Owned by Radu Potolea and his wife, Madeleine, MADISON has brought an interesting progress to Bucharest speciality coffee scene by connecting two businesses, one of the perfumes, and one of the speciality coffee roasting.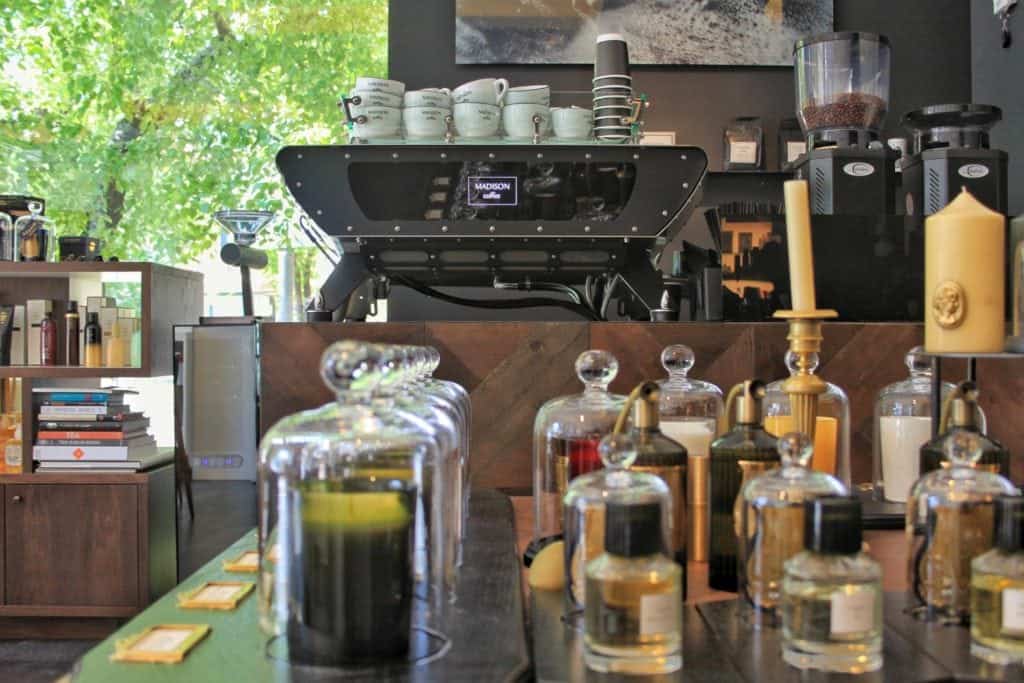 Their own roasts of MADISON Coffee are obviously available at the MADISON perfumery stores but also brewed in a dozen other cafes and restaurants in the Romanian capital, as well as abroad.
Recently, MADISON Coffee has been making a name for itself in the speciality coffee world. At 2018 World of Coffee in Amsterdam, the famous Kees Van der Westen gave the team an opportunity to serve their coffee to a wide public by using MADISON beans as guest coffee at the Slim Jim Mirage high-end espresso machine launch. This was a wonderful chance to introduce MADISON Coffee to the coffee world, with Anca Ionescu and Marcel Melinte behind the bar, two Bucharest-based baristas with strong knowledge of Kees van der Westen machines.
Luka Zivkovic, who is a speciality coffee lover based in Bucharest, asked Radu Potolea a few questions about MADISON Coffee.
Radu, how did you enter the world of speciality coffee?
After a career in magazine publishing and a successful exit from a leading postal-services company, I decided to spend more time discovering something that kept popping up during my numerous trips all over the world: speciality coffee. It all started 8 years ago, in a restaurant, where my guest's eyes kept drifting away every minute. The person kept looking at an old Faema E61 espresso machine and kept sharing with me the whole story behind it. A few months later, I bought one and then I started to collect espresso machines at home, taken on with the stories and the intricacies of such a technical little wonder.
Soon after, Madeleine asked me if it would make sense to install one espresso machine at MADISON Perfumery in order to offer coffee to her clients, and this is how everything started at a larger scale. We then decided to create a brand extension, and so MADISON Coffee was born. I also started a distribution agreement with Kees van der Westen, as I fell in love with the high quality and the crafted design of his machines.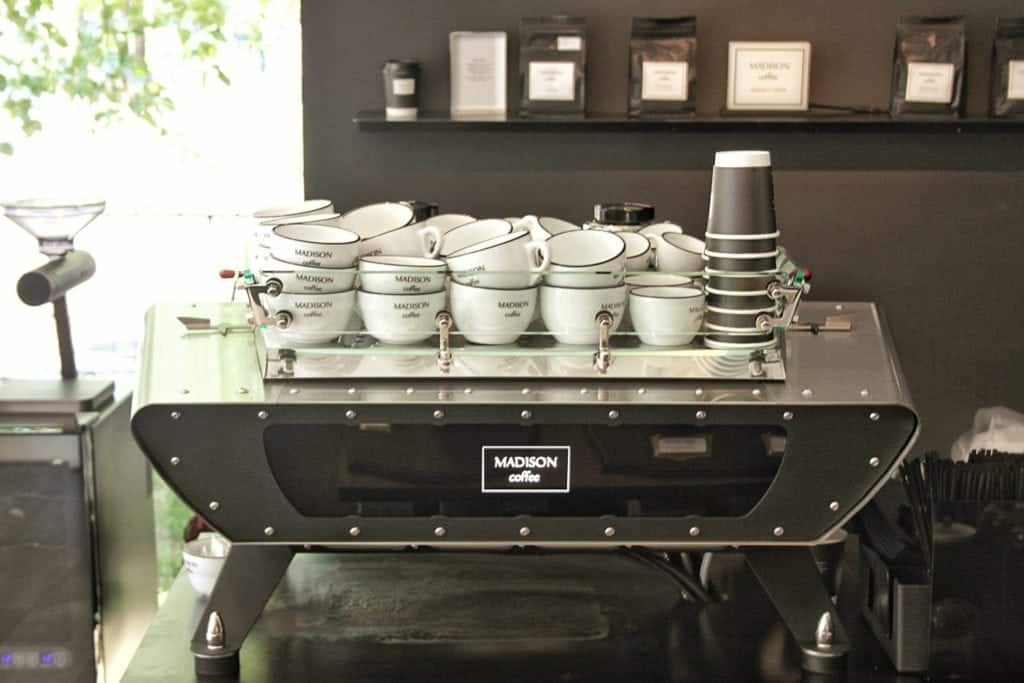 Can you tell us more about the beginnings of Madison Coffee?
We first had an original Faema E61 in the store, but we needed good coffee. If we could have a selection among the best niche perfumes in the world, couldn't we curate the coffee we serve based on the same principles of selecting the perfumes? In order to make it happen, we came across a Romanian roaster, Radu Ioan Manea, who, at that time, was selling different single origins under his own brand, Papa Jacques.
After experimenting and getting into speciality coffee, I decided to have a stronger focus on the coffee field, while Madeleine kept the focus on the perfumery side of the business. We launched our own collection of speciality coffee, curated each season by our team of fragrance specialists since 2013, and roasted by Radu Ioan Manea. It is a great opportunity for us and our roaster to work with our perfume specialists. Their very well developed skills in selecting the best coffee have been a strong asset for us. Many coffee veterans were amazed at the cupping table with our specific approach to evaluating coffee.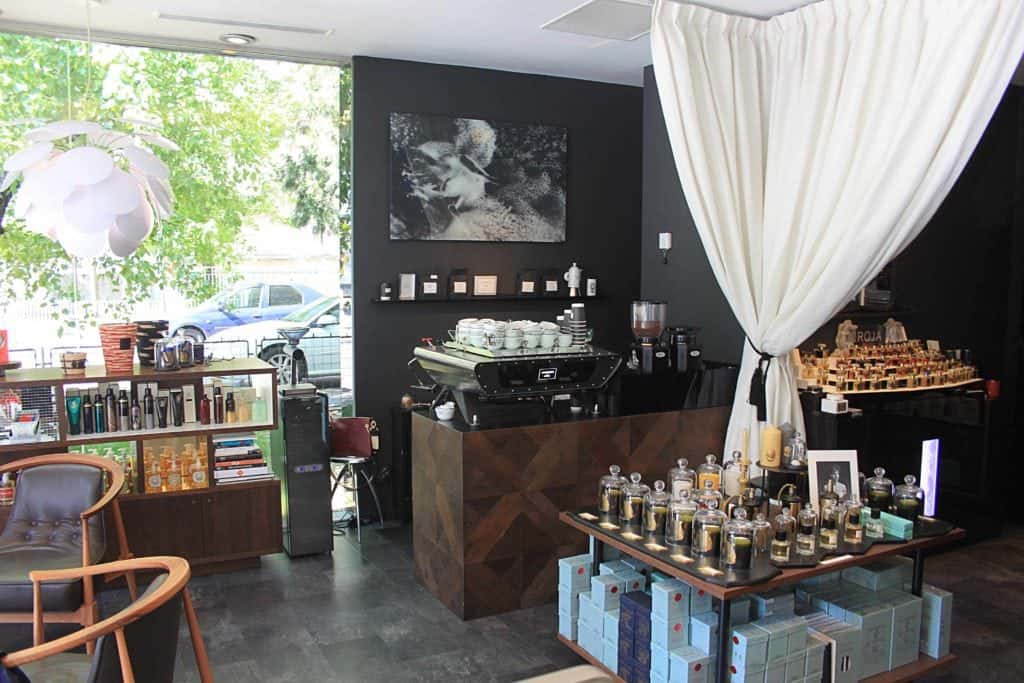 Why did you consider perfumery and coffee as a good match for your business?
Well, as I told you first, we want to spend time with our customers by offering them good coffee. On top of that, coffee is one of the best assets to have in order to clean your nose after smelling numerous perfumes. And finally, we have among the "best noses" in Bucharest, our team being exposed to thousands of essences and ingredients on a daily basis. This makes our cupping sessions very interesting. You have to imagine I have colleagues at MADISON, some of them with more than ten years in the niche perfumery industry, being able to determine and evaluate more than 2000 scents. This is such a blessing translated into the coffee selection process.
I've seen MADISON Coffee in several Bucharest shops and at events recently, while this was not the case a year ago. Can we know more about this progress?
We were roasting only for our perfumery stores and for our customers willing to buy speciality coffee straight from us. This crowd is not necessarily into hipsterish cafes, they are buying a lot from us because they acknowledge the quality. For example, we are probably selling the biggest amount of high-end Geisha Panama Coffee in Romania, but this is because we have access to the high-spending clientele. MADISON is an established brand that stands for quality in niche perfumery, beauty products and fine jewellery, so this helped the coffee startup a lot.
When Madeleine suggested doing more branding on the coffee side, we had a very good feedback from the MADISON customers. We also started to have requests from other HoReCa professionals. This helped us acknowledging the fact that the "MADISON Coffee" brand should be created. As a distributor for Anfim and Kees van der Westen in the area, I can provide a full package for other cafes and restaurants in the country.
For now, our coffee is available in various locations in Bucharest. We are obviously delivering coffee in cafes such as Frudisiac, T-Zero or Emozia Manifesto. But we also have a strong presence in Maize, Koketerie, AI Sushibar, Belle Epoque or Jicky Cuisine, some of the greatest restaurants in town. Our coffee is also available at Rue du Pain, a well-known French bakery, and a pioneer in the alternative socializing scene.
However, I really need to trust that person to let them sell my coffee to their customers as I want to associate my product with quality as much as possible. Same with events, I am happy to collaborate with some people who organize great events in the city, but they need to have more than a marketing score. I am a lot into art events such as One Night Gallery events and this is where I put my focus on.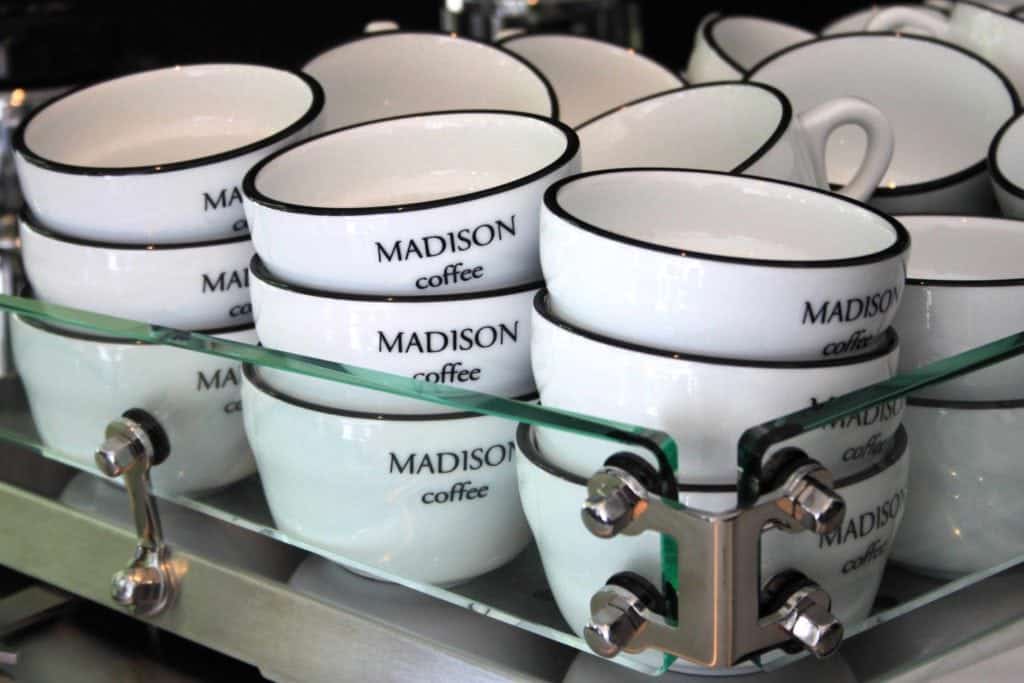 What do you like the most about the Bucharest coffee scene?
Well, its dynamism and effervescence for sure. It is a great channel for an entrepreneurial spirit to do something meaningful. But that's not always as easy as it seems. I am coming from outside, not from behind the bar, and that makes, I think, my perception different. A lot of education is needed, and I am not referring to coffee knowledge, but rather fundamentals like "business discipline" and "ethics".
You have also new entries in the segment, new entrepreneurs, and then you have some worn out characters, generating fake conflicts, but the reality is that the market is getting competitive. I see a lot of struggling cafes despite the general growth of the segment. There is the variety in the scene and boy, you never get bored! But you have to be doing a good job if you want to be here for the long run.
Do you have any specific plans for the future?
Keep quality in all the places where people sell MADISON Coffee is one thing. I am also working on relocating the roastery to Dorobanti (a neighbourhood in Northern Bucharest), to a place more open to our customers, together with a showroom. I don't plan to open my own cafe, but I am happy having customers coming to the roastery and enjoying a cup of coffee with us. We will continue to use our resources as fragrance pros and retail veterans, with a strong and established brand to source and roast high-quality coffee.