UK Coffee Week 2017
April 10, 2017

-

April 16, 2017

£25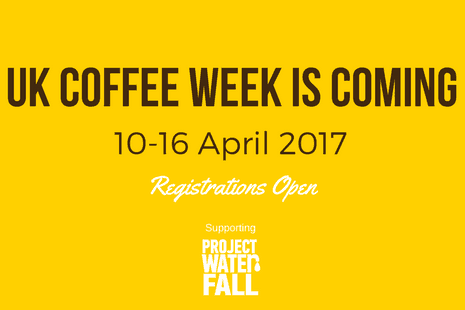 UK Coffee Week is a nationwide fundraising campaign that takes place in thousands of coffee shops across the country.
100% of donations received from UK Coffee Week will go to Project Waterfall, an initiative dedicated to bringing clean water facilities to coffee growing communities.
Coffee is one of the largest and most powerful industries in the world. Over 500 billion cups of coffee are consumed globally each year, and every one of those cups is an opportunity to make a difference.
We believe the coffee industry and coffee drinkers have the power to make a real and positive impact on the communities that grow our coffee.
Why Water?
Water is intrinsically linked with the creation of a perfect cup of coffee. From the 140l of water it takes to produce a single cup of coffee to creation of the final cup, water is integral to the creation of a perfect cup of coffee.
Water is also integral to the lives of the farmers who grow our coffee. 663 million people around the world do not have access to safe, clean water.
Access to clean water can break the cycle of poverty. Clean water not only improves the health and well-being of communities facing the global water crisis; it also means great access to education, income and ultimately a better life.
HOW IT WORKS
We ask for all coffee shops taking part in UK Coffee Week to celebrate coffee in their store and raise valuable funds for the communities which grow our coffee.
Registration is £25 per store. This covers the cost of the high quality branding material sent out by the UK Coffee Week team. The team will also offer support when needed, enabling each coffee shop operator to deliver a unique experience to their customers and communicate their involvement in UK Coffee Week.
If you are a social enterprise or multi-site operation, please get in touch with Laura from the UK Coffee Week team at lnewby@allegra.co.uk.