The Barista League: Zagreb
May 24, 2019 @ 5:30 pm

-

11:00 pm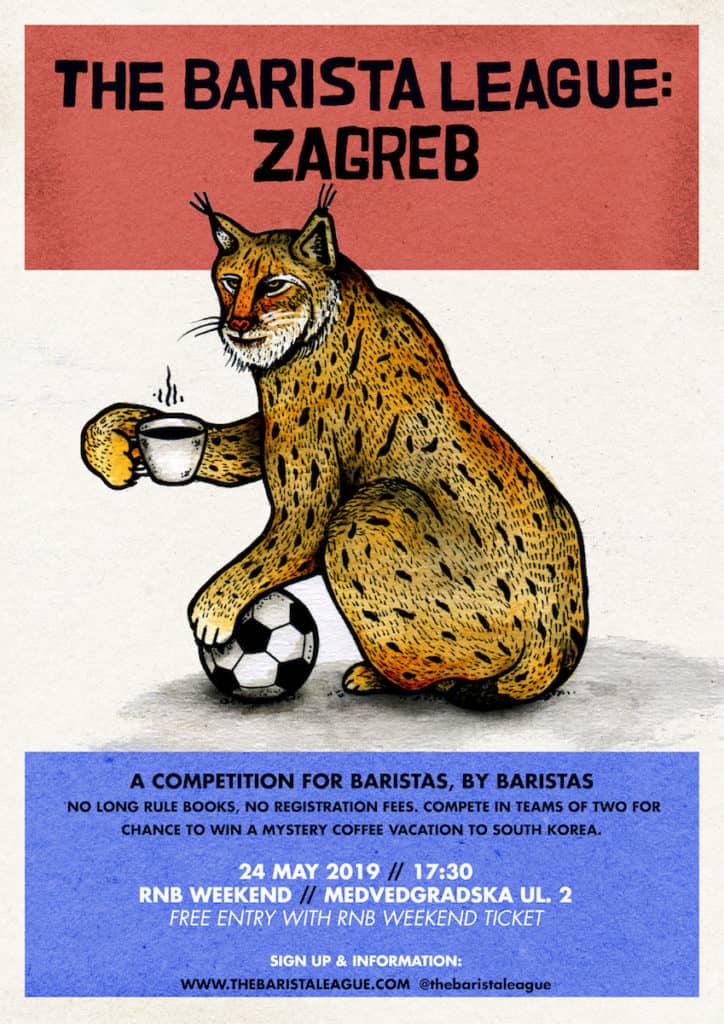 The Barista League is back for it's second competition of the year! On 24 May, in sunny Croatian paradise, 12 teams will face off to be the second team of 2019 to win a spot on The Barista League Mystery Coffee Vacation to South Korea!
The Barista League: Zagreb is being hosted by RNB (Restaurant and Bar) Weekend, a new innovative festival for the coffee, food, and beverage industries. This means in additional to all the usual festivities, there will be tonnes of additional workshops, coffee demos, a beer garden, and food stalls!
Joining the judging duties for this event are former Crotian Barista Champion Matija Hrkać of Cogito Coffee in Zagreb, Agnija Tilla, former Latvian Brewers Champion and green coffee trader for Ally Coffee and Joanna Alm of Drop Coffee and esteemed roasting champion, along with the OG MC Stephen Leighton of Hasbean Coffee.
The teams will be competing in three rounds of fast-paced challenges: Barista Skills, Sensory Skills and the notorious Mystery Round.
In the first round, teams will be dialing in espresso and milk drinks on the Rancilio Specialty and Compak PKR Grinders *while* they sample roast coffee on the IKAWA PRO roaster at the same time.
In Round Two, teams will try to identify 5 coloured, flavoured infusions of flavours found on the SCA Flavor Wheel.
And in the final round, teams will grind up those IKAWA sample roasts on Baratza Virtuosos and blind cup all the results. Teams and judges will have a chance to award points to their favourite cups.
The winner will be flying to Seoul, South Korea for a Choose Your Own Adventure style Mystery Coffee Vacation. The trip's attendees will all get input into the type of adventure they want to have. The Barista League wants everything they do to be as rewarding and fun as possible for everyone involved… and this prize trip is no exception!