The Barista League Helsingborg
January 26, 2019 @ 5:30 pm

-

11:00 pm

kr50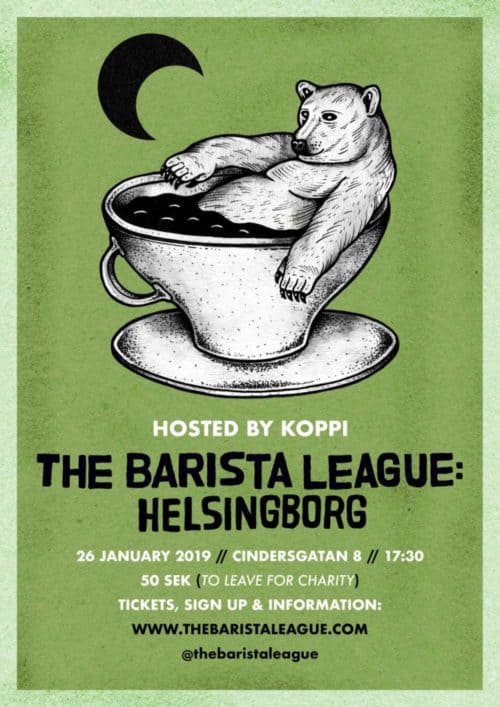 The Barista League returns to Scandinavia: Bigger, better and more deliberate than ever.
The Barista League is back in 2019 with a return to Scandinavia and old friends Koppi Coffee Roasters in Helsingborg on January 26. As always, the event will feature the fast paced, controlled chaos and fun of 200+ partying coffee professionals in a room, but this year it will have three small but important additions to the format.
There will be one major prize for the winners of the three official Barista League competitions, increased social and environment accountability, and more interaction for the attendees of the event, centred around The Barista League Brew Bar.
In Helsingborg, all ticket proceeds will be donated to the charity Grounds for Health who help increase coverage of women's health care in coffee producing countries. The Barista League will also publish environmental impact reports from all of the events in an effort to focus more attention on how we consume materials at events.
There will also be a new feature of the event that was trialled in Oslo last year – The Barista League brew bar. Attendees will get a chance to jump behind the competition machine and test drive all of the same equipment and challenges as the competitors.
The competition in Helsingborg will feature twelve teams of baristas in three diverse rounds of competition: a drink menu challenge on the brand new Rancilio Specialty machine using Oatly's iKaffe, a sensory round of matching coffees and a mystery round that is so secret the only thing we can say is that it features Baratza grinders.
The Barista League is committed to creating an inclusive competition and event and is proud to have had more than 70% female winners since its inception back in 2015. Holding down the judging duties in Helsingborg will be an all star panel of killer coffee ladies – Mikaela Gervard (2nd place WBrC 2016), Vala Stefansdottir (Icelandic Latte Art and CIGS champion) and Sierra Burgess-Yeo (founder of Kore Directive).
The Barista League will host three official competitions in 2019 – Helsingborg in January, Croatia in May and the USA later in the summer.
Team registration for Helsingborg opens on Dec 10 at 9am CET and tickets for the event are on sale now.