Pro-Infuzja Liga Baristów 2017 – Runda Trzecia
August 26, 2017 @ 2:00 pm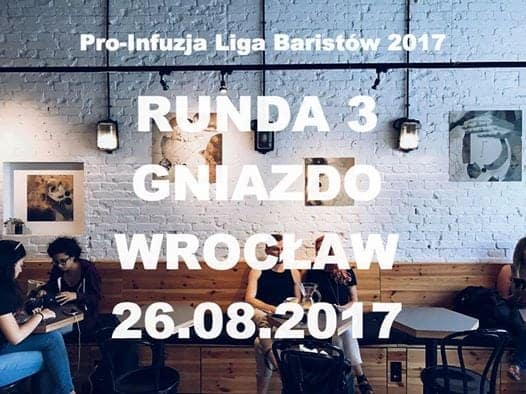 Ruszamy z Trzecią Rundą Pro-Infuzji Ligi Baristów!
CZYM JEST PRO-INFUZJA?
Co zawodowi bariści robią w wolnym czasie? Robią kawę, bo jest to nasza pasja, hobby i sposób na życie.
Dlatego powstała idea Pro-Infuzji, czyli nieformalnej Ligi Baristów.
Wszyscy są mile widziani – chcemy, aby osoby które dopiero zaczynają przygodę z kawą brały udział w Pro-Infuzji. Chcemy, aby dzięki takim spotkaniom poziom baristów był coraz wyższy!
Są to zawody, ale bardziej na luzie. Mamy jednak nadzieję, że dla niektórych będzie to miły wstęp do zawodów WBC.
Brejk da kejk!
Trzecia Runda odbędzie się 26.08.2017 w Kawiarni Gniazdo we Wrocławiu!
Tego dnia poza zawodami, przygotowaliśmy dla Was wiele atrakcji, między innymi bardzo ciekawe warsztaty kawowe.
Zawody w dwóch konkurencjach:
1. LATTE ART
2. CUP TASTING
Dokładne szczegóły oraz regulaminy tegorocznej edycji udostępnimy na stronie wydarzenia w najbliższym czasie!
ENGLISH:
We start with the Third Round of Pro-Infuzji Barista League?
What is Pro-Infuzji?
What are rofessional baristas doing in their spare time? They make coffee because it is their passion, a hobby and the way of life.
That is why the idea of Pro-Infusion, the informal Barista League, was born.
Everyone is welcome – we want people who are just beginning their coffee adventure to participate in Pro-Infusion. We want to make the baristas level higher and higher thanks to such meetings!
These are competitions, but more relaxed. However, we hope that for some it will be a nice introduction to the WBC competition.
The third round will be held on 26.08.2017 in the Nest Cafe in Wroclaw!
On this day off the competition, we have prepared many attractions for you, including very interesting coffee workshops.
Competitions in two categories:
1. LATTE ART
2. CUP TASTING
The exact details and rules of this year's edition will be available on the event page shortly!