Polish Comandante Championship 2017
February 18, 2017 @ 1:00 pm

-

February 19, 2017 @ 11:00 pm

30PLN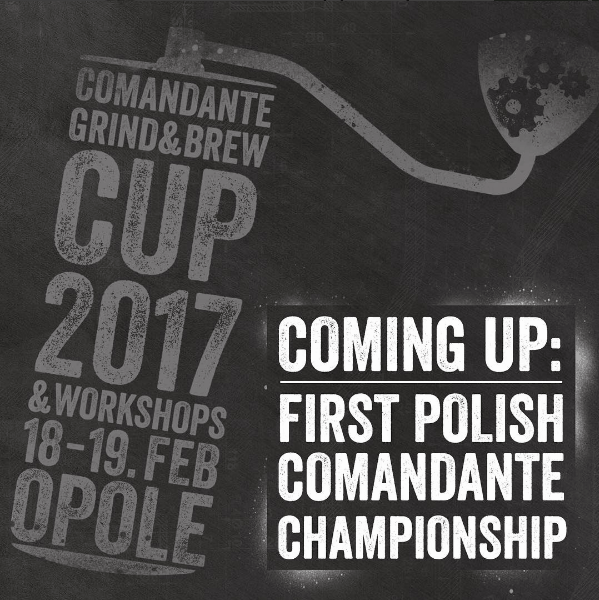 It's official – announcing the very first Polish Comandante Championship with Workshops and Barista Party in Opole, Poland! Important information is that you don't have to be from Poland to participate and compete – it's an international event and everyone is welcome!
COMPETITION SUMMARY:

1 – The competition is divided into two rouds: Eliminations and Final
2 – During each round competitors will be evaluated by four sensory judges. Minimum two judges will have the WBC Certification.
3 – During each round competitors will prepare and serve one individual beverage for the judges.
4 – For both rounds competitors will have ten minutes to prepare and serve their beverage, without any presentation. Competitors will be limited to utilizing only the whole bean coffee provided by the Organizers.
5 – Competitors may produce as many beverages as they like during the competition time. Only the beverage served to the judges will be evaluated.
6 – In the Eliminations competitors will compete in threes. Judges select the best beverage by pointing a finger. Competitor with the best cup of coffee, chosen by sensory judges, will go to the Final Round.
7 – In the Final Round competitors will compete in pairs. Judges will evaluate the beverages by sensory evaluation only and in accordance to the WCE World Brewers Cup sensory protocols.
If interested you can see the complete document of Rules & Regulations.
APPLICATION / SIGN UP
All interested contestants should write an email to: kbarabosz@gmail.com email need to include:
– first name and last name,
– represented cafe / home barista,
– city,
– country,
– photography,
– "why should we choose you?" – Write the answer to this question in few sentences (max 150 words)
The application starts on 23rd of January 2017 at 8pm!