Latte Art Smackdown / Creators Cup
October 14, 2017 @ 10:00 am

-

8:00 pm

25PLN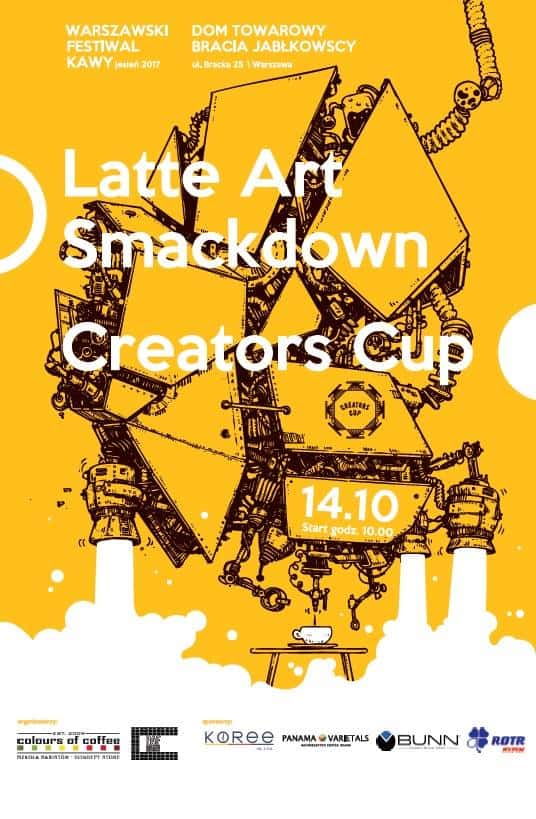 Po raz kolejny, przy edycji jesiennej widzimy się na Warszawskim Festiwalu Kawy.
Tym razem mamy dla was nie lada gratkę!
Raf Makes z Wielkiej Brytanii ma zaszczyt zaprosić Was na pierwszą, Polską edycję Creators Cup – Zawodów polegających na stworzeniu własnego zaparzacza do kawy czarnej.
Colours of Coffee za to, przygotuje dla Was pierwszą edycję mlecznej bitwy pt.: Latte Art Smackdown, gdzie będziecie mogli zmierzyć się ze sobą rysując na kawie klasyki latte art – serce, tulipan i rozetę.
O co w tym wszystkim chodzi:
CREATORS CUP:
Ideą zawodów jest stworzenie unikatowego manualnego urządzenia do parzenia kawy. Warunkiem jest stworzenie go od podstaw oraz użycie jednego z ogólnodostępnych filtrów papierowych.
Zawodnicy startują w obecności czterech sędziów i są oceniani w dwóch kategoriach – "Best Brew" oraz "Best Design". Każdy z zawodników startuje na kawie zapewnionej przez organizatora.
Kategoria Best Brew jest oceniana pod kątem balansu smaku oraz atrakcyjności
Kategoria Best Design oceniana jest pod kątem kreatywności, praktyczności oraz strony wizualnej.
Wyłaniany jest również Overall Winner, czyli osoba która zdobędzie największą liczbę punktów w obydwu kategoriach.
wpisowe: 25 PLN
Ilość miejsc ograniczona.
Więcej info na:
https://www.rafmakes.com/creators-cup/
https://www.rafmakes.com/blog/creators-cup-london-2016-the-birth
LATTE ART SMACKDOWN:
Są to zawody latte art w najprostszej, lecz wcale nie najłatwiejszej formie. Zawodnicy startując parami, muszą wykonać jeden z trzech, klasycznych wzorów – Serce, tulipan lub rozeta. Każdy z zawodników ma dwa podejscia podczas rundy i to on wybiera filiżankę do oceny sędziowskiej. Liczy się kontrast, symetria, położenie wzoru i wielkość. Zwycięzca przechodzi do następnej rundy i mierzy się z innymi uczestnikami tak jak w eliminacjach pucharowych.
Całość z zapisów idzie do puli, która zostanie wręczona zwycięzcy. Ilość miejsc ograniczona.
Aby wziąć udział w zawodach, Wystarczy zakupić bilet przez portal eventbrite oraz wybrać konkurencję, która Cię interesuje.
NA TYDZIEŃ PRZED ZAWODAMI, LUB W CHWILI WYCZERPANIA MIEJSC, ZOSTANIE OPUBLIKOWANA LISTA ZAWODNIKÓW ORAZ HARMONOGRAM.
Wiecej info wkrótce!
Widzimy się 🙂
——————————————————————————————————————–
Once again, this autumn, it is the Warsaw Coffee Festival time.
This time, we have a lot of fun for you!
Raf Makes from Great Britain is pleased to invite you to the first Polish edition of the Creators Cup – a competition to create your own black coffee brewing machine.
Colors of Coffee will prepare you for the first edition of the Latte Art Smackdown, where you will be able to face each other by drawing the latte art of heart, tulip and rosetta.
What is it all about:
CREATORS CUP:
The idea behind the competition is to create a unique manual brewing machine. It is a prerequisite to create it from scratch and to use one of the publicly available paper filters.
Competitors compete in the presence of four judges and are rated in two categories – Best Brew and Best Design. Each competitor takes part in the coffee provided by the organizer.
More info at:
https://www.rafmakes.com/creators-cup/
https://www.rafmakes.com/blog/creators-cup-london-2016-the-birth
LATTE ART SMACKDOWN:
These are the latte art games in the simplest but not the easiest form. Athletes competing in pairs must perform one of three classic designs – Heart, Tulip or Rosetta. Each player has two passes during the round and he is the one who chooses the cup to judge the referee. Contrast, symmetry, position of pattern and size count. The winner goes to the next round and scores against the other participants as in cup qualifying.
The whole of the entries goes to the pot that will be awarded to the winner. Number of seats limited.
To enter the event, simply purchase a ticket through the eventbrite portal and select the competitor that interests you.