Helsinki Coffee Festival 2017
April 21, 2017 @ 10:00 am

-

April 23, 2017 @ 6:30 pm

€12 – €20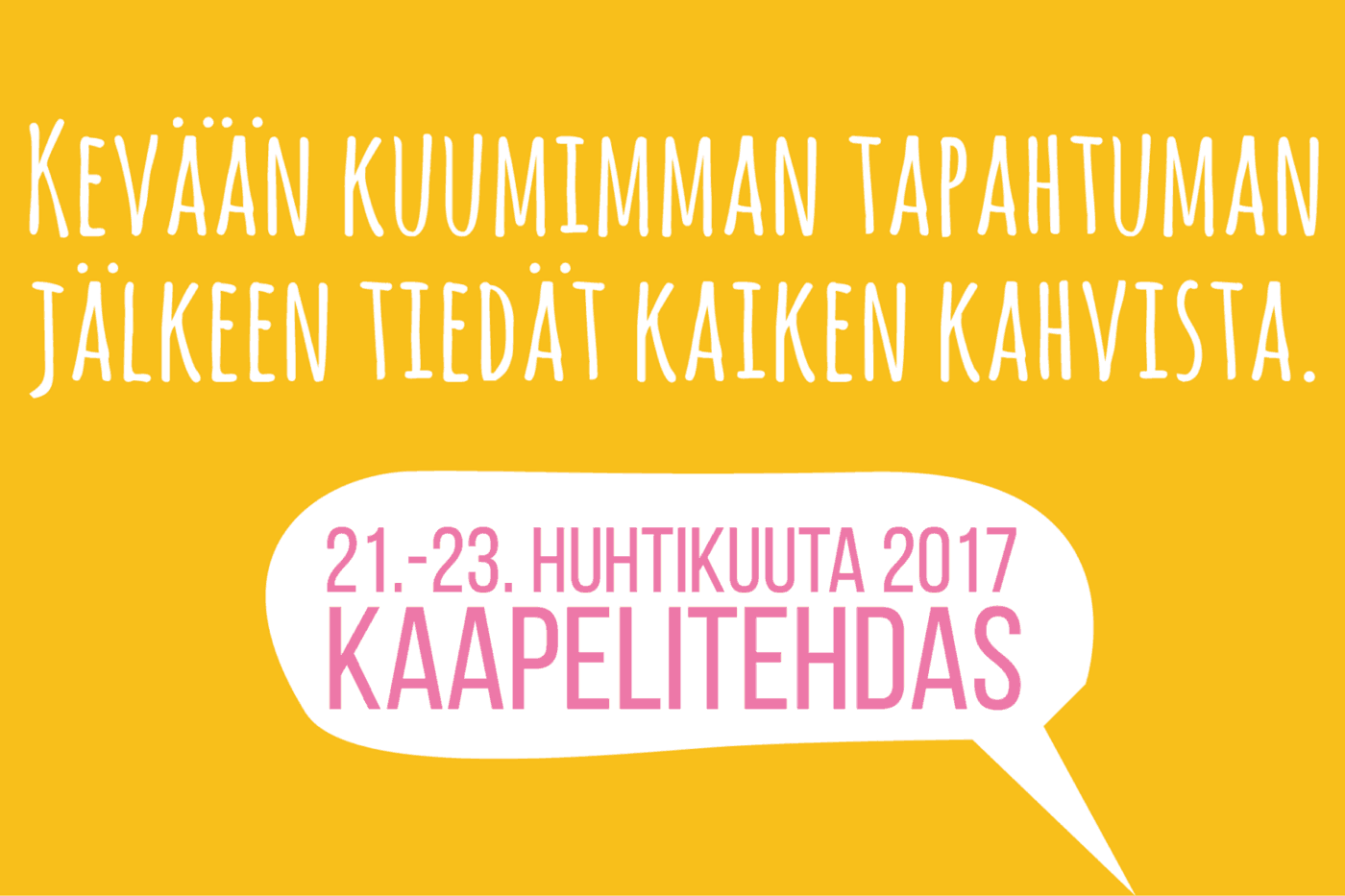 The biggest coffee festival in the Nordics, Helsinki Coffee Festival is here to stay!
Join the coffee revolution in Finland and learn everything about coffee on 21-23.4.2017 at the Cable Factory, Helsinki.
Coffee Lovers – Come and learn everything about coffee!
At the festival, you will learn how to make quality coffee at home and have the chance to taste different coffees from around the world.
You'll get to know the products of different roasteries and meet the coffee experts in Finland, all under the same roof.
In 2016 thousands of coffee lovers gathered at the festival and the venue was sold out for exhibitors.
The festival atmosphere is created by the hottest DJs, tastiest coffee drinks and a packed programme of interesting events.
This year there will also be culinaristic experiences, both salty and sweet.
Coffee Professionals
Nordic's biggest coffee festival, Helsinki Coffee Festival is the perfect place to reach the coffee industry professionals as well as the coffee lovers. The event is an excellent opportunity for brand building and gaining new customers, both corporate and consumer side.
Reach your B-to-B customers face-to-face, network with international and Finnish coffee experts, roasteries, equipment producers and manufacturers.
Attend on theme cuppings and discussions about:
Why high-quality coffee is a good business?
How to maintain the quality of coffee?
How to turn your café as a successful business?
What do consumers value when buying coffee?
Quality coffee's role in restaurants/cafés
Future coffee trends
For more information and stand reservations, please contact:
tommi (at) helsinkicoffeefestival.com
+358 400 274234
Tickets to different sessions:
Friday Professional Day 21.4 from 10 am to 5 pm
Saturday Morning Session 22.4 from 10 am to 2 pm
Saturday Afternoon Session 22.4 from 2.30 pm to 6.30 pm
Sunday Morning Session 23.4 from 10 am to 2 pm
Sunday Afternoon Session 23.4 from 2.30 pm to 6.30 pm
At the festival it's possible to test different coffees and coffee equipment as well as learn from the baristas at the stands and coffee labs how to make quality coffee at home. Other programme includes panel discussions, as well as SCAE Finland's Brewer's Cup and Barista Finnish Championships.
Tickets: www.tiketti.fi/helsinkicoffeefestival