Dutch Aeropress Championship 2017
March 11, 2017 @ 7:00 pm

-

11:00 pm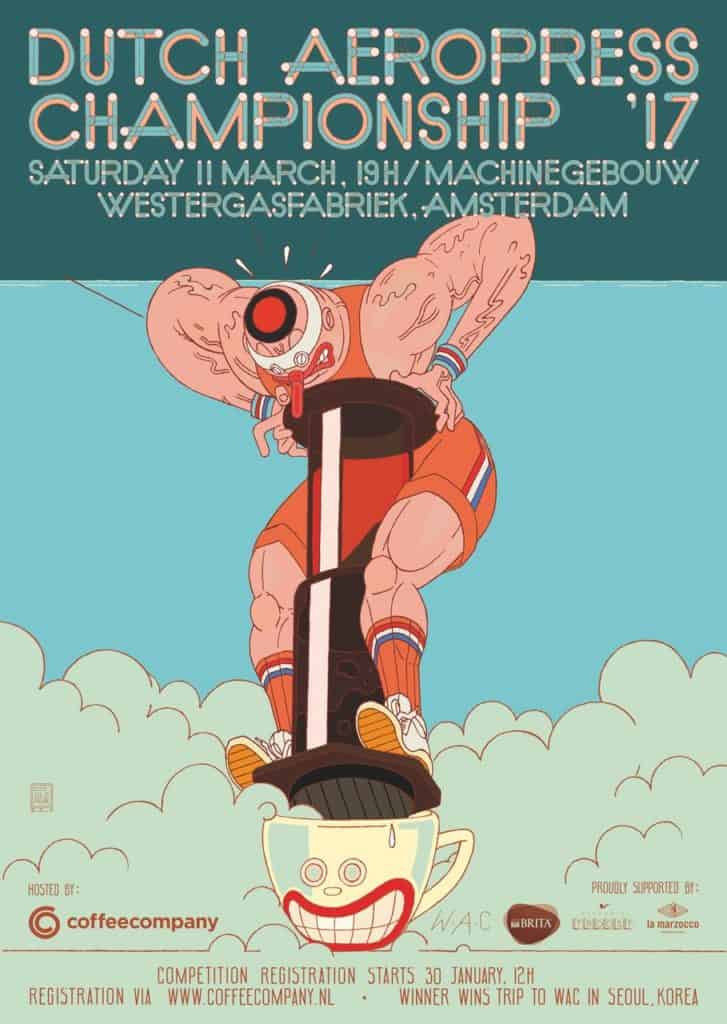 The Dutch specialty coffee chain Coffeecompany will be hosting the Dutch Aeropress Championship. The event draws more coffee lovers each year and has grown into the most popular of competitions in the Dutch coffee scene.
The Aeropress championships are becoming a worldwide renowned event with over 50 nations organizing an event last year. The competition will be moving to a spectacular space right in the middle of the former Westergasfabriek. We will be expecting up to 400 attendees.
This year the winner will be representing our country at the World Aeropress Championship in Seoul, Korea. This year's event allows for 36 competitors. Anyone working and/or living in the Netherlands is eligible for entry. Competitor registration opens on 30 January, 12h at coffeecompany.nl.
POSTER
Every year a poster is made to promote every national Aeropress event. This year the poster for the Dutch Aeropress Championship is designed by the talented Dutch illustrator and graphic artist Stefan Glerum. His work is inspired by early 20th Century movements such as Art Deco, Bauhaus, Italian Futurism and Russian Constructivism, which he combines with popular themes, executed in a handdrawn style reminiscent of the clear line.