Berlin Female Latte Art Throwdown 2019
February 8, 2019 @ 6:00 pm

-

February 9, 2019 @ 6:00 pm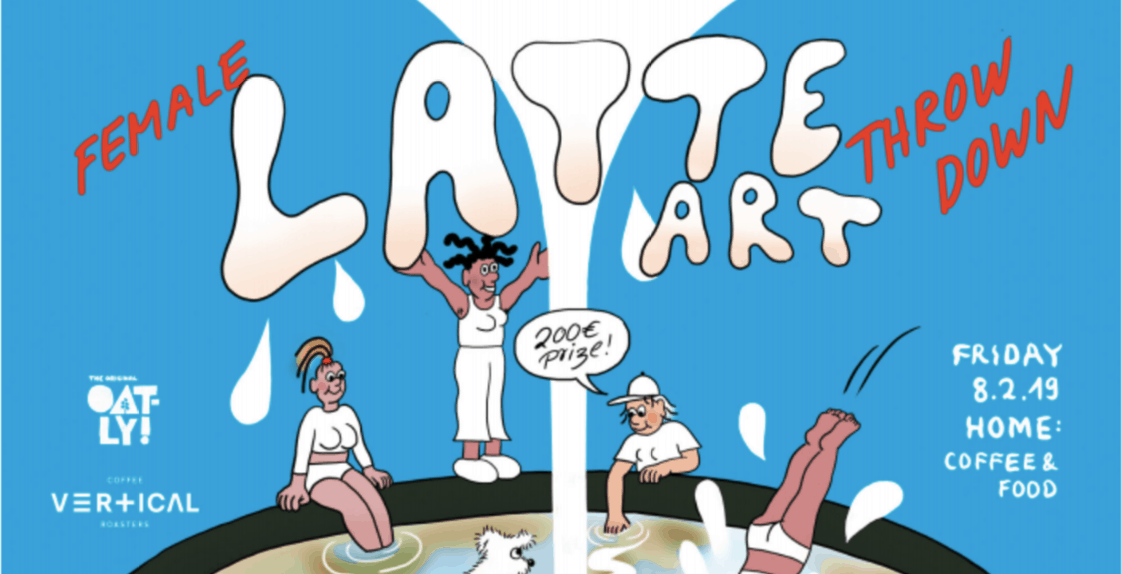 Tuesday 22nd January, 2019. Specialty coffee shop, HOME, are hosting the first in a new series of events; Female Latte Art Throwdown 2019 (FLAT 2019). The competition takes place on Friday February 8th, and the winner will come away with two hundred euros in prize money. Alongside the latte art competition there is a full programme of events, including a networking evening for coffee lovers, a public cupping and a Q&A with Vertical Coffee Roasters.
Created by the team at HOME, FLAT 2019 is an open coffee event, with an overall aim to bring together female coffee professionals (baristas, trainers, roasters, etc.), the local community and everyone interested in enjoying good coffee in a safe, inclusive environment. The FLAT 2019 event series will provide a friendly networking environment and with a strong focus on female empowerment.
Agnieszka Hornstein, head barista and manager of HOME said: "By organising FLAT we will provide a relaxed, safe and bias-free opportunity to female identified coffee professionals to have fun, compete and make new professional and private connections with like-minded people. The coffee industry is a tough and challenging environment for female professionals in terms of being given equal access and career opportunities, and by launching FLAT, we aim to provide a new platform for females in the industry."
The main part of the event is a 4-round competition in pouring latte art. All rounds will be held using OATLY Oat Drink Barista Edition provided by OATLY, the events main sponsor. The coffee being used in the competition will be supplied by Berlin roastery Kaffee9 with beans that for various reasons were not good enough to qualify as a quality product, which is a very kind gesture on the side of roasters to share with us – in the spirit of zero waste movement.
Everyone interested in coffee (whether professionally or just curious) who wants to support gender equality in coffee industry is welcome to watch the competition part and join for the after party networking event.
FLAT 2019 PROGRAMME
Friday February 8th – Latte Art Competition
Door: 18:00
Competition start: 20.00
Afterparty: 22.00-01.00
Saturday February 9th – Cupping with Vertical Coffee Roasters (CH)
18.00-18.40: Meet the Roaster #1 – Q&A with Denise Morf and Simone Ernst
For more information, please contact: info@athomeberlin.com
February 8th will also be a launch of HOME Brewing's newest series of public cuppings, Meet The Roaster where everyone interested will have a chance to join coffee tasting prepared directly by the roasters, with in depth Q&A sessions.
About HOME Run by couple, Sarah Flanagan and Agnieszka Hornstein, HOME has been serving specialty coffee and brunch in Neukölln since 2016. Both Sarah and Agnieszka have backgrounds in Berlin specialty coffee scene – applying to the everyday professional life standards brought from their former work environments – two of the main specialty coffee Berlin roasteries and specialty coffee shops: The Barn and 19grams known earlier as Tres Cabezas.
About OATLY Oatly was founded back in the 1990s and is based on Swedish research from Lund University. The company's patented enzyme technology copies nature's own process and turns fiber rich oats into nutritional liquid food that is perfectly designed for humans. Today, the Swedish company remains independent and dedicated to upgrading the lives of individuals and the general well being of the planet through a lineup of original oat drinks.
About Vertical Coffee Roasters Vertical Coffee Roasters was founded by Denise Morf and Simone Ernst and is based near Zürich, Switzerland. Vertical Coffee Roasters aim is to spread coffee education to everyone interested, in a friendly, approachable manner, which perfectly reflects the true spirit of new wave specialty coffee generation, a shared goal to make people feel included and invited to learning more with baristas and roasters.