Berlin Coffee Festival 2016 – Coffee For All!
September 2, 2016 @ 6:00 pm

-

September 4, 2016 @ 6:00 pm

€5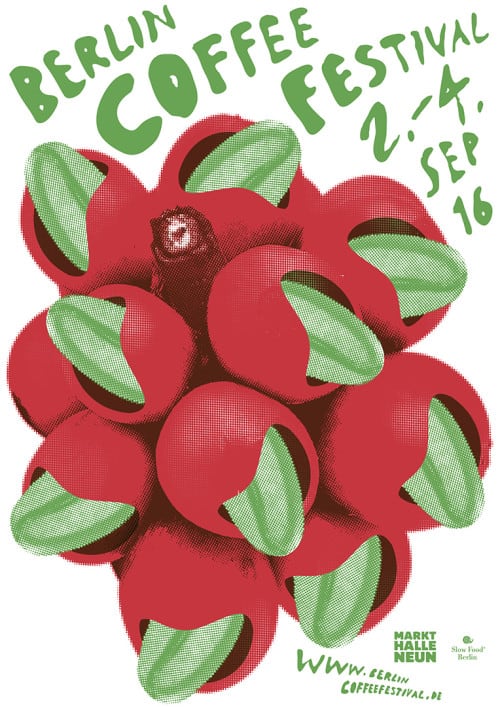 You're cordially invited to the Berlin Coffee Festival 2016. It's high time that you and coffee got some attention! Roasters, brewers and the standard-bearers for a new coffee culture. Attentive and seasoned coffee drinkers — whether from the portafilter of an espresso machine, a French press, a porcelain filter, or the Aeropress. The vibrant coffee scene in Germany is invited to come together to enjoy a trade fair that is geared towards trade professionals and laypeople alike. Coffee for everybody!
Sausage & Beer, Cheese, the Sweets Market — Markthalle Neun hosts a number of specialty markets that combine exactly that: excellent products and their hand-crafters. Small-scale structures that make the highest quality possible. A product culture full of knowledge and deep enjoyment in creation. It's not just about selling something. It's about sharing passion and knowledge for a product with others. And that's what the Berlin Coffee Festival is about. For three days. The best roasters in Europe are coming to Berlin, and the many great, committed coffee houses of this city are part of our festival family.
The Berlin Coffee Festival will kick off with a party. And lots of good coffee, of course. It'll be an evening in black (and foam-white) in celler of the Auster Club. And great coffee is guaranteed, with the Barista Competition opening the festivities in the TheaterForum Kreuzberg.
First work, then play? Hardly! How about enjoyable work instead? In keeping with that theme, Friday and Saturday will be dedicated to a comprehensive selection of workshops and tastings that appeal to the average coffee drinker as well as the coffee geek. Workshops that take place right where you love to get coffee, decentralized and in the middle of your daily routine: in Berlin's best coffee bars.
And on Sunday, the Berlin Coffee Festival will culminate in a grand finale at Markthalle Neun, with a specialty coffee market. What's a cupping? How are coffee beans actually roasted? How much fun is it to taste the differences in beans, roasts and brews? Let's get together and celebrate coffee."