Barista Camp 2016
October 10, 2016 @ 2:00 pm

-

October 13, 2016 @ 5:00 pm

€475 – €550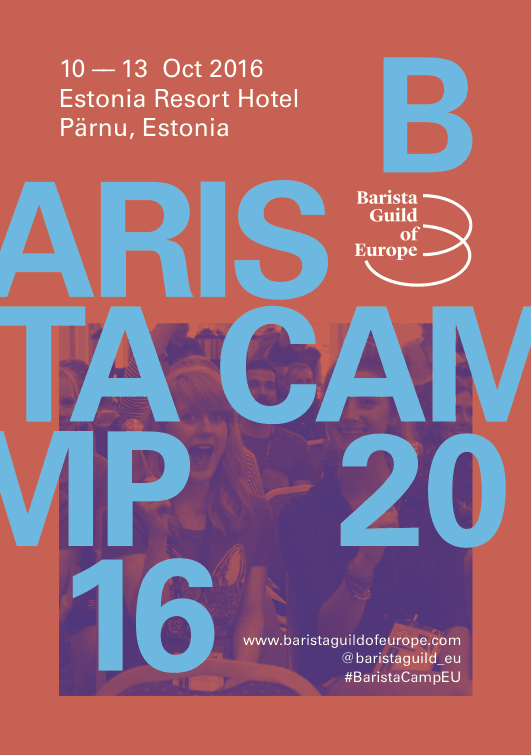 Barista Camp focuses on offering an opportunity to develop and learn as a barista, in a setting that promotes sharing ideas and experiences, and being part of a wider community. The event runs over 4 days and includes professional education, cutting-edge lectures and tastings, and loads of fun.
BARISTA GUILD OF EUROPE BRINGS BARISTA CAMP 2016 TO ESTONIA, 10—13 OCT.
DATES
Barista Camp returns in 2016 on 10–13 October and is once again headed to a seafront location, setting up Camp in the beautiful city of Pärnu, located on the Gulf of Riga. Smack in the middle between between Estonia's capital Tallinn to the north, and the capital of Latvia, Riga in the south, Pärnu is an excellent base for the third BGE Barista Camp.
Barista Camp 2016 will follow the successful format of previous Camps, with a variety of educational tracks on offer, in addition to group lectures and tastings, and of course social activities to wind down in the evenings. Each track consists of either one Intermediate SCAE Coffee Diploma System module, or two Foundation level modules.
BGE sourced the beautiful new hotel and spa complex, Estonia Resort, to host both Barista Camp, and the inaugural RGE Roaster Camp. Isa Verschraegen, Guild Manager, reports: "After reaching out to our community via a tender process early this year, we were overwhelmed by the quantity and quality of responses. We are absolutely thrilled to bring Camp to this wonderful venue in a more northern location in Europe. The Baltics have seen growth in their coffee scene and we hope to accelerate their development by bringing our Guild Camps here. The venue offers the perfect setting for our camps with modern rooms and meeting facilities; and plenty of opportunities to connect as well as relax in the evenings."
TICKETS
Ticket sales for Barista Camp will launch during World of Coffee in Dublin, and will be available online from June 23rd. Tickets include delegates' preferred track of CDS modules, including certification, as well as all other educational and social activities at camp, 3 nights of accommodation at the 4* Estonia Resort, and all meals. Early bird prices will be available until Monday 1 August 2016 where a limited number of single rooms (non-sharing) can be booked so we recommend buying early to secure the best option!
Early Bird SCAE Member – €475
Early Bird Non-Member – €550
ABOUT BARISTA GUILD OF EUROPE
Formed in 2014, Barista Guild of Europe (BGE) is led by a working group of SCAE dedicated to developing the role of the barista within Europe. Its primary goal is to foster community and professionalism among people whose income derives from making cups of specialty-grade coffee. For more information on BGE, their mission, or upcoming events, please visit – www.baristaguildofeurope.com
Check out the event's schedule here –